Food halls took their sweet time (Bon Appetit Magazine called them "the new food trucks" back in 2013) but the trend is finally cooking in Milwaukee. And the results are delicious. Crossroads Collective, the first of these modern food courts in the city, has brought consistent life – not to mention delicious eats – to the space that used to house Oriental Drugs before it became a high-profile tenant turnstile, while Sherman Phoenix has built a beautiful community hub out of the literal ashes of the 2016 unrest in Sherman Park.
And now Bay View is getting in on the food hall action, as New Land Enterprises – the same developers behind Crossroads Collective – today announced Flour and Feed, a food and retail market, for the currently in-progress Kinetik Apartments, found on the north end of Bay View, at the southeast corner of South Kinnickinnic Avenue and East Bay Street formerly occupied by Hamburger Mary's.
The new food hall – expected to be approximately one and a half times larger than Crossroads Collective – will build off the concept of the developer's East Side creation by incorporating multiple retail vendors alongside its culinary options, plus 1,150 square feet of flex space used for cooking classes, demos, live music, seating for the food hall and other community events, as well as an outdoor plaza on the south end of the building.
"Our mechanical contractor told us we can make the plaza heated, from underneath," said New Land managing director Tim Gokhman, in a press release. "So we can do an all season patio, with radiant heat, that will face Zillman Park. There really isn't another space like this in Milwaukee."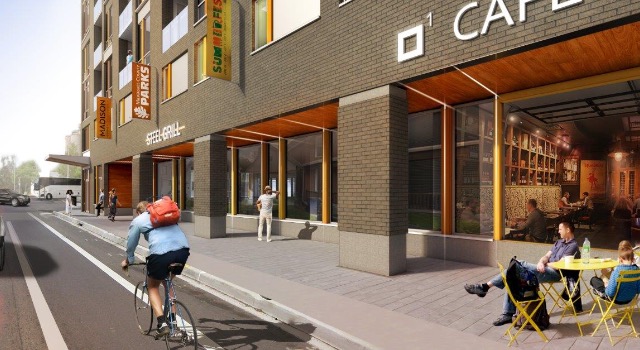 No tenants for Flour and Feed – either food or retail – have officially been announced yet, but Gokhman noted in the release that some are already lined up for the new concept and that "Bay View already has some great dining spots, so we are carefully evaluating where we can fill the gaps."
As a Bay View native, and as a fan of food halls and their already apparent impact on Milwaukee, this all sounds like good news. And while these large, glossy complexes, developments and mixed-use buildings growing around Kinnickinnic Avenue may not look or feel much like Bay View on the outside, with concepts like Flour and Feed, it sounds like there's at least the potential for it to feel like Bay View on the inside.
The building, featuring Flour and Feed as well as the Kinetik Apartments, is expected to be finished in May of next year.
As much as it is a gigantic cliché to say that one has always had a passion for film, Matt Mueller has always had a passion for film. Whether it was bringing in the latest movie reviews for his first grade show-and-tell or writing film reviews for the St. Norbert College Times as a high school student, Matt is way too obsessed with movies for his own good.
When he's not writing about the latest blockbuster or talking much too glowingly about "Piranha 3D," Matt can probably be found watching literally any sport (minus cricket) or working at - get this - a local movie theater. Or watching a movie. Yeah, he's probably watching a movie.