The opinions expressed in this piece do not necessarily reflect the opinions of OnMilwaukee.com, its advertisers or editorial staff.
Fifteen thousand Wisconsinites kicked off food stamps right before the holidays because of a new state work requirement law. Sounds heartless, right? That's the impression given by headlines that said things like "15K dropped from food stamp program after not finding work."
Critics of the law immediately raised alarms, saying food banks would be overrun. The Democratic Senate minority leader decried Grinch-like Republicans for supposedly "driving families further into poverty." Esquire pounced, declaring, "Scott Walker Bankrupts Wisconsin Food Banks - Just in Time for Christmas!" And so the commentary went.
Except … except ...
Except if you actually look at the reason the people were kicked off food stamps, you get a very different impression. Republicans are not being heartless here; the new work requirements are entirely reasonable. Let me explain.
First of all, in order to lose the food stamps, you had to be an able-bodied adult, without a child in the home, between the ages of 18 and 49, and you didn't even have to find a job. You just had to participate in a free job training program offered by the state (or find part-time work).
In other words, you had to be willing to take the most basic steps toward making yourself employable – for free. And if you found a job, you didn't even have to find a full-time one. You just had to work 80 hours a month. That's barely part-time.
So let's revisit the supposed heartlessness here. This applied to adults. Who are able-bodied. Who didn't even have to work full-time. Who don't have children they are caring for in the home. Who just had to participate in a job training program. A program that is free. The state has plowed millions into the job training program.
In other words, they had to make a modicum of effort toward self-sufficiency. I think that's a laudable goal. If a person is not willing to make the most basic of effort, then perhaps they forfeit the chance to be bailed out by the rest of us. Perhaps, they should start looking at their own motivation as a cause of their travails or society at least should.
Furthermore, people could obtain an exemption from the work requirement for a myriad of other reasons – basically every reason under the sun that might feasibly and legitimately prevent them from seeking job training or a job.
For example, people can seek an exemption if they are pregnant, if they are taking part in an alcohol or drug abuse treatment program, if they are enrolled in college at least half-time, if they are physically or mentally unable to work, if they are a primary caregiver for a person who cannot care for himself or herself, and so on.
This weeds out the legitimate reasons for not seeking job training. Furthermore, even if you refuse to undergo any job training at all or to look for a job, you can still get three months of food stamps in a three-year period. The state site also encourages people who need child care, transportation or other support services to contact the program and get help. Although remember: You don't need to meet the work requirement unless you don't have a child in the home.
Basically, you have to try pretty hard to get dropped. Or not try, that is.
The only caveat would be if someone didn't realize they had to do this; however, if you are getting money from the state, it's incumbent on you at some point to figure out what you need to do to keep it. And why aren't you looking for a job anyway if you are an able-bodied adult, childless, etc.?
Let's see how many of the people enroll in job training now that they've actually lost the benefits. That's called incentive. Furthermore, people who qualify for the work requirement are automatically enrolled in the job training program. So it's not left to them to realize they have to enroll.
According to the Wisconsin State Journal, the 15,000 people lost their food stamps in the first three months of the new work requirement law. The newspaper says about 60,000 food-stamp recipients are eligible to work (about half of those are in Milwaukee County). About 4,500 found work by embarking on job training.
By the way, the work requirement is not an anomaly. According to the State Journal, the federal government has such a requirement. It's just that Wisconsin (along with other states) had waived it for years.
Some activists have said Milwaukee County should be exempt because of its unemployment rate. However, again, the individuals dropped didn't have to find jobs – they just had to start undergoing free training to qualify them for jobs.
That being said, unemployment rates and prominent companies laying people off recently does raise concern. Certainly the state needs to wed the work requirement with robust job creation. I am not sure the robust job creation part of the equation is happening. However, again, people don't have to actually find a job to not lose their food stamps. So, that argument doesn't hold much water.
I'd also support some increase in the minimum wage. Frankly, state taxpayers are subsidizing the fact that a lot of people are working but aren't making enough at it to put sufficient food on the table for their families to eat. People say increasing the minimum wage will harm businesses. Some, sure. But not doing so is coming at quite a cost to taxpayers (and families). Republicans rarely acknowledge these sides of the equations. They should.
I support state assistance for people who truly need it – that being the many, many people already exempted from the work requirement. That is a reasonable position, not one lacking empathy.
Wisconsin is helping a lot of people. Over 13 percent of Wisconsinites are on food stamps. Let's pause for a minute and consider that statistic, which I got from the state website. That's shocking.
Technically, the program is called FoodShare Wisconsin, and according to the state, it's designed to help "low-income families and individuals to buy nutritious food." The caseload since 1985 has skyrocketed in recent years (with a slight dip downward most recently), according to the state Department of Health Services: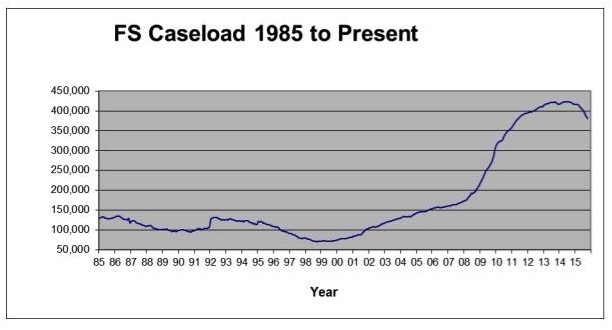 In 1985, the caseload was just under 150,000. Last month, it was just over 380,000. And that represents 760,772 people because each case is an "assistance group" (meaning it sometimes includes families), according to the state. Many of the recipients are children. Twenty-three percent are elderly, blind or disabled. One third have at least one person working already. You can't make much money and still qualify.
I bring up these statistics to point out that a lot of people on food stamps are already working and that the program is clearly important for a lot of people and very necessary. Just because you are on food stamps doesn't mean that you are not a hard-working person. Perhaps you are under-employed. Perhaps you're working hard in a minimum wage job. Perhaps you've simply fallen on hard times. There are many reasons people end up on food stamps, and the individuals on it, by and large, deserve our empathy.
In the case of the childless able-bodied adults who don't lift a finger to keep the benefits? Well, it's hard to see why they can't.
Jessica McBride spent a decade as an investigative, crime, and general assignment reporter for the Milwaukee Journal Sentinel and is a former City Hall reporter/current columnist for the Waukesha Freeman.
She is the recipient of national and state journalism awards in topics that include short feature writing, investigative journalism, spot news reporting, magazine writing, blogging, web journalism, column writing, and background/interpretive reporting. McBride, a senior journalism lecturer at the University of Wisconsin-Milwaukee, has taught journalism courses since 2000.
Her journalistic and opinion work has also appeared in broadcast, newspaper, magazine, and online formats, including Patch.com, Milwaukee Magazine, Wisconsin Public Radio, El Conquistador Latino newspaper, Investigation Discovery Channel, History Channel, WMCS 1290 AM, WTMJ 620 AM, and Wispolitics.com. She is the recipient of the 2008 UWM Alumni Foundation teaching excellence award for academic staff for her work in media diversity and innovative media formats and is the co-founder of Media Milwaukee.com, the UWM journalism department's award-winning online news site. McBride comes from a long-time Milwaukee journalism family. Her grandparents, Raymond and Marian McBride, were reporters for the Milwaukee Journal and Milwaukee Sentinel.
Her opinions reflect her own not the institution where she works.