We spent the better part of March and early April with the extremely difficult, unfair task of sampling frozen pizzas in bars to find our favorites. We focused on frozen pizzas because they are not all created equal and when they are done well, they rival their fresh pizza compadres.
Overall, we learned that we really have some good 'zas in the 414. So here are our four fave frozens:
It's astonishing to us as committed carnivores that we picked this pie. Cedar teeth offers vegetarian and vegan pizzas only. But you know what? It doesn't matter what's on top because of what's on the bottom: an incredible sourdough rosemary buttery crust that's thin-ish and chewy; firm but not cracker-y. And we, of course, had to try a pizza named the Bronze Fonz (veggie sausage and mushroom). Two thumbs up.
2. Emil's cheeseburger pizza from The Newport
We thought we loved this one so much because we'd only eaten it late in the evening after and with beers, but nope. Had it for lunch and it was every bit as delicious. The crispy crust and the seasoned ground beef with a generous layer of cheese make this incredibly satisfying – day or night.
Owner Casey Foltz has a line on pizzas for an obvious reason and he serves a frozen version of his family's pies that are made fresh at the Foltz Family Market in the Public Market. The flavorful pizzas lose almost nothing the freezing process and remind us of the fresh versions at the Family Market. We like the plain ones the best – the sausage, the veggie, etc.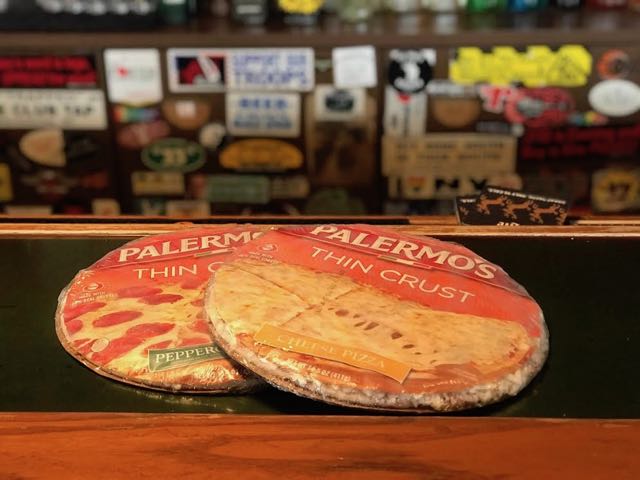 For years, Walker's Point served Hydrant Pizza, a frozen pizza hidden gem made in Green Bay, but after the company discontinued deliveries to Milwaukee (wah!), The Pint went with a Milwaukee classic: Palermo's. It had been a while since we sampled one and we forgot that it's nothing fancy, but a damn fine frozen pizza. Especially when made in a pizza oven.
Molly Snyder grew up on Milwaukee's East Side and today, she lives in the Walker's Point neighborhood with her partner and two sons.
As a full time senior writer, editorial manager and self-described experience junkie, Molly has written thousands of articles about Milwaukee (and a few about New Orleans, Detroit, Indianapolis, Boston and various vacation spots in Wisconsin) that range in subject from where to get the best cup of coffee to an in-depth profile on the survivors of the iconic Norman apartment building that burned down in the '90s.
She also once got a colonic just to report on it, but that's enough on that.
Always told she had a "radio voice," Molly found herself as a regular contributor on FM102, 97WMYX and 1130WISN with her childhood radio favorite, Gene Mueller.
Molly's poetry, essays and articles appeared in many publications including USA Today, The Writer, The Sun Magazine and more. She has a collection of poetry, "Topless," and is slowly writing a memoir.
In 2009, Molly won a Milwaukee Press Club Award. She served as the Narrator / writer-in-residence at the Pfister Hotel from 2013-2014. She is also a story slam-winning storyteller who has performed with The Moth, Ex Fabula and Risk!
When she's not writing, interviewing or mom-ing, Molly teaches tarot card classes, gardens, sits in bars drinking Miller products and dreams of being in a punk band again.