It's time for Dining Month, presented by Deer District and its spooky Halloween-themed alter ego, Fear District. Throughout the month of October, we'll be serving up fun and fascinating content about all things food. The signature dish, however, is our 2019 Best of Dining poll, who's winners we will dish out all month long. Get hungry, Milwaukee!
Part of an ambitious project to redevelop a chunk of industrial land on Mequon Road includes construction of the Foxtown Brewing Co., 6411 W. Mequon Rd., in one of the oldest surviving brewery buildings in southeastern Wisconsin.
Foxtown – slated to open to the public on Nov. 6 – will also include a nearly 7,000-square foot beer hall and restaurant, and will form part of a 17-acre "town center" with residential units, office space and retail.
Like a number of Milwaukee-area brewers, Foxtown got an early boost from the Barley to Barrel incubator program, starting out as a group of homebrewers working on a small pilot system where the brewery is still doing research and development.
Those brews are then scaled up by head brewer Nate Bahr, who had been brewmaster at The Bavarian Bierhaus, at Foxtown's seven-barrel system in Germantown. The brewery is prepped to allow for expansion to a 30-barrel system and will serve as Foxtown's production facility.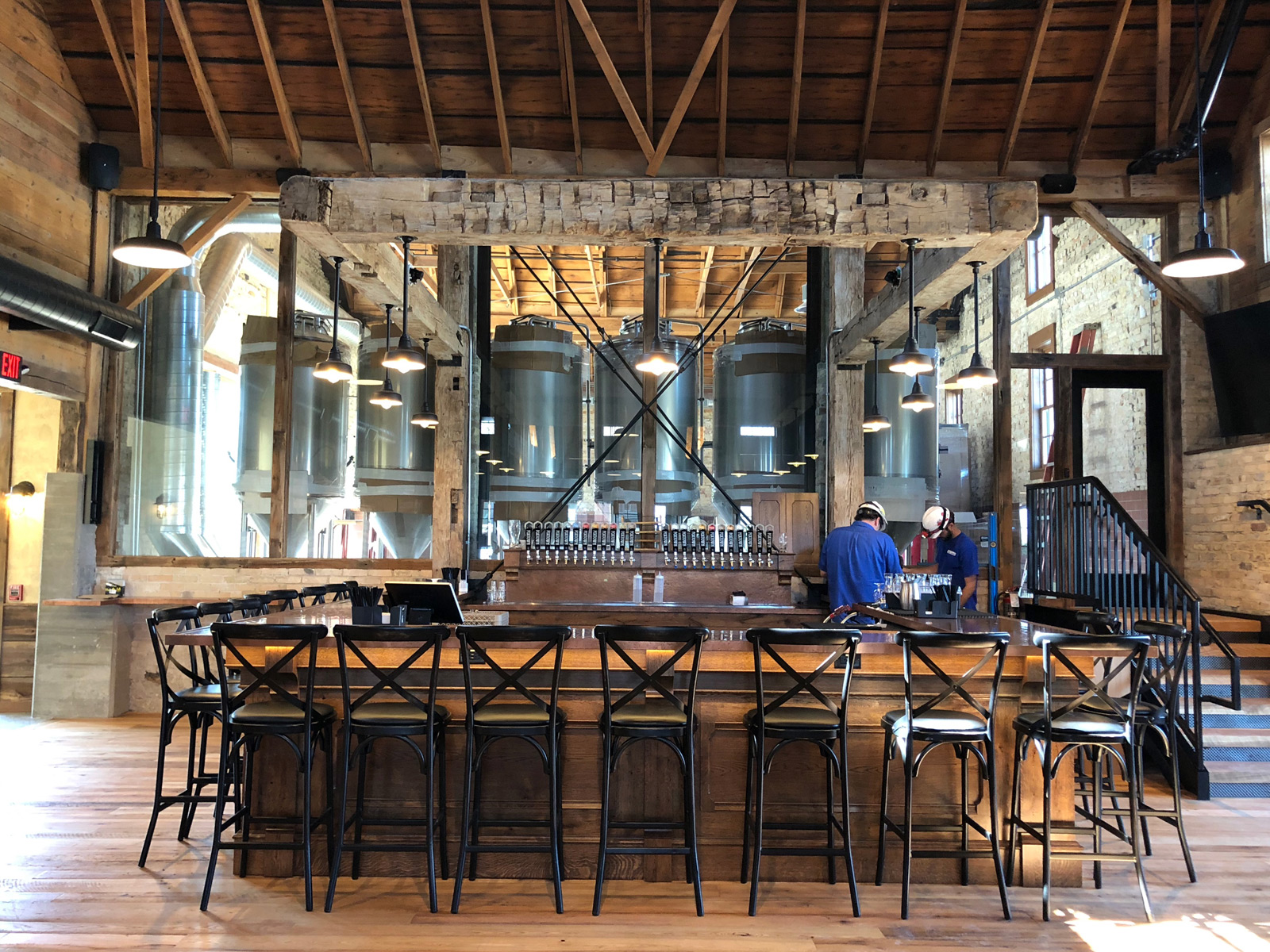 A canning line is already installed there.
An on-site brewery, expected to be up and running in about six months, will bring another seven-barrel system online.
In an early online post, Foxtown said it was, "focused on creating high quality ales and lagers," and that is reflected in the first eight beers represented on the 24 lines at the new bar. There's an American pils with a nice bite, and a pale ale that has bright citra and mosaic hoppiness, but a drinkable 5.5 percent ABV.
General manger Kyle Smith says the brewery expects to have 12 beers ready by opening day.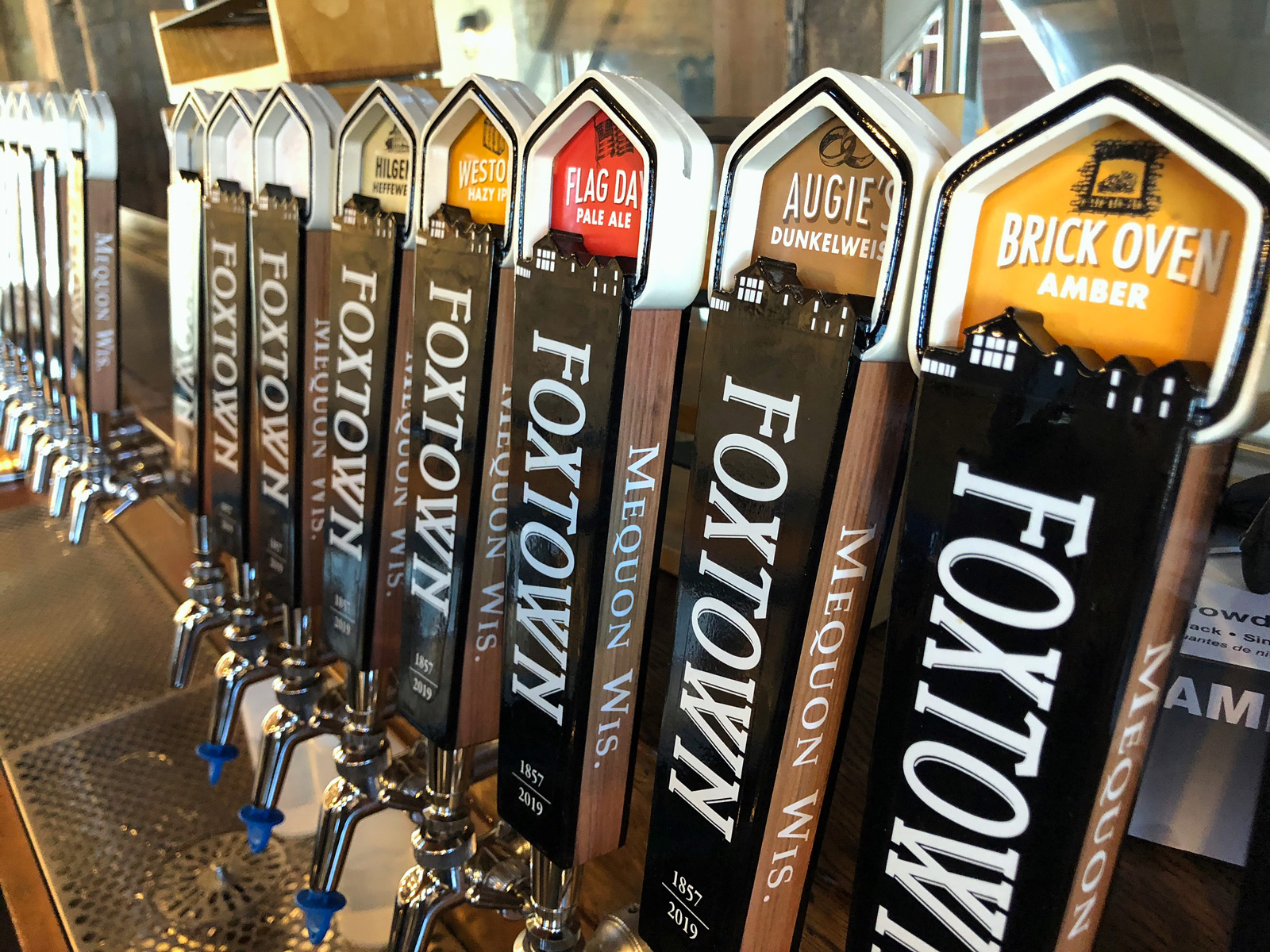 The brewery, taproom and restaurant occupy a series of connecting buildings that date to 1857, 1868, 1869 and 1870 and are quite stunning, with exposed hand-hewn structural beams, cream city brick and, in the 1857 building, rafters made from tree trunks that still have some of their bark!
"The bark's still on the beams from 1857, so it's really neat," says Smith. "Obviously, we added some structure, but the majority of the larger stuff is all original because that was some pretty dense, heavy, green wood back then. It wasn't really going anywhere.
"It's really fascinating to see all of this is still here after so long. (Owner) Tom (Nieman) did a good job restoring it. 'Remodel' is not the word we like to use. Restoring means you bring it back to what it needed to be. All this was covered up."
As Foxtown uncovered the fascinating original structures, it also dug up some great area brewing history.
Carl Wilbert's "History of the Town of Mequon" noted that the area boasted a trio of breweries back in the day.
In addition to the Adolph Zimmerman and Opitz Brewery, Leonard Bodendorler had a brewery on near Swan and Mequon Roads and the Engels Brewery was located in Thiensville.
"The (Bodendorler) brewery stored and lagered their beer in a cellar dug on the north side of the hill at the aforementioned site, once a fox farm and used for the storage of vegetables. The entrance to the cellar on the north side of the Mequon Road could still be recognizable until recently. Another beer cellar was north of Thiensville at the fox farm curve. The entrance on the east side of the Cedarburg Road is still partially visible."
Born in Germany in 1812, Adolphus Zimmermann immigrated to the Milwaukee area in 1839, where two days after he arrived, he maried Frederick Opitz, who arrived with her family on the same ship as her new husband.
Within a week, the entire clan was living in Mequon, where Zimmermann bought 160 acres of land – his in-laws snatched up 160 more acres nearby – and worked as a farmer for 16 years before moving into town.
The buildings through the years. (PHOTO: Courtesy of Historic Ozaukee County/Facebook)
In 1857, Zimmermann and his brother-in-law William Opitz opened the brewery in newly constructed buildings – some of which are being converted into Foxtown.
As German immigrant brewers, Zimmerman and Opitz focused on the lager beers they knew from the old country and they, like other German immigrant brewers, built lagering caves, some of which survive today and will become part of Foxtown's operation.
Both successful businessmen on the frontier, Zimmermann and Opitz became involved in politics. Both men served in the State Assembly and in various more local positions of power.
A rare bit of Mequon brewing history. (PHOTO: Courtesy of John Steiner)
In 1858, Opitz left the brewing business and Zimmermann continued on his own until 1876, when he leased the facility to his son Franz and Mequon-born August Gerlach, who had married Zimmermann's daughter Emma.
By 1860, the Mequon brewery was making 1,200 barrels a year, according to the book, "The Drink That Made Wisconsin Famous. "This was in spite of the lingrering effects of the Panic of 1857. ... Throughout the 1870s his production was around 1,000 barrels a year."
In 1881, the brewery, by then renamed Franz Zimmermann & Co. – was back to making about 1,200 barrels of beer each year.
You can see evidence of this production in the buildings today. An upper floor, now removed, from the 1857 building was a malting area and an opening in the wall allowing the malt to be sent straight down into the mash tuns is still visible.
The two western-most parts of the complex were built as ice houses, in 1868 and 1869. A structure – where the bar is now located – was added in 1870 to connect the ice houses to the brewery.
Gerlach took over the business in 1884 – renaming it Mequon Brewery – and operated it until 1902, when his son Frank took control. Gerlach's sons later became distributors for Blatz in Waukesha County.
According to Doug Hoverson's "The Drink That Made Wisconsin Famous," Wing's Directories show that there was a bottling operation by 1884 and a malthouse by 1887.
Opitz died at home in Grafton, where he had moved in 1866 after purchasing a 200-acre farm, in 1882 and Zimmermann passed away nine years later.
For a time, Jung Brewing used the buildings as a distribution center, says Smith. Nieman believes that was immediately following Gerlach's tenure.
But brewing didn't end with Gerlach's departure, it seems.
In July 1926, federal "dry agents," enforcing Prohibition laws, raided the "wildcat" brewery, which, according to the Milwaukee Sentinel, "had the appearance of a roadhouse" but was, in fact, "facilities for brewing 4,000 gallons of beer," including barrels, filters and, "a cleverly hidden loading platform that made possible loading of trucks while motorists traveled the road."
In the building, in which no one was found, the agents discovered, "two 500-gallon vats of beer in the process of fermentation and two 1,000-gallon vats of beer 'wort,' a nonalcoholic basis for beer ... besides one 100-gallon cooker."
The buildings have since been used by the Kelch plastics products, which is a branch of Bemis Manufacturing, and by a variety of other businesses, too.
More than a century later, brewing is coming back to the old Zimmermann and Opitz site.
Most exciting are the two levels of barrel-vaulted, cream city brick lagering caves that not only still exist underneath the brewery buildings, but that Nieman has also restored, removing a layer of green paint, adding evocative uplighting and building a staircase between the two levels, which each has an exterior entrance.
There's also a well for water and an old brick oven down there (both pictured below).
The former Gettelman Brewery building that survives on State Street in Milwaukee dates to 1856 and its lagering caves were recently demolished.
Lagering caves – the earliest of which were built in 1850 – still exist at Miller Brewing, across the street and to the east, as well as at the dilapidated former Falk Brewery on South 29th Street. Some of the Falk caves still exist.
"This treasure was just sitting here," says Nieman, who is part of two deep-rooted Mequon families – the Niemans and the Fromms. "I knew I had to preserve it."
Nieman partnered with Spire Engineering, Stephen Perry Smith Architects and Berghammer Construction on the project.
You'll be able to enjoy it all beginning Nov. 6, when the brewery and restaurant open to the public.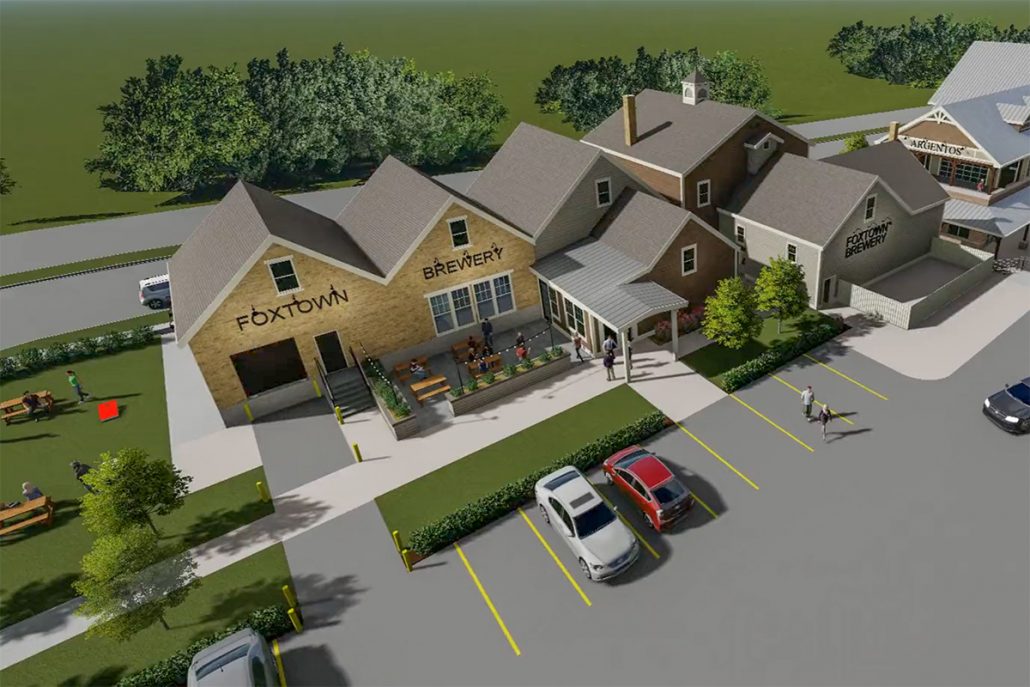 There will be 119 seats inside and slightly more outside, for when the weather cooperates.
Chef Joe Suarez – who worked at Bass Bay Brewhouse and helped open Don's Diner in Walker's Point – will serve a menu of sandwiches, burgers, Friday fish fry, salads and some unique creations.
A building next door – with a beer retail spot, a 42-seat breakfast and lunch bistro, a banquet space and more – is expected to come online later.
Once brewing tours begin, the public will be allowed to see the lagering caves, too.
Foxtown Brewing will be open from 3 to 11 p.m. on Wednesdays and Thursdays; 11 a.m.-midnight on Fridays and Saturdays; and 11 a.m.-8 p.m. Sundays.
Born in Brooklyn, N.Y., where he lived until he was 17, Bobby received his BA-Mass Communications from UWM in 1989 and has lived in Walker's Point, Bay View, Enderis Park, South Milwaukee and on the East Side.
He has published three non-fiction books in Italy – including one about an event in Milwaukee history, which was published in the U.S. in autumn 2010. Four more books, all about Milwaukee, have been published by The History Press.
With his most recent band, The Yell Leaders, Bobby released four LPs and had a songs featured in episodes of TV's "Party of Five" and "Dawson's Creek," and films in Japan, South America and the U.S. The Yell Leaders were named the best unsigned band in their region by VH-1 as part of its Rock Across America 1998 Tour. Most recently, the band contributed tracks to a UK vinyl/CD tribute to the Redskins and collaborated on a track with Italian novelist Enrico Remmert.
He's produced three installments of the "OMCD" series of local music compilations for OnMilwaukee.com and in 2007 produced a CD of Italian music and poetry.
In 2005, he was awarded the City of Asti's (Italy) Journalism Prize for his work focusing on that area. He has also won awards from the Milwaukee Press Club.
He can be heard weekly on 88Nine Radio Milwaukee talking about his "Urban Spelunking" series of stories.