Welcome to Bar Month at OnMilwaukee! For the entire month of March, we're serving up fun articles on bars, clubs and beverages – including guides, the latest trends, bar reviews, the results of our Best of Bars poll and more. Grab a designated driver and dive in!
Patti D'Acquisto says she never intended to own another bar.
The former co-owner of Maiden Voyage on Van Buren and Brady has, instead, focused on the salon she runs. Her ex-husband continues to run the bar, which was renamed Sal's after it moved up Menomonee Falls.
But then her friend wanted to sell, and here she is, running Frank's Power Plant, which recently reopened at 2800 S. Kinnickinnic Ave., in Bay View, after a brief closure for cleaning and renovation.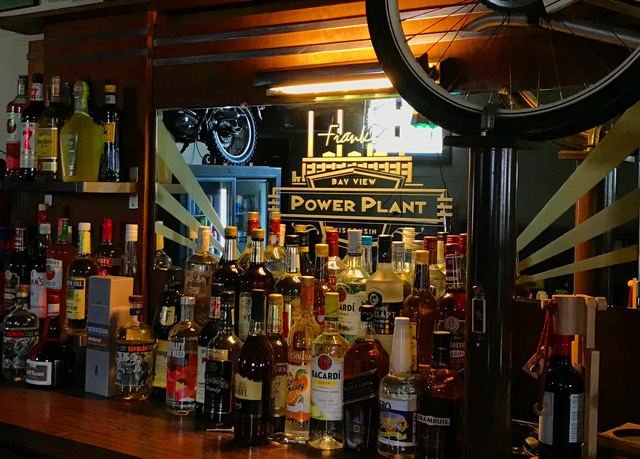 "I've known (former owner) Frank (Wickert) since grade school," D'Acquisto says. "We went to Fernwood together. I cut his hair. I was cutting his hair, and we were just sitting around and talking about it, and then it just started out as I said, 'Well, maybe I'll buy it.' Then he was like, 'Yeah, sure.' (laughs)
"Then, after more talking and talking, he told me the price," she says, noting that initially Wickert wanted to sell the bar and two adjacent homes as a package.
"When he decided to separate the things and I didn't have to buy the houses, which he wants to keep for his children, I just said, 'Okay. Maybe I really will buy it'."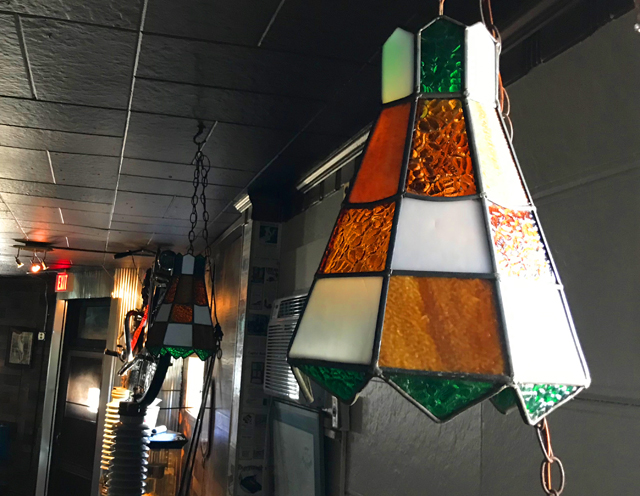 What followed was a conflict with former employees that led to media reports that the bar had closed. Wickert managed to keep it open himself very briefly before it did, indeed, shut.
That's when the deal went through and D'Acquisto returned to the bar business.
A little history
The history of the tavern on the corner of KK and California dates back to 1925. That's when Ludwig Malinowski took out a permit to build two stores and a flat above on that corner, hiring W. Podlaszewski as contractor and spending $16,000.
By mid-August of that year, the place was ready, but occupancy in the building appears to have been a bit up and down in its earliest years.
In 1926, Jacob Rahoi ran a grocery store in the corner space, while the other storefront and the apartment upstairs sat empty.
The following year, Otto and Bertha Klass ran the O.K. Food Market (which must have been pretty good, maybe), apparently in both retail spaces, and Malinowski lived upstairs with his wife Helen.
But by 1929, the retail spaces are both empty and the Malinowskis have moved on, replaced upstairs by chiropractor Bernard Goral.
But with the Great Depression having arrived, change was in the air and by 1930 Stanley Iczkowski lived upstairs and ran a soft drink parlor in the corner space and a grocery store – still apparently called the OK Food Market – next door, and continued to do so for another couple years.
Interestingly, by 1933, with Prohibition repealed, neighborhood resident Joe Wittman was running a tavern in the corner space and the OK Food Market occupied the space next door. But the building at this point was now owned by tavernkeeper Louis Lewandowski.
Born in Poland, Lewandowski came to Milwaukee in 1911 and ran the tavern at 333 E. Keefe Ave. (where he also lived) for 39 years ... until he died there at age 68 in 1952. How he came to own a Bay View tavern is unknown but it's interesting to note that both he and Rahoi were members of the Modern Woodmen of America fraternal benefit society. Perhaps they knew one another.
But even this arrangement didn't appear to last long. By 1934 Wittman (who later was denied his bartending license over a rap sheet with traffic offenses and a few disorderly conduct convictions, a move that was overturned when Ald. Ted Wedemeyer vouched for his character) was out and permits name Adam Zenski as owner of the building and operator of the grocery store there.
And that same year, the building was listed for sale in newspaper classified ads. By late summer, Edward Smith owned the building, it seems, and was running a tavern there. He lived in the upstairs flat.
Having hung around for about five years, Smith was a champ in comparison to his predecessors, but even he couldn't really last and by summer 1939, ads in the Journal listed the "Tavern-Palm Garden, 10-room flat" for sale.
Smith apparently shut the place while he awaited its sale because the 1940 city directory lists the building as vacant. In September of that year, however, 44-year-old George McPartland and his wife Ann were living upstairs and running Arnold's Tavern on the corner.
Why was it called Arnold's? Well, inkmaker Arnold Appelt was running his shop in the adjacent space, but even that seems a little unexpected ... until you learn that Appelt was the McPartlands' son and he and his wife Ruth lived with the saloonkeepers.
1941
Alas, even the McPartlands were driven out by some unknown source – a nefarious spirit haunting the tap lines? – and by 1945, ads offering a "high-grade tavern, a real money maker for sale."
In 1946, Edmund Tillison arrived on the scene and stayed for four years, leaving behind a pair of photos that you can see if you stop in at Frank's (or look below...).
The exterior shot shows a big plate glass window out front, the likes of which you rarely see on bars anymore these days, and a great neon Gettelman sign on the corner above the door. It appears there's some sort of outing, as a crowd of men is waiting to board a bus parked on California Street.
An interior image shows a pretty packed place, all eyes on the tiny television set in the corner. Whether or not that Tillison himself behind the bar, cigarette in hand, foot perched up on the edge of the sink, we can't say for sure.
But Frank's regulars will definitely recognize the layout of the place, which hasn't changed much. Too bad those light fixtures are gone, though.
Like them, Tillison, too was gone and in typical fashion for the place, pretty soon, too. By July 1950, the bar is back on the market.
Walter H. Witt took over and ran Wally Witt's tavern there until '54, following by Francis Juneau and Leroy Flynn, who dubbed the place the KK Club Tavern. Again, however, change was in the air and three years later, Hachar Manashian took over. And by '58, the residence above became a small apartment and five sleeping rooms for rent.
Interestingly, Manashian had previously operated the tavern at 720 W. Kilbourn Ave. that had been opened at the end of Prohibition in 1933 by Charles Reichenbach, a former sheriff, who had also run a saloon before Prohibition.
During the '30s the Kilbourn Avenue joint ran afoul with the law on a few occasions – morals raids, illegal sale of whiskey during prohibited hours, disorderly conduct arrests – when it was owned by Olive Zengers. By '39, Manashian had arrived at what was then called Mike's Tavern, but the neighborhood was about to be razed for redevelopment.


Mike's Tavern at 720 W. Kilbourn Ave. in 1939. (PHOTO: Milwaukee Public Library)
When Manashian died in 1961, his wife Vartuhe took over and became, by far, the longest-running tavernkeeper there up to that point, staying on until 1978, when Charles Walker took over and renamed it Chuck's On KK, which it remained for 20 years, until Walker's death in August 1998.
Before Chuck's On KK, Walker had operated Ye Old Pub in the White House tavern building nearby on Kinnickinnic Avenue for about five years, according to an obituary. Some called him the "Mayor of Bay View."
"You didn't have to play the jukebox," longtime bartender Catherine Vojvodich – who had worked with Walker at Ye Old Pub, too – told Jim Stingl. "He would entertain the people with his stories."
That's when Wickert bought it, renamed it Frank's Power Plant and made it one of the best places in Bay View to hear live local music.
What's next?
D'Acquisto says her goal is to keep the place as much the same as possible, though she has changed a few things by choice and was compelled by code to tinker other stuff.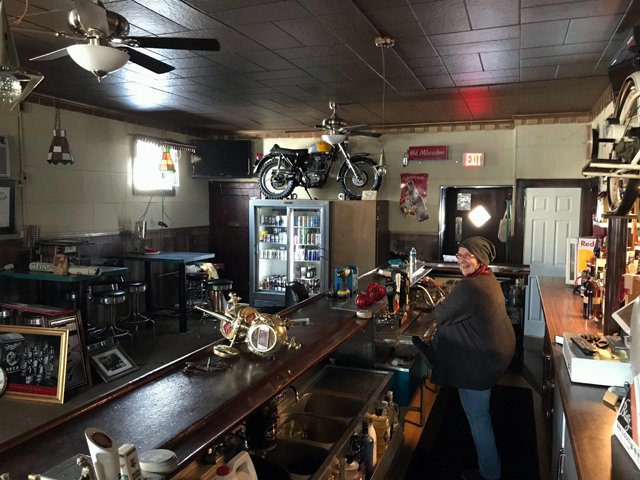 "There was lot of clean-up work around here," she says. "I would have never passed inspections. People want it to be the old, and stay the old, but there's asbestos (tile) on the floor. So, once inspectors started coming in here, certain things had to be done in order for us to open."
The motorbikes are still there, the original bar and back bar are still there, the wall covered in stickers of bands that performed in the back room survives, but D'Acquisto has added some music-themed decor in the back room – where she will continue to host live music – and some Bay View memorabilia, too.
"My vision is to keep it a corner friendly neighborhood bar," she says. "I said to Frank I'd keep the name. My vision is vintage, bring back the historical feel of the building."
She's also doing some work on the kitchen, which had fallen into disrepair over the years.
"I want to do hot dogs here," she says. "Three different types: a vegan dog that's going to be called 'The Frank,' a wiener and a hot dog. The kitchen doesn't have a hood now. I've updated it as much as I could to get something started. Even to have frozen pizza it needed to be upgraded back there. A sink needed to be put in.
"I'd like to get a little bit more (food), but not too much. There are so many good restaurants in Bay View, I don't even want to compete with them. I want to keep it basic and on the lower, affordable end, too. But, my vision first is to get the bar off the ground."
Born in Brooklyn, N.Y., where he lived until he was 17, Bobby received his BA-Mass Communications from UWM in 1989 and has lived in Walker's Point, Bay View, Enderis Park, South Milwaukee and on the East Side.
He has published three non-fiction books in Italy – including one about an event in Milwaukee history, which was published in the U.S. in autumn 2010. Four more books, all about Milwaukee, have been published by The History Press.
With his most recent band, The Yell Leaders, Bobby released four LPs and had a songs featured in episodes of TV's "Party of Five" and "Dawson's Creek," and films in Japan, South America and the U.S. The Yell Leaders were named the best unsigned band in their region by VH-1 as part of its Rock Across America 1998 Tour. Most recently, the band contributed tracks to a UK vinyl/CD tribute to the Redskins and collaborated on a track with Italian novelist Enrico Remmert.
He's produced three installments of the "OMCD" series of local music compilations for OnMilwaukee.com and in 2007 produced a CD of Italian music and poetry.
In 2005, he was awarded the City of Asti's (Italy) Journalism Prize for his work focusing on that area. He has also won awards from the Milwaukee Press Club.
He can be heard weekly on 88Nine Radio Milwaukee talking about his "Urban Spelunking" series of stories.