In 1958, Freddie Cocos – who was five years old at the time – emigrated to the United States from Egypt. In the 1975, his family bought Burbach's, a food market and meat shop at 5308 W. Hampton Ave. (Burbach's is still open today but no longer owned by the Cocos.)
At one time, Cocos' family had five stores, and Freddie, along with other responsibilities, built and ran a deli in one location.
"Delis are my life," he says.
Years later, Cocos opened a deli in Grafton, but after three years in business, he was diagnosed with cancer and forced to close the shop. He underwent treatment, beat the disease and decided to take deli sales to the streets in the form of a food truck business called, aptly, Freddie's Deli.
After struggling with his health, Cocos is happy to be, literally and figuratively, on the road again.
"I never get sick of it. Not the food, not the business and not the customers," he says. "I've been in customer service my entire life and if you take good care of people, you will always welcome them back."
Freddie's Deli offers barbecue beef, roast beef, ham or ham and bacon subs for $5-$7; brats, slaw dogs, sauerkraut dogs and Chicago-style dogs for $4; and a barbecue bacon dog for $5.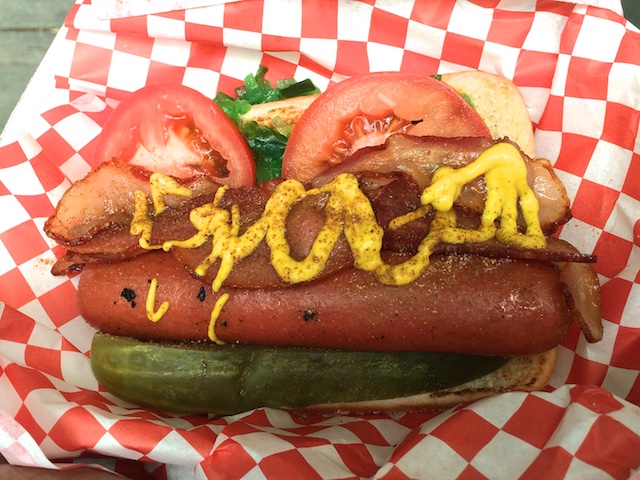 "During the week, I work as a bus driver, and I like that, but this is my passion," says Cocos.
The food truck business is a family affair for the Cocos. Freddie's son, Reuven, mans the truck on Friday nights and helps out with cleaning the vehicle, determining the routes and growing the menu.
Reuven has worked in the service industry for many years at Cousins, Alterra (now Colectivo) and currently at Hi-Hat / Hi-Hat Garage. He has many memories of going to Burbach's as a child.
"They had the best beef jerky I've ever had. My brother and I sold beef jerky at school. We sold them in 'dime bags' for $10 and 'nickel bags' for $5. Neither of us got the reference at the time, but it sparked this whole 'hallway locker business' situation. You could get all kinds of contraband – beef jerky, those blue raspberry Twizzler things that were three feet long, Black Bear sodas. The school was not pleased," he says.
Freddie's other son, Asher, is a master carpenter who did the entire build out and maintains the truck.
"Asher's wife, Laura, has offered us so much moral support and allows us to park the truck in their driveway," says Reuven. "And my mother also offers a lot of moral support and helped my dad come up with the idea."
Securing the license for the food truck wasn't an easy task and it took an entire year to obtain.
"I get it. It's the health department's job is to make sure you run a clean show and there's nothing wrong with that," says Cocos. "They don't want anyone or his uncle poisoning you."
Cocos, who lives in Glendale, finally got a license in Grafton and was able to start selling a month ago. He made his Milwaukee debut on Friday, May 29 in front of The Uptowner, 1032 E. Center St.
Freddie's Deli food truck will park in Downtown / East Side neighborhoods for the late night / bar time crowd. It will also be at festivals and farmers markets on the weekends this summer.
Down the road, the Cocos plan to make their own sausages. Currently, they make their own sauerkraut and slaw.
"Dad has always made sausage and once he gets in the swing of things I'm sure we'll get a smoker and get cracking," says Reuven.


Reuven says working with his father is fun and easy.
"I love it. My dad has been an entrepreneur at heart his entire life and this food truck is like his retirement plan," he says. "I'm going to do whatever I can to help his business grow so he can do what he wants: relax, make food and be a goofball."

Molly Snyder started writing and publishing her work at the age 10, when her community newspaper printed her poem, "The Unicorn." Since then, she's expanded beyond the subject of mythical creatures and written in many different mediums but, nearest and dearest to her heart, thousands of articles for OnMilwaukee.

Molly is a regular contributor to FOX6 News and numerous radio stations as well as the co-host of "Dandelions: A Podcast For Women." She's received five Milwaukee Press Club Awards, served as the Pfister Narrator and is the Wisconsin State Fair's Celebrity Cream Puff Eating Champion of 2019.