Last week, I was bragging about the airfare deal of a century: a $66 round-trip ticket from Milwaukee to Ft. Myers, Florida.
Yesterday, I was eating my words, since my flight home was delayed from Saturday to Monday (not complaining there), then cancelled completely on Monday, with no reasonable option on how to get home.
Granted, getting stuck in Florida in the middle of the Wisconsin winter is a pretty good problem to have … until it's time to leave, get back to work and see your family. And with Frontier only flying once a day, every other day, from Ft. Myers to Milwaukee, it was starting to get ugly. First-world problem? Definitely; we had a nice and relaxing few days on the beach. But at some point, everyone has to go home.
Frontier can't control the weather, but it wasn't about weather on Monday. The gate agents explained that Frontier didn't have enough staff and pilots to recover from Saturday's snowstorm. Unlike all the other airlines in the sky, they were canceling flights all over the country. We weren't the only ones stuck in the airport.
The problem was finding a way to get home. The discount carrier doesn't have a codesharing agreement with other airlines, so they couldn't rebook us on a different airline. Or even that day. Or the next.
Frontier told me that they could rebook us for Wednesday, but that flight was now pretty full, too. All of their other flights in Florida were sold out or cancelled. That would've pushed us to Friday. Looking around at the bewildered, mostly older passengers also standing in line, I helped explain what was going down. Frontier offered us a one-way reimbursement ($33), but that's it.
With no other options, I hopped on my phone and bought two one-way tickets on Southwest Airlines, for $499 each. So, after reimbursal, that $66 trip turned into a $532 one, plus the extra days of hotel, car rental, etc. Fortunately, we could swing that. The dairy farmer kid from Hartford, next to us at the gate, could not. I have no idea if he's even home yet.
Flight delays and even cancellations happen, but transparency matters most. My biggest issue, really, was the complete lack of customer service on Frontier's part. The gate agents reminded us that they didn't actually work for Frontier, so they could be of no help and, thus, couldn't offer any compensation. The Frontier pilots were not impressed, either:
"Frontier's private investors, led by William Franke and Indigo Partners, must decide whether they want to run a reliable airline or loot it," Frontier pilot union's head Brian Ketchum said in a statement. "If it's the former, they must invest in the infrastructure and front-line employees who are trying to succeed without corporate support."
In other words, even the pilots admit that it wasn't weather that caused Frontier to cancel some 30% of their flights on Monday. Said Ketchum, on Denver's debacle, specifically:
"This most recent meltdown by Frontier Airlines is due to the same executive mismanagement and misplaced focus on cost-cutting that has placed Frontier near the very bottom of the industry in operational performance and customer satisfaction. Leaving passengers and even their own cockpit and cabin crews stranded for hours without information is outrageous – even more so when this quarter was one of the airline's most profitable ever financially."
Frontier's customer service Twitter account didn't respond to numerous requests, nor did its Facebook account. At no point did I get an offer for a voucher or money toward our unexpected $998 upcharge to get home three days later than planned.
While I'm not looking forward to cold weather, not digging this flight-hour flight delay, either. Please help, @FrontierCare! @FlyFrontier — Andy Tarnoff (@AndyTarnoff) December 19, 2016
For obvious reasons, I'll never fly Frontier Airlines again – and you shouldn't, either.
Remember, this was the company the bought and dismantled Midwest Airlines, the pinnacle of customer service in the air. Now it's stripped down to an undermanned skeleton crew that can't make its commitments or even explain why. The email they sent while I dropped a grand to get out of Florida was a nice apology, but that won't cut it.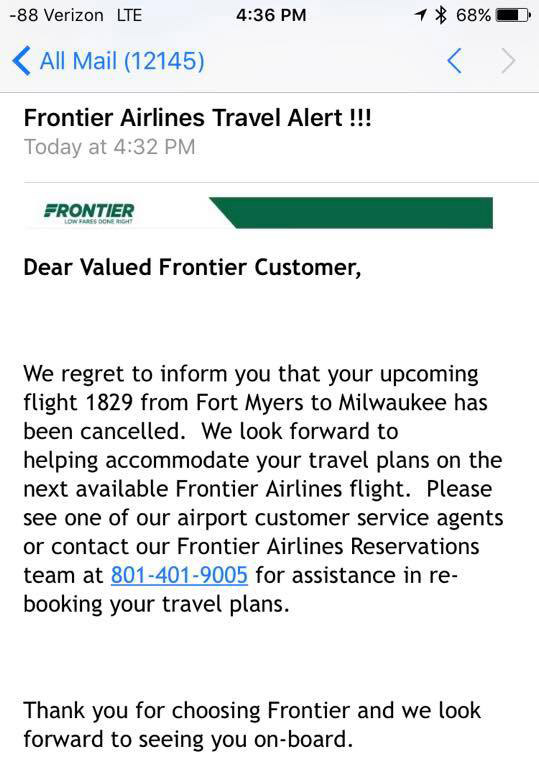 You take a big risk on cut-rate airfare. It's cheap for a reason. But that doesn't mean it should be absent of responsibility. I've learned a lesson about getting what you pay for.
When it comes to Frontier Airlines, you don't get very much.
Andy is the founder and co-owner of OnMilwaukee.com. He returned to Milwaukee in 1996 after living on the East Coast for nine years, where he wrote for The Dallas Morning News Washington Bureau and worked in the White House Office of Communications. He was also Associate Editor of The GW Hatchet, his college newspaper at The George Washington University.
Before launching OnMilwaukee.com in 1998 at age 23, he worked in public relations for two Milwaukee firms, most of the time daydreaming about starting his own publication.
Hobbies include running when he finds the time, fixing the rust on his '75 MGB, mowing the lawn at his cottage in the Northwoods, and making an annual pilgrimage to Phoenix for Brewers Spring Training.