OnMilwaukee's The Future Is Female series is brought to you by Alverno College and features some of the most interesting, innovative and intelligent women in the city.
Alverno College, for over 135 years, has strived to educate and empower women to realize their leadership, strength of voice and potential to lead in the working world. Alverno's support of "The Future is Female" continues to showcase and exemplify these efforts by supporting the stories of grit, resilience and strength of character of present, past and future leading women in the Milwaukee community! #AlvernoStrong
In 2018, Celeste Contreras Skierski graduated with a bachelor's degree in Fine Art from Alverno College and in 2022 received an MFA from the University of Wisconsin-Milwaukee. Professionally, she has taken on many roles and currently works as a Therapeutic Art Specialist working with adults in recovery using art as a form of healing. She is also the Community Ambassador/Library Specialist at UW Milwaukee Library in the Archives, a resident artist at The House of RAD artists collective, and a board member of a non-profit, community-based printshop called Anchor, Paper and Press.
Contreras Skierski returned to college in her 30s, and for her, the timing was right – as was the Alverno experience which is woman-centered (the undergraduate programs are for women only but men can attend the college as graduate students) and assesses student performance according to their abilities rather than with letter grades.
"Alverno prepared me to be able to stand in my spirit and speak my truth," says Contreras Skierski.
OnMilwaukee recently had the opportunity to chat with Contreras Skierski and ask her eight questions based on the "8 Abilities" that all students achieve with an Alverno degree: Communication, Analysis, Problem Solving, Valuing in Decision-Making, Social Interaction, Developing a Global Perspective, Aesthetic Engagement and Effective Citizenship.
"Raw truth is a far-off place that I am always looking for," says Contreras Skierski.
OnMilwaukee: What does active listening mean to you? Do you consider yourself a good listener, and if so, how has this helped you in your personal and professional relationships?
Celeste Contreras Skierski: Active listening for me is listening to the words of a person, but also it means to read what the person is telling me through their body language, their energy, their story. A lot of listening is also reading in-between the lines of what a person is saying. I have to be a good listener when I am working with clients who have special requests for their own art. Active listening takes time and it is one of the most important parts of my work as a community artist; what do people want=LISTEN.
What was the last subject you were curious about and then pursued to learn more?
Shrunken Heads. When I was in middle school (mid '90s) I was very curious about shrunken heads. I did no research but I ended up making several out of ceramics. As I look through my own personal archive of art at my Mom's house, I recently was finally ready to start diving into shrunken head research. I did this by researching online, going to the library and looking at photos.
If you can't figure something out yourself, what source or person do you turn to first? How long do you wait before you ask for help? As a woman, do you think you wait longer to reach out?
Even before I would call myself an artist, I called myself a researcher. So reaching out right away is a way that I have always conducted research because I find that the more I ask people for their assistance the more I find out where to find my resources. I encourage everyone who is interested in research to join a university library through a membership, this will allow you to access a larger database for more productive research, versus just using Google or even Google Scholar. And if you can get to any library, talk with a librarian, they are always more than willing to help find more resources for your interests. When I was at Alverno, the librarians were my best resource. Not only were the librarians willing to connect me to the sources they would request books from other libraries to be sent directly to Alverno campus.
What are your personal values? Who and/or what inspired them and how do these values affect your decision-making process?
I believe in research. I believe in education. I believe in respect for myself as well as others. I believe that people know what they want and need. I value autonomy, anarchism and love. My personal definition of "art" is decision-making. I believe that if an artist says, "This is art" then it is art.
The credit first goes to my Mom. She was a tired and overworked single parent who taught me how to ask questions, taught me to question EVERYTHING, and taught me how to use the library as a resource from before I could even read the Roman alphabet.
The other credit goes to The Night. All of the most important decisions I have ever made in my life that has changed my life were all only ever decided at 3:30 a.m. There is something I find to be boldly honest when I ask deep questions in the night. The night is the Library of Babel. It's where all the books, all the words, all the thoughts reside and it's where I find myself, my true creative self.
From 2019-2022 I was creating my Master of Fine Arts thesis work, every part of it was researched and written between midnight and 6 a.m. That's still my favorite and most important time to do work.
Technology and online communication/social media has definitely changed over the years. Do these things help or hinder your growth – or both?
Technology is going to always be present, whether it's the technology of a pencil and paper or a Zoom meeting, it will always be used. It will always be in the way and it can also be the way. Print and books are the first parts of human existence; evidence that we thought, we reflected and we created. Currently, I want to drown my stupid smart phones – paper and pencil are more valuable to me these days. But I do love laying awake early in the morning and thinking about all things at which time I usually pull out my stupid phone and ask Google "When was the first pencil invented" sort of questions.
Where is the farthest you've traveled and what is a thing or two you learned from the experience? And what surprised you?
Besides living in Northern Thailand, hitchhiking through Mexico and Central America, honestly the furthest I have been would be in my mind. The first time I meditated, the first time I entered a sweat lodge, returning to the womb of the world and facing myself, I found the scariest and most raw part of myself: the mind. In Mexican philosophy (part of my Maternal ancestry) I have studied and learned with healers that have affirmed that the mind and the heart are connected. So much of modern society wants us to escape who we truly are. I think getting the entire story – the good and the ugly – is more true than just getting the fluff of a story or a person. Raw truth is a far-off place that I am always looking for.
What are your favorite art forms? How do you challenge yourself to actively engage in the arts?
I've been trained by myself and I have been trained by fine artists. Drawing is my forte, but sculpture is my favorite form of art. Book(s) are sculptural and book is my absolute favorite thing. Not to be mistaken by stories. Stories/text/font/type all reside in book form, but they are NOT the book. The book is itself. How we choose to fill a book is part of the story. Being a resident artist at The House of RAD, I am building my own library of artist books there. I write/print/draw/build books. Some books take 10 years to make, some take 10 days. For me it is not about the amount of production but the longevity of the production. Each book becomes an almanac, a calendar, that's filled with time, space, reflection and commitment. I invite people to my studio to talk, to create, to eat soup and drink coffee. The time I share with others is a reflection of my mentorship. I have been so lucky to be surrounded by the most generous professors, teachers, mothers and humans who all remind me to continue the work. This has become contagious. Thank you, Teachers of the World.
How do you/your work move Milwaukee forward?
I am trying to find the first Latinx artists in this area. I am trying to find all of the existing or past collectives, guilds, groups and organizations related to art and history of Milwaukee. The fact is there is no one location to find all of these resources and a lot of these people are still alive today. If my community's history is not written somewhere to find the roots, where does that leave the future and where is the evidence that we did exist? This is my question to Milwaukee. If we are not writing our own history, someone else will and they will not have the entire story: the good, the ugly, the grand truth. So Milwaukee, come join me, let's write it now.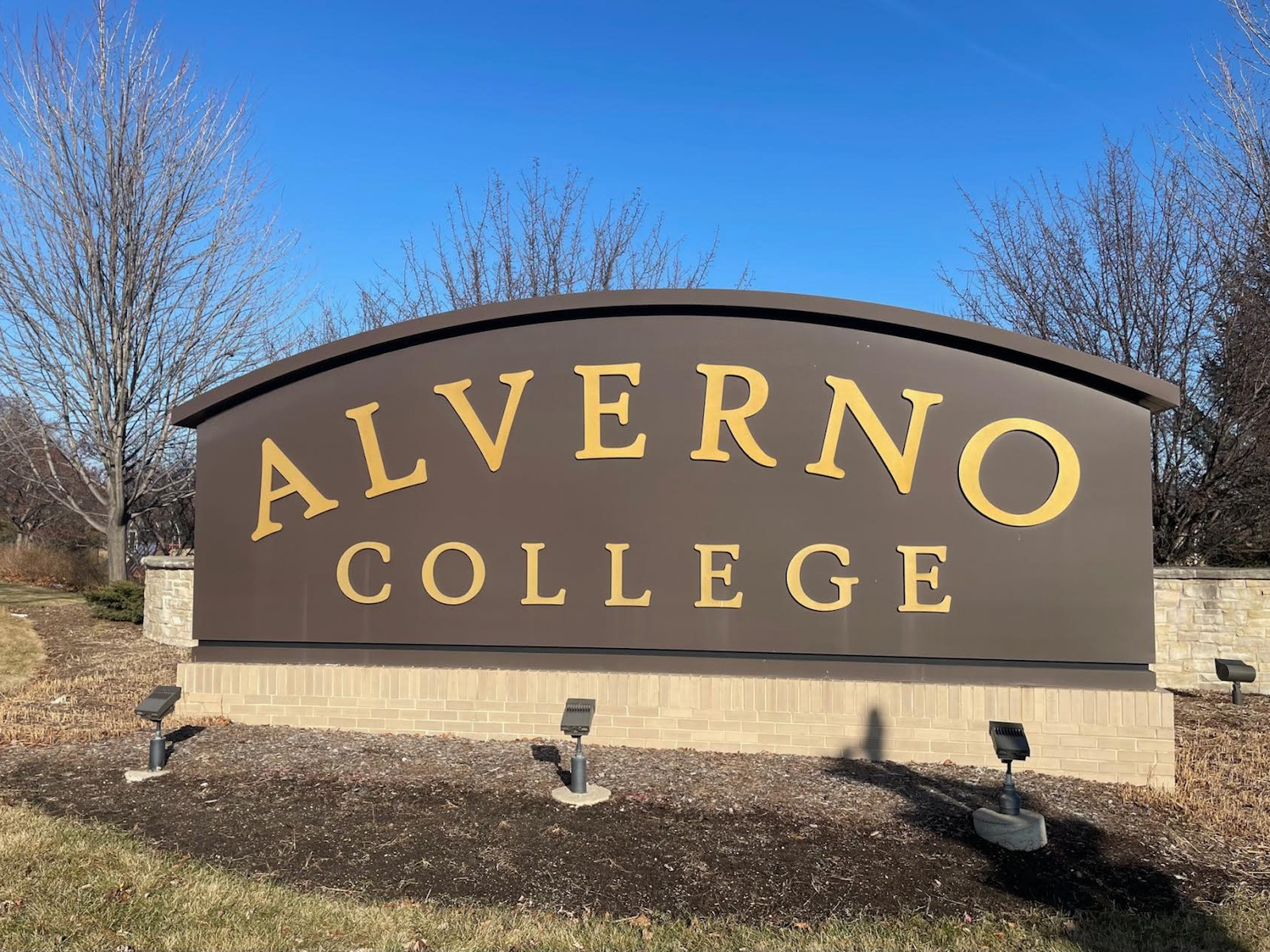 Follow Alverno College on Facebook and Instagram. Follow Celeste on Instagram to see more of her work.

Molly Snyder started writing and publishing her work at the age 10, when her community newspaper printed her poem, "The Unicorn." Since then, she's expanded beyond the subject of mythical creatures and written in many different mediums but, nearest and dearest to her heart, thousands of articles for OnMilwaukee.

Molly is a regular contributor to FOX6 News and numerous radio stations as well as the co-host of "Dandelions: A Podcast For Women." She's received five Milwaukee Press Club Awards, served as the Pfister Narrator and is the Wisconsin State Fair's Celebrity Cream Puff Eating Champion of 2019.