On Dec. 1, the second location for Point Burger Bar opened in Pewaukee at W229 N1400 Westwood Dr. in the former home of American of Madison.
The restaurant is operated by local restaurateur Brian Ward, owner of Ward's House of Prime, who entered a licensing agreement with Stevens Point Brewery to create a Las Vegas style burger bar with a distinctly Wisconsin flair.
In many ways the Pewaukee location mimics its sister restaurant with blue and white accents flowing through the space, along with myriad brewery paraphernalia on the walls, which vary from whitewashed wood to brick and metal trim.
Take a seat at the 40-plus-seat bar and you'll be privy to an expansive selection of Point brews, including subset brands like Cider Boys and specialty brews from the brewery's Whole Hog series. Bottled beer is also available from brands including Bud, Coors, New Holland and New Glarus.
Branded beer kegs form a wall along the west side of the restaurant, showcasing various Point brands and brews. Meanwhile, big screen televisions throughout the restaurant broadcast various sports events.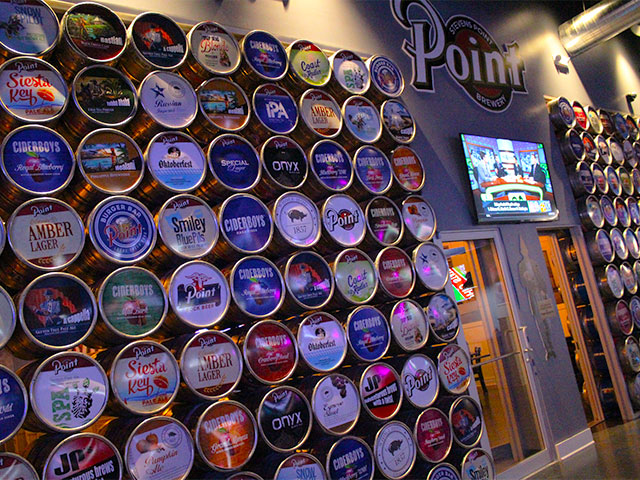 However, there are a few new features that set the location apart.
First, the restaurant is conveniently located adjacent to the Veloce Indoor Speedway, an indoor go-kart facility. An indoor "deck" at the rear of the restaurant offers diners a track-side view of the action.
Next, the restaurant has its own game room, which features 50 games including skee ball, air hockey and a variety of others including the experiential 4D game Dark Escape. Pre-loaded $10 Power Cards are available for just $5 with the purchase of an appetizer, sandwich or entree.
And, while it's not exactly a spiff in December, the outdoor patio, which wraps around the building, might make you look forward to more clement weather.
When it comes to edibles, you can't go wrong with one of Point Burger Bar's burgers.
Opt for a specialty burger like the "Au Poivre" with blue cheese and green peppercorn mayo served up on an onion bun for $10.95.
Or branch out and "build-your-own-burger" (prices vary depending on what you choose) include Prime Angus beef, bison, lamb, duck, turkey, portobello mushroom, veggie, salmon and chicken along with selections of cheeses, breads, vegetables and sauces (think tapenade, truffle aioli, bourbon bacon jam, horseradish cream and peanut butter).
It's also a pity to leave without trying one of the shakes – either classic ($5.95) or spiked ($10.95) – made with housemade custard. You can access the full menu online.
The Point Burger Bar is open seven days a week from 10:30 a.m. to close, with kitchen hours daily until 10 p.m. and a limited menu offered between 10 p.m. and 1 a.m. daily.
Lori Fredrich (Lo) is an eater, writer, wonderer, bon vivante, traveler, cook, gardener and girlwonder. Born and raised in the Milwaukee area, she has tried to leave many times, but seems to be drawn to this quirky city that smells of beer and alewives.
Some might say that she is a little obsessed with food. Lo would say she is A LOT obsessed with food. After all, she has been cooking, eating and enjoying food for decades and has no plans to retire anytime soon.
Lo's recipes and writing have been featured in a variety of publications including GO: Airtran Inflight Magazine, Cheese Connoisseur, Cooking Light, Edible Milwaukee, Milwaukee Magazine and the Milwaukee Journal Sentinel, as well as on the blog Go Bold with Butter, the web site Wisconsin Cheese Talk, and in the quarterly online magazine Grate. Pair. Share.