It's true that the long, low, single-story Hamlin Garland School, 3120 W. Green Ave., on Milwaukee's far South Side, isn't the style of building that typically grabs my attention. Call it a Midcentury Modern ranch house of a school building.
But I try to never turn down an invitation to visit a public school, and stopping at Garland recently reminded me why.
Bustling with activity, the school – named for the prolific writer hailing from West Salem in La Crosse County – has an enrollment of just under 600. And those students may challenge your expectations and preconceived notions.
"We get kids all the way from the northwest side to suburbs to around here," says Principal Dr. Steven Krull. "We've got about seven buses, but five of them are big and the rest are small, Special Ed buses."
The school draws from Cudahy, Franklin, Hales Corners, Racine, South Milwaukee, West Allis and other communities.
"We're pretty diverse with our population. A third of our kids are English learners (EL), and they speak 20 different languages. You might think of Spanish when you think EL, but I think we only have about six Spanish-speaking EL kids, the rest predominantly are from the Middle East."
In addition, the faces you'll encounter in the classrooms and the hallways are remarkably diverse. There are Latinx students, African-American students, Asian students, white students.
"It's really neat to have such a diverse student population," says Krull. "We thought that we'd be taking a pretty bad hit with all the immigration stuff at the federal level, but amazingly we're staying pretty stable with immigrants. People come to the country and they want to come here because there's already roots ... it's really a very diverse school, which is awesome."
Before we go any further, a little explanation is required, because the history of Hamlin Garland School is tied to two different buildings.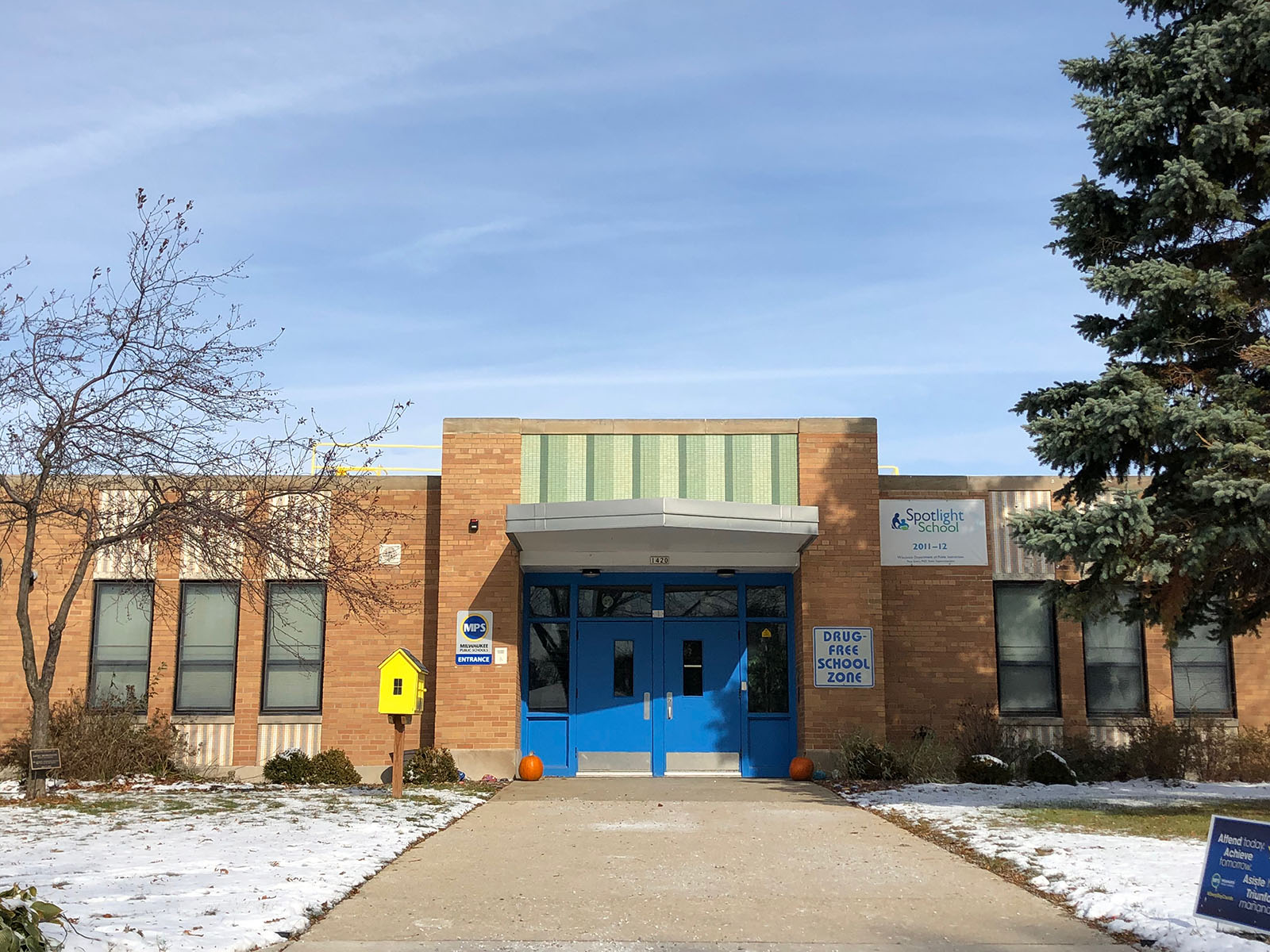 The program was launched in 1967, when Milwaukee Public Schools spent $461,218 to build a 14-classroom school at 1420 W. Goldcrest Ave. (pictured above), just west of the airport. The school was one of a long string of elementary school buildings that opened in the general vicinity in the 1960s, including Cooper and Victory and Kilmer, to accommodate growing populations in burgeoning subdivisions on the far South Side.
(PHOTO: Milwaukee Public Schools)
In 1976, when the airport freeway spur was under construction, part of the compromise with neighbors was the air conditioning of the Garland building so that windows could remain closed, keeping noise and air pollution from the students.
Two years later, the district proposed closing the 11-year-old building, much to the consternation of school board president Anthony Busalacchi, who said, "I only have one vote and no veto power, but from where I sit I can see no one who is serious about closing this school. I will fight for you."
Garland stayed open until 2012, when it moved a mile and a half west to its current home.
In 1959, the school board approved opening a 10-room school, designed by MPS architect Fred A. Wegner, on Green Avenue and naming it in honor of American writer and poet Alfred Joyce Kilmer.
In June 1960, Wilson Park School Principal Mildred Schroeder was reassigned to the new school, which flung open its doors to students that September. She would stay on well into the 1970s.
By the May 1961, plans were already underway for a seven-classroom, $150,000 addition, which opened in September 1962.
Neighbors fought a plan in 1980 to close the elementary school and replace it with a high school GED program, even attempting to get their subdivision and its school annexed to neighboring Greenfield.
That municipality's school superintendent warned that two schools there had closed in the previous five years and successful annexation would not protect Kilmer from being closed if enrollment fell.
The GED program moved in that autumn – as others did at 68th Street School and Lapham Park Social Center, too – and its first graduating class matriculated the following June.
In 1989, then-superintendent Robert Peterkin suggested moving Kilmer's GED program to the newly acquired Milwaukee Education Center at the former Schlitz Brewery – which did happen – and returning an elementary program to the Green Avenue building. (Kilmer, which for a time had two sites, including one in the basement of French Immersion and another on Howell Avenue, has since been renamed Groppi High School and moved to the former 27th Street School.)
In 1996, the Wisconsin Conservatory of Lifelong Learning K-12 program was housed "temporarily" at the old Kilmer site and remained there until 2012. An addition to the school was designed by Eppstein Uhen and built in 1998.
In 2012, WCLL relocated to the old Sarah Scott Middle School on 12th and Highland, near Marquette University, and Garland's program moved into the more commodious Green Avenue building, expanding from K-5 to K-8.
The Goldcrest schoolhouse became home to the I.D.E.A.L. charter program the following year.
The move has been a great one for Garland, which has been able to grow its enrollment, says Krull, who started as a teacher at Garland, before working his way up to instructional coach to assistant principal and now principal.
"Two years ago, we were at 570," he recalls. "When we moved into the building we were about 300."
Beyond that 1962 addition, the building has a four-classroom wing that was meant to be temporary but is now permanent. (A facilities employee estimated the wing is about 30 years old.)
Plus, there's that 1998 addition, which was designed for middle and high schoolers. That means it has a high school-scale library, gym and music room ... the sorts of things most elementary schools can only dream of.
Krull has boosted enrollment in part to be able to make the most of those spaces.
"We have slightly bigger class sizes so that we can have full-time art, music and gym here," he says as we step into the library and I marvel not only at its size but at its impressive stock of materials.
"We were at 570 and I really wanted to get a tot lot, but I didn't want to beg for money," he says. "So we went actually higher than what we should be, to 630 last year, and that gave us the money to purchase the tot lot on our playground. But, we have to bring those numbers back down, so we dropped below 600 again (this year)."
Krull walks me around the building and it's amazing to see the hard work going on here. The kids are well-behaved in the hallways and attentive in the classrooms, and no adult voices are raised.
Thanks to his enrollment, Krull is able to have paraprofessionals working one on one with students, and the paras even have their own space where they can work with kids.
Some classrooms have two instructors doing team teaching, working first together with a big group of kids and then splitting off to provide more targeted lessons.
In the kitchen, school lunches have gotten a boost, too.
"Originally, we had pre-packaged steamed lunches that were highly processed delivered to us," Krull says. "Now we have traditionally cooked lunches that are baked fresh on-site and include more local items."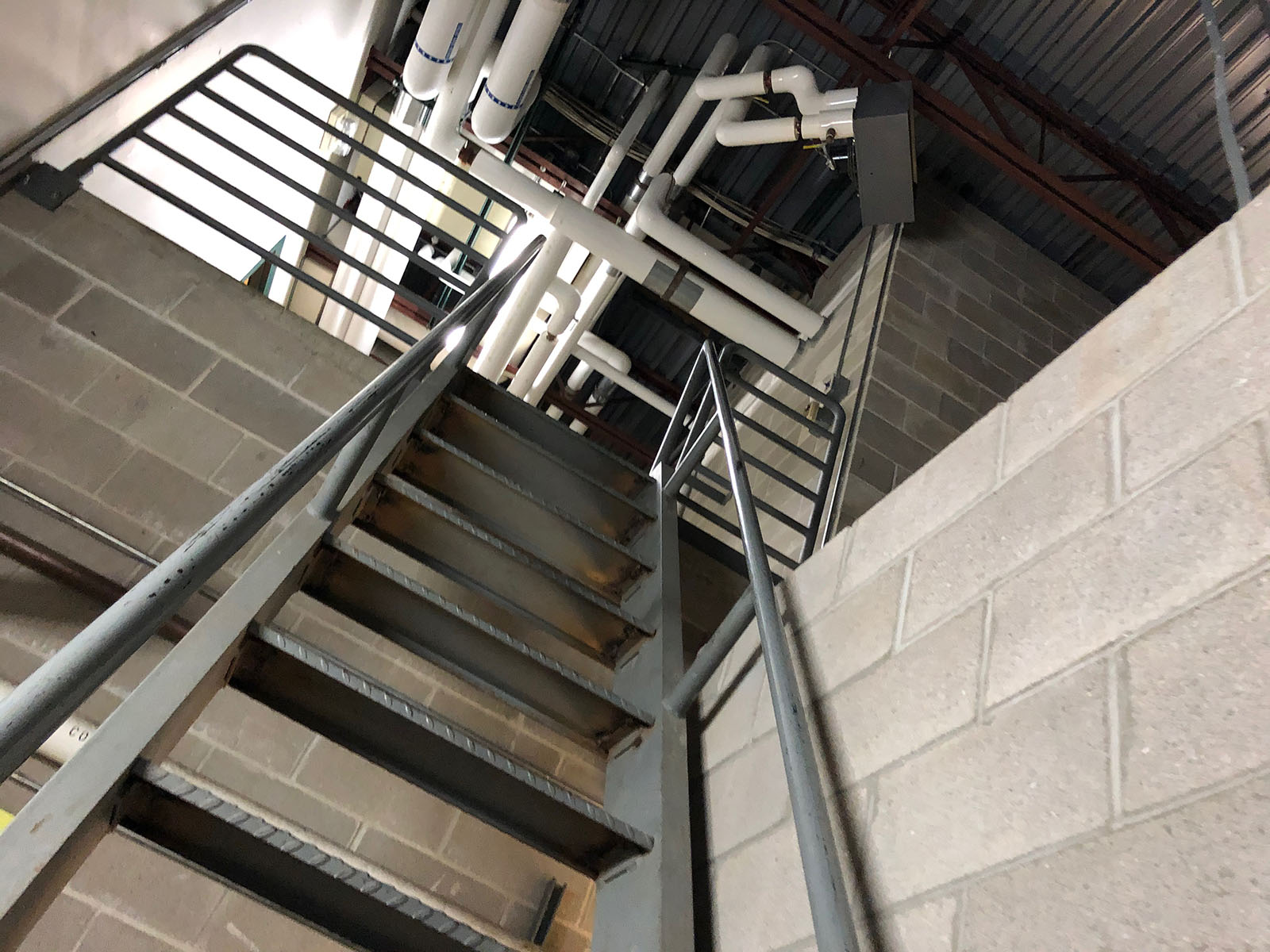 Unlocking an unmarked door, Krull takes me into a large closet-sized space with a long, steep metal staircase. We ascend into an HVAC penthouse in the 1998 addition, and head for another door.
Opening it, we step out onto the snow-covered roof for the best view possible of the amazing new tot lot playset as recess wraps up and kids line up to go back into the building.
I snap some photos and we go back down to say goodbye.
As Krull walks me to the door, a big group of kids, maybe first- or second-graders, passes by. One says hello and, "I saw you on the roof!"
Nothing gets past the Garland kids.
Born in Brooklyn, N.Y., where he lived until he was 17, Bobby received his BA-Mass Communications from UWM in 1989 and has lived in Walker's Point, Bay View, Enderis Park, South Milwaukee and on the East Side.
He has published three non-fiction books in Italy – including one about an event in Milwaukee history, which was published in the U.S. in autumn 2010. Four more books, all about Milwaukee, have been published by The History Press.
With his most recent band, The Yell Leaders, Bobby released four LPs and had a songs featured in episodes of TV's "Party of Five" and "Dawson's Creek," and films in Japan, South America and the U.S. The Yell Leaders were named the best unsigned band in their region by VH-1 as part of its Rock Across America 1998 Tour. Most recently, the band contributed tracks to a UK vinyl/CD tribute to the Redskins and collaborated on a track with Italian novelist Enrico Remmert.
He's produced three installments of the "OMCD" series of local music compilations for OnMilwaukee.com and in 2007 produced a CD of Italian music and poetry.
In 2005, he was awarded the City of Asti's (Italy) Journalism Prize for his work focusing on that area. He has also won awards from the Milwaukee Press Club.
He can be heard weekly on 88Nine Radio Milwaukee talking about his "Urban Spelunking" series of stories.