Milwaukee's LGBTQ community was elated – and then deflated – in June 2014 when a historic marriage equality ruling was stayed after just one week. Four months later, Wisconsin residents woke up on to a most startling October surprise.
On Oct. 6, 2014, the U.S. Supreme Court refused to hear appeals from five states wanting to maintain same-sex marriage bans that lower courts had already rejected as unconstitutional. Marriage equality immediately became the law in Indiana, Oklahoma, Utah, Virginia and Wisconsin.
The Wisconsin victory began with eight brave plaintiff couples and an American Civil Liberties Union lawsuit, and ended with defendant Gov. Scott Walker acknowledging defeat. "For us, it's over in Wisconsin," said Walker. "Others will have to talk about the federal level."
On June 26, 2015, the U.S. Supreme Court did exactly that, with a ruling that granted the freedom to marry to all 50 states.
Marriage had long been out of mind and out of reach for gay and lesbian couples. Suddenly, marriage became not just a very real option, but a very real expectation. Long-term same-sex couples suddenly had to answer a new and unexpected question: So ... when's the wedding?
Gary Kampe and David Roberts are one of these couples. They met one fateful night in 1978 at The Factory, Milwaukee's most legendary disco at 158 N. Broadway. "If you want to make it, make it at The Factory," said the club's famous ads.
Gary and David took that invitation and made a lifelong commitment. They've been together through triumph, tragedy and astonishing social changes – and recently, they took their relationship to a new level. On April 8, 2016, Gary and David were married in their Downtown home, surrounded by close friends, family and nearly four decades of shared memories.
On the two-year anniversary of the historic Wisconsin ruling, Gary and David share their perspectives on the transformative power of marriage on not only long-term relationships, but LGBTQ society.
OnMilwaukee: Was marriage on your mind growing up?
Gary: I always knew I was gay. Oddly, most of my childhood friends later wound up being gay too. Because of my upbringing, I thought about marriage from time to time, but never seriously. I went on a few dates in high school and went to junior and senior prom, but the idea of being pressured into sex always terrified me.
Gary Kampe
David: There was not a time in my life that I didn't have a crush on a boy. I didn't have anyone to talk to about this, of course, but I didn't have a way to verbalize it anyway. I liked to play with girls, but all my crushes were on boys. I never felt any pressure to date or marry anyone. My parents didn't question anything, and I didn't have to answer to anyone. Even when I came out, they just said, "Alright." I knew I was gay by the time I was 15 of 16. I read the John Rechy books in high school. That pretty much set the tone for me! I never really thought of marriage again. It just didn't make sense to me.
David Roberts
Do you remember your first time at a gay bar?
Gary: I attended UW-Whitewater and later UW-Madison. One of my roommates took me to the Pirate Ship (116 N. Fairchild St.) and came out to me. But even that didn't make me comfortable enough to come out myself. My roommates didn't know it, but I started sneaking out to the bar on a regular basis. I would lock my door, climb out a second story window and then sneak back in later. I would tell them I was going for a swim and jump in the lake on the way back just so there wouldn't be any questions. The joke was on me: My roommate wound up being a lesbian who would have her dates over while I was out. I was concealing myself from someone who was also concealing their true selves from me. Eventually, it all came out. The first bar I went to in Milwaukee was the River Queen, and later, the Factory and the Wreck Room were on that circuit.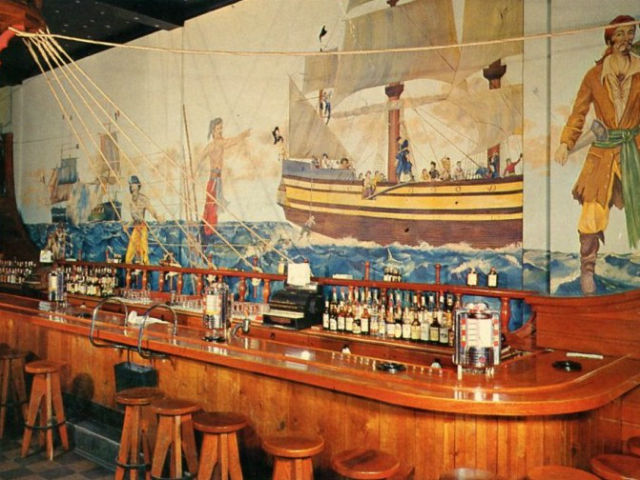 The Pirate Ship (PHOTO: Wisconsin LGBT History Project)
David: I was afraid to go to the River Queen! It just seemed so hardcore. Gary had friends to go out with in Milwaukee. I didn't have a buddy system – I had to go out alone. My first bar was This Is It. I was frozen the entire time. I seriously don't think I moved a muscle. And then, my mother's hairdresser came into the bar! We became best friends and remain friends to this day. He took me to my first disco, The Baron, in 1977. I walked in there and immediately knew I had found my people. I had never been anywhere like The Baron before. It was absolutely insane. I finally understood the meaning of the word freedom.
Gary: I distinctly remember being at This Is It, and a little old man came up to me and whispered in my ear, "I'm going to the Mint." It was so creepy. I thought to myself, I'm never going to the Mint. I didn't feel safe around old guys because they were always so grabby with me. I hated that.
David: The older generation was really attached to that Mint Bar. (laughs) It was the only place they really had any wiggle room. They were the last generation who spent most of their lives in the closet.
How did you guys meet?
David: I met Gary at the Factory the first time I went.
The Factory (PHOTO: Wisconsin LGBT History Project)
Gary: That place was really something. It was unlike anything Milwaukee had ever seen before. It was the tackiest wonderland imaginable. They let the drag queens decorate it. There were red velvet curtains everywhere. And a dragon that blew smoke out of its mouth.
David: That "smoke" came out of the fire extinguishers, you know. They would put them in the dragon nostrils and just let it spray. That was when they called it The Inferno for a while.
The Inferno (PHOTO: Wisconsin LGBT History Project)
The club was raided shortly after that, and I didn't see Gary for a while.
Gary: I came down with mono shortly after we met and stayed in for a long, long time. When I finally got a call from David, I was so exhausted that I couldn't go out. I invited him to come over and play Scrabble. (laughs)
David: Listen, I'm not going to anyone's house to play Scrabble. Especially if they have mono. (laughs)
Gary: I found David the first night I could go out again.
David: Yeah, he picked me up on Prospect Avenue in this orange Subaru. (laughs) His friends were in the car and were totally annoyed that he picked me up. I didn't care. We started dating that night and never stopped.
What was it like to be gay in 1978?
Gary: One of my first gay bars was JoDee's International in Racine. You had to be buzzed in. They would look at you through a tiny window and only let you in if they knew who you were. If they didn't know you, forget it! But there weren't any windows in any of the bars. You couldn't see out, nobody could see in. It was such a secluded world.
David: Bars would have these big plywood blockades in the entrance, and you'd have to walk around them to get in. These barricades prevented people from throwing fire bombs, beer bottles and other things into the bar. They were necessary protection.
Gary: It could get rough. I was in a Chicago bar, and someone kicked me in the head. I was at This Is It one night, and someone threw a chair at my friend and I. At 219, I was picked up and thrown across the dance floor. When I lived in Racine, I found my car window smashed, and even worse, someone put my bottle of cologne under my tire. I couldn't believe someone wanted to smash my cologne!
David: I used to walk from the Factory to 219 and back to the Wreck Room all the time. It was an unspoken rule that you walked in groups, never alone. I wasn't so good at following that rule. I was wandering around alone at 2-3 in the morning. I got the cat calls, whistling and horns from cars passing by. Still, I never had any problems. I was leaner, and I could run if I had to. Gay bashing was going on all around me, but I was blissfully unaware.
Gary: Oh, so true. It wasn't easy going to multiple bars. Many people went to just one bar and stayed there all night. It was safer. Leaving with people was also a really bad idea. One of my friends got beat up very badly on their way to the bus stop. I remember seeing a customer coming into the Oregon House (235 S. 2nd St.) wearing only briefs and completely covered in blood. Someone stole his car and left him behind.
David: The bars were so isolated back then. People really had to go out of their way to make trouble.
Gary: Remember the night the Summerfest carnival people started fights outside the Factory? I remember thinking, OK, I'm going to get beat up tonight. The next thing I knew, I was thrown over someone's car hood.
David: What about the night you did get beat up?
Gary: I was walking through Juneau Park when two people approached me. The next thing I know, they hit me with a baseball bat and demanded my coat. I said, you're not getting my jacket. I took off running and didn't stop until I got to the First Wisconsin Building. I didn't realize how horrible and scary I looked. I was completely covered in blood.
David: That was real blood, but I don't think that was real leather. We got that bomber jacket from Camel cigarettes. (laughs)
Gary: It was real leather.
David: Violence was a little worse back then because you couldn't always go to the police and report it. You relied on friends to get you through it. Although, I will say that the bar owners were very protective of us. Those bar owners were the bravest people in Milwaukee.
Gary: People think it's strange that we don't have more photos from back then. You know, after 38 years.
David: The only people who ever had cameras were drag queens. Nobody else was taking pictures. Nobody else was bringing cameras to bars! You'd probably be asked to leave. There was a lot of paranoia.
Gary: We sure had fun. We would drink and dance all night with our friends, go out for breakfast and come home when the sun was coming up. We went out five nights a week.
David: We felt so completely safe and free. We didn't worry about sexual predators or date rape drugs. We never thought about anyone coming through the door and shooting people. Never.
In 1982, Wisconsin was the first state to ban housing discrimination based on sexual orientation. What was it like living together when discrimination was still legal?
Gary: We moved into a studio apartment together on Juneau and Cass near All Saints Cathedral. The building manager was an elderly gay man who rented to us without any reference checks at all. This was just not how things worked. It quickly became clear to us why he was willing to rent to us.
Gary: He would invite me up after church and expect me to drink beer and shots at noon. He would sit in the dinette, open up those big French shutters, smoke cigarettes and cat call people.
David: You should have seen him, all proudly dressed up, with his party clothes and his cane. He would walk all the way down to This Is It.
Gary: The only time I remember being hassled at home was in Bay View. Our neighbors attracted police attention for firing shotguns in the air during an argument. They suspected that we had reported them. She came over and started screaming at me, "You fags, we're going to get you." Would you believe another neighbor, who was part of a skinhead gang, stepped in to protect us? The gunslingers left us alone after that, and eventually, they all wound up in jail.
What was it like being out at work in the 1970s?
Gary: I worked at the Green Tree restaurant at Boston Store. After my interview, the manager went back and told all the servers that she had hired a "real man," implying I was straight. At the time, all of the servers were gay men and older women. When I showed up, they were all laughing that I was the "real man." I knew many of them already from the bars.
David: And that's how we got into the Miss Gay Wisconsin Pageant …
Gary: Yes. A coworker offered me $500 and admission tickets if I would design his pageant wardrobe. It was held at the old Antlers Hotel in the Centre Stage dinner theater. It was really the greatest show on earth. Our seats were right on the runway, and sitting next to us was a drag queen in a wheelchair who was drinking heavily. Rona was a big drag star at the time, and her number was unforgettable. She was wearing a clown costume attached to helium balloons that, at a key point, were supposed to carry away her costume and reveal a ball gown. The balloons pulled off not only her costume, but her wig. Everyone was horrified – it was worse than Miss America falling down.
After the show, we found our friend Michelle, dressed up like Marilyn Monroe, passed out in the lobby. Mama Rae, who was at least two feet taller and 100 lbs. heavier than us, came out of nowhere and asked us to escort a lady to her car. She had gotten us thrown out of The Factory once, so we figured we better cooperate. Although the pageant moved on, that was the last year for the Centre Stage Theater. It was torn down shortly afterwards.
How would you respond to concerns that marriage will have a mainstreaming effect on gay and lesbian lives?
David: That's an interesting idea. Forty years ago, gay life was so clandestine, so cloak and dagger, so underground. There was a lot of anonymous sex, and sex was really the basis of most relationships. There really wasn't any incentive to settle down. Young men had access to a nonstop party with all the free sex and drugs and dancing they could get. That's not exactly a lifestyle a 20-something wants to give up. You didn't really need or want a committed relationship, because what really would you do with one? Only the very, very brave could come out and go public. It was far sleazier, for sure, but there was something to all the privacy and secrecy that made it feel exciting. But let's be clear, so much of this culture happened because gays and lesbians were forced underground. Gay bars were the only place some people could be themselves, and even then, only to a limit.
Gary: Looking back, it was not a sustainable way of life. I remember seeing men at This Is It or The Mint Bar who had been living at this pace for 30-40 years, and thinking, is that my future? Am I going to be the broken down older guy smoking alone on a barstool? Will I be that ghost of times past? I wanted more than that.
David: Everything really changed with AIDS. Clubs had been so popular, crowded and hot that you could rarely move. After the AIDS rumors started, the crowds thinned out. By the height of the epidemic, you could go bowling in the bars. There was nobody going out. It's a miracle so many bars stayed open. You would go months or even years without seeing your casual bar friends. Most people just disappeared forever. We assumed they were dead, because so many, many people died. There was no internet, there was no texting, there was no email. There was a total lack of information. You just can't imagine how strange and scary it all was. AIDS changed the tone of everything. It slammed on the brakes, and the nonstop party screeched to a halt.
Gary: My childhood best friend came to dinner one night and said, "With the two of you, I'll get through this." It was the strangest thing, and he never explained it. We later learned he had AIDS. There was no treatment for him. It was horrible. Absolutely horrible.
David: There are literally two friends from back then that we still keep in touch with. And that's only because of Facebook.
Gary: I don't know that the scene ever fully came back, not like it was.
David: Now people are saying gay bars are dying because technology has made them obsolete. It's not just apps, though, it's the much broader acceptance that starts as early as junior high. My niece asked if her male friend could sleep over and was surprised that her father said no. "But Dad, he's gay, what's the big deal?" she asked. This would have been a very big deal when I was in high school.
Gary: Straight men aren't afraid to say they have gay male friends now. It's the new normal.
David: All things considered, I think the move towards long-term committed relationships was a natural and healthy progression. Stability is a good thing. It's made the world safer for for young people to honestly express themselves. It's made it easier for people to live full lives.
When and how did you decide marriage was right for you?
David: We first really thought about it during the second push for marriage equality in Wisconsin …
Gary: … but it took a while to convince David …
David: Look, I didn't want to do it until it was legal at the federal level. And when it became legal, I lost my argument. We had been talking about adoption in the 1980s, when friends had children and I started feeling very paternal.
Gary: Maternal.
David: Eventually, I realized that Gary didn't even want a dog because it was too much responsibility, so that was the end of the kids. But not the marriage.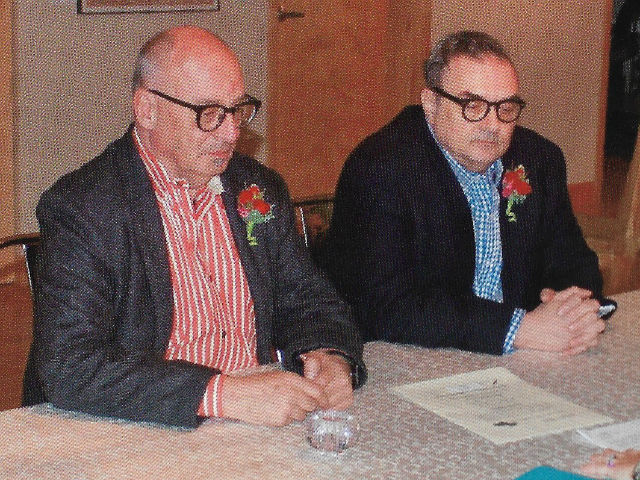 Gary: My family knew David and loved David, but we never really talked about the reality of being gay. My parents were part of a very conservative Lutheran church, and this was not something I could have discussed with them. My mother gave me strange little clues that she knew all along, but nothing straightforward. After we set a wedding date, I knew I had to tell my sister. This was a really strange conversation. I left a message saying, "David and I are getting married, and I'll call you later." When she called back, she said she already knew.
David: My family is close, but I wouldn't say they are emotionally or physically expressive. After my parents passed away, I was really inspired by the longevity of their marriage. I wanted the stability of traditions. This would be the first time that either of us – in front of family – were verbalizing our commitment to each other.
Gary: People couldn't believe we didn't do it right away.
David: When you don't have that access for your entire life, it's just natural to embrace it. But we didn't want to just jump on a bandwagon.
Gary: I kept saying, we've been together so long, why not?
David: And I was on the other side saying, we've been together so long, why? What is your motivation?
Gary: I was concerned about what might happen after I'm gone, if my intentions were not known, documented and protected.
David: I was still ambivalent up to the day we got married.
Gary: You didn't want rings, then you wanted rings. We had a wedding cake. The wedding ceremony started very small and grew to 20 people. All these traditional things just kept creeping into the plans.
David: I didn't even want to get married. It didn't make any sense to me. I asked myself, "What will this prove? What will this change? Are we just doing this because we can?"
Gary: He gave me a lecture. I was ordered not to cry. I didn't plan on crying, and I didn't cry. But then he did!
David: Well, Sarah (who officiated the ceremony) said such magical things! The big $10,000 dress wedding will never make sense to me, but marriage makes sense to me now that everything is said and done.
What advice would you give other long-term couples considering marriage?
David: It's a tough conversation but you have to have it. Get it all out on the table. Be honest with each other about how you feel. Be patient. You'll know when the time is right.
Gary: If you've been together for decades, what are you waiting for? Life's too short.
Thank you to the ACLU of Wisconsin and the plaintiff couples for making marriage equality a reality for all Wisconsin residents.
Growing up in a time of great Downtown reinvention, Michail Takach became fascinated with Milwaukee's urban culture, landmarks and neighborhoods at a young age. He's been chasing ghosts ever since. Michail, a lifelong Milwaukeean, dreaGrowing up in a time of great Downtown reinvention, Michail Takach became fascinated with Milwaukee's urban culture, landmarks and neighborhoods at a young age. He's been chasing ghosts ever since. Michail, a lifelong Milwaukeean, dreams of the day when time travel will be possible as he's always felt born too late. Fearlessly exploring forbidden spaces and obsessively recording shameless stories, Michail brings local color to the often colorless topic of local history. As an author, archivist and communications professional, Michail works with community organizations (including Milwaukee Pride and Historic Milwaukee) to broaden the scope of historical appreciation beyond the "same old, same old."