In honor of the Milwaukee Bucks NBA Finals appearance we're resharing one of our favorite stories on Giannis Antetokounmpo. It originally ran Oct. 22, 2013. #Bucksin6
The black Bic pen looked like a toothpick in Giannis Antetokounmpo's hand as he drew two sets of parallel lines on a notebook, demonstrating the sleeping arrangements in one of his family's tiny homes in Sepolia, Greece.
"One room like this, four of us," he said, pushing the pen tip into the paper, firm enough to indent the sheets beneath. "The other room, like this – little – my mother and my father."
Looking down, bent over, he stared at it for a few heartbeats.
"That's over," he said faintly.
Then, a smile.
"Now it'll be like this!" he laughed, quickly drawing a large circle as he straightened his shoulders, the pen dropping off the notebook at the binding and coming back around to completion.
Immediately likeable, Antetokounmpo has been equally cheery, introspective and honest since arriving in Milwaukee in late July. He's maintained some innocence, despite a life of poverty and uncertainty. He comes to the United States with a desire for greatness on the basketball court, but carries the burden of being a political lightning rod in his home country – a country that until this summer wouldn't claim him as its own.
"He's been through tough times already and when you go through difficult times, it creates personality," said Spiros Velliniatis, the Greek basketball coach who introduced the teenager to the world. "It was more (difficult) than it sounds. Believe me."
A life changed
On the way back to his hotel in Athens, John Hammond was lost in thought. The Milwaukee Bucks general manager had watched Antetokounmpo – then spelled Adetokunbo – play for three days in the modest gym of the Filathlitikos team in the Athens suburb of Zografou, and saw a world of potential in the spindly, 6-foot, 9-inch teenager. The secret was out, too. Personnel from NBA clubs were filtering in and out of that gym.
He's a lock first rounder. How high could he go?
Hammond's thoughts turned to Giannis' young brothers outside the baselines, Kostas and Alex, talking trash, giving as well as getting. Their parents, Charles and Veronica, watched alongside. Hammond could see how close they were.
The family of six – Giannis' older brother Thanasis also played for Filathlitikos – lived near the gym. In truth, it was the most stable home they had.
This kid, Giannis – his life is going to change.
Not long after, in an office at the Cousins Center, Giannis – now spelled Antetokounmpo – swooped his name across his first NBA contract. Hammond remembered his three days in that Greek gym which sat 500. One backboard was rimless and the game backboards had no springs. Window panes were cracked. Wood planks on radiators served as shelves in the weight room. He remembered watching the family.
Photo: @Bucks/Twitter
It's just happened. It just changed.
It wasn't the money. The Spanish-based team Zaragoza signed Giannis to a multi-year, six-figure deal in December, and he went from earning 500 Euros a month to several thousand.
"It's something else," Velliniatis said."The prestige and the shining of the NBA is mind blowing. The life he has now is tremendous. The money is good, but it's a way to verify the shininess of the NBA because even the money … the shining is something different."
Indeed. The interest from NBA personnel departments helped the brothers earn spots on the Greek National Team. An issue had to be resolved, however. In order to travel they needed passports. To have a passport, they needed citizenship.
Giannis, Thanasis, Kostas and Alex were all born in Greece, but as children of Nigerian immigrants they were never recognized as Greeks. Nothing was ever steady, certain. They faced evictions, moved from place to place. They had survived together as a family, the boys selling sunglasses, hats and bags on the street. Veronica babysat, Charles worked as a handyman. Once Giannis and Thanasis picked up basketball, they shared the same shoes.
"They wanted a better future and a better life," Giannis said of his parents. "They say, to come to Greece and have a better life. Even coming to Greece, they didn't have a better life. Life was still difficult. My mother is 50 years old. And my father, too. For 50 years old, life was difficult for them."
There was no bitterness in his voice, which falls out in a steady, monotonic treble.
"For 20 years they were illegal," he continued. "It's very hard to live for 20 years without papers. Very, very hard. You have children and you have to go out and work without papers. At any moment, the cops can stop you and say come over here and let me send you back to your country.
"For me, my parents, they are heroes."
Now heroes to their country, Giannis and Thanasis were awarded citizenship on May 9, which resulted in the spelling change to their last name.
On June 27 at the NBA Draft in New York, Thanasis leapt to his feet waving a Greek flag at his brother's selection. Six days later, Giannis and his parents were welcomed at the Maximos Mansion in Athens by Greece's Prime Minister Antonis Samaras.
"Being drafted into the NBA is a good thing; a good thing in our life. It's a very, very big, good thing in our life, in our family too," Veronica said. "We've worked very, very hard and it was difficult to live."
Her son was celebrated now. Not just as a citizen, but as an ambassador.
"I was so happy," Giannis said about the citizenship. "A little thing means so much for me. That little thing means so much for me and my family."
The governmental recognition warmed Velliniatis' heart, but it didn't thaw. In their time at Filathlitikos, Giannis would worry over his status with the state. Velliniatis assured him if he became great on the basketball court, it would change.
The hypocrisy was not lost on the coach.
"If Giannis was an Einstein or a scientist, he would not be getting Greek nationality because there are 100,000 kids, at least, with the same problem," Velliniatis said. "Because basketball is the national sport here, those kids got to overcome the legal difficulties. The problem still stays for 100,000 kids trapped. It's correct to say this because Giannis was the exception."
In the last five years, as Greece's credit was downgraded and unemployment spiked – a rate among the highest of any developed country in the world – the tenor among the populace darkened. The nationalistic Golden Dawn party went from having little influence in the Greek Parliament in 2009 to having 18 seats after the 2012 election.
White Greeks began to look at people of color, particularly African immigrants, as the cause for their problems.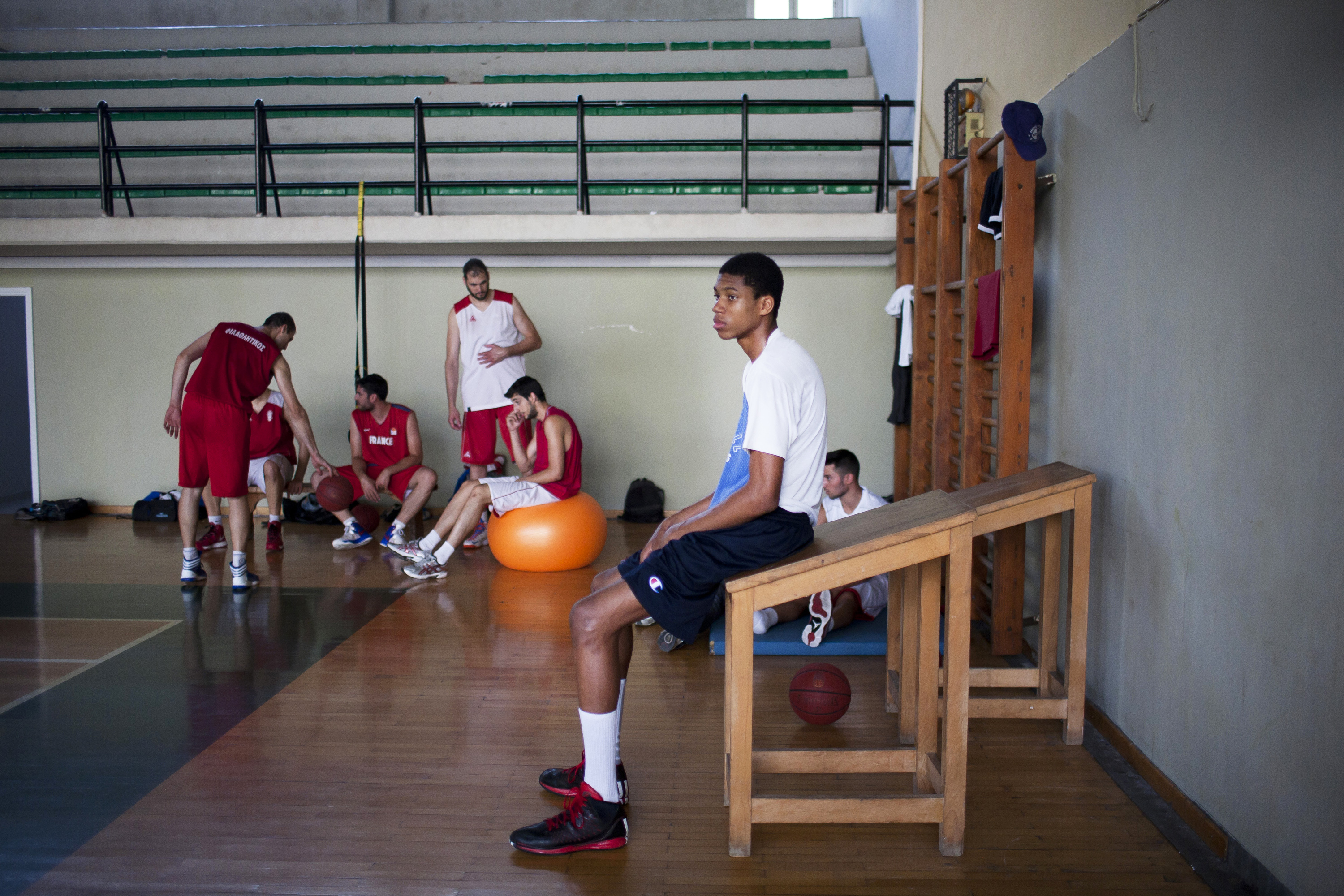 After being granted citizenship, after being named to the Greek National Team, after the draft, the cloud over Greece found Giannis. The leader of the Golden Dawn party, Nikolaos Michaloliakos, hurled racial and ethnic epithets at Giannis and at Bucks owner Herb Kohl in a television interview, saying Giannis should have been arrested at the steps of the Maximos Mansion and deported.
This is why an innocuous media day query on the eve of training camp about the expectations from back home to perform well drew an unusual response.
"I don't feel pressure or anything else but my friends, my family and basketball," Giannis said. "Nothing else can pressure me. So, they can't touch me."
The power of the last four words, the subtext, could be felt.
Later, Giannis admitted his answer was in response to the backlash he's received, especially from Michaloliakos.
"Yes, of course," he said. "Anything they say, even if it was in the past, people that say bad stuff about me or my family, they can't touch me. With that, I mean (that) I can just play my game. They can't pressure me or something like that. He don't touch me.
"It'll be nice that family can be here and be away from anything that's happening in Greece. But I love my country. Greece is my country. I'm going to go back home. But it's nice to have my family here in the U.S."
Hammond was right – Giannis' life has changed, but in so many other ways than even the veteran general manager could've imagined. The Antetokounmpo family knows when and where they will eat. They can go to school, work, play – live – finally, nearly 5,500 miles from home.
Giannis smiled.
"I hope they come to Milwaukee, to like Milwaukee, to love Milwaukee and let's have some fun, like a family."

Photo: David Bernacchi
The practice of patience
Following his introduction to Milwaukee at the BMO Harris Bradley Center in June, Giannis cycled through one-on-one interviews, compared hand sizes with WTMJ sports anchor Lance Allan and was introduced to various team officials. Hammond took it all in.
"We just all have – probably me more than anyone else – we just need to have patience," he said quietly.
It will be difficult.
Giannis turns 19 on Dec. 16. Young, but not that young. For example, Kansas University's Andrew Wiggins, the projected No. 1 draft pick in next year's draft, will turn 19 two months and seven days later. Giannis is years behind American and European teenagers deemed NBA ready, however. He's been playing basketball for five years. He's been 6-9 for a few months.
Because of that, though, he's so – intriguing – as Bucks coach Larry Drew believes. Giannis' length, juxtaposed with his dexterity, makes him so.
When he toes the free throw line, the way he folds himself as he dribbles and sets, he looks all of his height, limbs everywhere. The circumference of an NBA ball is nearly 30 inches, yet it looks like a softball hidden by his hands.
The expectation is an awkward hoisting of the ball to the rim. Yet his release is rhythmic and rolling, like a player a head shorter.
That's not all. He glides around the top of the key, without the awkward hitches and unsure ball handling of most players his size. At full gallop, his strides are breezy.
What can be is tantalizing, even for teammates.
"He has a lot of potential, man, a lot of ability, a lot of things you can't teach as far as length and size and quickness," Larry Sanders said. "His ability to learn, his ability to be a sponge, to absorb everything he can is really what is going to take him over the edge and make him a great player. He has everything, all the attributes to be a great player."
An immeasurable part of Giannis' makeup comes from somewhere deep within. Like when Velliniatis asked his young players at Filathlitikos to perform wall squats. At five minutes, player after player kicked out. Giannis, sat for seven.
"Just to say he had no limits," Velliniatis said. "He was such a great competitor from an early age."
His mother concurred, saying Giannis had every intention of following the family line of soccer players, which began with his grandfather, down to his father, and to his oldest brother, Francis.
"When I was a little kid, when I start something, I want to be best at it," Giannis said. "I was so focused on what I was doing. I would play futbol, I was focused. I was going to be a big futbol player. Like, OK, say it didn't work. I go to basketball, there, finished - I'm going to be a big basketball player. That's it. From the first day, we have that goal. Finished. Be the best at whatever you do. Everything. That's every day. It helps you move forward."
It's why if Giannis wasn't working he was playing in a park in Sepolia, which is where Velliniatis discovered the teen in 2009, supposedly on a bike ride through his old neighborhood.
Velliniatis laughs at the script, which has been reported as truth. No, he was not riding his bicycle. No, he did not see Giannis playing basketball. Yes, he happened to be near his old neighborhood, and yes, he convinced Giannis to play – but only after promising to help find his parents work and after Thanasis did his share of convincing as well.
"I was negative," Giannis admitted. "I said no, no basketball. I need to get a job to help my family, in that moment."
The coach also had to meet with Veronica, who happened to be coming to call her boys home. He explained basketball could provide her sons a way out of poverty, a chance with greater odds than soccer. Also, Thanasis was 15 and Giannis was 13 – Velliniatis had to get them onto a court. Greek law prohibited undocumented immigrants over the age of 15 from playing sports.
"He helped us," Veronica said of Velliniatis. "He helps African children. It's a good thing the club adopted him. From there, they worked very, very hard. We welcomed that, that opportunity."
Sitting at a long table in the pizzeria in Palermo's Pizza in front of his custom-baked pie, Giannis brightens when speaking of Velliniatis.
"He was giving us money – the guy didn't have money. He was borrowing us money! He loved us too much. I cannot say where the love comes from. I didn't even know that guy. I didn't even know him so well. He helped us so much. I hope he can come to America and live with us."
Giannis lifted his eyes up and around the room.
"Spiros is a great guy, a very great guy, like second father for me," he said, smiling. "I believe without Spiros, maybe in this moment, I will not be here."

Photo: David Bernacchi
The "Rook"
Off on a side basket at the Cousins Center Friday afternoon, Giannis beat former All-Star point guard and current Bucks assistant Nick Van Exel in a one-on-one drill and finished with a dunk – "Ohhhh!"
Giannis took the ball back out to the free throw line extended, all smiles, until Van Exel jammed his left hand into Giannis' back, then punched at the ball with his right. But Van Exel's weight tilted him forward and Giannis used the leverage to get around his coach again, and flushed it.
As Van Exel walked away with the ball, Giannis smiled widely and flexed.
"Go home!" Van Exel said.
Giannis balled his fists and put them on his hips, cocked his head up to the right, then left, chest out.
"All day, every day! All day, every day!" he shouted, the words chasing the coach to the ball rack.
Giannis was then called over for a spot in a team video, and was given a foam finger as a prop.
"Giannis – stick it up your nose!" assistant Josh Oppenheimer yelled as he shagged balls for Brandon Knight. Giannis fell against the wall in giggles.
Some of this will change. The shoulder hunches and palms up looks when a teammate yells at him for not moving in the half-court will disappear. The coaches will stop begging for him to shoot when he's open for a corner 3, or when he drives within feet of the rim and dishes to an unsuspecting teammate.
The humor, smile, the unabashed joy for the game, hopefully remain. The humility of the poor kid from Sepolia, will.
"My attitude never changed. Never changed," Giannis said. "Like I go to check a house and it was too expensive. Because you live your life the hard way, in poverty and you were so poor, you look at that money – and even when you got the money – you look at the price of the house you don't want to give so much money, you understand?"
He looks at the circle in the notebook he drew to represent how the living space for his family will grow. It wasn't a grandiose symbol. It didn't even fill the page. It was contained to the upper right hand corner, enclosing the top margin and some lines below. He held the pen firm, satisfied, and nodded his head.
Jim Owczarski is an award-winning sports journalist and comes to Milwaukee by way of the Chicago Sun-Times Media Network.
A three-year Wisconsin resident who has considered Milwaukee a second home for the better part of seven years, he brings to the market experience covering nearly all major and college sports.
To this point in his career, he has been awarded six national Associated Press Sports Editors awards for investigative reporting, feature writing, breaking news and projects. He is also a four-time nominee for the prestigious Peter J. Lisagor Awards for Exemplary Journalism, presented by the Chicago Headline Club, and is a two-time winner for Best Sports Story. He has also won numerous other Illinois Press Association, Illinois Associated Press and Northern Illinois Newspaper Association awards.
Jim's career started in earnest as a North Central College (Naperville, Ill.) senior in 2002 when he received a Richter Fellowship to cover the Chicago White Sox in spring training. He was hired by the Naperville Sun in 2003 and moved on to the Aurora Beacon News in 2007 before joining OnMilwaukee.com.
In that time, he has covered the events, news and personalities that make up the PGA Tour, LPGA Tour, Major League Baseball, the National Football League, the National Hockey League, NCAA football, baseball and men's and women's basketball as well as boxing, mixed martial arts and various U.S. Olympic teams.
Golf aficionados who venture into Illinois have also read Jim in GOLF Chicago Magazine as well as the Chicago District Golfer and Illinois Golfer magazines.