For the past five years, Kevin Goudzwaard has mastered his candle-crafting (also called "chandler") skills through his business, Milwaukee Candle Co. During this time, people often asked if he'd consider teaching the creative skill to others and, after much planning and collaborating, he quietly opened Glassnote Candle Bar, 524 S. Second St. (2nd floor), at the end of September.
Glassnote Candle Bar serves as both a production space for Milwaukee Candle Co. as well as a cozy, lounge-meets-speakeasy-meets-cafe-meets-your private living room bar and candle-making area that's open to the public. Located on the second floor of a century-old building, the decor is an invigorating and inspiring combination of natural wood, beamed ceilings, handmade tables, leafy plants in large windows, reusable glassware and ambrosial aromas.
"We want people to walk in and instantly feel welcome and comfortable," says Goudzwaard.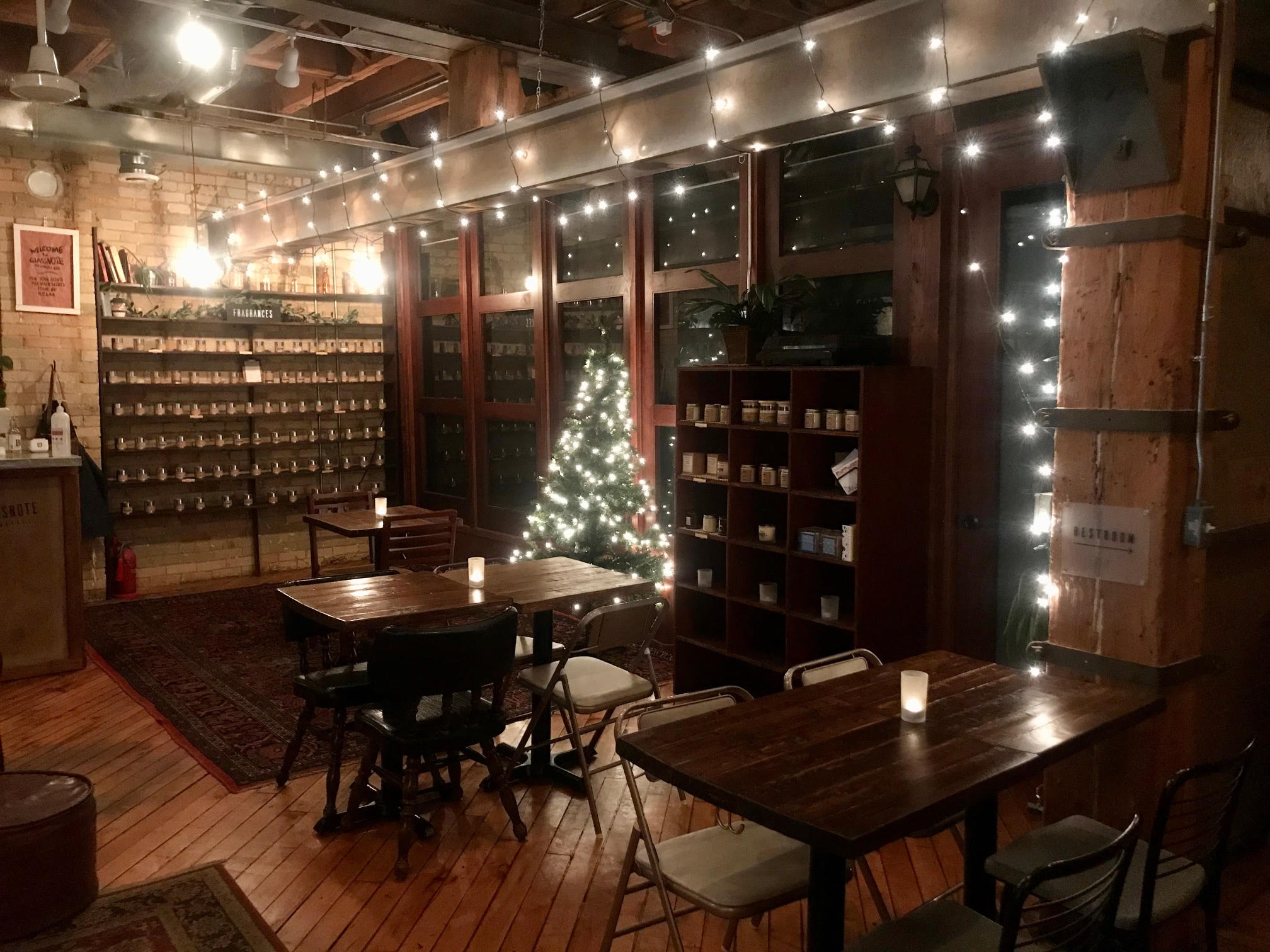 Reservations are required and guarantee a private candle-making experience inside the space. Individuals, couples or very small groups (for now, due to pandemic mandates) sign-up for a two-hour time block to make a candle or two while sipping a boozy or "sober curious" beverage of choice. Glassnote offers a solid macro and craft beer list, along with wine by the glass or bottle, hard seltzer and ciders, Stone Creek Coffee, Rishi Tea and more.
Goudzwaard and business developer / fellow chandler Josh Nimann are vigilant when it comes to cleaning between reservations and ensuring their business enforces all of the usual pandemic protocol: mask wearing, physical distancing and easy access to hand sanitizer.
During a candle bar sesh, everything needed to create a candle is provided, and the steps are easy-to-follow and engaging. Customers create their own candle scent by visiting the wall of fragrances, featuring more than 80 different notes (scents), and picking 2-5 of their favorites. The trick is to pick scents that complement eachother and don't clash or overwhelm. It really puts your sniffs to the test.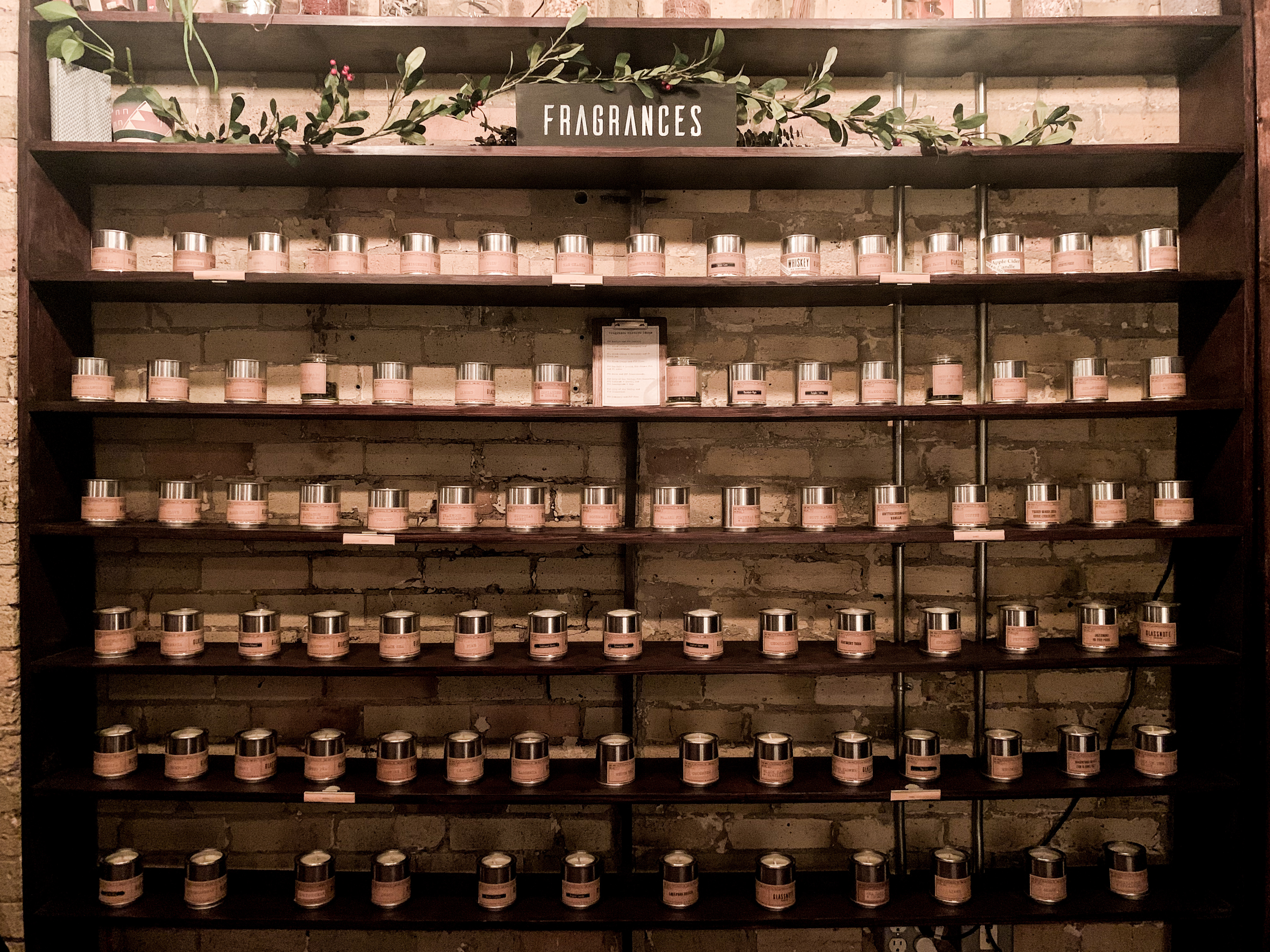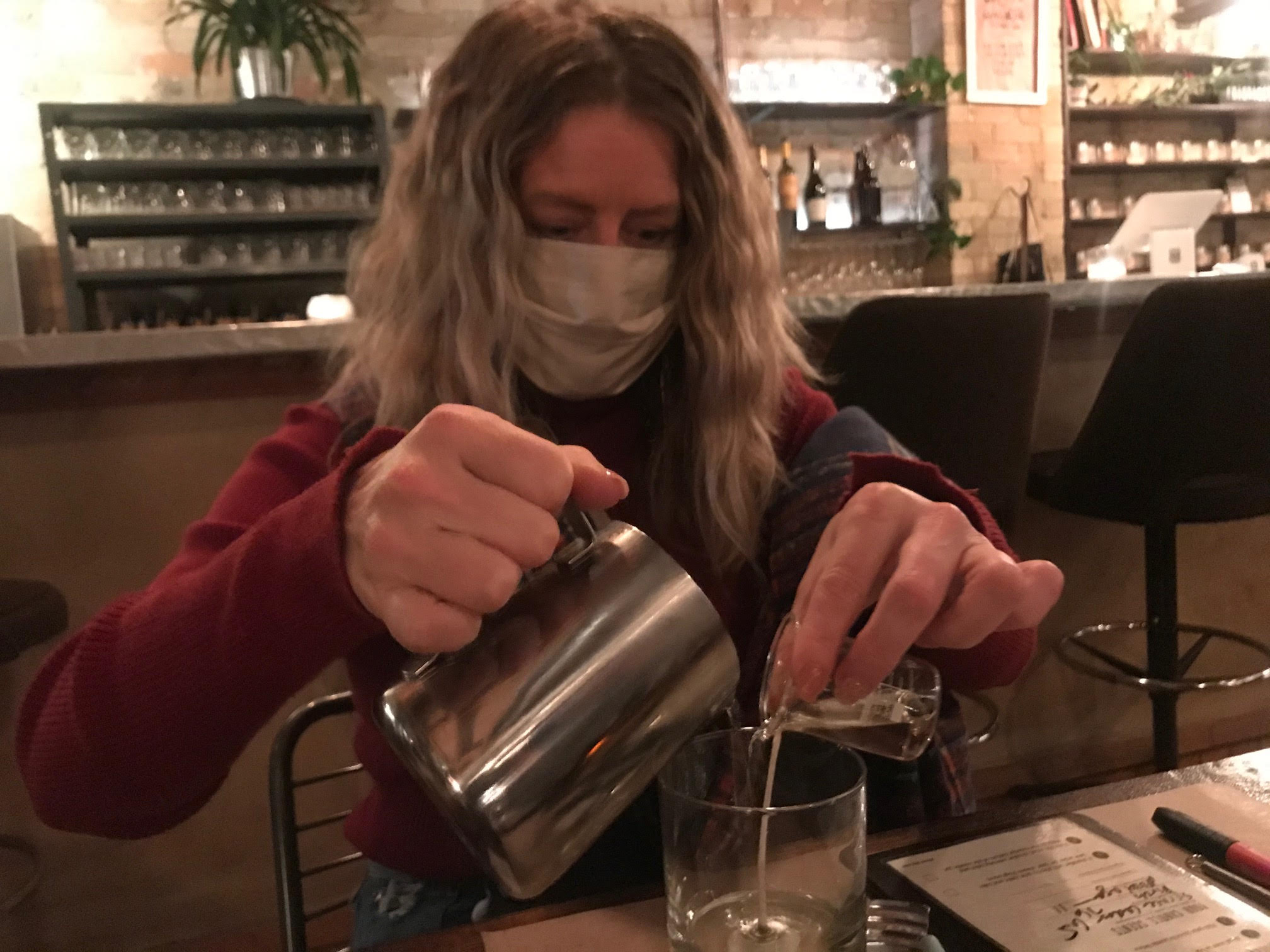 All Glassnote candles are 100 percent soy, feature all-cotton wicks and will burn for 50-60 hours. Guests leave with their candle in hand, but are asked to wait at least three days to burn them. Candles are poured into restaurant-quality rocks glasses which can later be used for cocktails or mocktails.
"Burn it down and then fill it up," says Goudzwaard.
During a recent visit with two of my colleagues / friends, Carolynn Buser and Devan Shepherd, we set out to create a signature "OnMilwaukee scented" candle. After some lively brainstorming over wine and tea, we decided to start a series, called (ahem) the "On-Mil-WICK-EE series" with the first scent called "Fresh Daily!" Our candle toneeded to have a crisp, clean, unique smell to represent the freshness of our daily stories and innovative ideas.
We chose three oils for our signature candle: white tea, because it was super fresh and light smelling; pine, because there are 100 different species of pine trees in Wisconsin; and a lush, springlike oil called "Lake Park Breeze." (Insert scratch and sniff sticker or Smell-O-Vision here.) We felt accomplished with the OnMilwaukee-ness of our scent because it incorporated an indigenous state tree, a leafy whiff representing the phenomenal park system we have in Milwaukee and finally, white tea, simply because – like OnMilwaukee – it's fresh AF.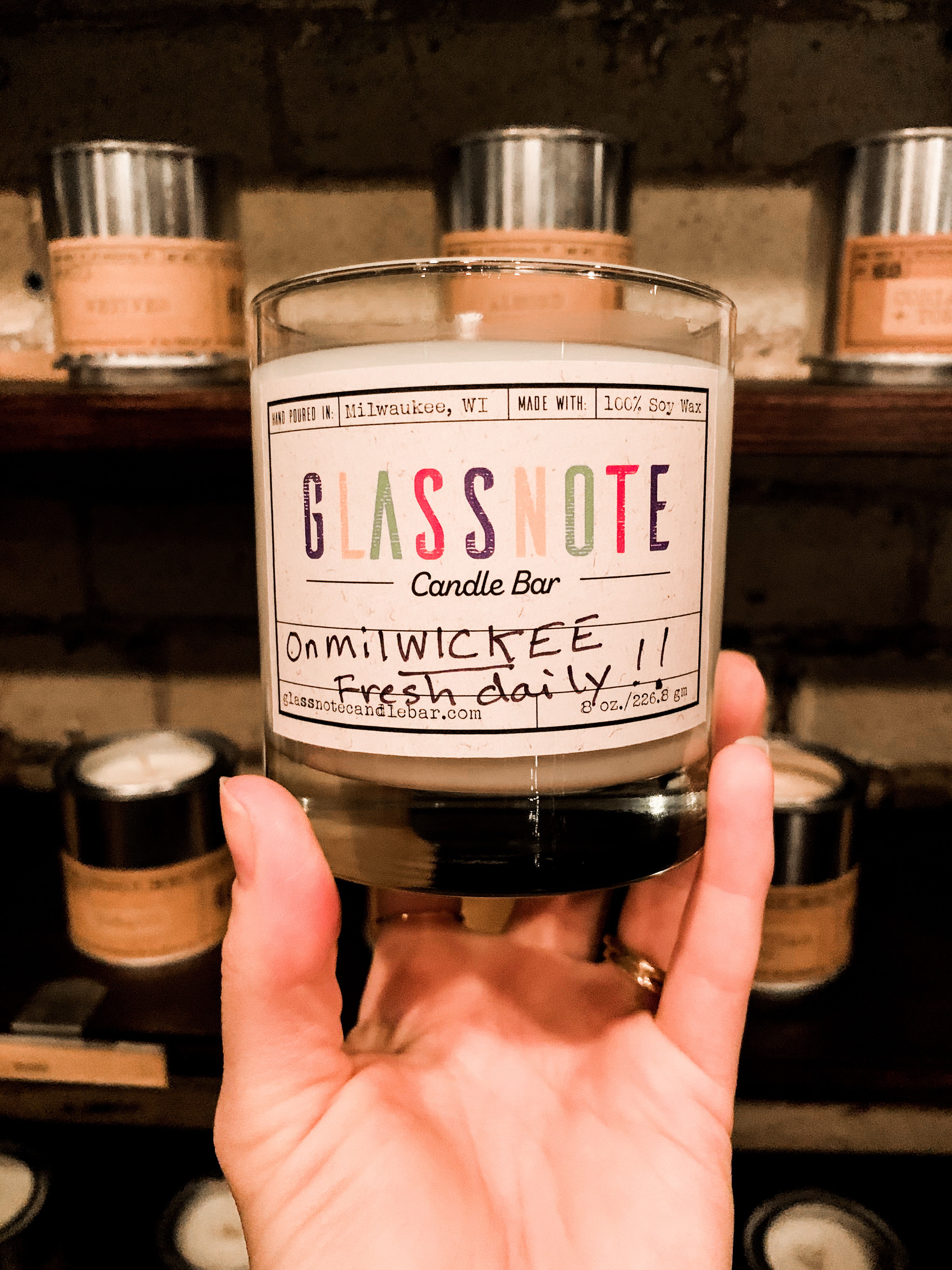 The strong connection between scent and memory is the main reason Goudzwaard began crafting candles. His "Hometown" series of candles is based on his earliest smells from when he first moved to Milwaukee from Michigan. He invented "Bradford Beach On A Good Day" in honor of his second visit to the urban beach (unfortunately his first visit was less than aromatic); "Jasmine In the Park" after a Thursday evening at Cathedral Square's "Jazz in the Park"; and "Third Ward Java Dark Chocolate" based on his first weekend in Brew City when he visited Colectivo Coffee and Indulgence Chocolatiers. (Goudzwaard later realized Indulgence is actually in Walker's Point, but the Third Ward name stuck anyway).
He also invented a hippie-happy wax fragrance called "Brady Street Days." Aptly made from patchouli and Nag Champa, it's a tribute to the original Brady Street Festival that took place in the '60s and '70s.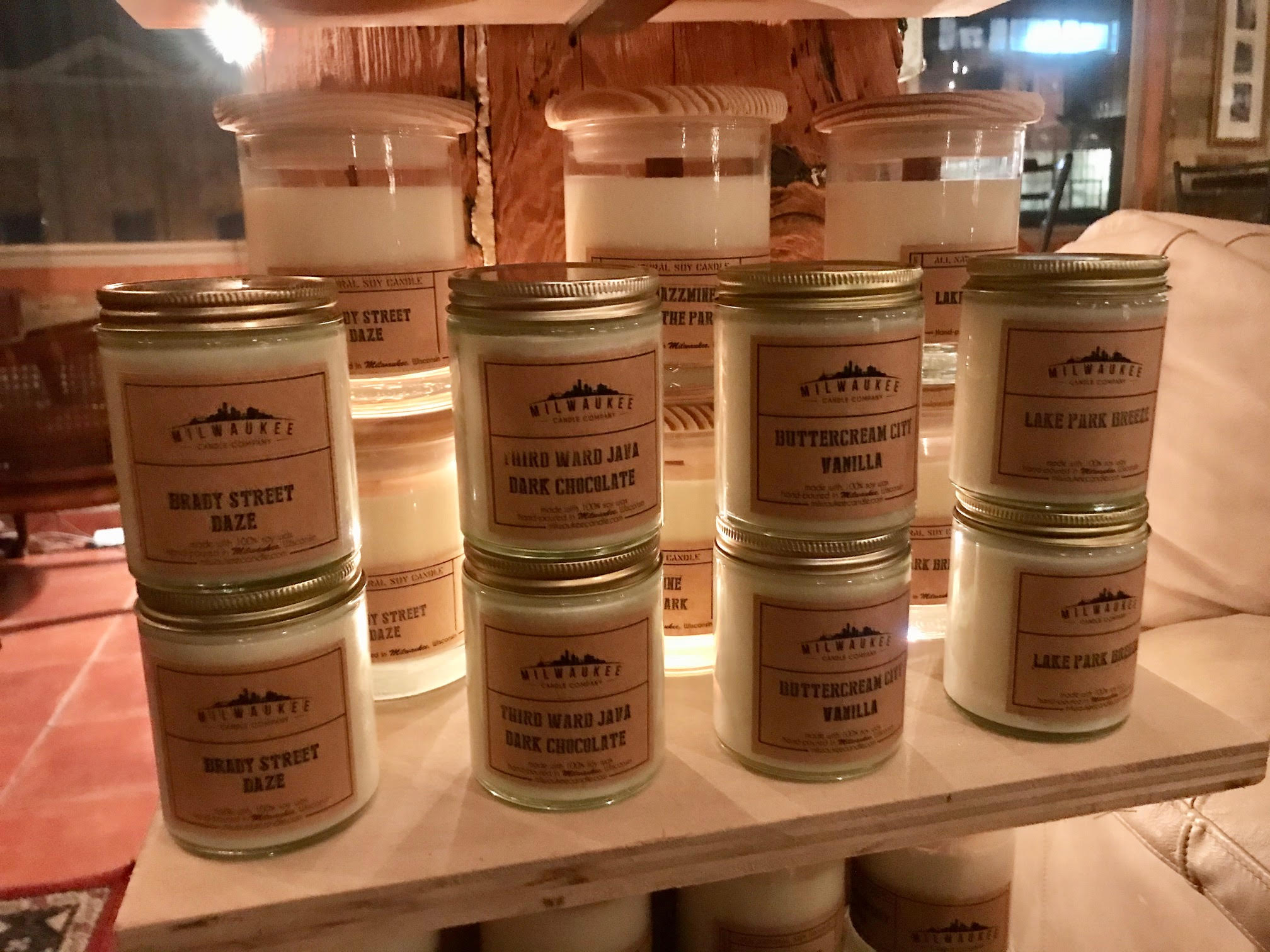 "Through researching candle scents, I learned a lot about Milwaukee's history in the process," says Goudzwaard.
At the end of our experience, we unanimously agreed it was something we want to do again. It felt safe – about as safe as one can be at this point, anyway – and incredibly nice to have a drink, learn a new craft and spend (distanced) time with other humans. For me, it was also about the details of Glassnote Candle Bar - from the superb listening skills of the chandlers to the vintage-looking matchbook they give you on your way out the door to the Poloroid they take for their "Poloroid Wall" of customers with their wax creations.
Glassnote Candle Bar is open for reservations Wednesday-Friday from 5 to 9 p.m.; Saturday from 12 to 9 p.m.; and Sunday from 12 to 5 p.m. The cost is $35 per person. Reservations are required; the space is also available for rental based on the current pandemic mandates. Gift certificates and DIY candle-making kits to make at home and / or to give as gifts are also for sale.
"We're not done yet. We have lots of ideas in store for the future. But we're taking stuff very slowly, taking it at own pace while still being operable," says Goudzwaard. "And we're literally trying to shed some light."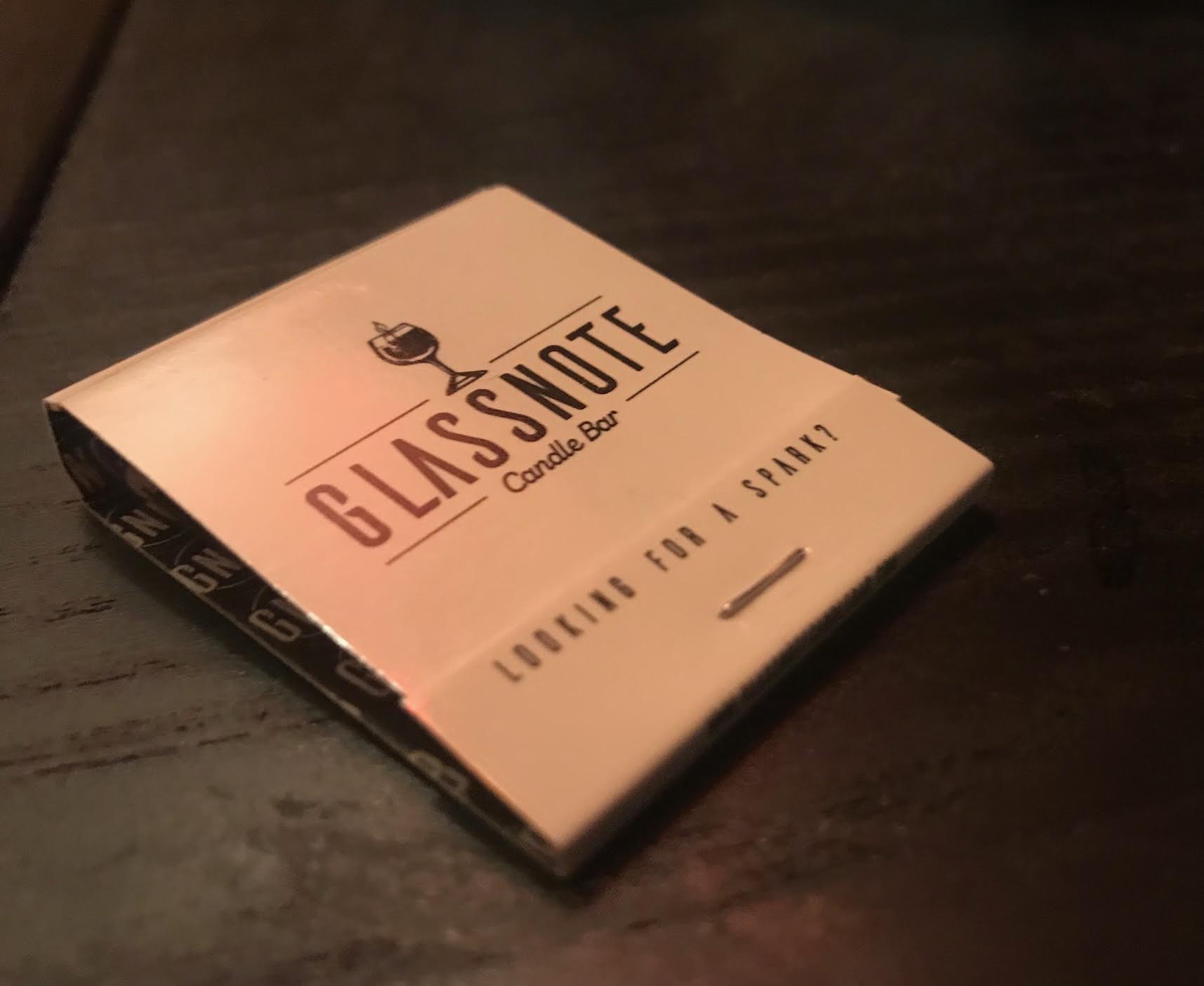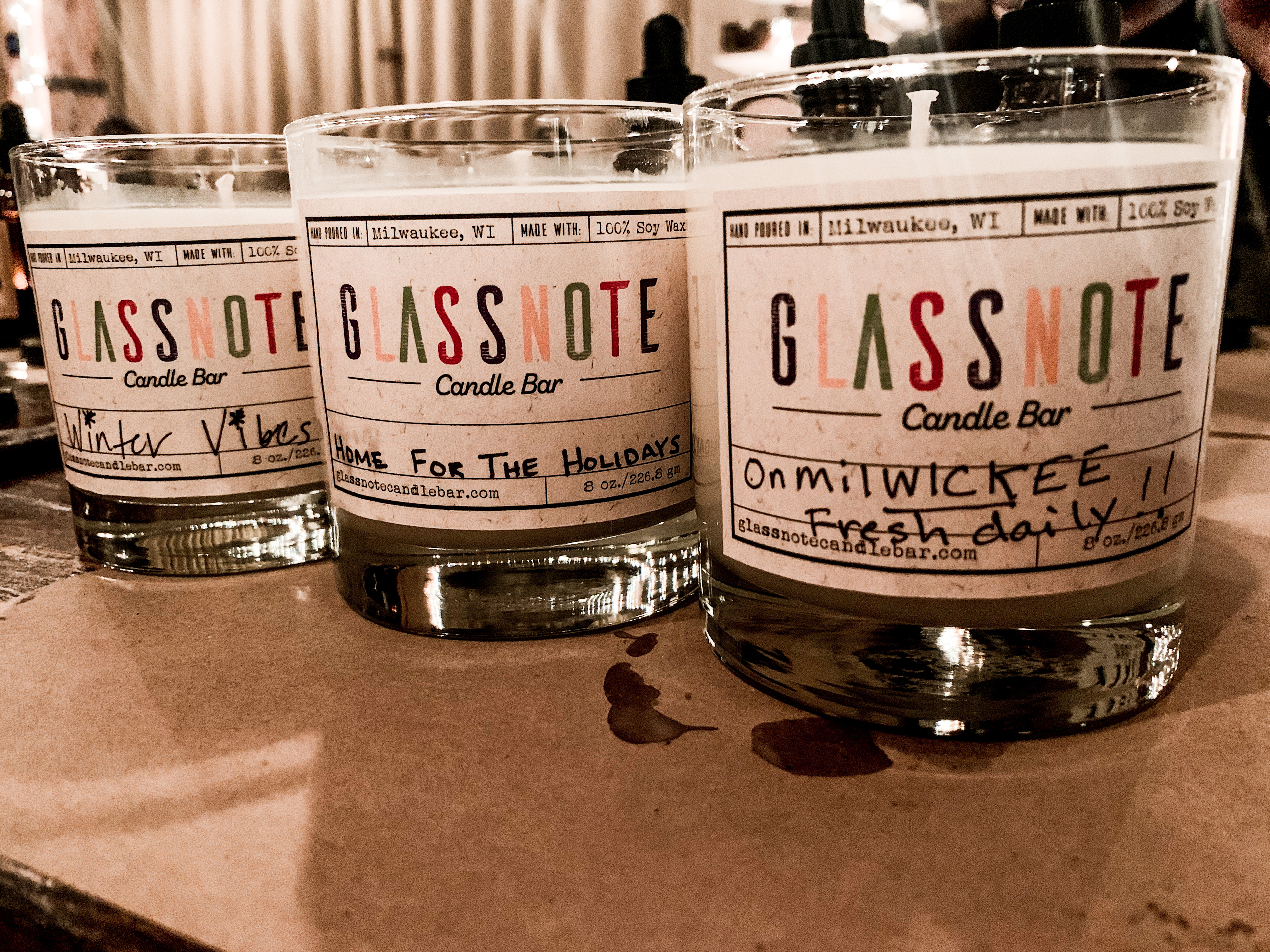 Molly Snyder started writing and publishing her work at the age 10, when her community newspaper printed her poem, "The Unicorn." Since then, she's expanded beyond the subject of mythical creatures and written in many different mediums but, nearest and dearest to her heart, thousands of articles for OnMilwaukee.

Molly is a regular contributor to FOX6 News and numerous radio stations as well as the co-host of "Dandelions: A Podcast For Women." She's received five Milwaukee Press Club Awards, served as the Pfister Narrator and is the Wisconsin State Fair's Celebrity Cream Puff Eating Champion of 2019.