It's been years since customers have been able to step foot into the original Glorioso's Italian Market storefront at 1020 E. Brady St. But all of that changes on Jan. 26 when the longtime grocer will host its first public event in the new Glorioso's Appetito.
"Appetito is really a platform to bring people together over food and beverage," notes general manager Michael Glorioso, who joined his parents Ted and Rosemary Glorioso to run the family business in 2008. "What we see happening in the industry right now is people wanting more information, wanting to learn more about food and cooking … and there's such great support for all things local, which is something we are and have always been."
Scuola, eventi & cucina
The new venue reflects its mission through three (soon to be four) areas: the scuola (school), the eventi (events space) and the cucina (kitchen).
Glorioso says that the space was created explicitly with customers in mind.
"Part of why Glorioso's has been around for over 70 years, and we've been able to grow the business so significantly, is that we've listened to our customers and we've kept evolving to meet their needs," he says. "We've heard time and time again that people want more opportunities to interact and to learn. And that's what Appetito was created to accommodate."
The events space – which occupies the center portion of the building – features accommodations for approximately 100 guests in a flexible layout that can be customized for a variety of events, including small weddings and rehearsal dinners.
Although they are currently a blank canvas, the walls will eventually showcase historical photos of the family, building and food, weaving the story of the family's history in Milwaukee.
The open cucina is also visible from the space, offering a counter which can be used for buffet service or as an intimate seating area.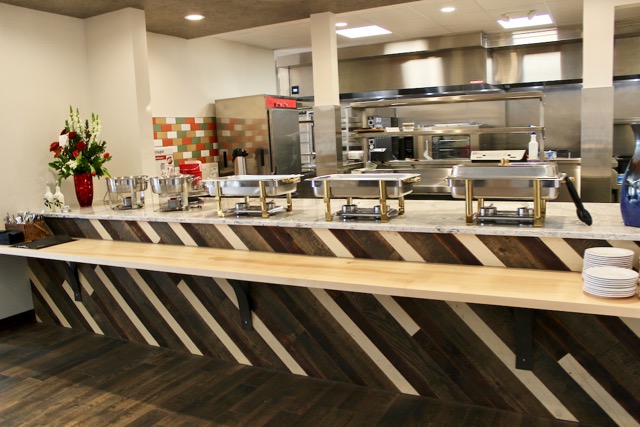 "When we moved from this building across the street, we've really downplayed our catering business, in part because our kitchen really didn't have the capacity to handle demand," notes Glorioso. "But this kitchen will operate seven days a week, handling fresh food production for the store as well as catering and delivery and support for events held in the space."
Glorioso says the historic storefront space was completely reimagined with the help of Mehmert Store Services and Stack Design Group, both of whom worked with Glorioso to create a modern space that made best use of the historic building.
"We told them we wanted to build the project out with as many Wisconsin vendors and products as possible," notes Glorioso. "After all, that's who we are."
That philosophy applies to not only equipment – which bears names like Subzero, Wolf and Volrath – but also the interior details of the space, which were created with a variety of repurposed items including hardwood flooring planed from recycled support beams from a warehouse in Rhinelander, and wooden tables made from Wisconsin pine and oak.
Meanwhile, rustic wood reclaimed from old storage lockers in the Glorioso's basement were repurposed to create bases for overhead lighting as well as decorative facades for accent walls and doors, including a portion of the scuola, which lies in the easterly space that formerly housed the Glorioso's deli.
The cooking school offers accommodations for up to 30 students and flexibility for a variety of hands-on cooking demonstrations, corporate team-building activities and a variety of food related programming. For instance, this summer he says Glorioso's hopes to host a cooking bootcamp geared towards children which would feature two weeks of daily food-related activities.
Retail bakery & more to come
Within the next month or so Glorioso says they will also be adding a small retail bakery on the western end of the Appetito space.
"The vision is to offer a variety of bakery items," he says. "We'll expand upon some of the thing we already offer, such as cannoli, and add a variety of items including specialty breads, artisan breadsticks and other items not easily found in Milwaukee."
Glorioso says they haven't yet decided upon a name for the shop, nor the operating hours. However, they are toying with the idea of accommodating both regular daytime retail hours and late night hours, during which the bakery would be open to provide cappuccinos, coffees and a variety of sweet items.
Glorioso says that family will be moving forward slowly and deliberately with their plans for Appetito, adding events gradually and smartly spreading the word about catering offerings.
"We really want to get things right," he says. "Right now we're really looking for kitchen staff … sous chefs, line and prep cooks," says Glorioso. "We're looking for people that really share the passion that we have for food and beverage. We'd like someone who'd like to grow with us and we'd like to offer them the opportunity to really stretch and enhance their own talents, particularly as we work to grow our catering business."
Culinary professionals interested in exploring potential careers with Glorioso's should contact Michael Glorioso at michael@gloriosos.com. Parties interested in hosting events at Appetito should reach out to Megan at events@gloriosos.com. Additional information can also be found at gloriosos.com.
Risotto and Beyond with Chef John Coletta
On Jan. 26 from 11 a.m. to 12:30 p.m., Glorioso's will host its first cooking class inside the scuola at Appetito. The event will feature Chicago chef and author John Coletta of Quartino Ristorante & Wine Bar, who will guide students through the process of making risotto, leaving students with tips, insights and knowledge.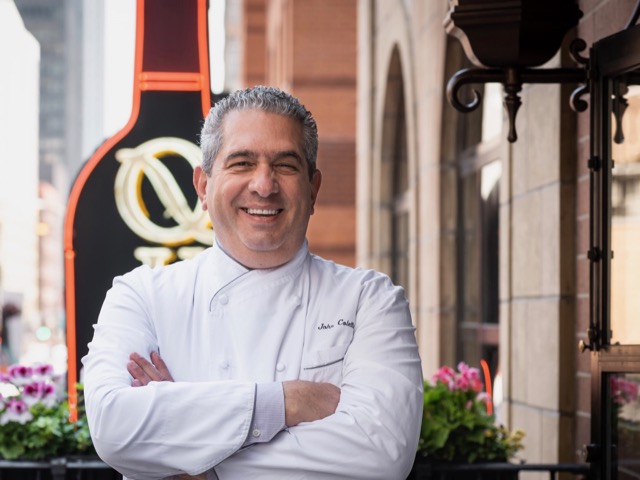 He will also sign copies of his new book "Risotto and Beyond: 100 Authentic Italian Rice Recipes for Antipasti, Soups, Salads, Risotti, One-Dish Meals and Desserts."
Cost for the event is $55 per person and includes take-home recipe cards and notes, risotto samples and $10 off of a $25 purchase at Glorioso's Italian Market. A selection of paired wine and beer will also be available for purchase. Guests can register online.
A public sampling event and book signing with Coletta will also be held at Glorioso's Italian Market, 1011 E. Brady St., from 2:30 to 4 p.m.
Lori Fredrich (Lo) is an eater, writer, wonderer, bon vivante, traveler, cook, gardener and girlwonder. Born and raised in the Milwaukee area, she has tried to leave many times, but seems to be drawn to this quirky city that smells of beer and alewives.
Some might say that she is a little obsessed with food. Lo would say she is A LOT obsessed with food. After all, she has been cooking, eating and enjoying food for decades and has no plans to retire anytime soon.
Lo's recipes and writing have been featured in a variety of publications including GO: Airtran Inflight Magazine, Cheese Connoisseur, Cooking Light, Edible Milwaukee, Milwaukee Magazine and the Milwaukee Journal Sentinel, as well as on the blog Go Bold with Butter, the web site Wisconsin Cheese Talk, and in the quarterly online magazine Grate. Pair. Share.