Ever try doing a downward dog yoga pose while an upright baby goat tries to eat your hair? No? Well, it very well could be in your future. Goat Yoga is real and it's here and the classes are booking up faster than you can say naaaaaaaaamaste.
I went to a GOAGA (goat yoga) class this weekend in the Fireman's Park Annex in Slinger. It was a sold-out class with almost as many baby goats running around inside the corralled space as there were participants – all of whom were women, interestingly.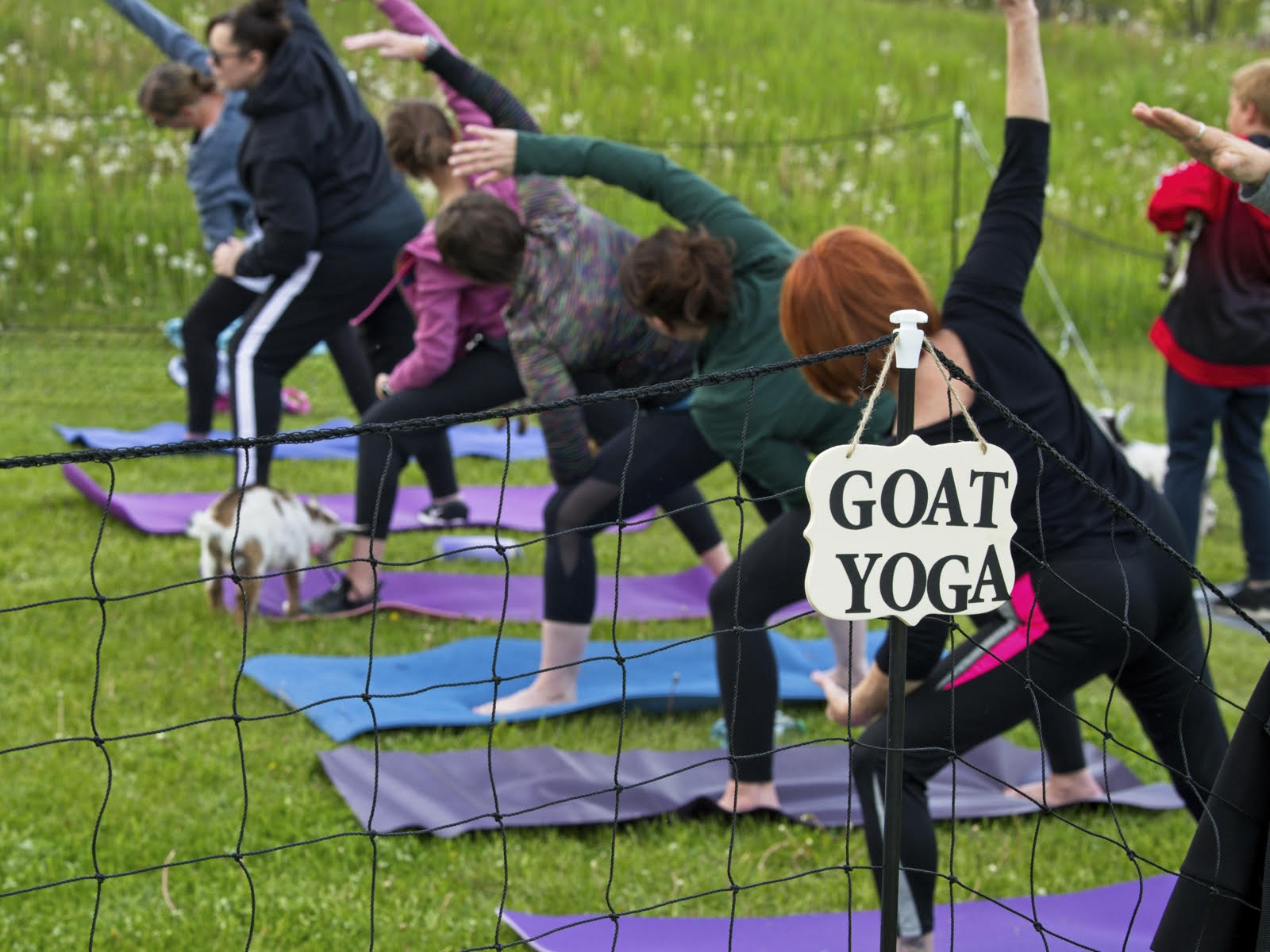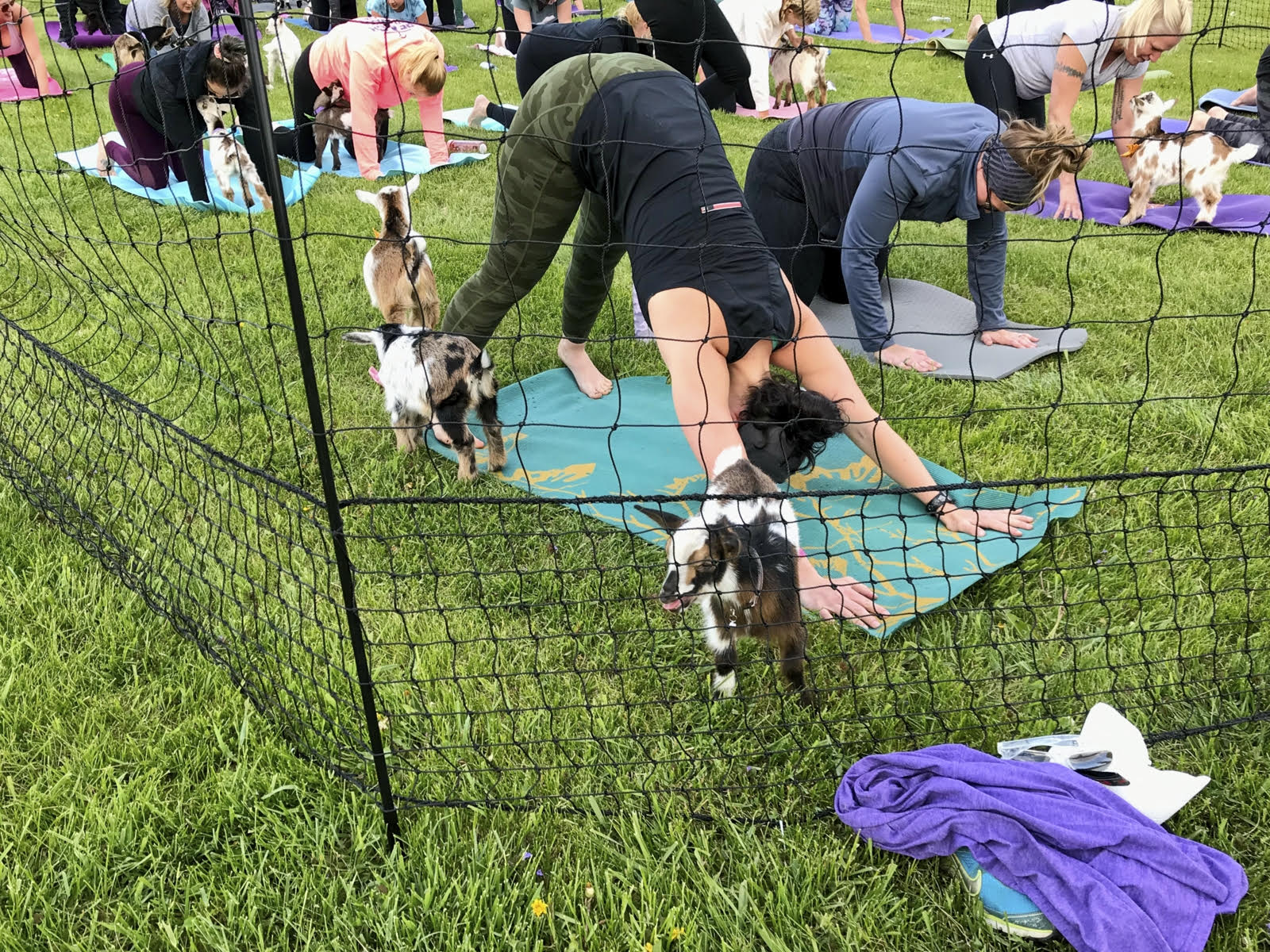 Traci Eberly of Awakening Healing and Yoga led the group through an introductory yoga class. She was also quick with the spray bottle and paper towels when a goat decided to pee on a participant's mat. This happened a couple of times, but I am happy to report no one got pooped on during the 45-minute experience.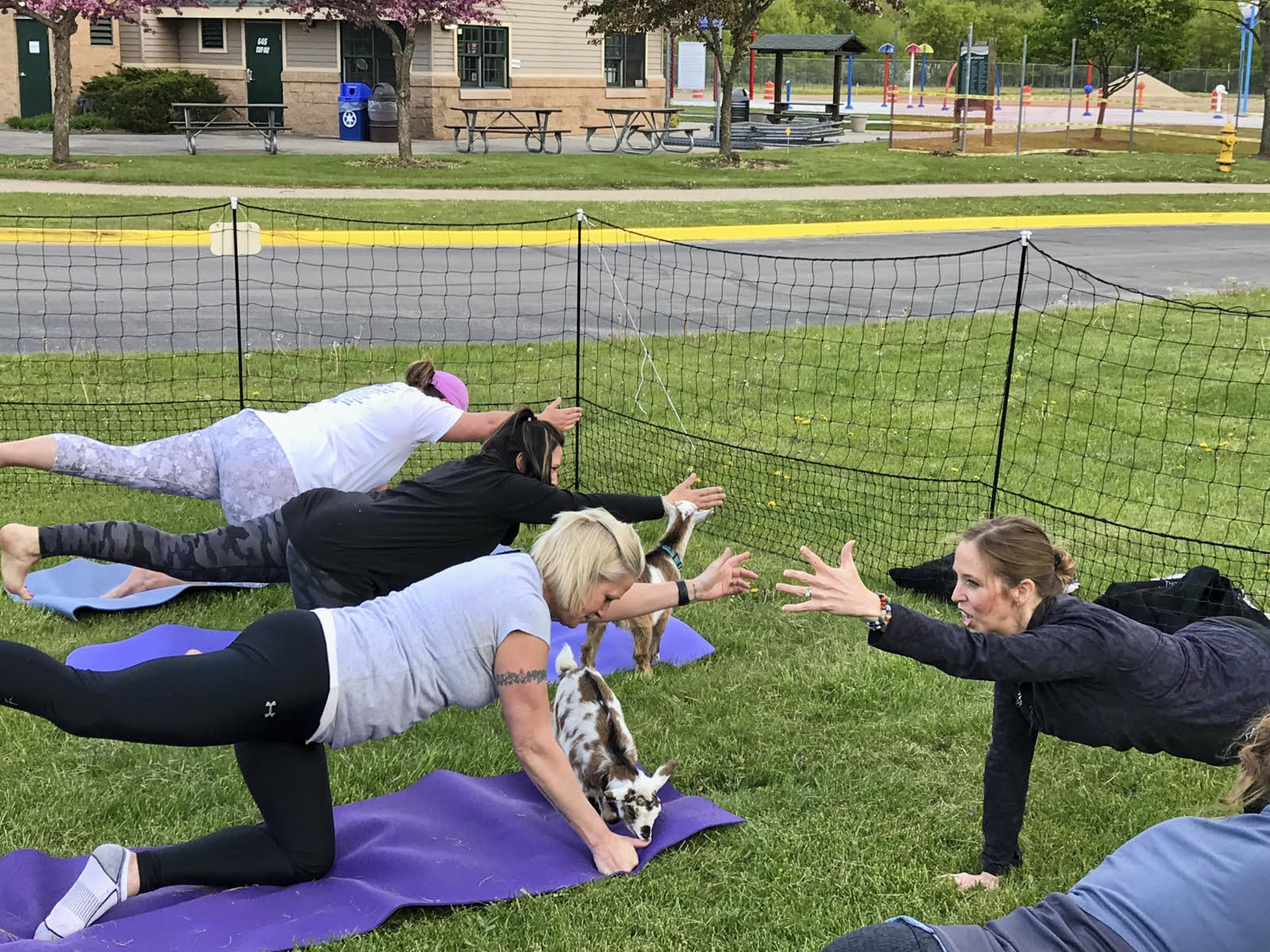 "Goat yoga and non-goat yoga are not even comparable," says Eberly. "Goat yoga is the perfect opportunity to go with the flow."
Personally, I was surprised by the amount of yoga I was able to do between petting goats, cradling goats, dreaming about having my very own baby goat, serving as a human bridge for goats and untangling my bun from the mouths of goats.
All of the goats were Nigerian dwarf goats between the ages of two and six weeks old and a mix of males and females. They were friendly and soft and eager to jump on flat backs during tabletop pose. Some wore bowties.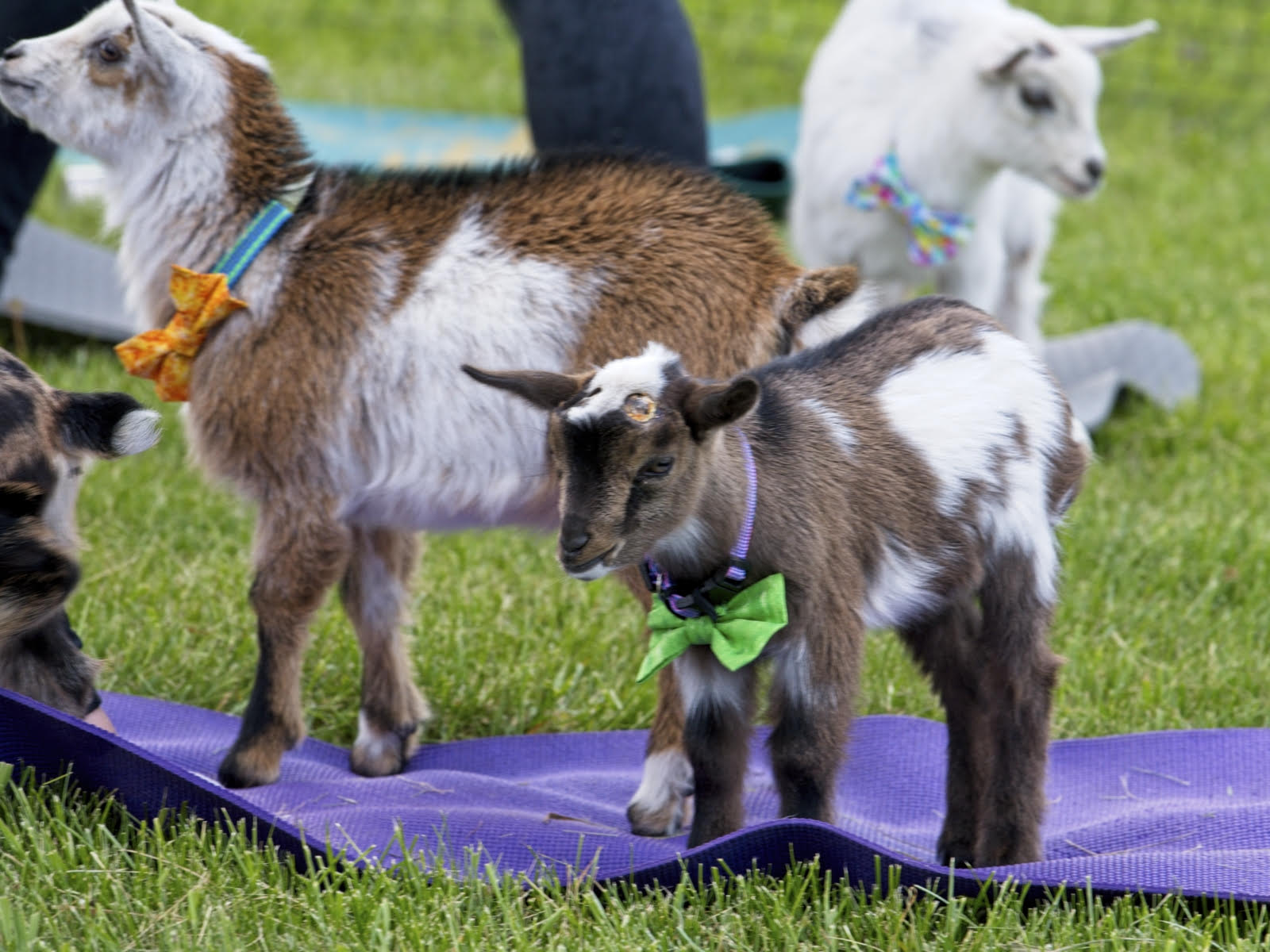 The goats came from two nearby farms, Honey Down Farm and Lockshire Meadows.
"The goats had a hoot. They love human interaction," says Kerrieanne Lischka, who owns Honey Down Farm with her family. "After the class they were really tired and snuggled in the barn as one big goat kid pile. Today they are all playful again and ready for another beautiful day."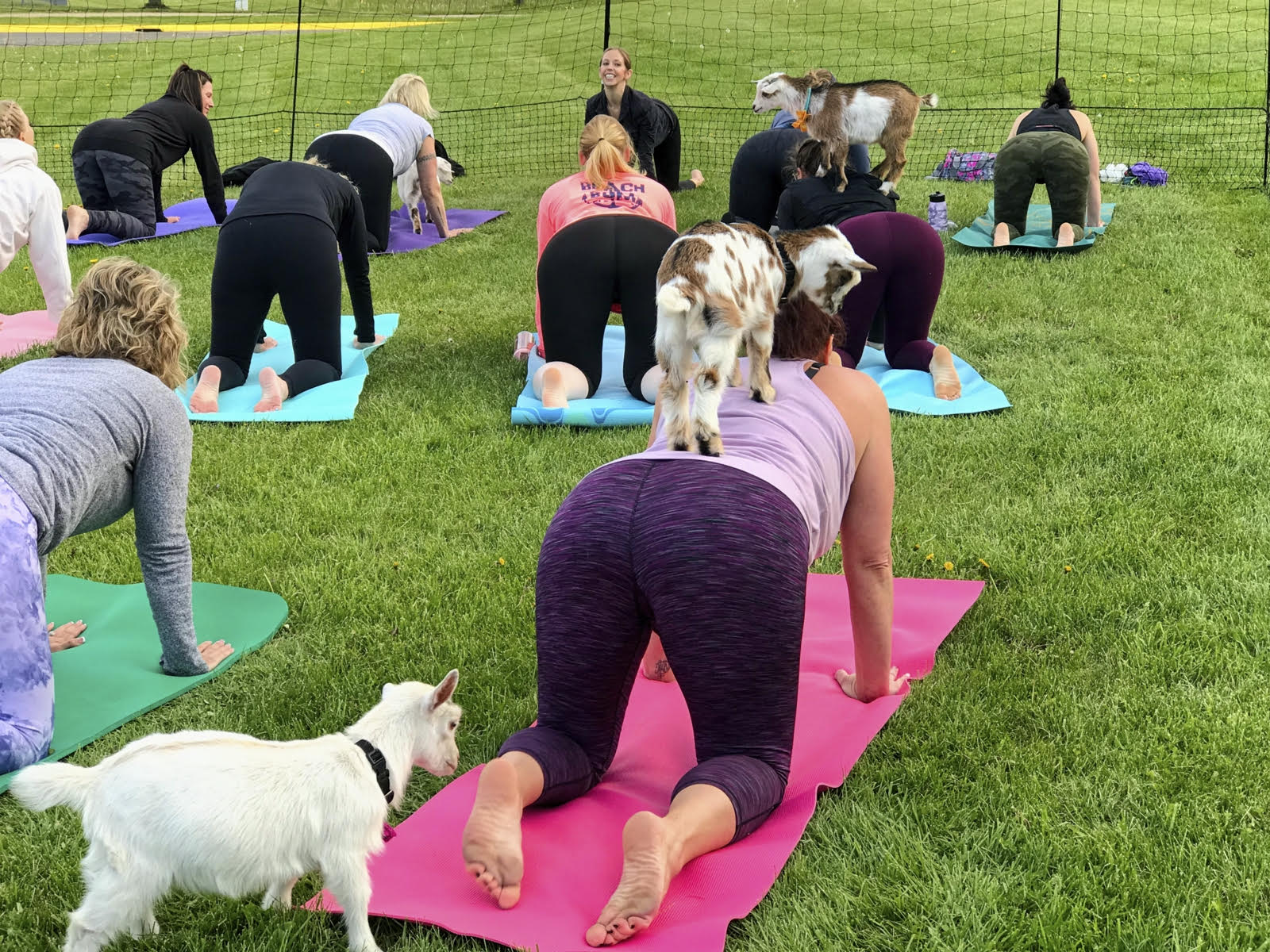 Goat Yoga started in 2016 by an Oregon farm owner, Lainey Morse, who also organizes "goat happy hours." Morse reported to numerous news outlets that she started doing it to counteract a period of depression she experienced after going through a divorce and receiving an autoimmune disease diagnosis.
"We absolutely love sharing the goats. Just watching them makes you laugh and smile," says Lischka.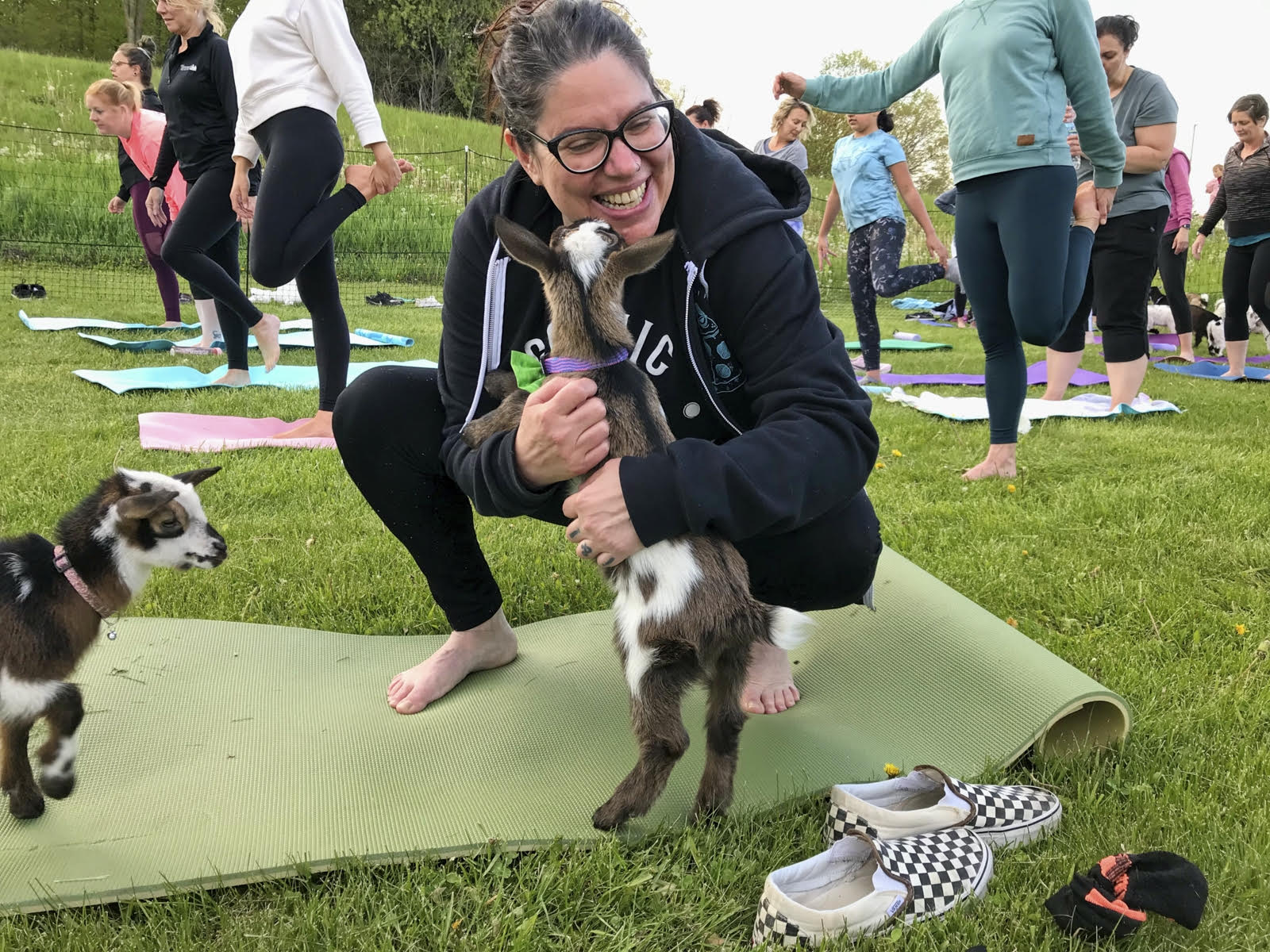 There are seven more goat yoga events in Slinger's Fireman's Park this summer. The cost is $45/$30 for Slinger school district attendees. Go here to register.

Molly Snyder started writing and publishing her work at the age 10, when her community newspaper printed her poem, "The Unicorn." Since then, she's expanded beyond the subject of mythical creatures and written in many different mediums but, nearest and dearest to her heart, thousands of articles for OnMilwaukee.

Molly is a regular contributor to FOX6 News and numerous radio stations as well as the co-host of "Dandelions: A Podcast For Women." She's received five Milwaukee Press Club Awards, served as the Pfister Narrator and is the Wisconsin State Fair's Celebrity Cream Puff Eating Champion of 2019.