After helping Milwaukee businesses, entrepreneurs and beyond tell their story for more than half a decade, GoGeddit has its latest and most exciting client yet: themselves.
The marketing and media company will start a new installment in its own story, rebranding the company and its signature GoGedders Podcast with new names to be announced later this month. Currently offering services such as podcast production, digital advertising, web design, brand strategizing, marketing and more, the impending shift will emphasize and center its business storytelling core.
"An issue that I've seen with a lot of smaller marketing agencies is you start getting work, and then you need to take on more work. And suddenly you're doing a lot of different services for a lot of different companies, and you're spread a little thin," said GoGeddit founder and president Richie Burke, explaining the company's finessed future plans. "We're really going to be leading with a storytelling framework that'll help bring stories to life through video and podcasting and other sorts of creative media. It's not a complete 180 from what we're doing right now – but there's definitely a lot of changes for the better."
Amidst this shift in overall focus is also a shift in literal location, as GoGeddit's headquarters will move from its St. Francis hub at 3770 S. Pennsylvania Ave. to Walker's Point.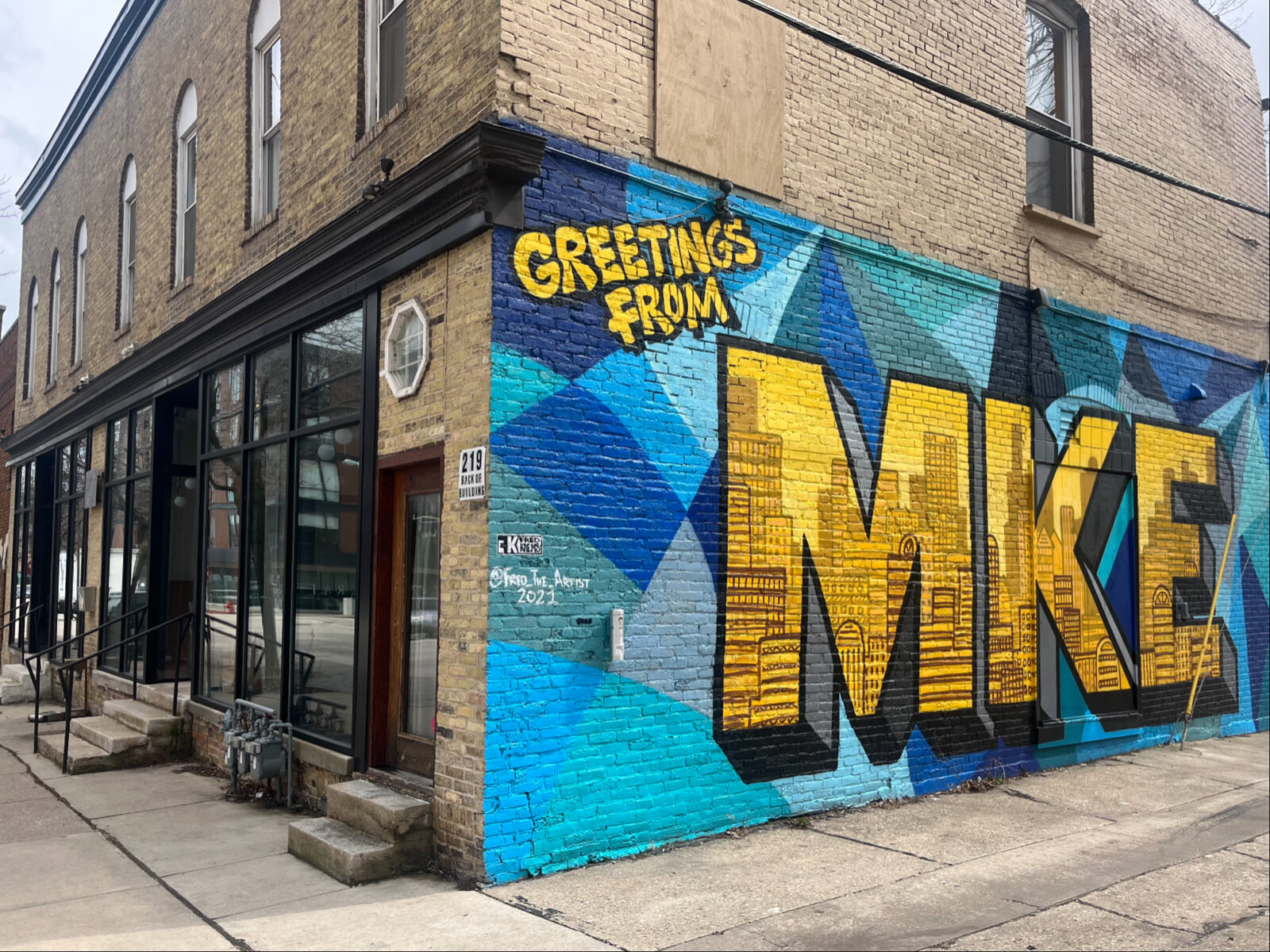 "It's been an ongoing conversation for a little while," said GoGeddit founder and president Richie Burke. "We wanted to move and we've been talking about that since pre-pandemic, getting a nicer studio and everything. Then we had a couple of near-moves that ended up falling through – which I'm kind of glad about right now – and found this place, which I fell in love with the location.
"There's nothing really like this Downtown, and I think it's a good proposition and kind of what's needed."
Found on the first floor at 215 W. Florida St. in the former Luci Boutique, the new 1,300-square-foot GoGeddit HQ is still in the midst of putting on the final touches. The showcase studio element itself, however, is already up, running and recording in the improved space.
"I love the accessibility and the vibe," Burke said, of the new location. "You're right next to the Third Ward but parking's never an issue. It's ground level. I think it's going to be a good destination spot for companies to come record at and roll out a really good experience for guests. All of that was what sold me on the space."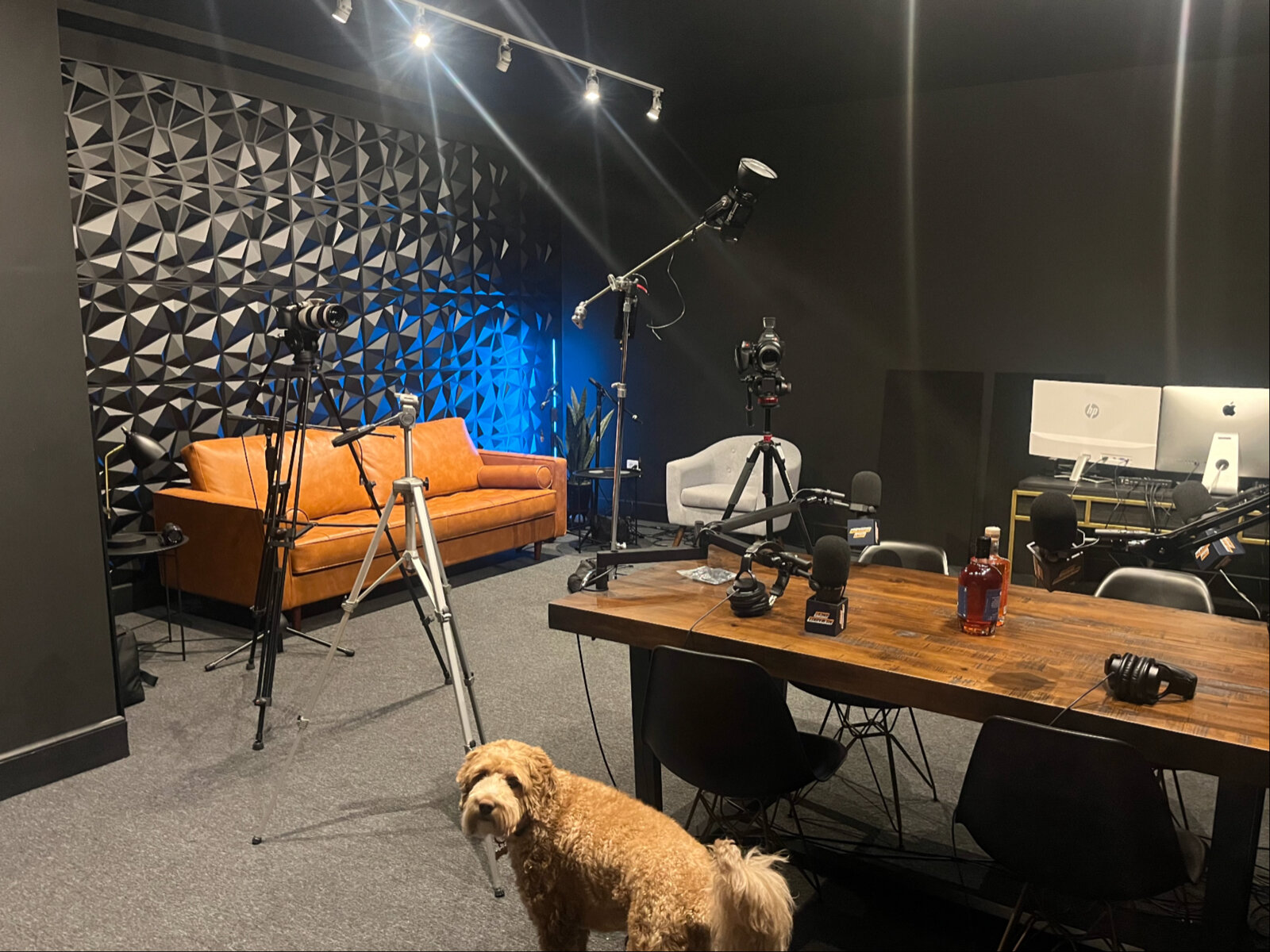 Perhaps even more important than the new location, however, is the new rebrand coming for GoGeddit – headlined by a new name. The GoGeddit moniker harkens back to the company's earliest days, founded in 2011 as a daily deal start-up website. Over time, the business made small evolutions to its branding, adding "Marking and Media" to its formal name and shortening it colloquially to "GGMM" – but no matter what which variation it was, Burke notes it no longer captured its increasing storytelling focus or clearly told either the company's or the podcast's story.
"It definitely had some flaws," Burke admitted. "The name is spelled incorrectly. It's kind of vague. If someone says, 'Hey Google, play The GoGedders,' it doesn't register. It's a problem when someone interested asks what the podcast is and you say the name, and then you have to explain it, and then you have to spell it, and then you sometimes have to take their phone and type it into the app. That's a lot of hoops for someone to jump through."
The new moniker and logo for the overall business will be revealed later this month, moving away from its daily deal origins and instead pushing its storytelling and studio emphasis to the fore. The name of GGMM's flagship podcast – The GoGedders Podcast, interviewing business leaders, entrepreneurs and notable Milwaukee figures from the news of the moment, with 200 episodes under its sonic belt – will change in the process as well, not to the same name but one underlining its local company subject matter. GoGeddit will also launch a separate, to-be-named podcast, focused less on Milwaukee business stories and more on broad marketing topics and conversation.
Between the new names, new podcasts and new location, it may sound like a lot of moving pieces. According to Burke, though, it's all a part of refining and realigning the company's once-sprawling story so it can better tell other businesses' stories in turn – now with the help of its newly crafted storytelling framework for podcasts, video and other media.
"A lot of companies create pretty non-engaging content, I would say, whether it's PitchDecks or videos or their website," Burke said. "Usually their stories are all about themselves and people aren't really interested so much in what the company does until they really have a good understanding of them and how they can help make their lives better. They'll make a video or do a pitch where they talk about the company history for a while, and no one really gives a sh*t until they know how you're going to help them make their life better. They just kind of tune out.
"The formula we have will really welcome the customers into their story right away, and it's more about them and positioning the company as someone who can really help them out and help solve their problems."
The new framework is in action right now, while the new podcasts, Walker's Point location and new overall rebrand are expected to debut sometime later this month. Interested companies and parties can stay tuned to updates at GGMM's current website – though that's also in the works of getting a refresh – or reach out to Richie Burke at richie.burke@gogeddit.com.
As much as it is a gigantic cliché to say that one has always had a passion for film, Matt Mueller has always had a passion for film. Whether it was bringing in the latest movie reviews for his first grade show-and-tell or writing film reviews for the St. Norbert College Times as a high school student, Matt is way too obsessed with movies for his own good.
When he's not writing about the latest blockbuster or talking much too glowingly about "Piranha 3D," Matt can probably be found watching literally any sport (minus cricket) or working at - get this - a local movie theater. Or watching a movie. Yeah, he's probably watching a movie.