When in 1898 tanner German immigrant tanner George Martin purchased an unfinished Newberry Boulevard mansion at a discount, he had woodworkers scrub the first and last initial of the original builder, Benjamin M. Goldberg, off the carved wooden cartouches in the entrance vestibule.
But well over a century later, even if the Martin family deserves credit for finishing the mansion and preserving it for decades, most of the cartouches still carry the BMG initials and Milwaukee still calls the palatial turreted French-inspired Victorian Gothic home at 2727 E. Newberry Blvd. the Goldberg Mansion.
The home and it's equally impressive coach house are for sale for a cool $1.2 million.
The 9,607-square foot home boasts seven bedrooms, three and a half baths, a top-floor ballroom (pictured above, a large finished basement (pictured below) and a coach house with an apartment above. It's also a two-minute walk to Lake Park.
Who was Benjamin Goldberg?
Born in Pennsylvania in 1857, Benjamin M. Goldberg moved to New London with his parents in 1872 and attended Lawrence University in Appleton and, later, Columbia College in New York.

Graduating in 1879, he was admitted to the bar and moved to Milwaukee, where he became a respected Milwaukee attorney with his own firm called, first, Felker, Goldberg & Felker – with Charles and Frederick Felker, of Oshkosh – and, later, after Charles Aarons joined, Felkers, Goldberg & Aarons.
Then, all of a sudden, Goldberg seemed to snap.
As architectural historian H. Russell Zimmermann recounted in a Journal article on the home in 1980s, Goldberg was arrested for malicious trespassing and then drew notice for his "belligerent demonstrations" in court. He fought to have a judge removed from the bench and battled a newspaper for libel.
An undated photo, likely from the 1930s. (PHOTO: City of Milwaukee)
In 1882, Zimmermann wrote, the Bar Association charged Goldberg with unprofessional ethics, upon which, Goldberg said he oughta "move to Dakota (until) the whole matter would eventually die out."
Not long after, Goldberg turned up in Clintonville, working at what Zimmermann described as an iron mining and silver prospecting business. There, he was elected city attorney. But lest you think he was on the road to career recovery, he was soon at war with yet another newspaper and in a brawl, gifted black eyes to two editors. Pulling out a gun, Zimmermann wrote, Goldberg "was stopped by passers-by just short of a shooting spree."
His conduct during a Waupaca murder trial further cemented his reputation and he returned to Milwaukee where, in 1896, he pulled a permit to build a home in the new Prospect Hill subdivision (brochure image courtesy of Katherine Stengele).
The neighborhood – which had been laid out by E.P. Hackett and S.H. Hoff after they purchased a farm in 1893 in the newly designated 18th Ward – was bordered by Kenwood and Park to the north and south, and Downer Avenue and Lake Drive and the west and east.
Hackett and Hoff, noted Zimmermann, spent $50,000 giving the neighborhood asphalt streets and concrete curbs, which were, ahem, groundbreaking developments in a residential neighborhood in Milwaukee at the time.
The eye-catching Gothic-inspired house – that most everything thinks looks like a castle – was the first home built in the new subdivision.
On the Oct. 2, 1896 permit, the cost of the building, designed by architects John Moller and George Ehlers and to be constructed by builder John P. Jones, was estimated at $25,000.
For reference, that's the same amount of money the city spent to build a large addition to the 18th Ward Schoolhouse a few blocks away in 1893. Goldberg had money and he planned to spend it. But it's unclear if he planned to spend as much as he did all-told, and if he'd ever expected that he'd end up with nothing to show for it.
A rough start
The initial building phase appears to have gone quite quickly, as by March 20, 1897, the Journal reported that construction work on the home had been completed, with only the interior finish work left to be done.
Problem is, the same paper reported nine days earlier, "most serious charges were formally preferred yesterday against Attorney Benjamin M. Goldberg." A committee appointed by a Waupaca judge charged Goldberg, "with improper, unprofessional, dishonest, corrupt and criminal conduct and practices."
In July, a related article referred to, "the famous Goldberg disbarment case, which was so bitterly fought in Waupaca several weeks ago."
But, hey, the house looked great from the outside!
Inside, the Journal had reported back in March,
"it has been decided to finish the interior in the most attractive manner. A total expense of not less than $35,000 has been authorized by the owner and Architects Moller & Ehlers have completed drawings for very elaborate work.

"The residence, with large new barn in the rear, stands at the southwest corner of Summit Avenue and Newberry Boulevard. The structure is of three stories, of Gothic style, with deep-pitched roof. There are 12 rooms, with large halls, general and individual bathrooms, etc. The large reception hall at the entrance and adjacent rooms are in richly carved red curly birch. The large vestibule is done in quarter sawed oak in Gothic style. The parlor is in French renaissance, white and gold tints predominating. The dining room and the conservatory are in quarter sawed oak done in German renaissance, with sideboards and furnishings to correspond. The remainder of the first story is finished in ash. On the second floor are the sleeping apartments. Mrs. Goldberg's apartments are in quarter sawed oak and Mr. Goldberg's chambers in mahogany. The guest's chamber is in bird's eye maple. Tiling has largely been provided for the flooring. The bathroom is unusually attractive. A large tub is set in a recess in the tile walls. The structure was built of the most substantial materials. The terra cotta porches and verandas have not yet been put into place."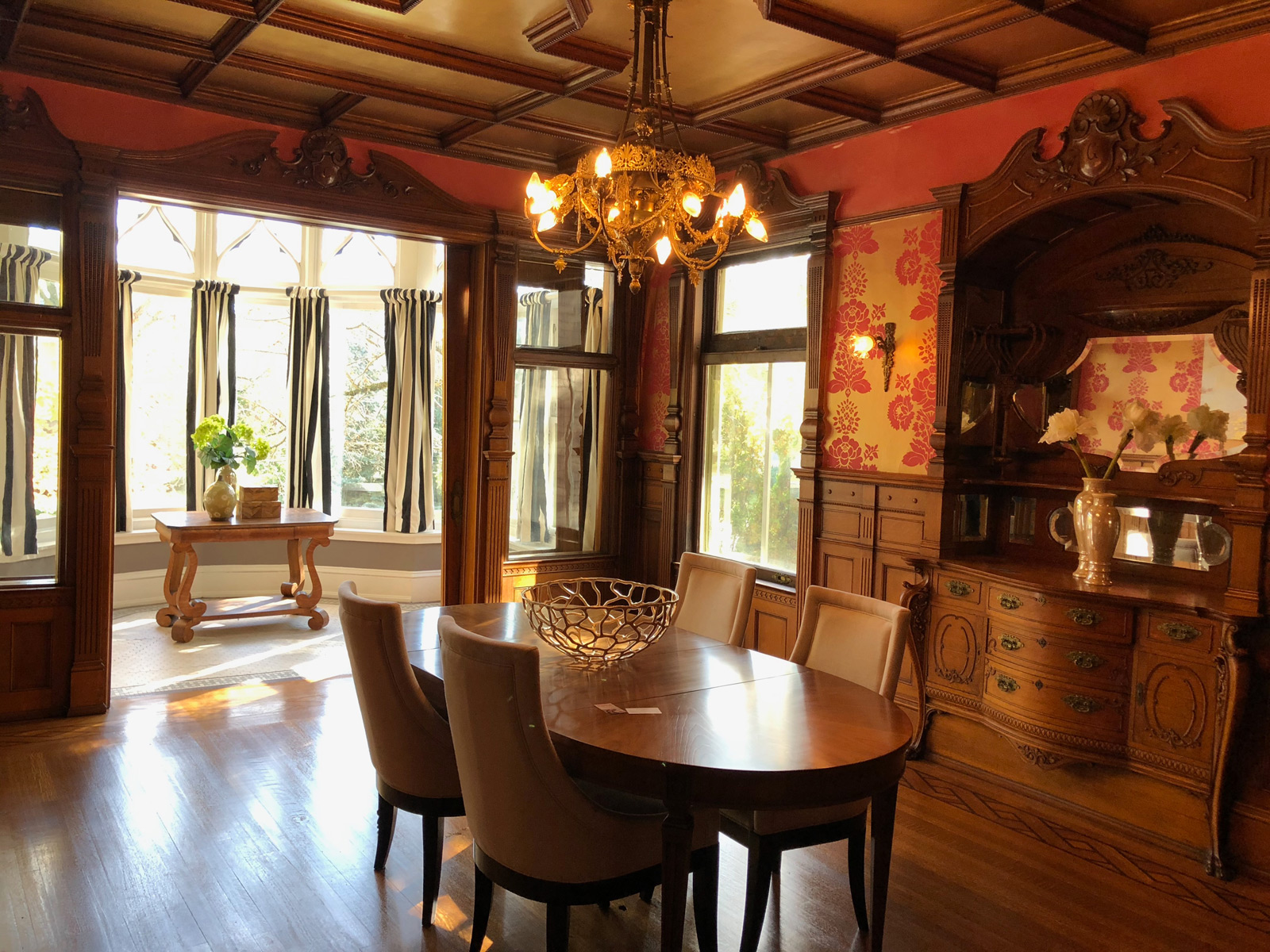 The dining room.
Because many of the wooden cartouches above most every doorway on the first floor were already etched with Goldberg's initials, it seems that the interior work had begun by the time Milwaukeeans read in their afternoon paper on March 26, 1898 that more than $24,000 in liens had been filed against Goldberg and his new chateau. That included not only a pair of mortgages but debts owed on building materials and labor.
The same month, the Waupaca Post reported that Goldberg was "reported to be a very sick man" and was receiving treatment in Mount Clemens, Michigan.
(PHOTOS: Courtesy of Katherine Stengele)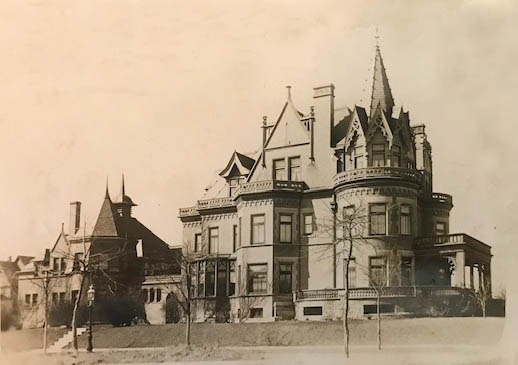 "Before the building was completed," reported the Journal, "he was called on to face disbarment proceedings in the circuit court of Waupaca County and the decision was against him. He is now at his old home in Clintonville, where he is engaged in the merchandising business, and the costly residence has been abandoned to the tender mercies of his creditors. The property will soon be sold under the liens and if no other purchaser is found it will probably be bid in by the Prospect Hill Land Company to protect its mortgages. It is said that George Martin, the tanner, recently offered $32,000 for the property, which is valued at $37,000."
The Martins to the rescue
Born in Germany in 1844, George Martin Jr. came to Milwaukee with his parents in 1852. Six years later, his parents sent him to live with an uncle in Burlington to learn carpentry. But a few months later, the uncle died and Martin returned to Milwaukee to live with his parents.
He took a job in a tannery and dutifully brought his $50 a week salary home to his mother, who gave him back 50 cents spending money.
However, in 1865, he decided to open his own tannery business with his wages and the knowledge he'd gained and went into business with his father, opening George Martin & Son. By the time he renamed the business George Martin Leather Co. in 1893, the business processed more than 200,000 skins annually in its Commerce Street plant.
The year 1899 remained a difficult one for Goldberg, who wife dropped dead at their Clintonville home in July and on Sept. 23, Milwaukee Sheriff George Durner held a 2 p.m. auction at the court house on Cathedral Square to sell the Benjamin M. Goldberg residence on Prospect Hill.
George Martin Jr. (pictured at right with his wife Laura, in a photo courtesy of Katherine Stengele) was not only there that Monday afternoon, he walked away with the key to a Newberry Boulevard chateau.
His family would remain in the house for 40 years.
Some sources have said that Martin completed the interior finishing of the home to the designs that Goldberg had created. Interestingly, Martin had the B and G removed from the cartouches above the doors in the entry foyer, though the left Goldberg's initials on the rest. The cartouches in the dining room possess only a centered letter G, though whether those represent Goldberg or George, I can't say.
Here are all three iterations of the cartouches: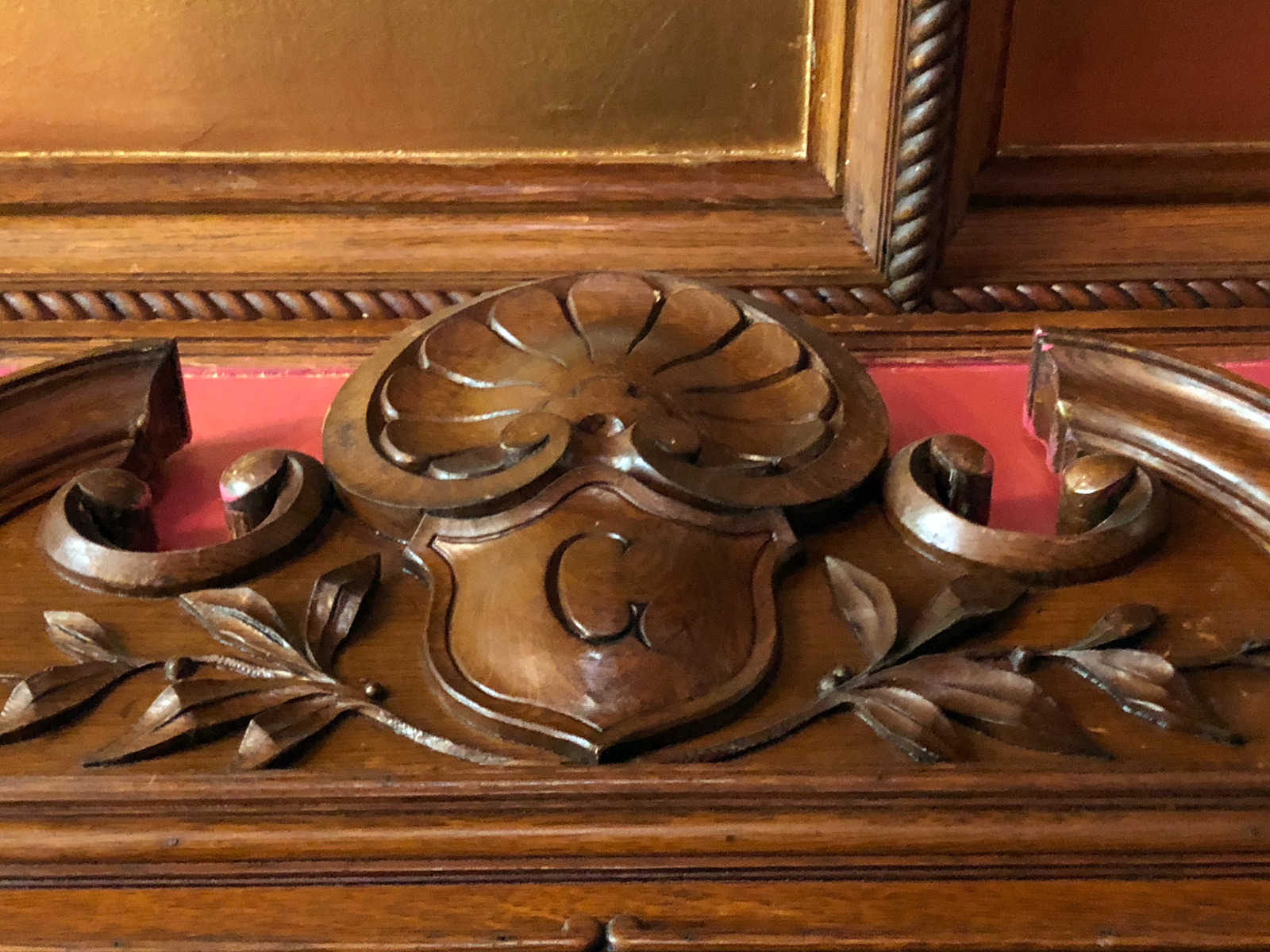 Goldberg, in the meantime, left Clintonville for Gillett, in Oconto County, where he bought the frame house of town founder Rodney Gillett and lived there with his second wife Luella, according to Nancy Smith, who assembled a historical booklet about Goldberg for the Gillett Historical Society.
In 1908 that house burned while Goldberg slept. Though he made it out, he estimated his financial losses at $5,000.
"My grandfather, Walter W. Smith, bought the land from Goldberg and built a home for his family – a home which is now the Gillett Area Historical Museum. The abstract of the property reads like a soap opera in parts," says Smith.
Apparently Luella made accusations that led to a divorce and Goldberg was, according to Smith, accused of burning down the Gillett opera house.
"An item in the Gillett Times back in the day indicated that Goldberg was accusing his wife of trying to poison him, and was running away with the local attorney, George Crawford, to Chicago," says Smith.
"A story in our family goes that Mr Goldberg would send his more valuable items to Milwaukee rather than keep them in Gillett. Goldberg's stepson George Hoxie came to Gillett after a year of being disbarred from practicing law, and became a lawyer in Gillett."
Smith says that ultimately Goldberg remarried Luella and they moved to Duluth, Minnesota, where he practiced law until his death there in 1927.
Meanwhile back in Milwaukee, the Martins made a life in the home Goldberg had left behind years before.
Because he wrote so long ago, Zimmermann was fortunate to speak to a Martin grandson, who recalled visits to the house, in which eight children – four boys and four girls – were raised by George and Laura Martin.
That descendant recalled that until World War I only German was spoken in what the family called the "Boulevard House."
"Those were the days of gas light," the grandson told Zimmermann. "There was a ping pong table in the ballroom and we grandchildren quickly discovered that ping pong balls make a fine noise when they fly into a gas jet ... chronic shortage of balls!"
In his book, "Magnificent Milwaukee," Zimmermann added these interesting details of the carriage house, gleaned from an interview with that same grandson, it seems.
"Martin had been able to walk to his office from the previous residence but here was forced to stable horses and commute by carriage," Zimmermann wrote. "One of his grandsons remembered, 'Grandfather liked good horses and he kept two, using them on alternate days to go to the tannery and back. Foxy, a chestnut, was a high-spirited trotter, and Roy, a black and less nervous, was a pacer. On Sunday afternoons grandfather and grandmother often drove Foxy while my father and mother drove Roy. If and when they met on Grand Avenue or Kilbourn there would be a race. Both father and grandfather were tenacious competitors and the races would be close. The ladies were often frightened and finally succeeded in calling the races off by persuading their husbands to take different routes.'"
The Martins were longstanding members of Grace Lutheran Church Downtown and so Foxy and Roy likely knew the route there quite well, too. Laura Martin had attended school at the church (as well as at the First Ward School) and also sang in the choir.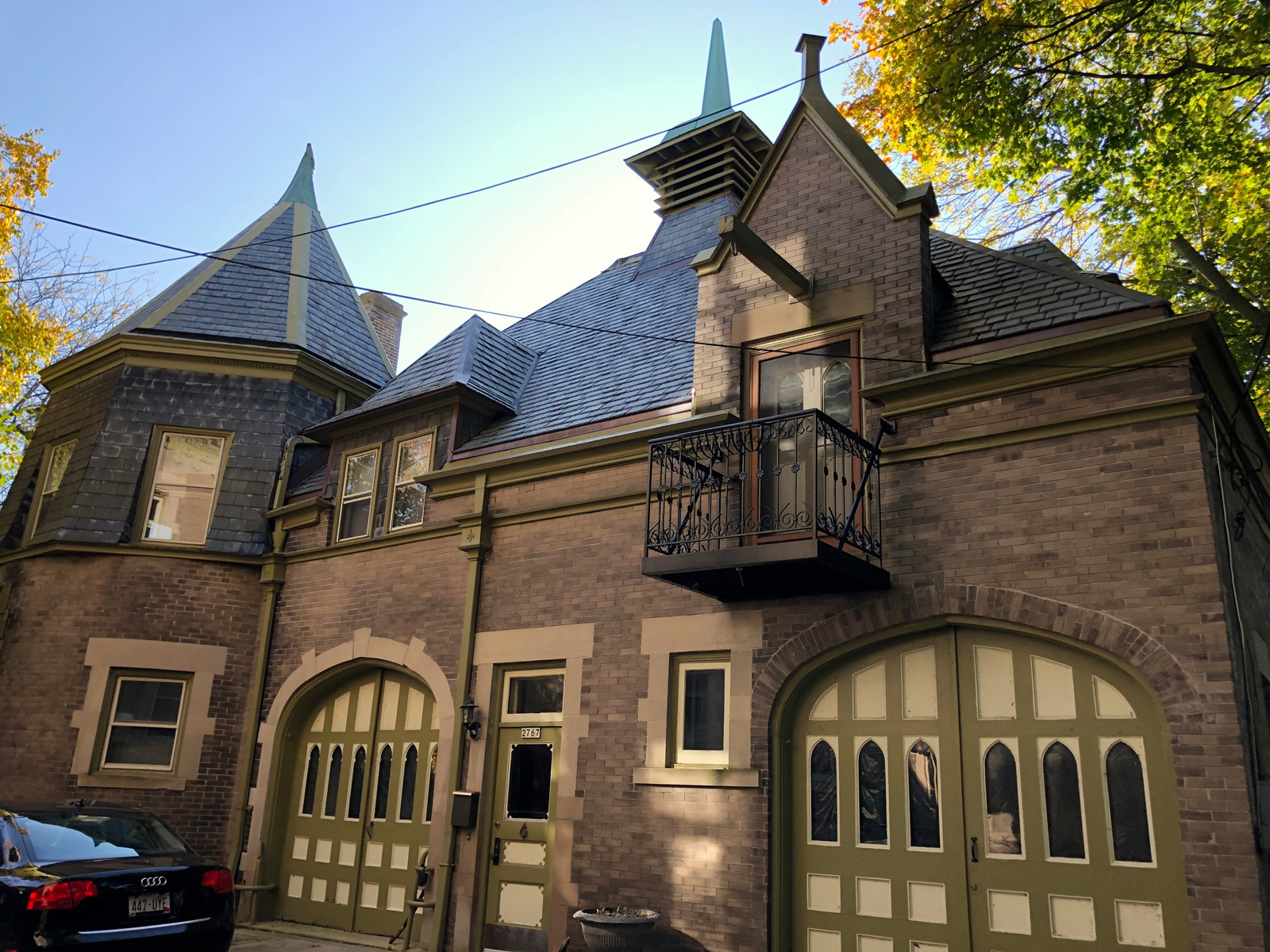 Speaking of the carriage house (pictured above) – which is reached via a driveway that passes through a porte cochere (below) – Martin had installed a carriage elevator, operated by hand via a thick rope and a pulley and counterweight system, inside to raise carriages up to the loft.
Not only does that carriage lift survive, it also still works. For folks who live in the upper level of the coach house in an apartment created from the original chaffeur's quarters and the hayloft, the carriage lift is the only way to move large items in and out. The staircase is narrow and tightly curved.
The lift (above) and its works (below).
When Martin died in 1920, his sons took over the tanning business and ran it until it fell victim to the Depression.
Laura continued to live in the Boulevard House with their unmarried daughter Ida.
When Laura died in the house at age 88, Ida continued to live there until 1938.
Classified ads from that year shout, "WAY BELOW VALUATION," and carry an asking price of a mere $20,000. Considerably less than Goldberg had budgeted to finish only the interior 40 years earlier.
"The Martin estate has asked us to offer beautiful homestead for sale ... the home is of pretentious type on a lot 90x150; property has three-car garage with living quarters above for chaffeur. ... Bargain of Bargains."
The Wald family
The beneficiary of that Bargain of Bargains were Mr. and Mrs. David Wald, who almost immediately pulled a permit seeking permission to chop the house up into a four-family. Thankfully, they did not end up going through with it, and sure David himself was pleased because he would come to call the home, "my castle."
Born in Hungary, Wald was brought to Milwaukee by his uncle Julius Lando, an optometrist, in 1913. Lando likely schooled the boy in his trade because by 1914, Wald was working as an optometrist at Schuster's.
The following year, he opened his own office and by the time he died 50 years later, he had two locations. In 1929, Wald went back to Hungary to marry his wife Lenke (whose surname also appears to have been Wald), and the two returned to Milwaukee.
Business was surely good for Wald, because for the first three or four years that the family lived in the Newberry Boulevard home, there were near-constant classified ads seeking two housekeepers. Each would have her own room and a "good salary."
They'd also be expected to tend to the family's two children – perhaps that's why there's a mini claw-foot bathtub near a full-sized one up on the top floor adjacent to what were likely servant's quarters.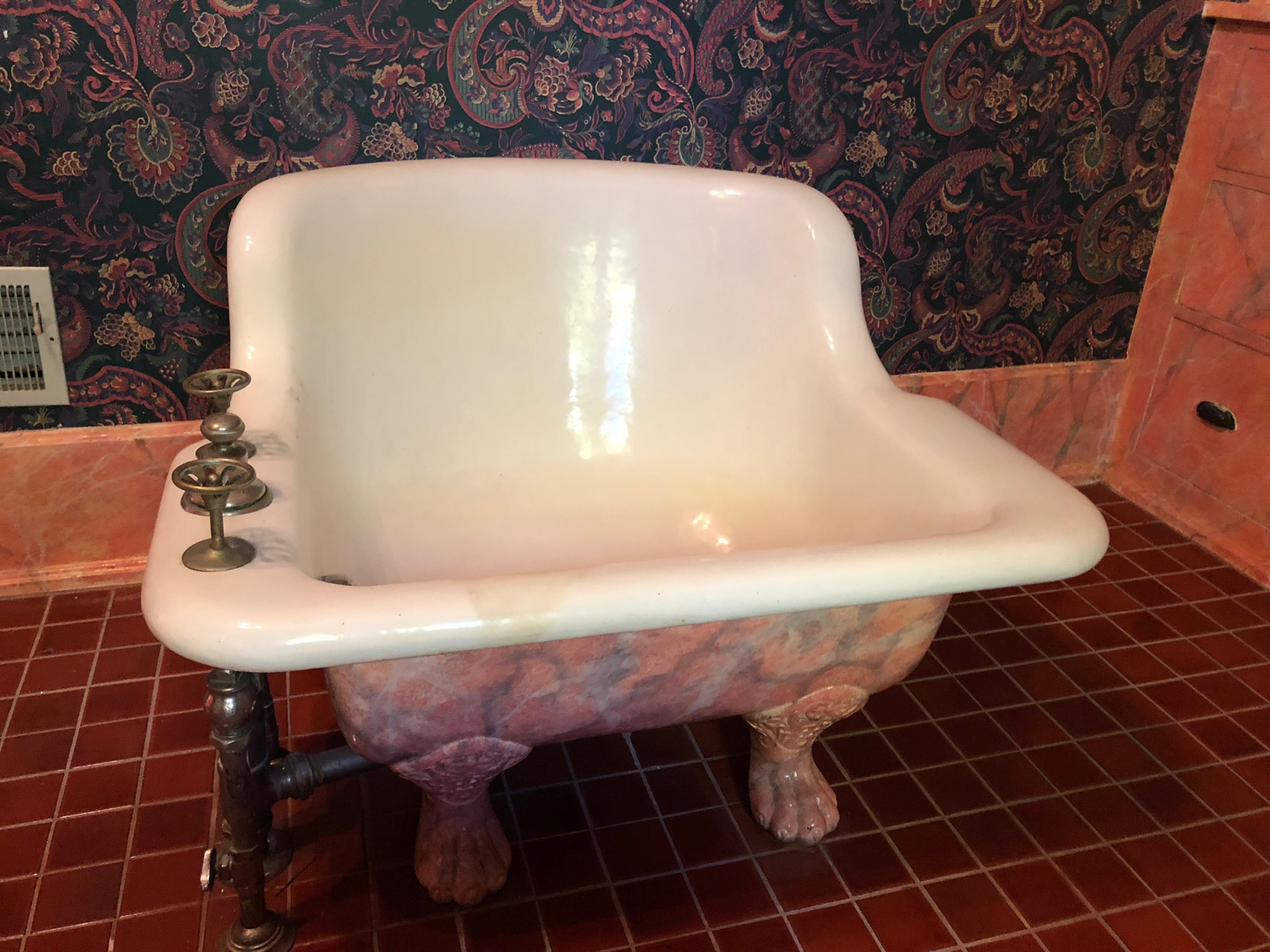 Although David Wald died in 1965, his family – like the Martin clan – would occupy the chateau for 40 years.
It was listed for sale, with no published price, in 1979, described as an "interesting castle."
The Wiechmann era
In 1980, the Walds sold their "interesting castle" to real estate developer Jim Wiechmann, who did some work there, including turning one bedroom into a dressing room off the master bedroom and, most likely finishing the basement and updating the bathrooms and kitchen.
Wiechmann is the current owner, which means that in 120 years, only three families have occupied this stunning East Side landmark.
The mystery now is who will be next.
What's not at all mysterious is just how lovely the place is.
The interior millwork is stunning, as is the large stained glass window that shines its variegated light over the grand staircase.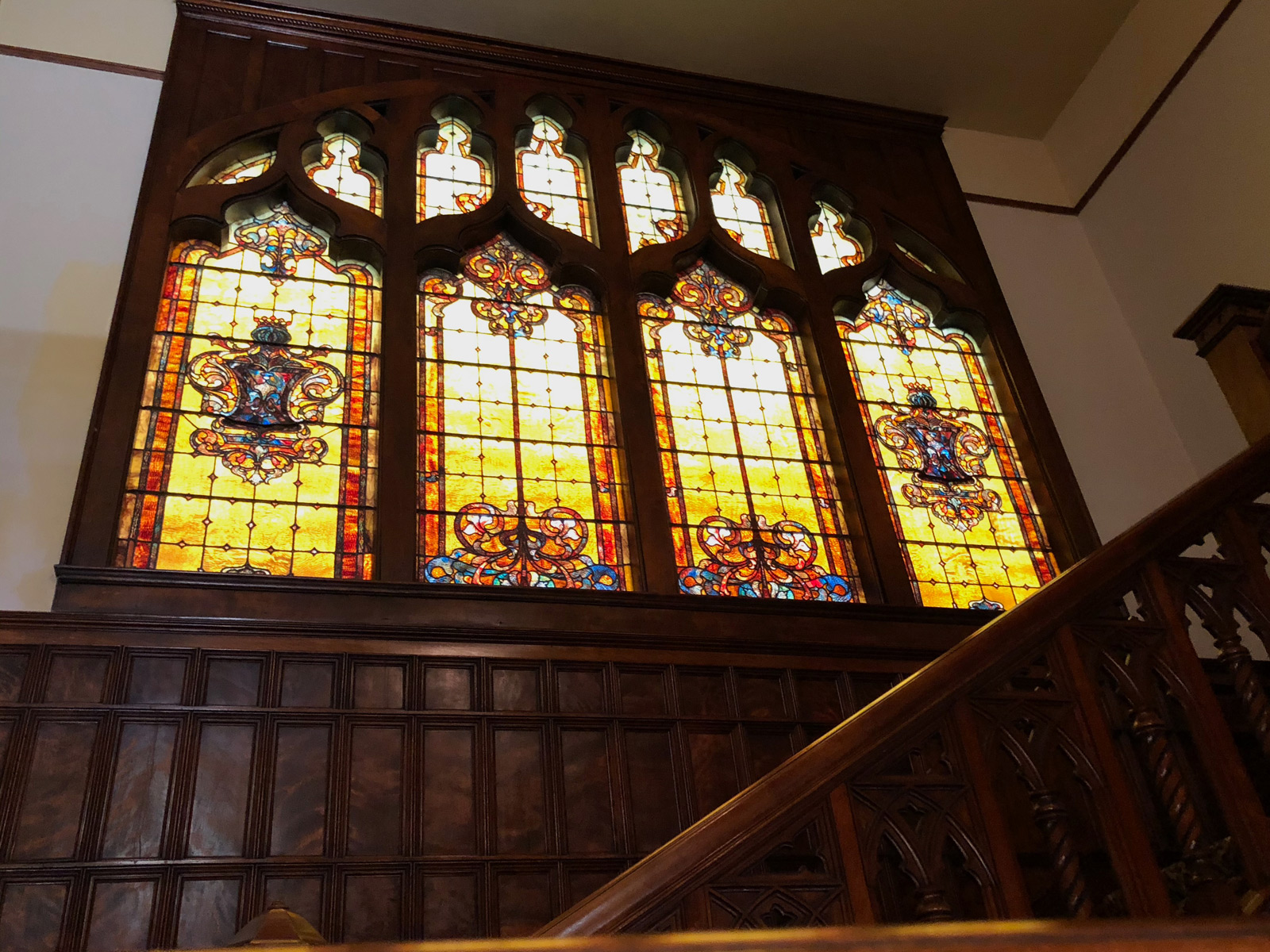 There are original fireplaces throughout, beautiful inlaid floors, interesting (and likely original) sinks (pictured below) in some of the bedrooms and that astonishing array of detail outside, especially around the porch, but also up at the roof, with its elaborate dormers and the peak of that amazing turret.
The basement has some newly finished areas but also maintains great details like the old boilers (which no longer run, of course) and some interesting antique controls.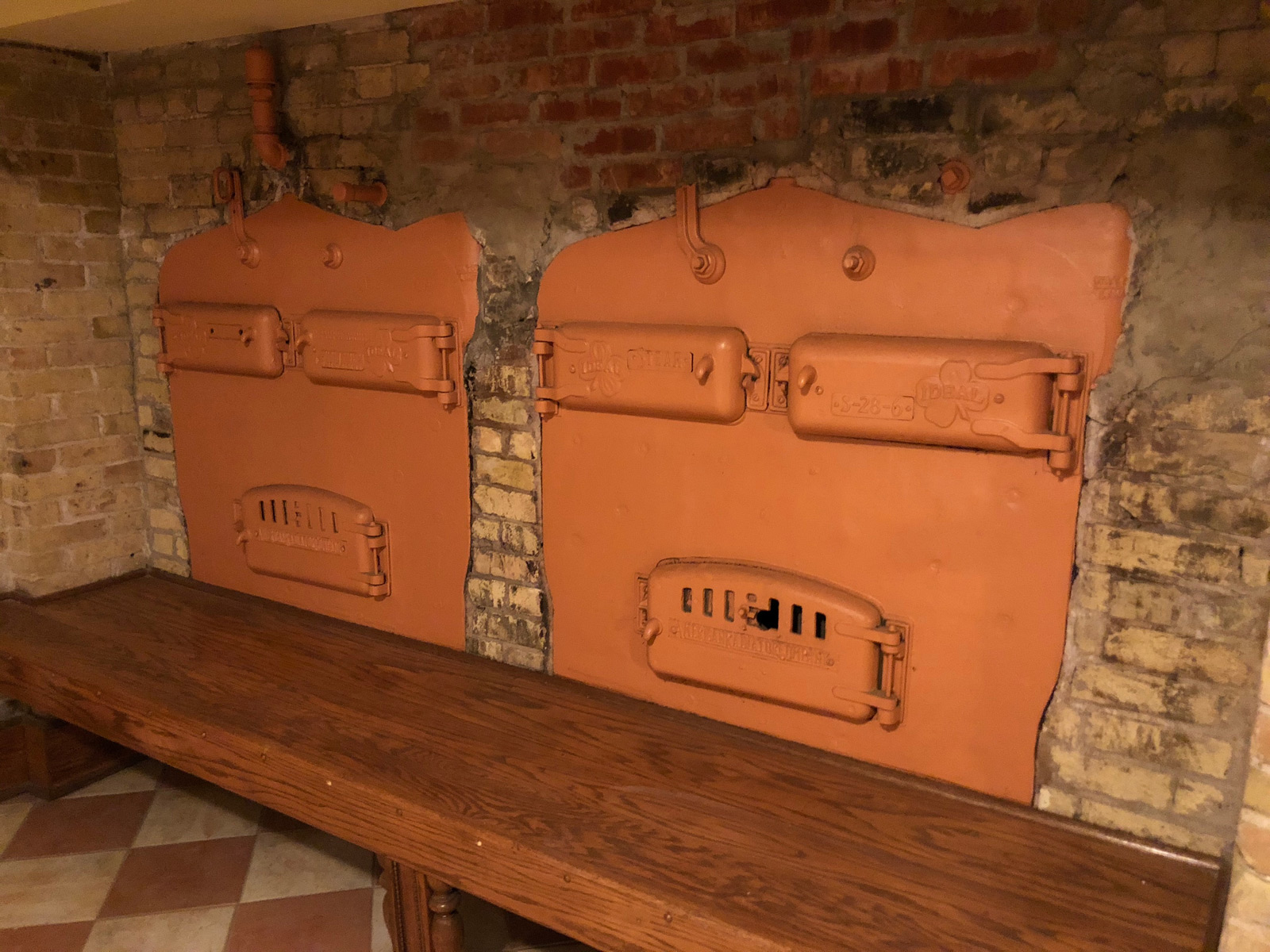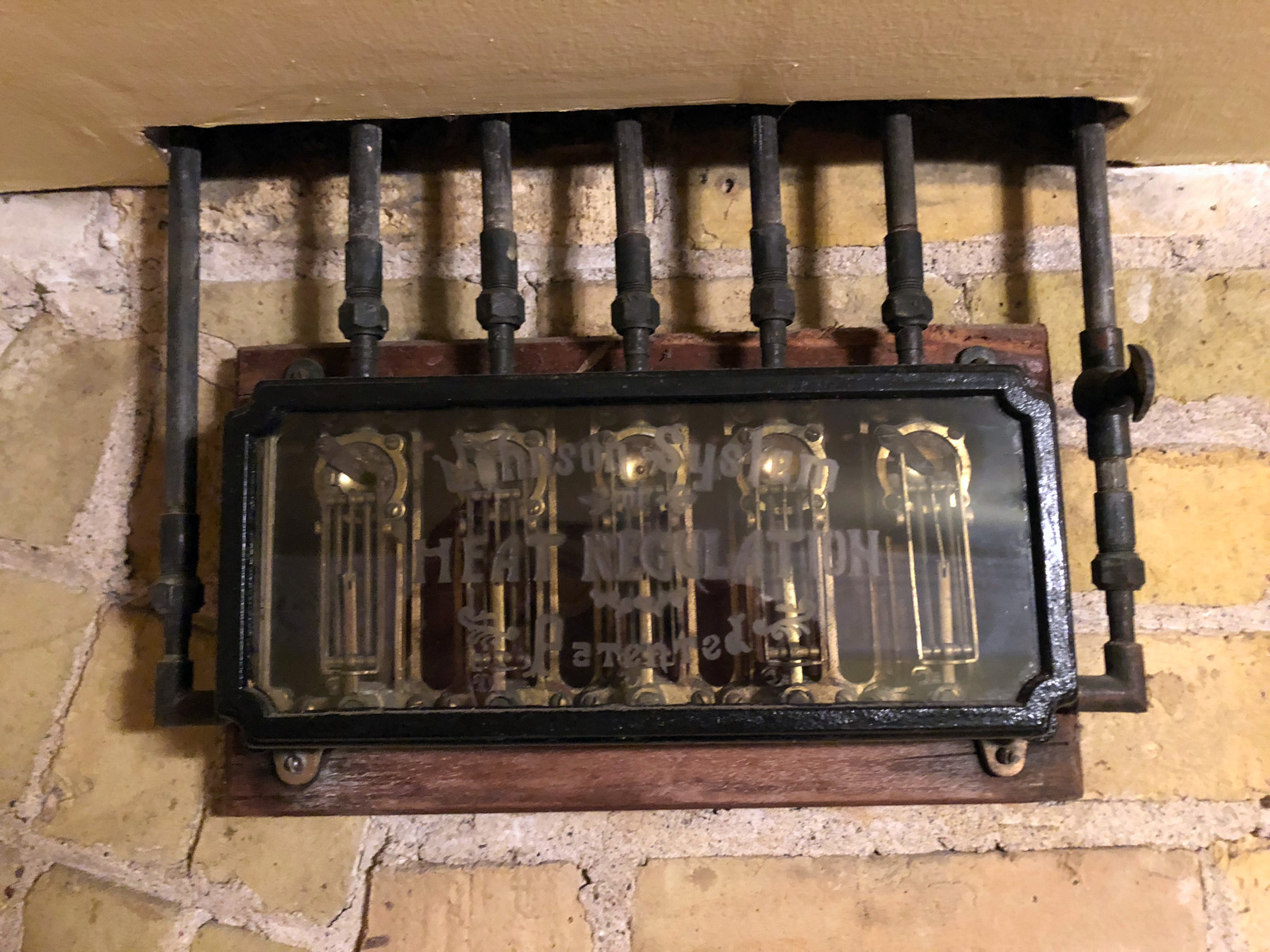 What I love most about the home – other than its fantasyland facade and the rich familial history inside – is that while it's big at nearly 10,000 square feet, it feels warm and close and welcoming. It feels scaled for a close family. It feels like the kind of place you might call "my castle."
Born in Brooklyn, N.Y., where he lived until he was 17, Bobby received his BA-Mass Communications from UWM in 1989 and has lived in Walker's Point, Bay View, Enderis Park, South Milwaukee and on the East Side.
He has published three non-fiction books in Italy – including one about an event in Milwaukee history, which was published in the U.S. in autumn 2010. Four more books, all about Milwaukee, have been published by The History Press.
With his most recent band, The Yell Leaders, Bobby released four LPs and had a songs featured in episodes of TV's "Party of Five" and "Dawson's Creek," and films in Japan, South America and the U.S. The Yell Leaders were named the best unsigned band in their region by VH-1 as part of its Rock Across America 1998 Tour. Most recently, the band contributed tracks to a UK vinyl/CD tribute to the Redskins and collaborated on a track with Italian novelist Enrico Remmert.
He's produced three installments of the "OMCD" series of local music compilations for OnMilwaukee.com and in 2007 produced a CD of Italian music and poetry.
In 2005, he was awarded the City of Asti's (Italy) Journalism Prize for his work focusing on that area. He has also won awards from the Milwaukee Press Club.
He can be heard weekly on 88Nine Radio Milwaukee talking about his "Urban Spelunking" series of stories.