Early last week, my girlfriend got off the phone with her mom and informed me that Dunn County, Wisconsin golf courses are open. I looked at her in disbelief. During the pandemic? The "Safer at Home" order for our state? How is that legal? I excitedly hopped on Google and started reading articles. It confirmed that Dunn County courses are open to members under certain COVID-19 stipulations.
My immediate next question: "Can we stay with your parents this weekend?"
Last year, for the first time in awhile, I got back into competitive golf. I missed it, and since the previous season ended, I had been gearing up to compete again by getting fitted for clubs for the first time in ages, taking lessons, doing putting drills on my 8x3 foot putting green that takes up a good chunk of my apartment and hitting range balls under the overhanging heaters at Gastrau's Golf Range.
All of this, though, came to a screeching halt a few weeks ago, and if and when there will even be a competitive season is now up in the air. My daily routine has been simple these last few weeks: wake up at my apartment, go to my office, workout and work, go back to my apartment and go to sleep.
Needless to say, I could use some fresh air and was itching to hit a golf ball.
So, the morning after I got the news about Dunn County, I excitedly called Whitetail Golf Course from my office offering to buy one of their ten-round $180 punch cards so I could be a member and get a couple rounds in over the weekend. They answered and gave me a ten-round, nine-hole punch card for $140, informing me that one punch per day gets you unlimited golf this month. I can't remember the last time I had been so eager to read my credit card number. Frankly, I would have paid a lot more due to supply (no courses open) and demand. (Get me outside and out of my routine; I want to golf.)
Driving up to the course on Friday afternoon, I felt a rush of emotions similar to when I drove up to Lawsonia for round one of the State Am last year: excitement, joy and a little nervous for what was to come. Except this wasn't the biggest event I had played in over a decade, it wasn't one of the state's top courses and I wouldn't be playing with anyone. In fact, I wouldn't even be hitting the ball into a hole. This was Whitetail Golf Course in Colfax, on a 44 degree day in April, and I was playing alone and under certain stipulations.
So what were these stipulations?
Payment must be made online or over the phone

Raised cups

No flags

The clubhouse and restaurant were not open to walk into, although there was someone that came out to confirm your tee time (while remaining several feet away)

No ball washers

No carts or push carts for rent

No scorecards

No garbage cans (I left with several empty beer bottles in my bag to avoid littering)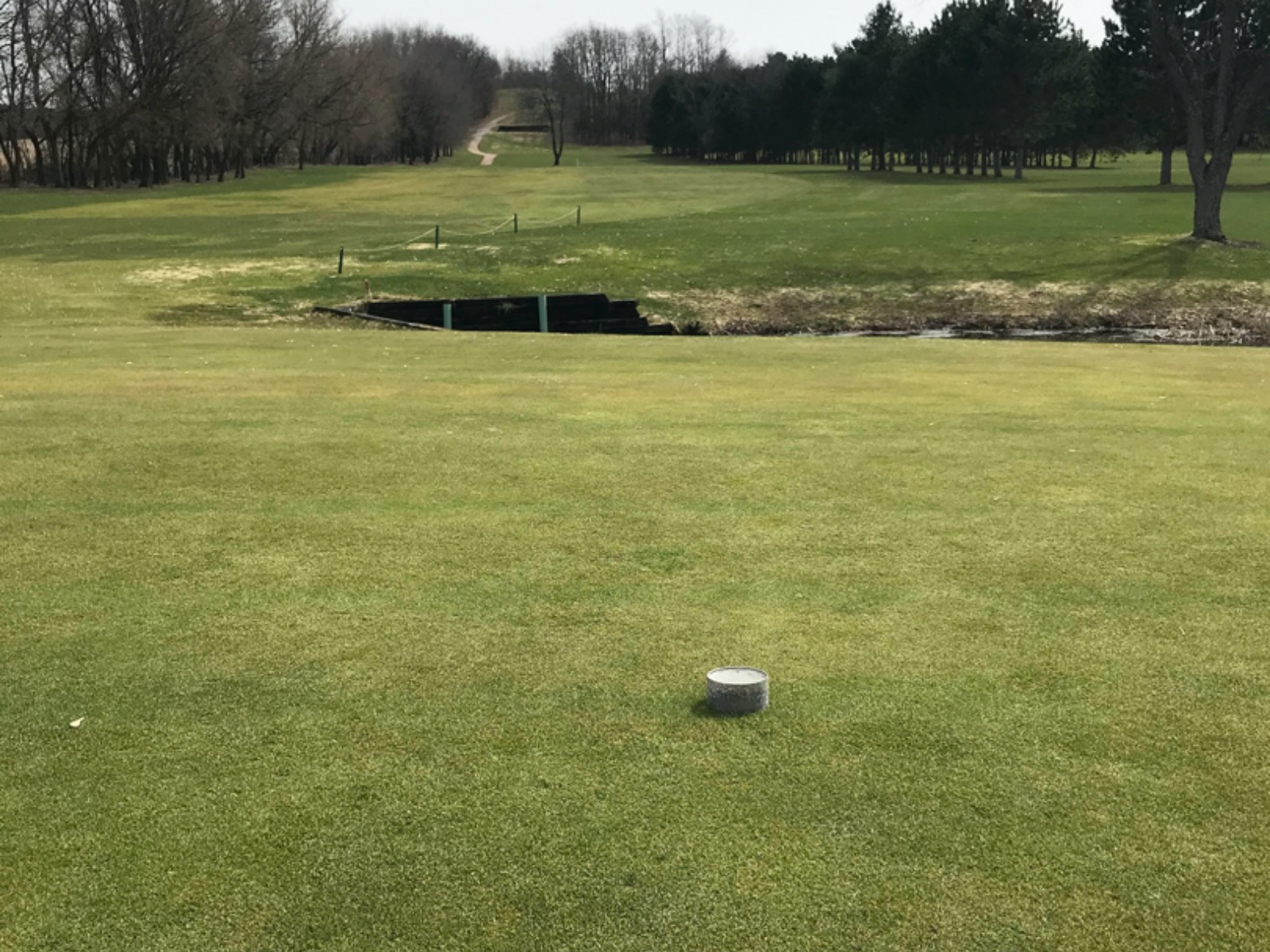 So how was it? It was everything I dreamed of.
Whitetail is a fun track with some holes tucked in the northwoods. It felt good to be outside, and even though there were no holes to putt into, it was nice to get fresh air, walk around for hours and play a game I love. I ended up walking 31 holes that day and made it back on Saturday for another 23 playing several balls and hitting a lot of shots. Sunday was unfortunately snowed out.
You can expect the same. It's not the typical round of golf that you're used to: You won't be able to hit range balls and warm up, putt into an actual hole, get a drink from the cart girl or hang out at the 19th hole. You may not even be able to throw any of your carry ons into a garbage can at the course. But it does feel pretty damn good to be out walking on a golf course in peace and get a fraction of normality in the midst of this chaotic time of our lives.
This week, I chose to stay up here, and although snow has covered the ground, it has been nice to spend time with my girlfriend's family, get out of the city and out of my apartment. Fortunately that snow will melt today and tomorrow, and since courses are still closed until next Saturday in Milwaukee (though golf courses statewide will be able to open again in limited fashion thanks to Gov. Evers' latest Safer at Home extension), I'll be back at Whitetail this weekend – likely with a six-pack of Leinie's from the Colfax Cenex and a big smile on my face thankful for my health, my girlfriend and her parents letting me crash and this little island in Wisconsin that, for whatever reasons, stayed open and is still allowing people to play my favorite game.