Back in October, we brought you the news that the Travel Channel's show "Food Paradise" would be filming at Good City Brewing, 2108 N. Farwell Ave.
The finished episode, which will highlight the "best bar food at some of the best small breweries across the country," airs on Sunday, Jan. 28 at 8 p.m. The episode will also air Monday, Jan. 29 at 11 a.m. and Saturday, Feb. 3 at 4 p.m.
We can only guess that there will be stunning footage of the brewery's amazing rooftop patio as well as mouthwatering dishes such as those we featured recently in our "3 Dishes" series with Chef Guy Davies.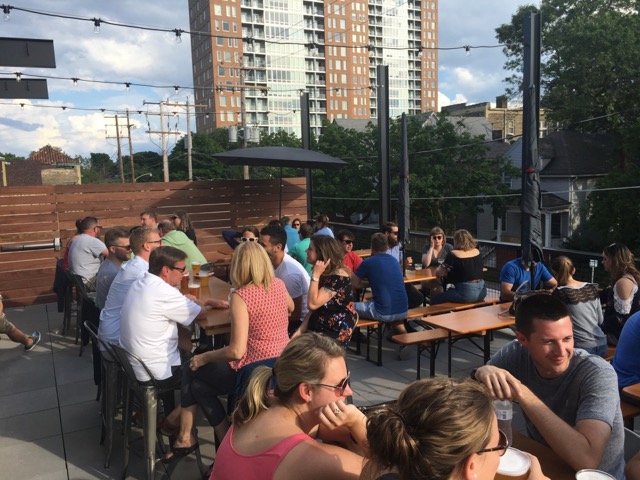 And Good City isn't the only spot that will be featured on the show.
Next up? Merriment Social, 240 E Pittsburgh Ave.
Crews will be filming for a future episode at the popular Walker's Point restaurant – known for its burgers, boozy shakes and fried chicken – on Tuesday, Jan. 30 between 4:30 and 8:30 p.m. Head over and grab a bite to eat and you might just make it onto the show.
Milwaukee has become a favorite spot for the popular Travel Channel show. In 2015, "Food Paradise" filmed footage at Milwaukee Beer Bistro in Riverwest and Cafe Bavaria in Wauwatosa, and last year they visited The Vanguard in Bay View and Saloon on Calhoun with Bacon in Brookfield. Most recently, they made a stop at Comet Cafe to shoot a feature on their cheesy Tuna Mac Casserole as part of their "Meltdown" episode, which aired in October 2017.
Lori Fredrich (Lo) is an eater, writer, wonderer, bon vivante, traveler, cook, gardener and girlwonder. Born and raised in the Milwaukee area, she has tried to leave many times, but seems to be drawn to this quirky city that smells of beer and alewives.
Some might say that she is a little obsessed with food. Lo would say she is A LOT obsessed with food. After all, she has been cooking, eating and enjoying food for decades and has no plans to retire anytime soon.
Lo's recipes and writing have been featured in a variety of publications including GO: Airtran Inflight Magazine, Cheese Connoisseur, Cooking Light, Edible Milwaukee, Milwaukee Magazine and the Milwaukee Journal Sentinel, as well as on the blog Go Bold with Butter, the web site Wisconsin Cheese Talk, and in the quarterly online magazine Grate. Pair. Share.