GP Jo VanDeraffe brings epic, off-road cyclocross racing back to the Mitchell Park Horticultural Conservatory in Milwaukee on Oct. 21, thanks to race organizers, Palomino American Cyclocross (Pal/AX).
The day's events will kick off with amateur racing for all ages (9+) and skill levels (Beginner's Cat 5 - Pro) on Saturday between 9 a.m. to 11:45 a.m. After, dozens of pro women will take to the start of the main event at 12:15 p.m., followed by the pro men at 2:15 p.m.
The 2.2km course will send racers around the lake before doubling back over off-camber hills and winding through the park's trees and bluffs until the dreaded run-up. This signature feature will undoubtedly attract the fiercest heckles as competitors attempt feats of speed and strength to get to the top before the rest of the competition. But the challenge doesn't end there, as a deep, uphill sand pit and barriers await further down the course. Race duration runs between 30 and 60 minutes, and riders are expected to make between three and eight laps before the finish.
All in the name of a beloved stuffed giraffe.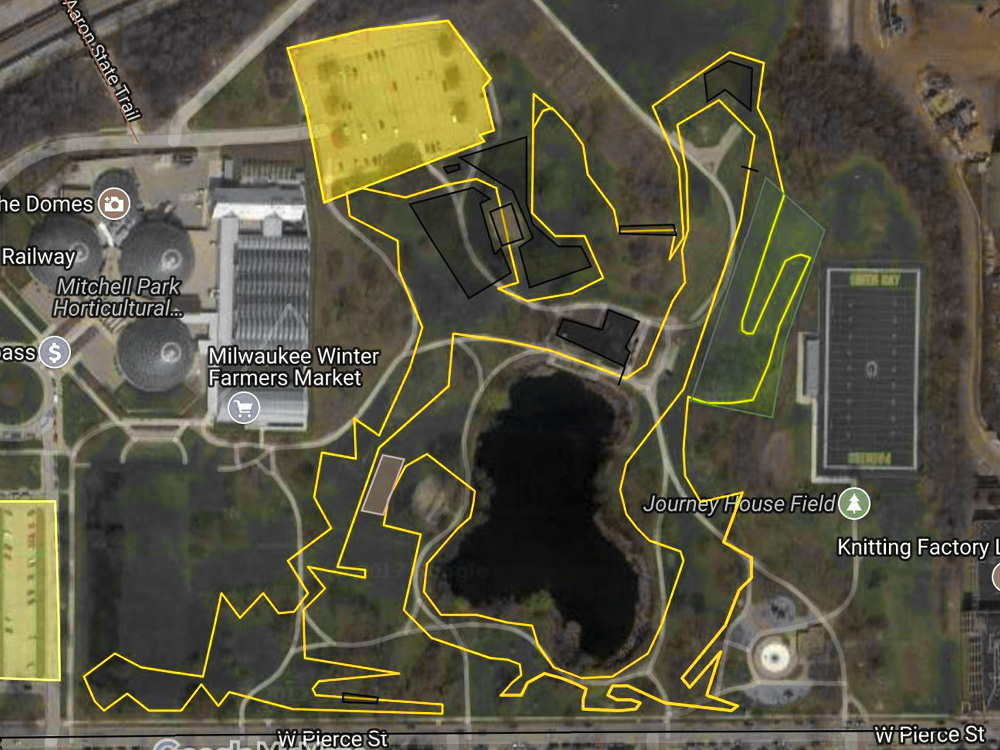 Admission is free for spectators, but racers are required to have a one-day USA Cycling race license and register for their preferred race(s). Notably, Pal/AX is covering the cost of race registration for first-time women, trans and femme riders with the purchase of that license – a $25 savings. Just show up at 10 a.m. with a $10 bill. First-time riders are encouraged to use any bike capable of riding on grass.
The GPJVDR will feature more than 400 total competitors from across the United States – including Kyle Russ, Robert Bigelow-Rubin, Julie Phelps, Jodie Prestine, Allison Zmunda, Sunniva Kessenich, Kate Konkle, Fitchrona omnium-winner Elizabeth Franczyk, Charlotte Erickson, Eleanor Thermansen, Caitlin Hamer, Evan Moss, Lucy Foss, Robert Berry, Patrick Brock, David Cestelli, Matthew Herr, Morgan Stern, Mike Knecht, Robert Vester, Jack and Rylan Bozych, Nicholas Labbe, Jared Verbeke, Jeremy Bloyd-Peshkin, Daniel Breuer, Brandon Gobel, Juan Esteban Tapiero Bernal, Jake Buescher, Jason McDowell, Adam Ward, Jakub Cychowski, Nathan Phelps, Timm Jacobson, Jeffrey Bopp, Anthony Mikos, Chris Rechtsteiner, Andres Gutierrez, Christian Walding, Billy Baader, Ryan Lipski, Michael McNulty, Samuel Hansen and many more.
Nicholas Labbe from The Pony Shop of Chicago, is scheduled to compete at GPJVDR. At 12 years old, Nick Labbe has already raced on the national level, finishing in the top 20 percent in his category at the U.S. National Championships this past January. Labbe currently competes in the open Junior 9-14 category in the Chicago Cross Cup, but often doubles up and races with the men category 4/5 finishing in the top 50 percent! We are excited to host Labbe and looking forward to see his racing.
Eleanor Thermansen racing with Kingfield from Minneapolis, Minnesota will attend GPJVDR. In Thermansen's first ever cyclocross race, she took the top step of the podium at the All City International Cyclocross Championships!! GPJVDR will be her second race. Keep an eye out for Eleanor!
Sunniva Kessenich racing with Hammer Havoc from Milwaukee will race. Kessenich participates in all types of bicycle racing and usually stumbles her way onto the podium. She took the top step at her first cyclocross race this year at Humboldt Park. We are excited to see Kessenich race in the women category 3/4 field at 12:17 p.m. on Saturday.
Christian Walding of the StandByBoiz from Milwaukee will also be there and has already set his stoke level to 100. Walding is a bicycle courier, full-time nursing student and enjoys pumpkin spice lattes on a cloudy fall day.
You can register to race, or view the complete schedule and roster of participating athletes at usacycling.org/register/2017-1580.
GP Jo VanDeraffe is sponsored in part by Gunnar Cycles, who specialize in American-made, handmade custom bicycle frames; OnMilwaukee, the city's premiere entertainment magazine; The People's Flag of Milwaukee, who envision a beautiful symbol of hope and positivity for a great city; and Milwaukee County Parks.
Prizes will be provided by Alt's MKE, Pleasant Kafe, Anodyne Coffee Roasters, Piegram and Healium Hot Yoga.
Race organization help has been provided by the Wisconsin Cycling Association and USA Cycling.
For any questions or concerns, contact Andrew Aaron, race organizer at palominoamericancyclocross@gmail.com.