Grassroots Salad Company, a fresh fast-casual salad and wrap shop, opens today in the Chase Tower at 607 N. Water St.
And when you step inside you'll find it difficult to recall that the space once held Capriotti's Sandwich Shop.
The decor is bright and rustic, featuring distressed painted brick, barn board, cheerful green accents and bright retro art depicting fresh produce brands.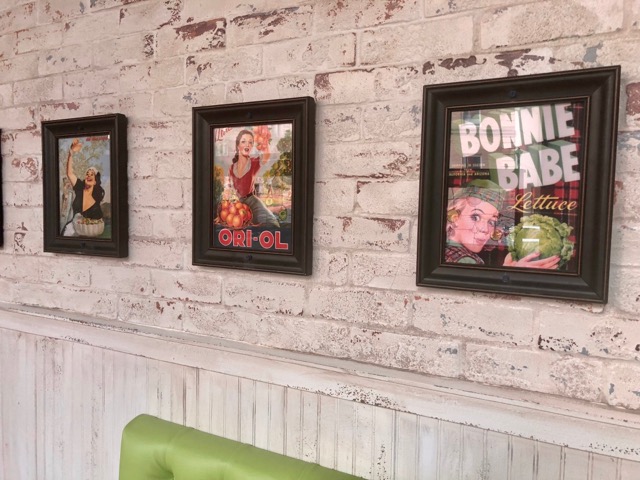 Seating options include standard four-tops as well as bar-style seating, both in the dining room and along the front windows of the shop, where you can take in the Downtown views.
There's also more casual "stadium style" seating in the dining room, which will double as a stage for occasional live performances, including appearances by various acoustic musicians.
And fresh is the name of the game at the locally owned Grassroots, which offers fresh made-to-order salads, wraps, juices and smoothies, along with select breakfast items like overnight oats with maple syrup, banana, candied almonds and dark chocolate ($4.99), yogurt bowls featuring Greek yogurt, cranberries, apples, walnuts, granola and honey ($5.99).
Smoothies -- which are made without added sugar or ice – include the Strawberry Bliss (orange juice, strawberries, banana), Life Glow (orange and carrot juices with banana and pineapple), Date Night (avocado, banana, almond milk, dates, vanilla, honey), Green Power (apple juice with greens and pineapple) and Mango Fest (orange juice with strawberries, pineapple and mango).
Juices include the Red Ruz with beets carrots and oranges or the Dr. Roots with beets, carrots, apple, ginger and lemon. Pricing is $5.50 for 12 ounces and $7.50 for 20 ounces.
Meanwhile, you can choose from five curated salads or wraps, including the Santa Fe (grape tomatoes, corn, black beans, tortilla chips, cheddar and chipotle lime ranch).
There's also the Kriti (kalamata olives, grape tomatoes, red onions, chickpeas, feta and Greek goddess dressing), the Asian (grilled chicken, chow main noodles, cucumbers, carrots, edamame and roasted peanut ginger dressing), Caesar (herbed croutons, parmesan, Caesar dressing) or the Market Cobb (hard-boiled egg, crumbled bacon, grape tomatoes, avocado, blue cheese and champagne vinaigrette).
Or you can build your own salad or wrap with your choice of fresh greens, toppings, proteins like chicken, tuna, tofu or bacon and housemade dressings (including numerous vegan options), which are made fresh daily.
Grassroots Salad Company will be open Monday through Friday from 8 a.m. to 4 p.m. and Saturday from 10 a.m. to 2 p.m. You can follow them on Facebook.
Lori Fredrich (Lo) is an eater, writer, wonderer, bon vivante, traveler, cook, gardener and girlwonder. Born and raised in the Milwaukee area, she has tried to leave many times, but seems to be drawn to this quirky city that smells of beer and alewives.
Some might say that she is a little obsessed with food. Lo would say she is A LOT obsessed with food. After all, she has been cooking, eating and enjoying food for decades and has no plans to retire anytime soon.
Lo's recipes and writing have been featured in a variety of publications including GO: Airtran Inflight Magazine, Cheese Connoisseur, Cooking Light, Edible Milwaukee, Milwaukee Magazine and the Milwaukee Journal Sentinel, as well as on the blog Go Bold with Butter, the web site Wisconsin Cheese Talk, and in the quarterly online magazine Grate. Pair. Share.