PLOVER, Wis. – While the tasting room at Great Northern Distilling in Plover, near Stevens Point, has been dark for more than a year, the stillhouse has been anything but quiet, as the nearly 10-year-old distillery stocks up in preparation for a big move.
Former chemical engineer Brian Cummins founded the business in 2013 and it has been located in its current space, 1740 Park Ave., ever since.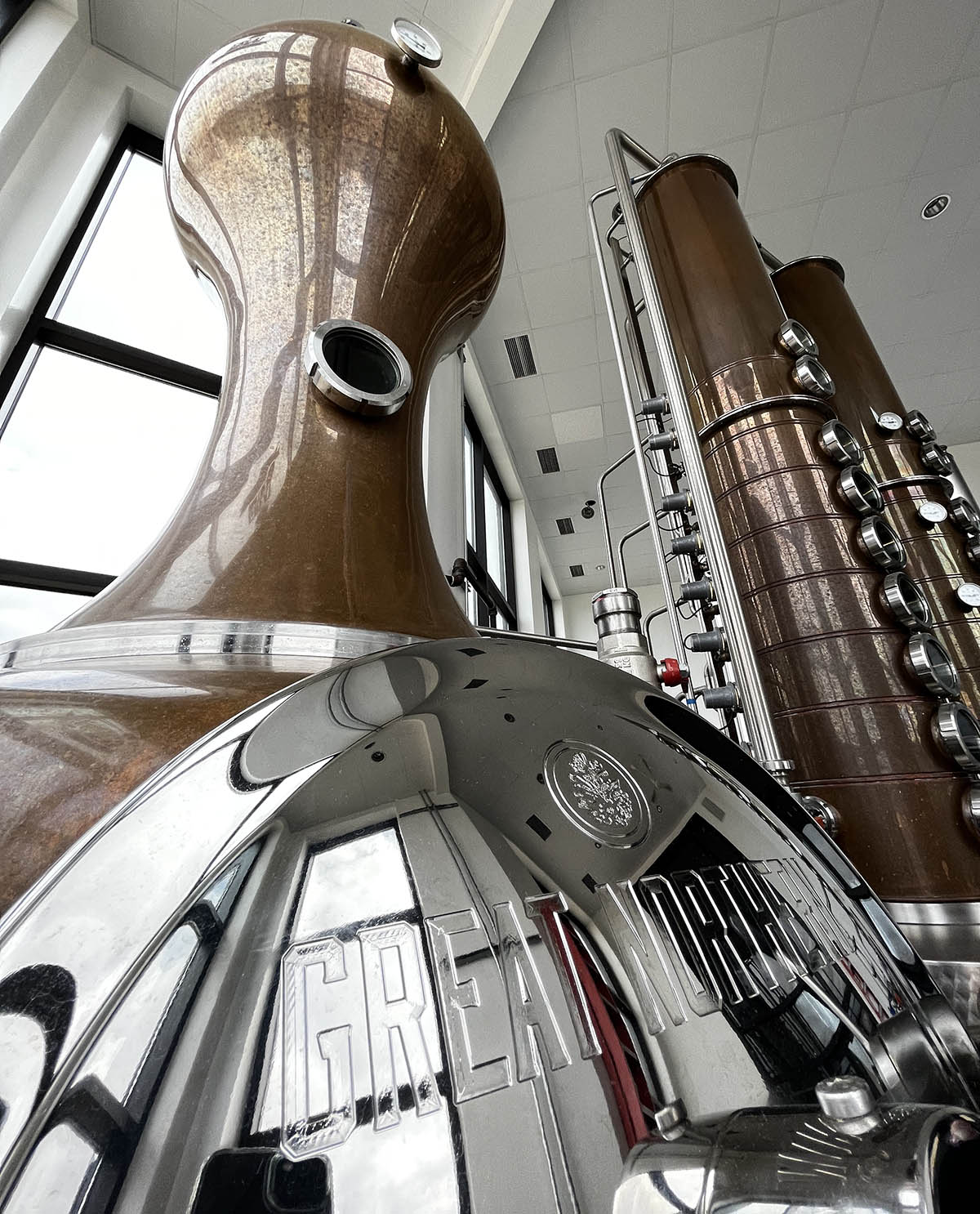 But a boom in construction and renovation of empty big box stores – including a nearby development in a former ShopKo space that includes a sprawling new home for O'So Brewing – means Great Northern has been on the lookout for a new home.
"We ended up losing our lease here during COVID and had been negotiating with the landlord to stay longer," says Cummins, "but he wanted to basically take our tasting room, and really the whole building, and turn it into a gym and event space for his apartments that he built next door, which is understandable."
Cummins hopes to be in a newly constructed home on the north end of downtown Stevens Point by autumn.
If that seems ambitious, Cummins says he's confident.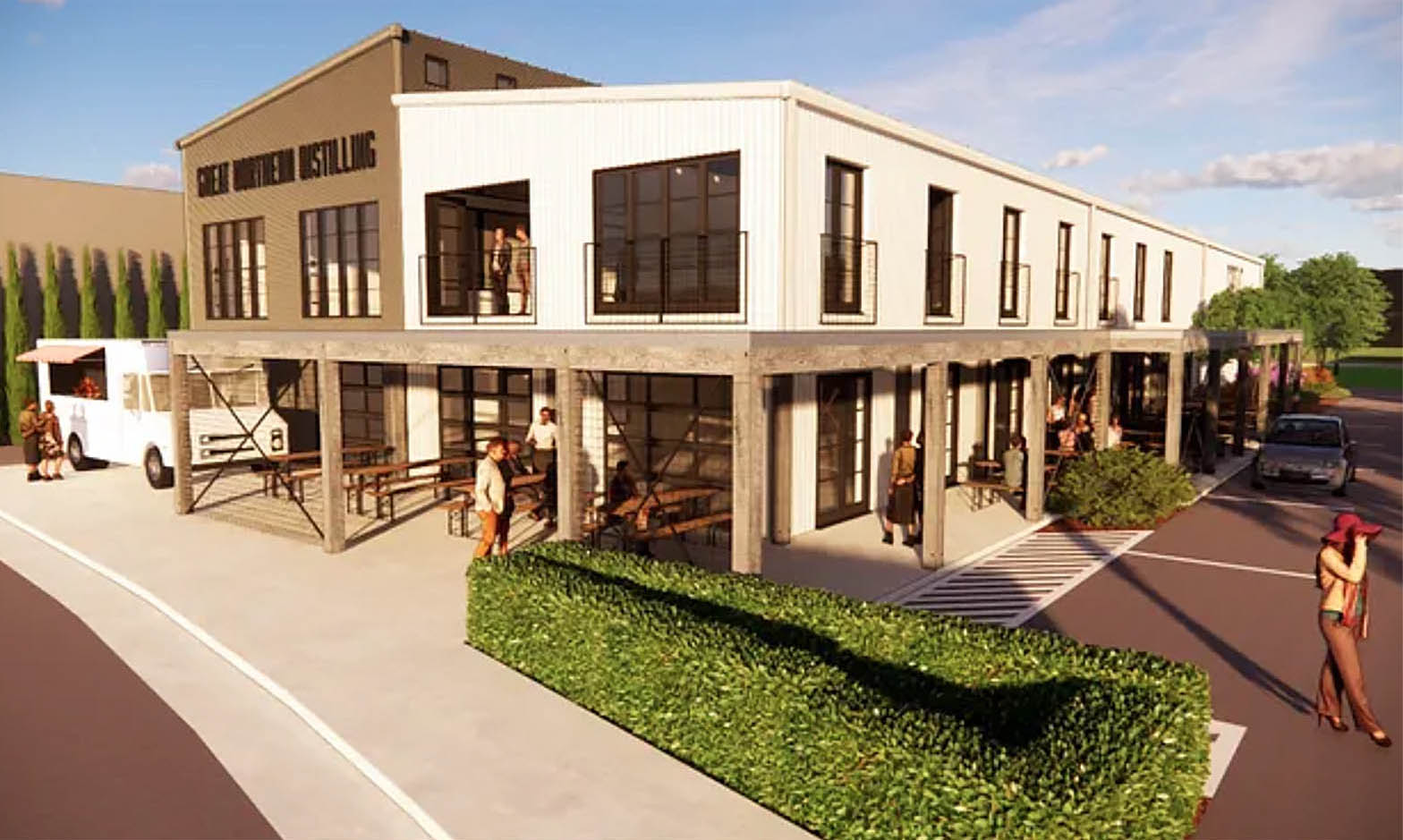 "Everything has lined up," he says, "The building structure is just a steel building, essentially, and then you dress it up from there. We ordered that last July. We've got everything on order, but it's just such long lead times. It was 26 weeks for windows. Just crazy stuff."
Thanks to a distribution deal with General Beverage, Great Northern's bottled product is available throughout the state. It produces, in addition to limited batch spirits, Opportunity Rum, Potato Vodka, Herbalist Gin (as well as a barrel-aged gin), Vanguard Whiskey, Rye, Coffee Liqueur, Brandy and the unique Ginseng Whiskey.
"Downtown Stevens Point really feels like the center of gravity [within] the area," Cummins told the Stevens Point News when the details were announced last fall.
"Stevens Point and has such a good culture of creative entrepreneurs … It feels like there's a great energy of creation and revitalization in downtown Stevens Point, (we're) excited to be a part of that."
Though it's not been easy losing the tasting room business for more than a year, Cummins says that it pushed him to consider Great Northern's future.
"It gave us a chance to really think about, 'Hey, what's the next 10 years look like for us and where do we want to be?' So, one, this doesn't happen again. To own a building is a big deal, and two, to really set up how has the distillery and brewery business changed since we started in 2013."
And how has it changed, you ask?
"Less of an emphasis on distribution and getting out there and more on this," he says, gesturing toward the dark tasting room.
"On being a destination and bringing people into a community to visit and build your brand right on site. And then when they go home, they might buy a bottle as they have become a fan."
Cummins points out how the biggest brewers in his area have been focusing on tap rooms. One told him, "I'm planning distribution to be flat," and another said "I'm deemphasizing distribution because it's just too hard."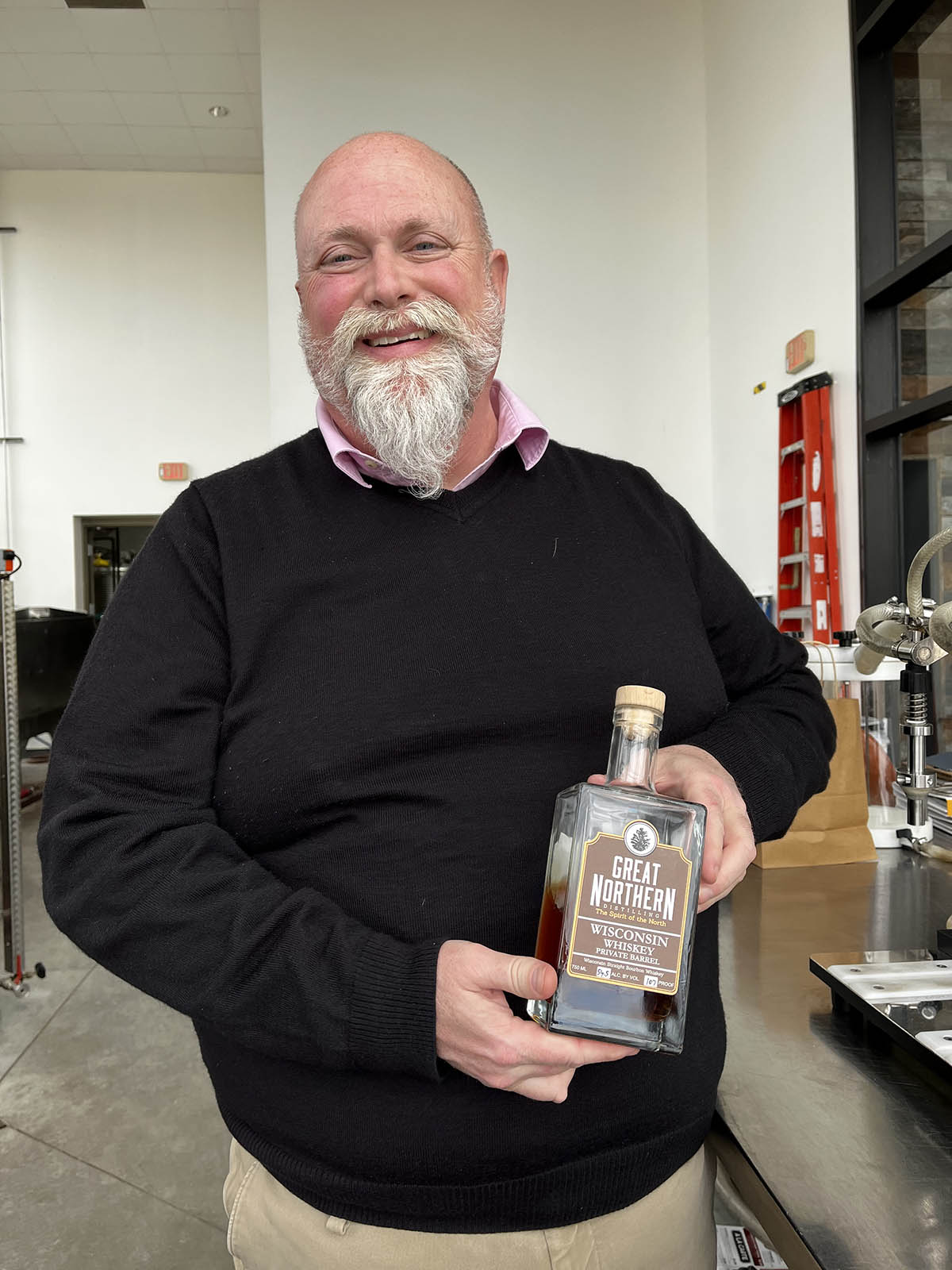 During the time the tasting room has been closed, Cummins has kept Great Northern humming, at least in terms of distilling and bottling spirits and laying down whiskey and gin.
"I basically busted my butt to distill as much as we could, to build up inventory," he says. "Everything's in shipping containers right now. We've got some of it here, but just the stuff that's ready for next batches."
Everything is bottled by hand on a machine that can fill four bottles at a time. Great Northern can fill about 250 bottles per hour, so in a few hours it can bottle a typical batch of, say, newly distilled vodka.
Great Northern also contract distills for Northern Oasis Spirits, a Stevens Point brand that sources its spirits.
"They have one whiskey,"Cummins says. "That's their Shorewood Whiskey, that's a unique blend of corn whiskey and rye whiskey and wheat whiskey and light whiskey, all of it sourced from MGP (in Indiana) and then blended.
"Everything else we do: vodka, Riverbank Spiced Rum.
Cummins arrived in Wisconsin from his native Ohio after college to work in paper mills.
"I'm a chemical engineer by trade, and just didn't see another 10 years or 25 years at the time in the paper industry, the way things have gone with downsizing and closures and everything else," he says.
"I was sitting around the table with a group of friends over in Minneapolis at a bar there that's now unfortunately gone called the Marvel Bar. It was a basement kind of speakeasy bar, great cocktails, and I was really enjoying those.
"Of one of my buddies had just written an article in Popular Mechanics Magazine about small batch craft distilling. It was just a light bulb moment for me because distilling is essentially chemical engineering but with taste."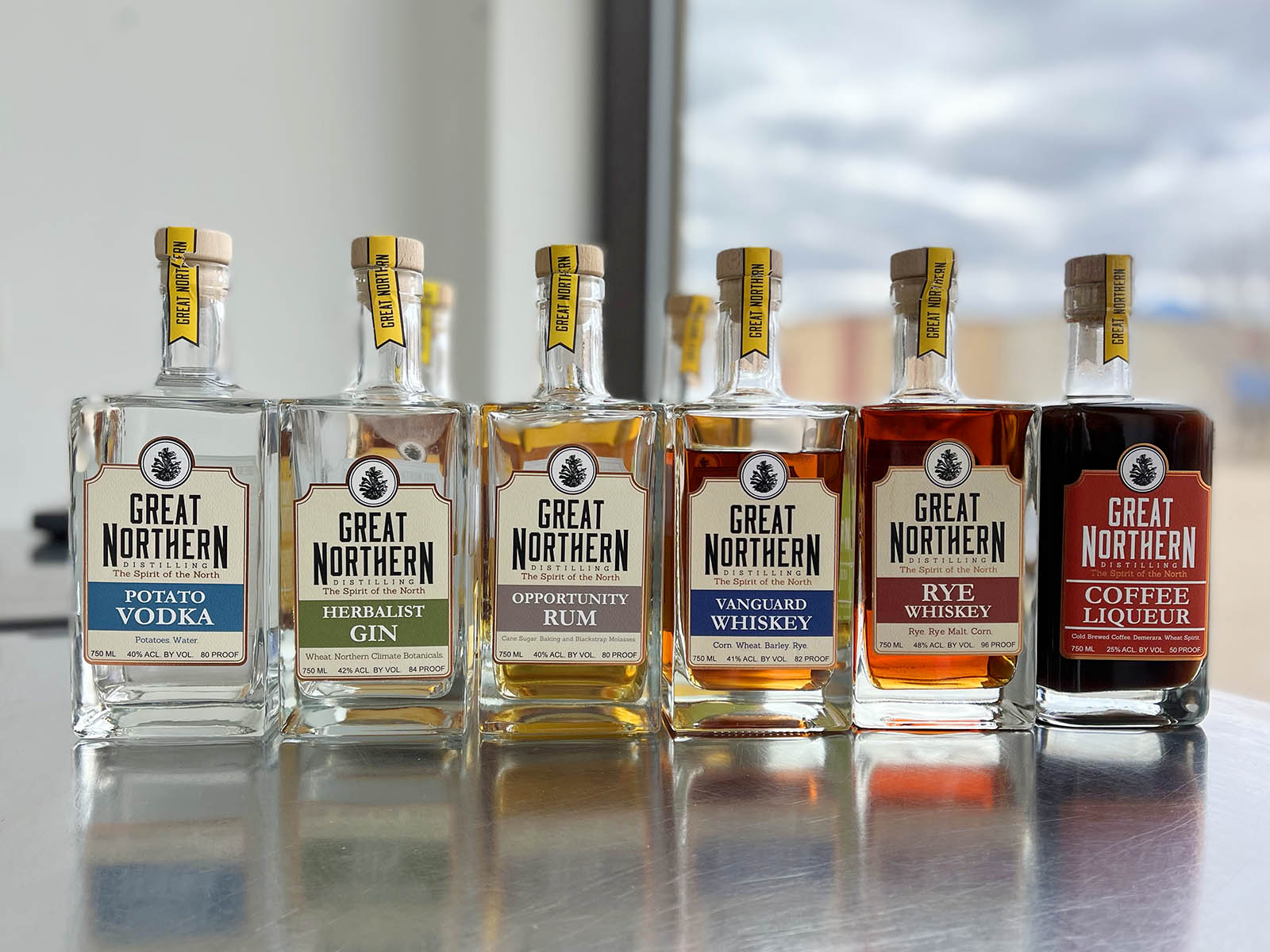 The business has done well, which isn't surprising considering the lineup of spirits. The ginseng whiskey is really unique. The Vanguard Whiskey, with its unusually low corn mash bill, is solid and extremely drinkable at 84 proof, and the rye is a multiple award winner.
We even taste a 107 proof special bottling for a store in Appleton that is incredible with a complex palate of classic bourbon flavors: caramel, butterscotch, vanilla, peppery rye notes.
"We source everything from within 150 miles," Cummins says, except the malt, which comes from Briess in Chilton.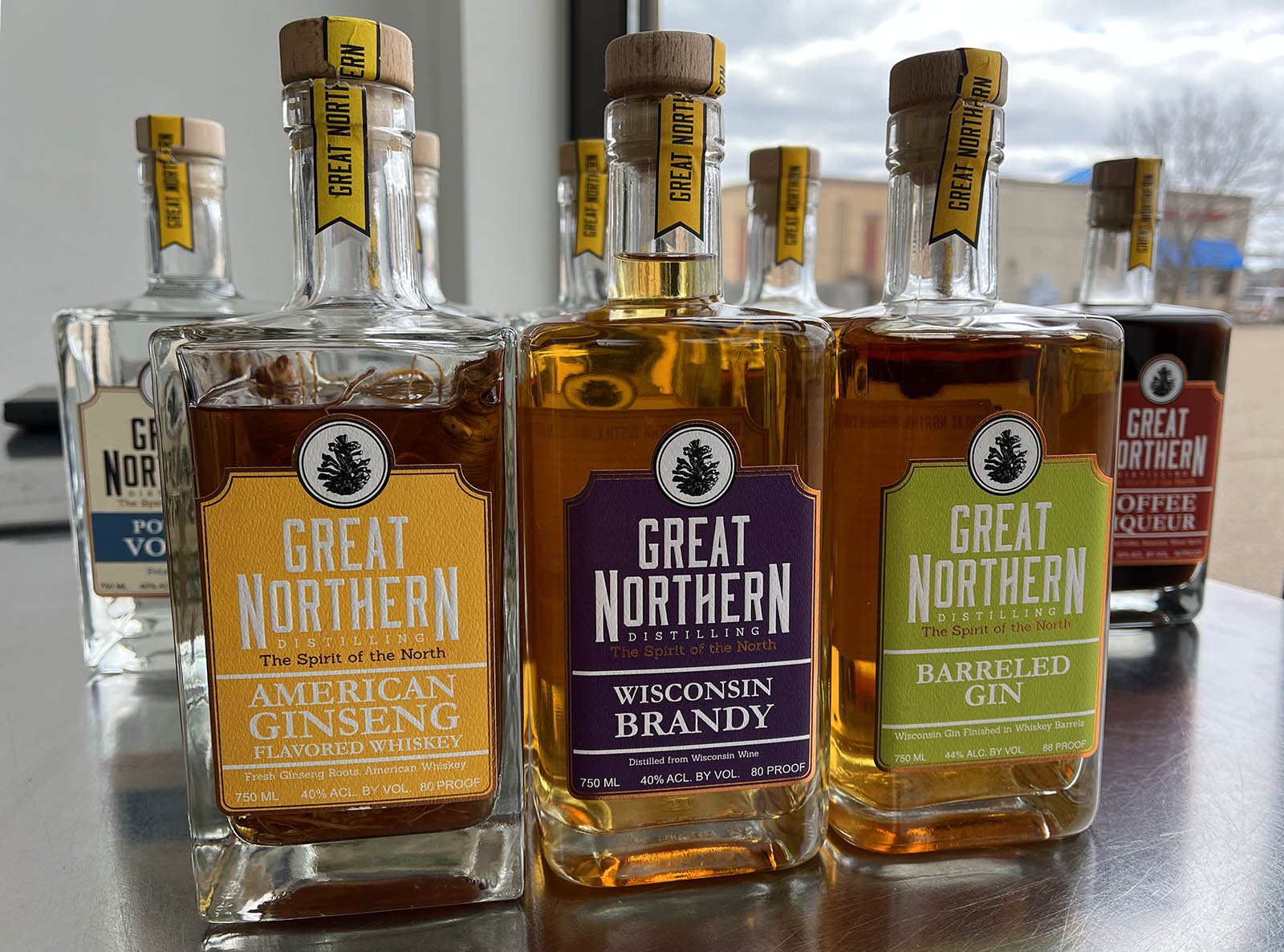 Great Northern will get a chance to make even more of all of it in its new location, plus do some new things, too.
The new location is directly across the street from popular The Main Grain Bakery, and Cummins is already planning to source fresh pretzels and pizza dough from there.
"We'll have a little more space to do that," Cummins say. "We're going to expand fermentation a little bit. The still is definitely over capacity for what we were doing, so we can certainly stick with that still for a while.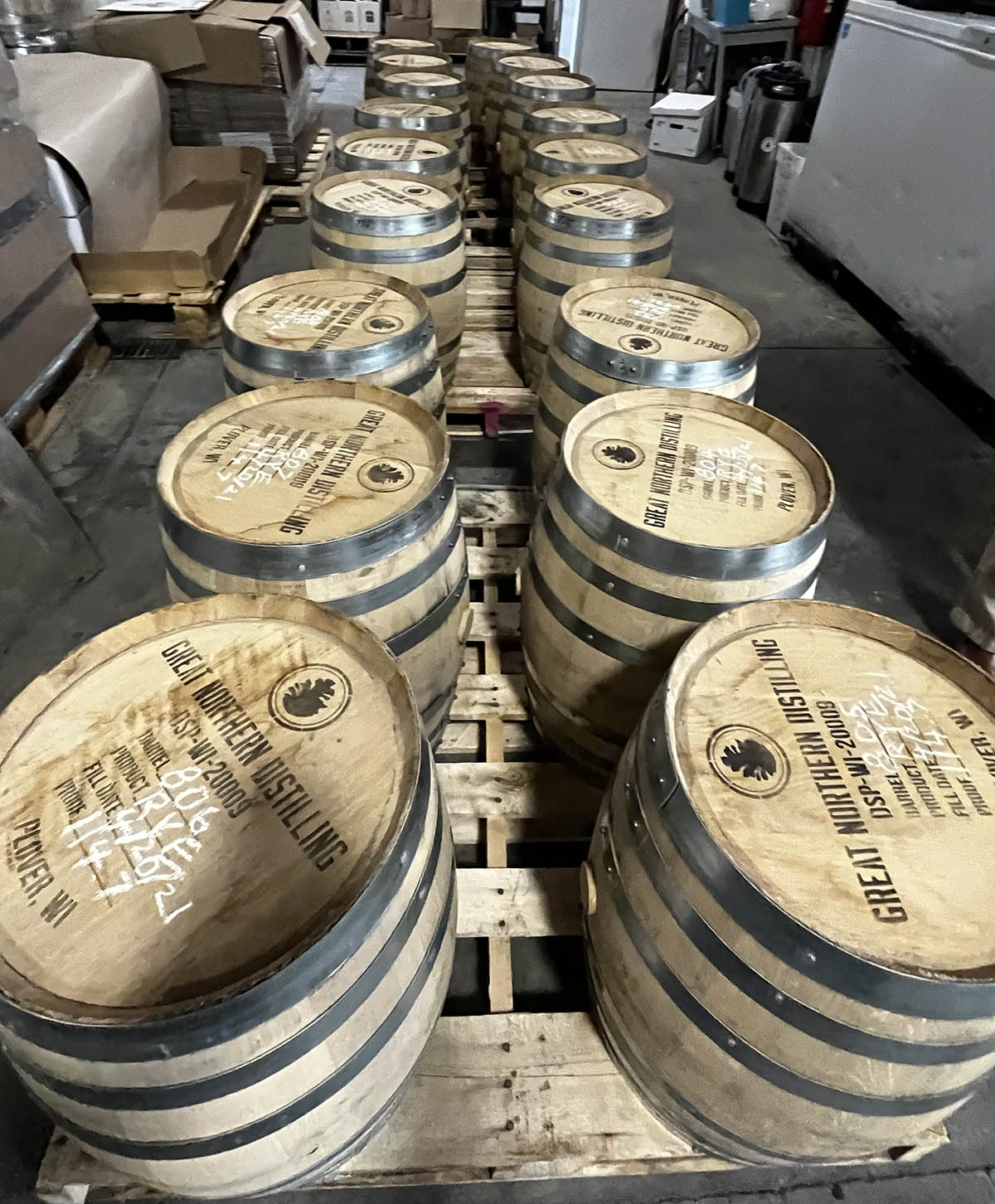 "But I'm building a place to make room for the next still size up. Our barrel storage area in back is going to be three times the size that it was here."
The new location will also have a larger tasting room, a patio and more. It will also have a kitchen, which is something new.
"We just didn't have the facilities for it (here)," Cummins says. "We're going to do small plates, shareables, that kind of thing ... charcuterie boards and flatbreads. Nothing too complicated. Not a full restaurant kind of thing.
"We've got a lot more room to grow."
Born in Brooklyn, N.Y., where he lived until he was 17, Bobby received his BA-Mass Communications from UWM in 1989 and has lived in Walker's Point, Bay View, Enderis Park, South Milwaukee and on the East Side.
He has published three non-fiction books in Italy – including one about an event in Milwaukee history, which was published in the U.S. in autumn 2010. Four more books, all about Milwaukee, have been published by The History Press.
With his most recent band, The Yell Leaders, Bobby released four LPs and had a songs featured in episodes of TV's "Party of Five" and "Dawson's Creek," and films in Japan, South America and the U.S. The Yell Leaders were named the best unsigned band in their region by VH-1 as part of its Rock Across America 1998 Tour. Most recently, the band contributed tracks to a UK vinyl/CD tribute to the Redskins and collaborated on a track with Italian novelist Enrico Remmert.
He's produced three installments of the "OMCD" series of local music compilations for OnMilwaukee.com and in 2007 produced a CD of Italian music and poetry.
In 2005, he was awarded the City of Asti's (Italy) Journalism Prize for his work focusing on that area. He has also won awards from the Milwaukee Press Club.
He can be heard weekly on 88Nine Radio Milwaukee talking about his "Urban Spelunking" series of stories.