Sam Shields has been cut by the Packers, ending a seven-year tenure in Green Bay during which he became one of the team's best players but also sustained several concussions, and the veteran cornerback sounded pretty upset – or at least conflicted – about the move.
On Wednesday morning Shields, who suffered the fifth known concussion of his football career in September of 2016 and missed almost the entire season, posted on his Instagram, "Sam Shields Released From The Green Bay Packers," along with an angry emoticon and a series of seemingly contradictory hashtags that can be interpreted as, at best, surprise and disappointment about the news.
The ones that stick out as particularly hurt are #IWasGettingBetter, #StillMad, #AtLeastLetMeRetireFromThePack and #NoMoreFreezingWeather. And the purportedly understanding platitudes, which alternate almost back and forth with the more emotional statements, like #BusinessIsBusiness, #ThatsHowTheGameGo, #ThanksGreenBay and #EverythingHappensForAReason, don't exactly allay the sense that Shields is really struggling with the Packers' decision. Denial, anger, bargaining, depression and acceptance, the post itself is practically proceeding through the player's stages of grief.
Shields called out by name not only head coach Mike McCarthy and general manager Ted Thompson, the latter of whom would have made the cut, but also Russ Ball, the team's vice president of football administration/player finance who negotiates almost every contract.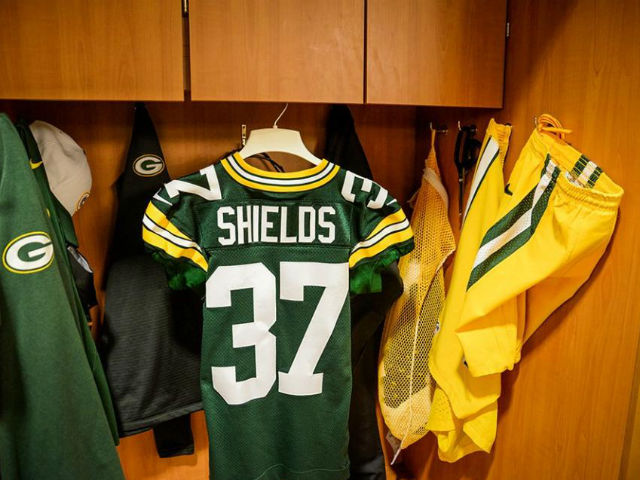 Shields had one year and $9 million left on the four-year, $39 million contract he signed after the 2013 season. With his release the Packers will save $9 million of Shields' $12 million salary cap hit – his $3.125 million remaining signing bonus is dead money – and that probably played into the organization's decision to let him go. A healthy Shields certainly would have been retained by the cornerback-desperate Packers, but an oft-concussed player with a much smaller contract also may have been given the chance to recover before next season.
Of course, McCarthy repeatedly maintained that the team's top priority was Shields' long-term health, and the Packers no-doubt recoil at the thought of him enduring his sixth concussion with them. I wrote back in October, when Green Bay finally placed Shields on season-ending injured reserve a month after his Week 1 concussion against the Jacksonville Jaguars, that it was the right move made way too late by a franchise in a league that's so outwardly focused on preventing and treating head injuries. Shields spent the entire 2016 season in the NFL's concussion protocol, and with his symptoms apparently not subsiding sufficiently to gain medical clearance, the decision to cut him seemed unavoidable.
In yesterday's episode of OnMilwaukee's podcast, The Postgame Tailgate, we predicted Shields' time in Green Bay was likely over and his career probably should be, too.
It's an unfortunate ending for one of the team's most important players on the field and leaders in the locker room, as well as one of the best-liked Packers among fans and media. Shields' absence in 2016 was undeniably deleterious to Green Bay's secondary, which finished the season ranked second-to-last in passing defense. Depleted by injuries to its top three cornerbacks – besides Shields, second-year players Damarious Randall and Quinten Rollins missed a combined nine games – the Packers' defensive backfield was its weakest link and ultimate downfall, allowing 44 points and nearly 400 passing yards to the Atlanta Falcons in the NFC Championship Game loss.
Though he spent much of the season recovering at home in Florida, Shields reiterated at different times that he planned to play again, wanted to return to Green Bay and hoped he'd have that chance. After the NFC Championship Game, Shields said, "It's just like some days tough headaches, some days it's mild. It varies. I never know. I'm so used to it now, it's normal. But it's getting better. I'll be back."
Arrested in Green Bay in October for possession of marijuana and drug paraphernalia, with a plea and sentencing hearing scheduled at the Brown County Circuit Court this week, Shields won't have the opportunity to come back with the Packers. Some of his Instagram post hashtags would suggest he's going to retire – #ICantPlayWithAnybodyElse, #ImDone – though a source reportedly told ESPN that #BouncebackShields intends to keep playing.
Following the releases of Shields and backup running back James Starks – who was also concussed in 2016 and had $3 million remaining on the two-year contract he signed before last season – the Packers figure to have more than $40 million in salary cap space as they go into the offseason. That money could be spent to upgrade Green Bay's secondary, which I graded as a D-minus for 2016, as well as on some of its own key free agents, including guard T.J. Lang, running back Eddie Lacy, tight end Jared Cook and defensive back Micah Hyde.
During his seven seasons in Green Bay, Shields developed from fringe player to solid starter to borderline star. An undrafted free agent in 2010 who'd mostly been a wide receiver in college, Shields played in 14 games and had two interceptions as a rookie. He added two more picks in the NFC Championship Game against the Chicago Bears – including a leaping, diving, touchdown-saving catch at the 1-yard line that will always be my favorite Shields memory – and helped the Packers advance to the Super Bowl, which they won to give him that championship #Ring. He had 16 interceptions from 2011 through 2015, which were among the most in the league over that time. After signing his four-year contract in 2014, Shields had a Pro Bowl season.
Shields was a terrific player for Green Bay, and he will be missed. Hopefully, in time, he returns to full health, consults with his doctors and family about the best interests for both his career and life and is able to resolve his disappointment and unsettled feelings about being let go by the Packers. We wish him the best.
Born in Milwaukee but a product of Shorewood High School (go 'Hounds!) and Northwestern University (go 'Cats!), Jimmy never knew the schoolboy bliss of cheering for a winning football, basketball or baseball team. So he ditched being a fan in order to cover sports professionally - occasionally objectively, always passionately. He's lived in Chicago, New York and Dallas, but now resides again in his beloved Brew City and is an ardent attacker of the notorious Milwaukee Inferiority Complex.
After interning at print publications like Birds and Blooms (official motto: "America's #1 backyard birding and gardening magazine!"), Sports Illustrated (unofficial motto: "Subscribe and save up to 90% off the cover price!") and The Dallas Morning News (a newspaper!), Jimmy worked for web outlets like CBSSports.com, where he was a Packers beat reporter, and FOX Sports Wisconsin, where he managed digital content. He's a proponent and frequent user of em dashes, parenthetical asides, descriptive appositives and, really, anything that makes his sentences longer and more needlessly complex.
Jimmy appreciates references to late '90s Brewers and Bucks players and is the curator of the unofficial John Jaha Hall of Fame. He also enjoys running, biking and soccer, but isn't too annoying about them. He writes about sports - both mainstream and unconventional - and non-sports, including history, music, food, art and even golf (just kidding!), and welcomes reader suggestions for off-the-beaten-path story ideas.