Why open up Summerfest with just one roof-popping rock act ... when you could open the world's largest music festival up with three of them?
Indeed, after a two-year extended intermission, the Big Gig roared back into official action on Wednesday night with a visit from the Hella Mega Tour, a glorious triumvirate of alt rock icons comprised of Weezer, Fall Out Boy and Green Day that – based on their marathon of beloved hits echoing throughout the Amp last night – well-earned the right to call itself hella mega.
It was certainly a lot of show to start the festival – a five-hour onslaught of rock anthems spiky and soaring, with each act ranging from about an hour-long set to a little over 90 minutes for the closer Green Day, all filled tip-to-tail with hits with no room for filler or faffing (plus an opener in KennyHoopla). But here were just a few of the standout moments from an electric night back at the Big Gig.
1. Business in the front, party in the back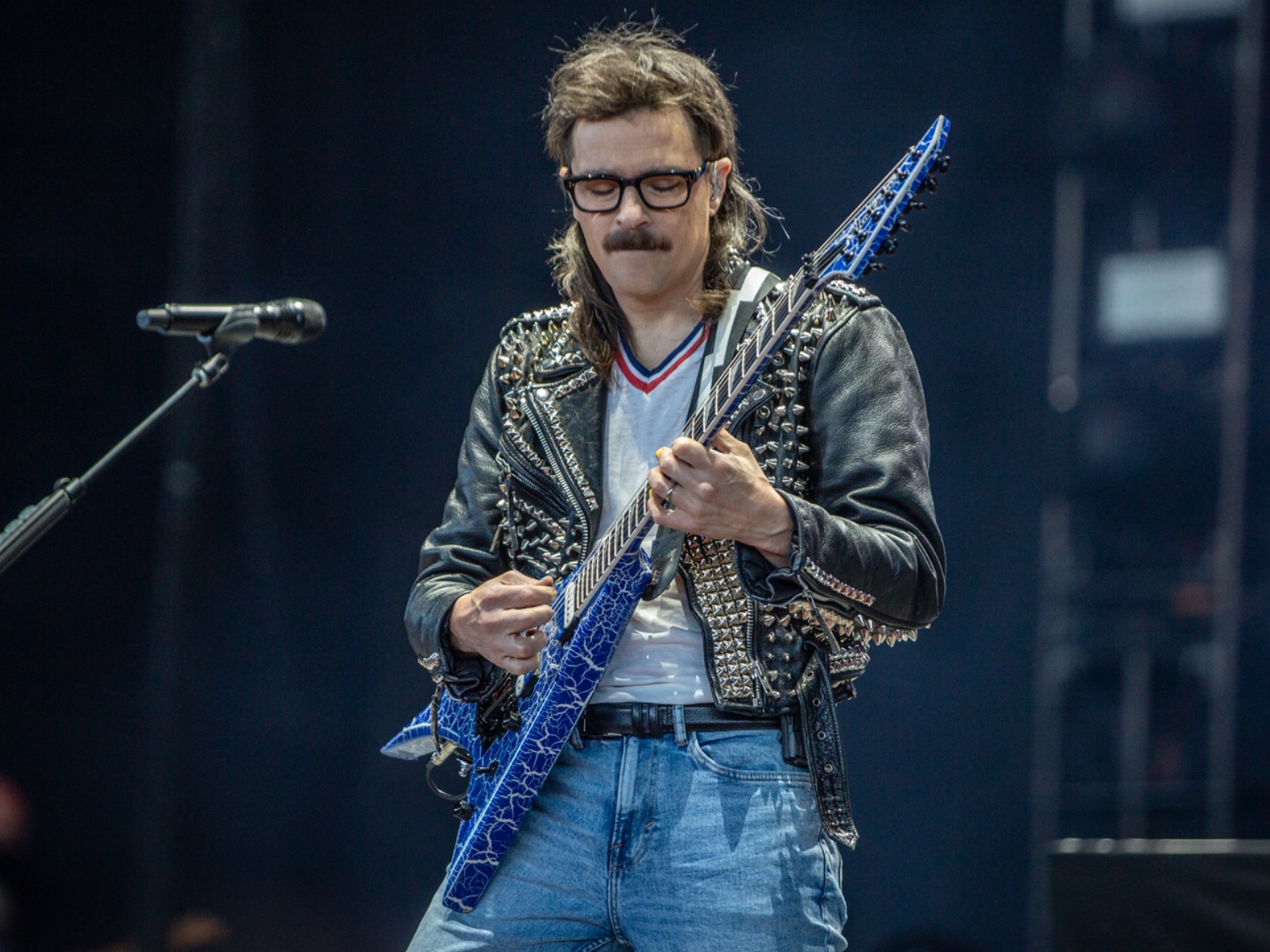 In case its name didn't give it away, Weezer's latest album, "Van Weezer," serves as an '80s classic rock blast to the past – and you can't say Rivers Cuomo hasn't committed the theme, as the frontman came out Wednesday night sporting a full mullet and Tom Selleck-approved mustache complete with a studded black leather jacket. It was certainly a look.
Seeing Cuomo THAT devoted to the Dad Van Halen rock vibes on stage, you'd be excused for having concerns that the night would be all new material and achingly sincere pastichery. (Could be worse – could be "Raditude.") Any fears were quickly jammed out of the Amp, however, as the opener "Hero" off the new album quickly led into "Hash Pipe" and an overall smartly assembled setlist, savvily hopping back and forth from songs old ("Beverly Hills," "My Name is Jonas," "Undone") and new ("All the Good Ones," "The End of the Game") at an unbothered rapidfire clip.
By the time Cuomo got around to introducing "All My Favorite Songs" near the middle of their time, the lead singer almost sounded apologetic for playing another new track. But considering the smart, crowd-pleasing set arrangement – and the fact that the songs across the board sounded, to stay with the '80s theme, totally tubular – he really didn't have to.
2. A trip to an island in the sun and "Africa"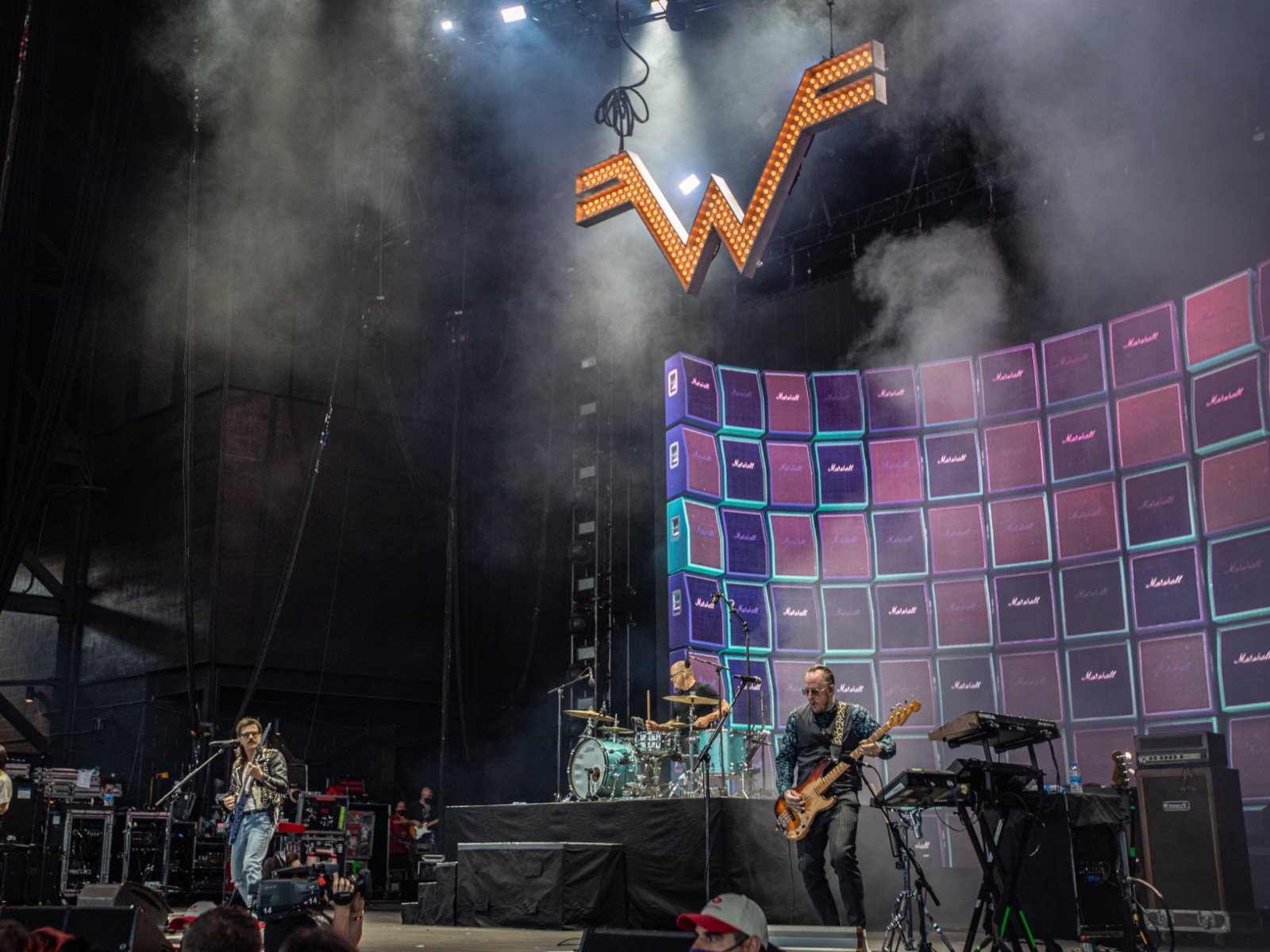 Summer may be coming to a close, but the vacation vibes were in full effect near the end of Weezer's set with the sunny jam combination of "Island in the Sun" and the band's mega-hit cover of "Africa." The former sent a relaxing chill throughout the pleasantly warm Amp atmosphere (the only thing harshing the relaxing buzz: the pink beach balls released into the crowd that had a little more spring to them than expected, becoming projectiles that Cuomo seemed amusingly wary about) followed by the compulsive sing-along power of the Toto cover, which came with a bonus Imagine Dragons-esque drum solo bit in the middle.
.@Weezer taking the @AmFamAmp to Africa …

ðŸÂÂŽ¥: @aManAboutFilm pic.twitter.com/6pEHxqxBIV — OnMilwaukee (@onmilwaukee) September 2, 2021
The classic hits "Say It Ain't So" and "Buddy Holly" may have rounded out the night, but this late one-two punch really captured the late summer energy of the early evening – and in a way that not even dodgeball-like pink beach balls could ding.
3. FOB fashion
. @falloutboy drummer Andy Hurley repping @Giannis_An34 at @AmFamAmp 💚. He's from Menomonee Falls. #bucksinsix pic.twitter.com/IgLVuK6jH3 — OnMilwaukee (@onmilwaukee) September 2, 2021
Somehow Rivers Cuomo's '80s-rific mullet and mustache combo and studded leather jacket weren't the most eye-catching on-stage fashion statements of the night. That would belong to the various members of Fall Out Boy, with drummer (and Menomonee Falls native) Andy Hurley repping Giannis and your world champion Milwaukee Bucks from behind his drumset with a slick Cream City alternate jersey. That wasn't the only Sconnie sports shoutout, though, as bassist Pete Wentz came out for the set's final song, "Saturday," in a customized Milwaukee Brewers jersey.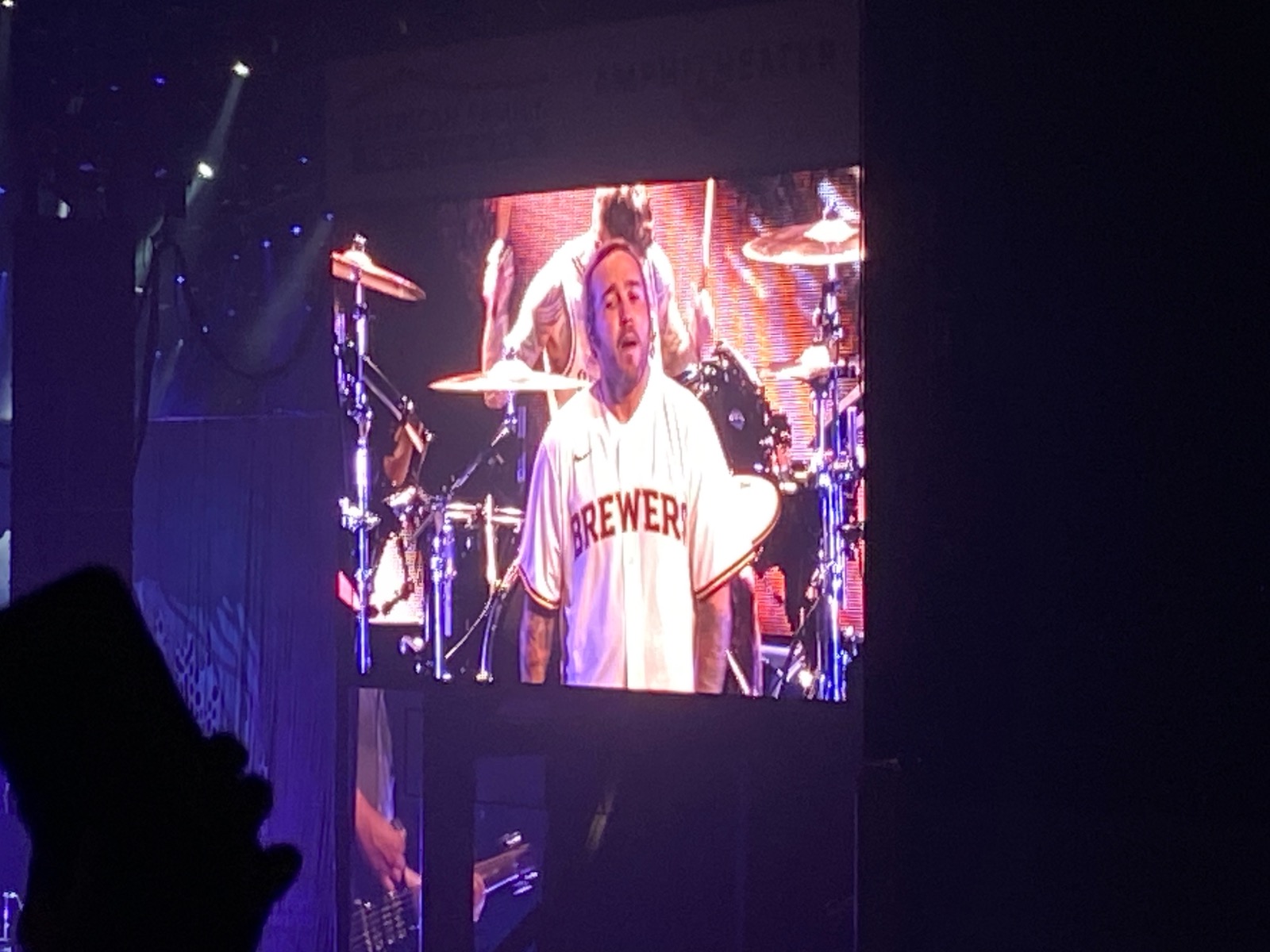 And yet somehow my favorite look of the night was still lead guitarist Joe Trohman's "The Thing" shirt.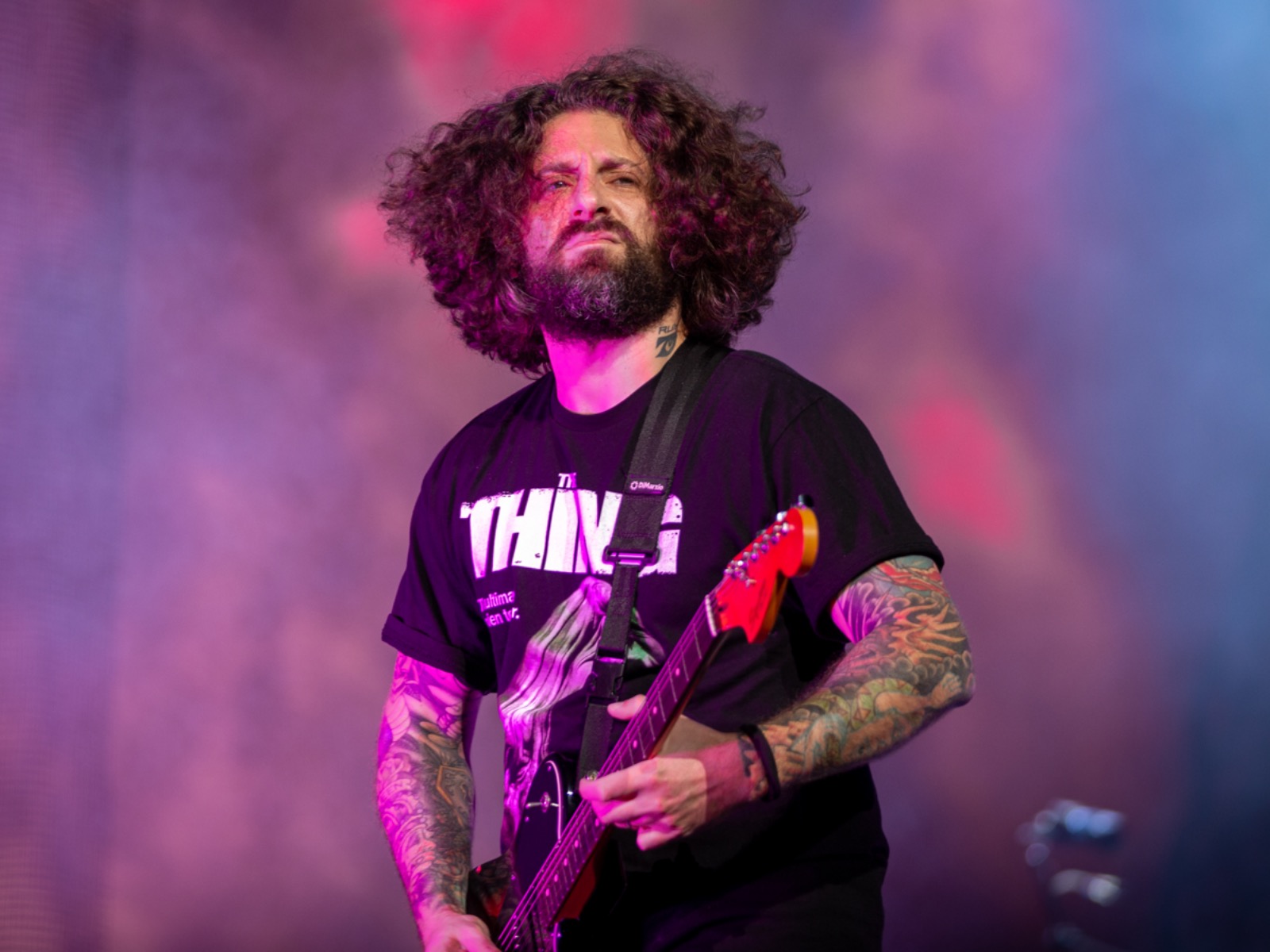 4. "Sugar, We're Going Down" gets the crowd up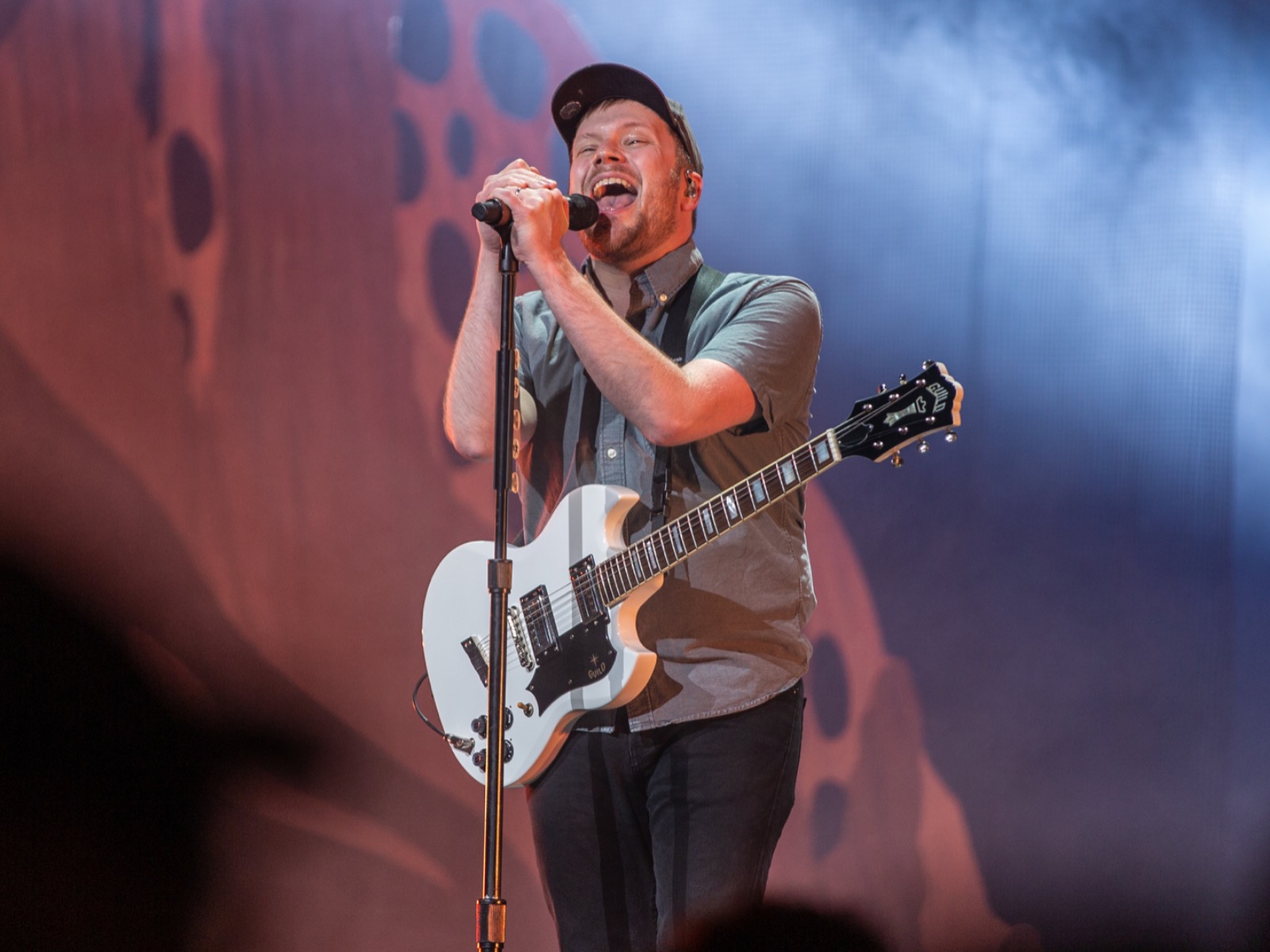 Fall Out Boy didn't waste any time getting the crowd fired up on Wednesday night. (OK, that's not entirely true; the set started with an odd video starring Ron Livingston introducing everyone to the show and seemingly the premise of music. It wouldn't be Fall Out Boy without at least a little self-serious theatricality.) But after that and the opening song, "The Phoenix," the emo-turned-anthemic pop punk rockers fired right off into one of their biggest hits, "Sugar, We're Going Down." The sing-along smash got the second act of the night started on an exhilarating high note, one that the band would rarely come down from for the rest of the hour-long set.
5. A show worth remembering for "Centuries"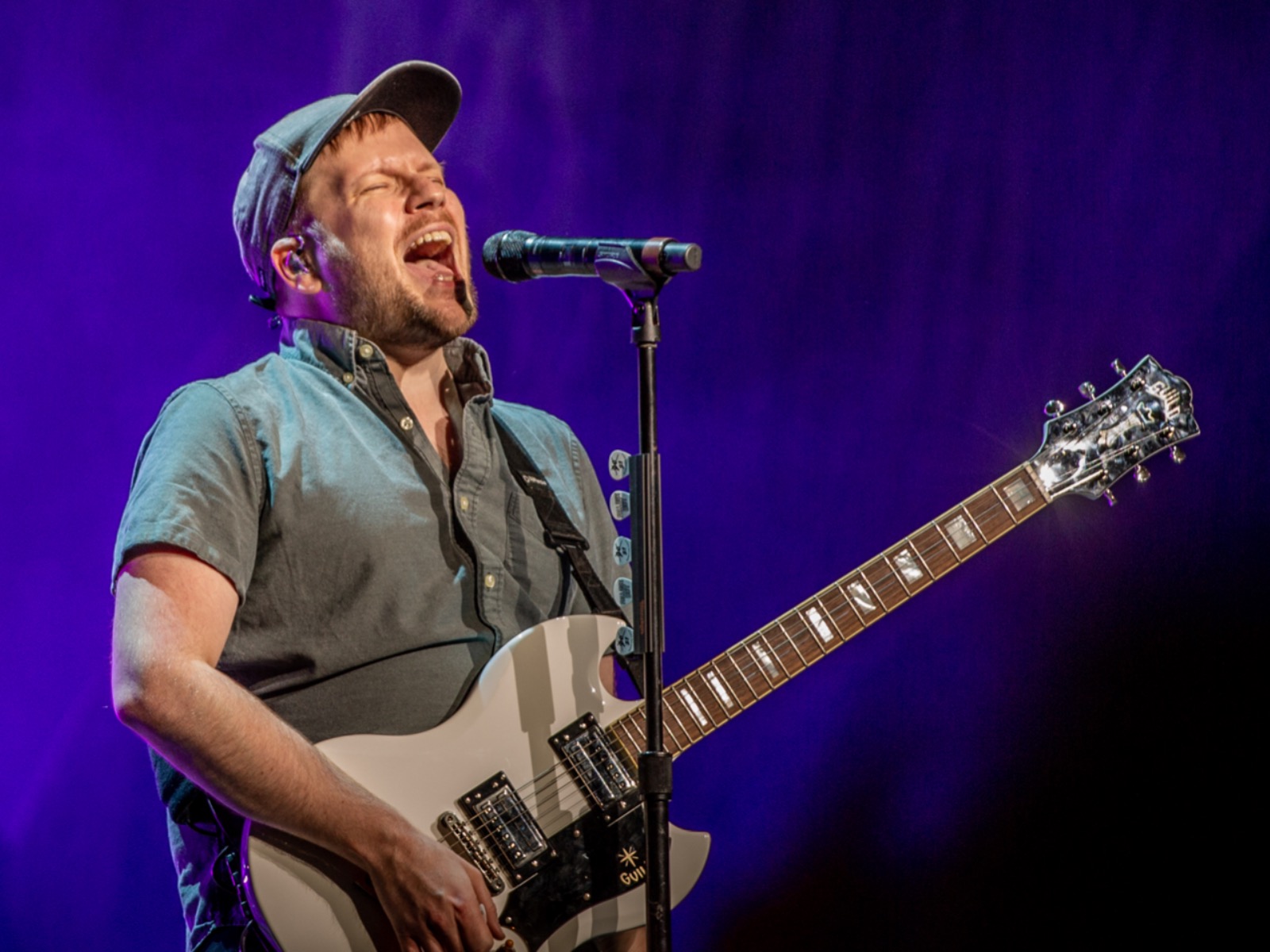 After one more Ron Livingston-narrated video interlude, Fall Out Boy charged through a second half filled with hit after hit – starting with the boppy "Dance Dance" before heading into "A Little Less Sixteen Candles, A Little More Touch Me," the slinky pop punk stomper "This Ain't a Scene, It's an Arms Race," the pump-up anthem "My Songs Know What You Did in the Dark (Light 'Em Up)" and the strutty tell-off number "I Don't Care." Following "Thnks Fr Th Mmrs," the band and crowd joined together to sing Trohman a happy birthday, and after blowing on the candles on his cake, Fall Out Boy blew out the candles on their set with the thunderous arena rocker "Centuries" – even more thunderous than usual thanks to the assistance of some particularly punchy pyrotechnics.
It was the ideal memorably explosive closing number and had the audience ready to run through a brick wall (or, after hearing and seeing the ads so many times over the years, at least ready to watch a big ABC college football game). Except ... it wasn't the closer as Fall Out Boy actually wrapped up their time with "Saturday." For FOB concert regulars, it's a traditional pick and one of the band's personal favorites – but coming off the roaring high of a monumental hit like "Centuries," it's hard for the early single not to come off a bit like an afterthought now. Still a good song, though – plus Wentz topped it off with his Brewers jersey and a "Bucks in six," so any and all complaints or grumblings are immediately retracted.
6. "American Idiot"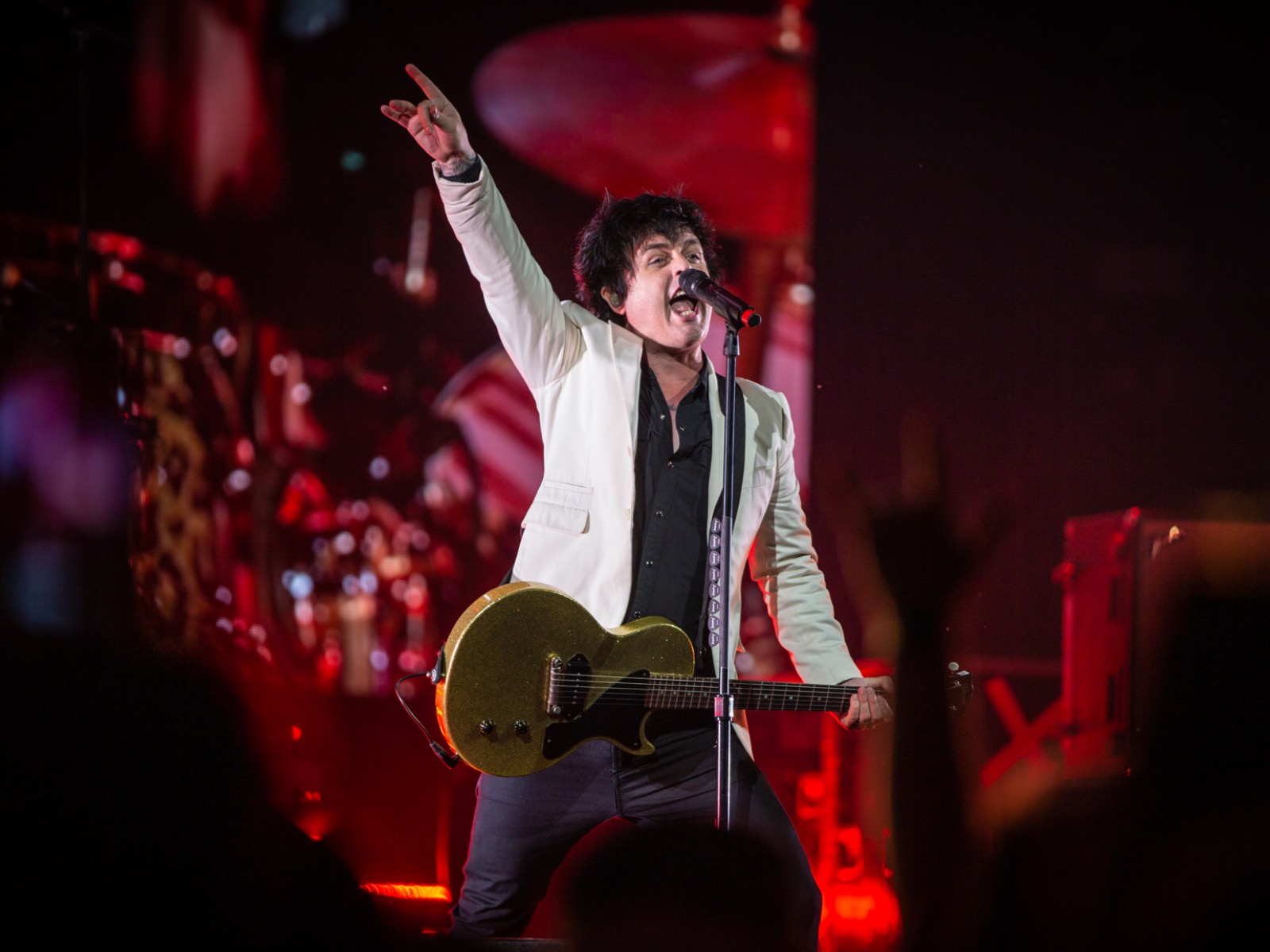 Before the night's show, I debated myself on whether or not Green Day or Fall Out Boy should be the night's final showcase act. Even putting aside their hefty catalogue of hits and Grammys, Green Day would easily earn the headliner slot due to seniority and iconic status – but Fall Out Boy was arguably the more relevant name in 2021, with more recent big hits.
As soon as Billie Joe Armstrong, bassist Mike Dirnt, drummer Tre Cool and company took the stage (after the requisite visit from the pump-up rabbit) and blasted a pitch-perfect album-ready rendition of "American Idiot" – no less righteously potent now than when the punky protest song hit airwaves in 2004 – it was beyond clear that Green Day was the right and obvious pick for the night's final act. Even tossing aside the line-up of sonically varied hits – from early steam-rolling livewires to thumping rock opera hits and soaring shredding ballads – Armstrong and company had the contagious and nervy energy needed going on the fourth hour of a multi-act rock show on a weekday night, the lead singer serving as a constant sparkplug goading the crowd into moving, jumping, singing, swaying, howling and, in the case of a corner in the pit, moshing.
For those who fell off the Green Day bandwagon over the past decade (*sheepishly raises hand*), Wednesday night's performance was a good reminder to get back on.
7. Bonus KISS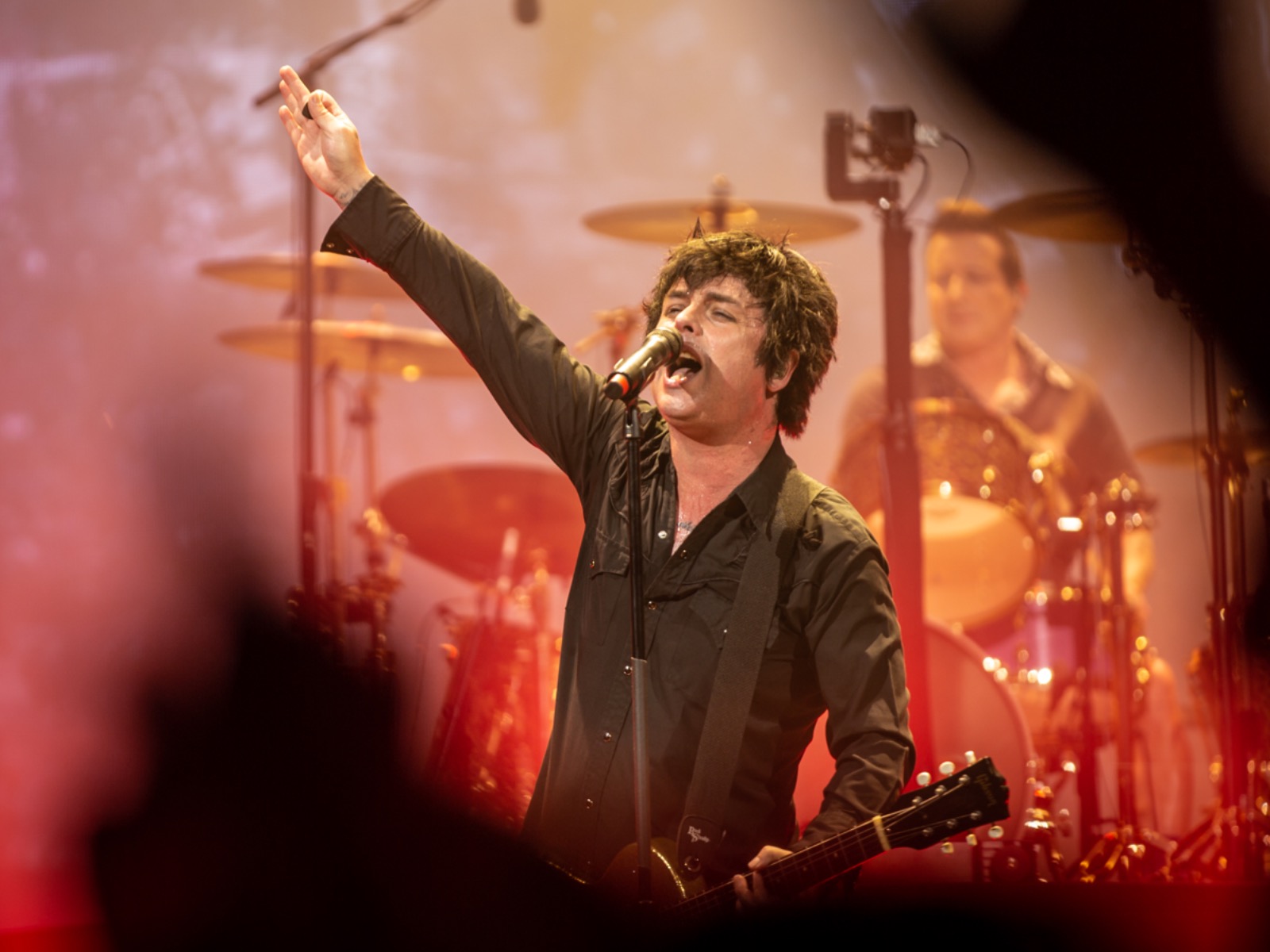 Fellow rock legends KISS may no longer be playing Milwaukee this weekend thanks to both Paul Stanley and Gene Simmons testing positive for COVID-19, but the Amp stage still got to "Rock and Roll All Nite" thanks to Green Day, who covered the iconic anthem with aplomb – complete with KISS-esque logos and graphics on the stage's big screen – near the middle of the show.
The closest we'll get to KISS performing at the Amp for a while. pic.twitter.com/hMjiXF7uR2 — Matthew Mueller (@aManAboutFilm) September 2, 2021
Coming after some signature old-school Green Day originals ("Welcome to Paradise" and "Hitchin' a Ride"), the rollicking cover made a perfect palate cleanser before diving back into the punk rockers' discography with "Brain Stew" and "St. Jimmy."
8. Green Day for a night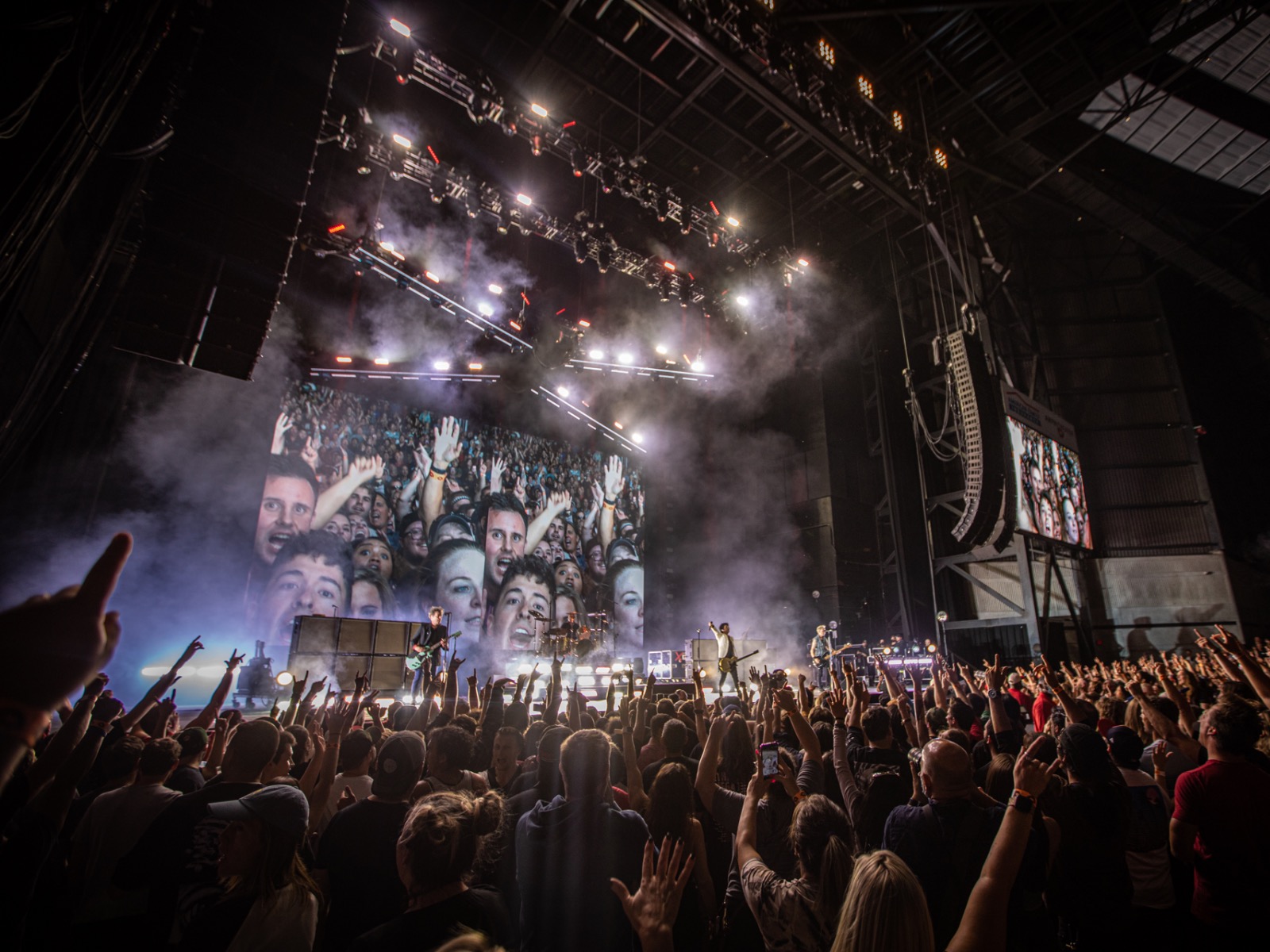 As is tradition at Green Day shows, Billie Joe Armstrong plucked a lucky guitar-playing fan out of the crowd to join them on stage and perform their cover of "Knowledge." And they picked a winner Wednesday night as the masked audience member quickly felt right on home on the stage and on the guitar, playing seamlessly with the band and strutting and posing around the front of the stage like a seasoned veteran. His requisite crowd dive could use some practice – it took two attempts after he nervously bailed on his first charge at the awaiting crowd – but who cares. He certainly doesn't as the lucky fan got to keep the guitar he shredded with – quite the keepsake to go along with the memory of playing with rock legends, and playing well at that.
Green Day last night ⁦@Summerfest⁩ pic.twitter.com/TmPTBwYnXV — Matthew Mueller (@aManAboutFilm) September 2, 2021
9. The time of the audience's life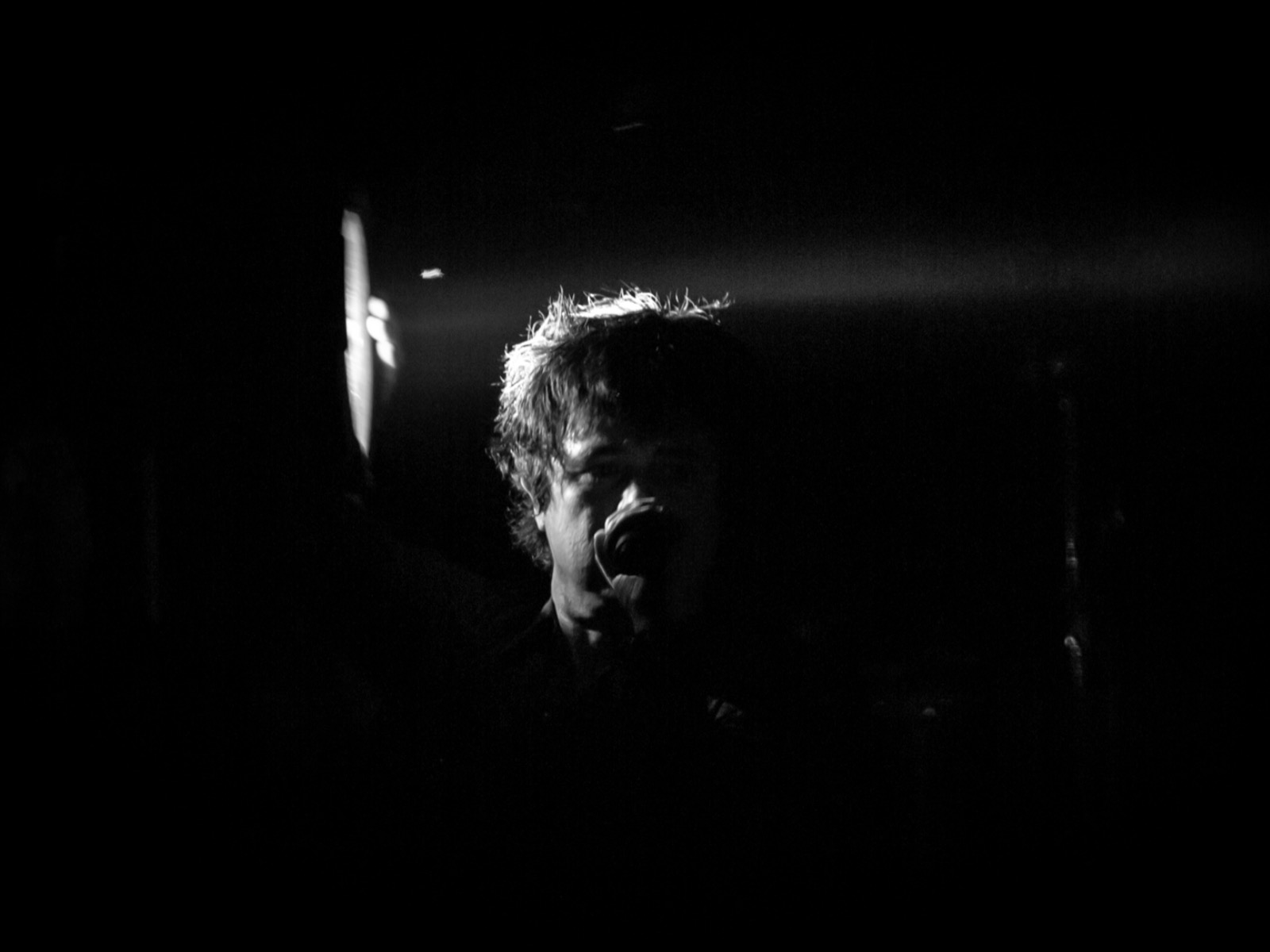 One didn't have to be a Green Day ultra-fan or some musical genius to figure out what could be the night's closing number. That's right: Coming off the multi-part rock journey that is "Jesus of Suburbia," it was that famous emotional "going our separate ways" icon "Good Riddance (Time of Your Life)." For all the pyrotechnics, loud anthems and rock show fervor throughout the night, simply Billie Joe Armstrong alone on a stage in a spotlight, quietly strumming and singing the simple but timelessly effective tribute to going separate ways, was all the night's finale needed. It was exactly the perfect cathartic ending, topped by Dirnt and Cool joining him back on stage for the evening's well-earned final bows. In this case, it was something predictable but, in the end, was right – and indeed the audience had the time of its life.
Time of your Life from last night's Green Day show at ⁦@Summerfest⁩ pic.twitter.com/hDGCHcMR50 — Matthew Mueller (@aManAboutFilm) September 2, 2021
Setlist(s)
Weezer
"Hero"
"Hash Pipe"
"All the Good Ones"
"Beverly Hills"
"The End of the Game"
"My Name is Jonas"
"Pork and Beans"
"Feels Like Summer"
"All My Favorite Songs"
"Undone - The Sweater Song"
"Surf Wax America"
"El Scorcho"
"Island in the Sun"
"Africa"
"California Snow"
"Say It Ain't So"
"Buddy Holly"
Fall Out Boy
"The Phoenix"
"Sugar We're Going Down"
"Irresistible"
"Uma Thurman"
"Grand Theft Autumn/Where Is Your Boy"
"Save Rock and Roll"
"The Last of the Real Ones"
"Dance Dance"
"A Little Less Sixteen Candles, A Little More Touch Me"
"This Ain't a Scene, It's an Arms Race"
"My Songs Know What You Did in the Dark (Light 'Em Up)"
"I Don't Care"
"Thnks fr th Mmrs"
"Centuries"
"Saturday"
Green Day
"American Idiot"
"Holiday"
"Know Your Enemy"
"Pollyanna"
"Boulevard of Broken Dreams"
"Longview"
"Welcome to Paradise"
"Hitchin' a Ride"
"Rock and Roll All Nite" (KISS cover)
"Brain Stew"
"St. Jimmy"
"When I Come Around"
"21 Guns"
"Minority"
"Knowledge" (Operation Ivy cover)
"Basket Case"
"She"
"Wake Me Up When September Ends"
"Still Breathing"
"Jesus of Suburbia"
"Good Riddance (Time of Your Life)"
As much as it is a gigantic cliché to say that one has always had a passion for film, Matt Mueller has always had a passion for film. Whether it was bringing in the latest movie reviews for his first grade show-and-tell or writing film reviews for the St. Norbert College Times as a high school student, Matt is way too obsessed with movies for his own good.
When he's not writing about the latest blockbuster or talking much too glowingly about "Piranha 3D," Matt can probably be found watching literally any sport (minus cricket) or working at - get this - a local movie theater. Or watching a movie. Yeah, he's probably watching a movie.