Two local writers have combined their passion for dance and literature and found a niche that fits like a perfect pair of Capezios.
Franklin's Doris Greenberg and New Berlin's Pandre' Shandley are former dance teachers with more than 40 years of combined classroom and convention dance experience.
They're also the authors of two novels in the Dance Legacy Series.
The first, "The Legend of L'Esprit," won the 2012 National Indie Excellence Award. A second edition is out now.
Now, the follow-up, "Chasing the Spotlight," is out and although it's a sequel, the book works as a stand-alone novel, too. And, the authors say, it's perfect for pretty much all ages.
"Although our books contain a mix of drama, tragic events, adventure and romance, they are hopeful and uplifting. We are proud of our Midwest values. Our Dance Legacy Series has enjoyed a crossover appeal with readers ranging in age 10-90."
The books are available in paperback and ebook versions on Amazon.com and Ten16Press.com.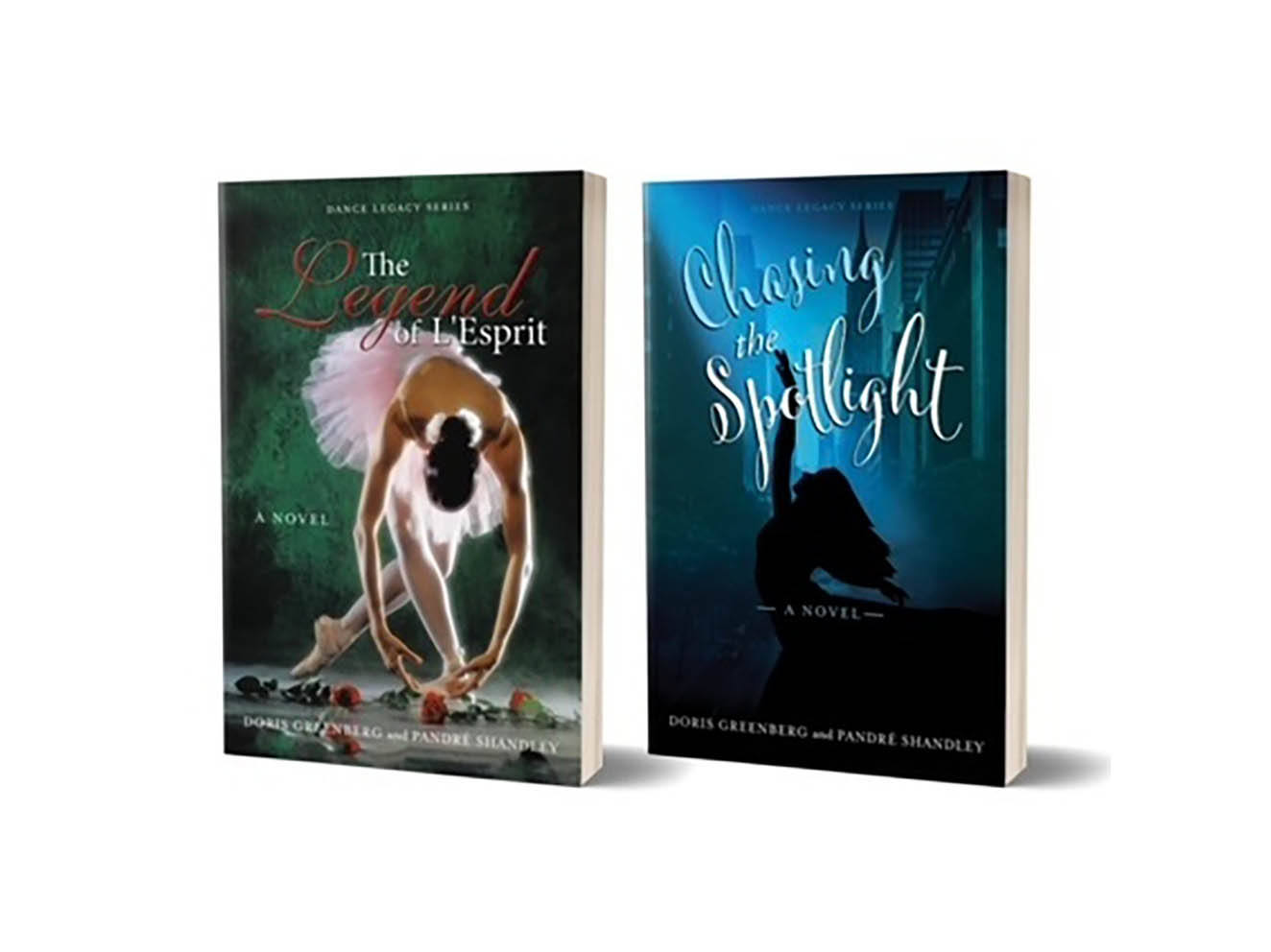 I asked Greenberg and Shandley about their books in an email exchange and like perfect co-authors, they collaborated on their replies.
OnMilwaukee: Tell us a bit about your backgrounds as writers?
Doris Greenberg and Pandre' Shandley: We discovered that we shared an interest in writing and incorporated our strong grammar and language arts skills in every job we ever held. At the dance studio where we met, we quickly became responsible for crafting business correspondence. Student referral letters became our specialty!
As co-workers with a combined 40 years' experience of teaching dance at a prominent local studio, we were often called upon to collaborate on scripts for annual productions, brochures and flyers. Pandy wrote for her college newspaper and Doris has written articles and reviews for Fetch magazine.
How did you come to collaborate?
As our teaching careers came to an end, Pandy's due to a serious neck injury and Doris's due to her desire to move to Plan B, we decided to channel our creativity into another shared passion, writing. Recognizing the continued growth in popularity dance enjoys, we took a leap of faith and formed Dancers at Heart LLC with the vision of establishing a partnership. Along the way students planted the seed, "What's a good dance book to read?" Their curiosity inspired us to pursue our dreams leading us to second careers.
We quickly learned to lose the ego and ask if what we've written is ultimately good for the story. Does it advance the plot? Would our characters say or do that?
Can you talk a bit about the dance connection?
We both grew up with the love of dance and desire to take class and perform. We trained into adulthood and were eventually hired as teachers. They say, "write what you know" and that's why our books are set in the dance world. Their universal themes resonate with dancers and non-dancers alike.
The first in the series, "The Legend of L'Esprit," won the 2012 National Indie Excellence Award. That must have been a thrilling moment. Did it put pressure on you in terms of the follow-up?
Winning the YA National Indie Excellence Award for our debut novel, "The Legend of L'Esprit," was and still is surreal! We were stunned. Rather than pressured, we felt inspired and validated to continue the series.
Tell us a bit about what "Chasing the Spotlight" is about.
Beating the competition is one thing, eliminating it, quite another. When Chicagoland's top-rated high school dancers travel to New York City for the National Stairway to the Stars competition, touristy thrills and new romances are soon overshadowed by a chilling disappearance.
Rumors abound, and while much is uncertain, a few things are clear: jealousy, blackmail and an insatiable desire for fame are at the root. Now the question isn't who will win the competition, but who will survive it.
"Chasing the Spotlight" is our homage to New York City. Similar in style to "The Legend of L'Esprit," we seek to entertain as well as educate. Each chapter of our latest novel begins with a Broadway show title and its' brief history. The plot and name of the show is woven into the action within the chapter.
Will you be doing any readings or signings this time around?
Our publisher recently hosted our book launch for "Chasing the Spotlight" and the second edition of "The Legend of L'Esprit." It was held at the Franklin Public Library and was well attended. We plan to visit numerous book clubs, independent book stores, and as many dance studios as will have us ... many of which are owned by former dance students.
They have been extremely welcoming and generous in the past. We also visit middle schools to tout the value of strong language arts and proper grammar in the hopes of encouraging aspiring young writers. We created an "Insights to Publishing" workshop to share our knowledge with other writers interested in learning about the publishing industry.
We are firming up our event schedule which will be posted on our website, DancersatHeart.com.
Was this a two-step or will there be a third installment?
We're taking a little time to get book two off the ground.
Yes. We are planning book three. We also talk about a "Little Libby" children's book. We'd love to do a prequel.
Some other recent books by Wisconsin authors include:
"A Tuscan Treasury: Stories from Italy's Most Captivating Region,"
by Paul Salsini
(iUniverse)
Years ago, veteran journalist Paul Salsini transformed his passion for the region from which his parents and grandparents emigrated into a beautiful debut novel, called "The Cielo." He reprised those characters and others in six more novels and collections of stories and novellas set in Tuscany.
This newest collection of stories is again based on many real-life characters and historical moments and is supercharged by Salsini's deep love and respect for his subjects. Available on Amazon.com and ATuscanSeries.com.
"The Blondes of Wisconsin: Stories,"
By Anthony Bukoski
(UW Press)
The author of the story collections "Time Between Trains," "Children of Strangers" and "Polonaise" returns with another 16 interconnected stories rooted in family conflict in a Midwestern Polish-American community, as well as of working the waterways. One of the stories in this new paperback, in fact, is called – and set at – the "Port of Milwaukee."
"Dead Lines: Slices of Life from the Obit Beat,"
By George Hesselberg
(Wisconsin Historical Society Press)
Despite its title, this paperback is a lively look at the lives of a few dozen Wisconsinites, told via obituaries the author penned for the Wisconsin State Journal across more than 40 years. As anyone who reads well-written newspaper obits knows, these final tributes are more celebrations of life than tales of death and Hesselberg is a master of storytelling, sharing here the lives of a homeless woman fluent in French, a radio villain, a designer of swords, a pioneering woman detective and even a beloved school classroom tarantula. Captivating stuff.
Born in Brooklyn, N.Y., where he lived until he was 17, Bobby received his BA-Mass Communications from UWM in 1989 and has lived in Walker's Point, Bay View, Enderis Park, South Milwaukee and on the East Side.
He has published three non-fiction books in Italy – including one about an event in Milwaukee history, which was published in the U.S. in autumn 2010. Four more books, all about Milwaukee, have been published by The History Press.
With his most recent band, The Yell Leaders, Bobby released four LPs and had a songs featured in episodes of TV's "Party of Five" and "Dawson's Creek," and films in Japan, South America and the U.S. The Yell Leaders were named the best unsigned band in their region by VH-1 as part of its Rock Across America 1998 Tour. Most recently, the band contributed tracks to a UK vinyl/CD tribute to the Redskins and collaborated on a track with Italian novelist Enrico Remmert.
He's produced three installments of the "OMCD" series of local music compilations for OnMilwaukee.com and in 2007 produced a CD of Italian music and poetry.
In 2005, he was awarded the City of Asti's (Italy) Journalism Prize for his work focusing on that area. He has also won awards from the Milwaukee Press Club.
He can be heard weekly on 88Nine Radio Milwaukee talking about his "Urban Spelunking" series of stories.