If you've been waiting to try any one of Gypsy Burger's offerings at Rogues Gallery, 134 E. Juneau Ave., now would be a good time to do it.
Chef Mitch Ciohon's popular patio-side burger trailer launched its residency at Rogues last September. And what began as a late-night only offering has now been expanded to include service over the dinner hour.
Beginning at 5 p.m. on both Thursday and Friday nights, guests can enjoy any number of creatively executed burgers – including this monster muffaletta burger or the new innovative meatless Impossible burger – as well as a plethora of drink specials.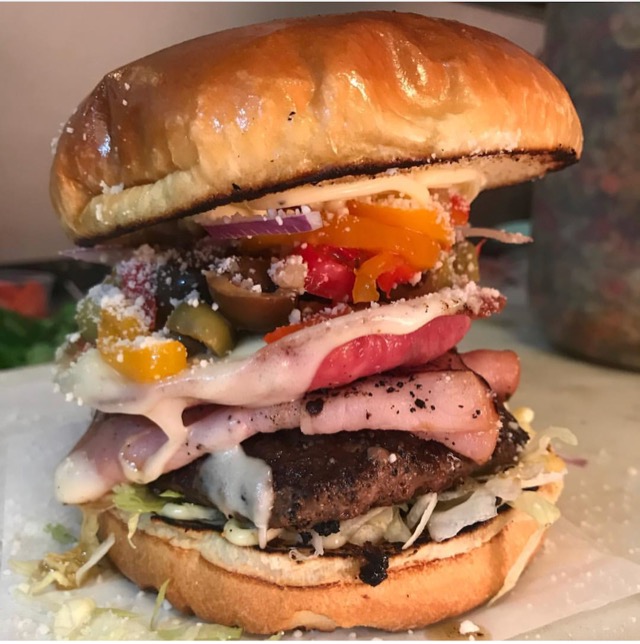 On Thursdays it's happy hour all night long at Rogues on Thursday nights with a $5 special on cans of PBR and shots of Jameson. On Friday nights, there are $5 burgers from 5 to 9 p.m. (with a student ID) and half-price drink specials for everyone.
As reported earlier on OnMilwaukee, an upcoming name change is in the works for Ciohon's trucks.
Lori Fredrich (Lo) is an eater, writer, wonderer, bon vivante, traveler, cook, gardener and girlwonder. Born and raised in the Milwaukee area, she has tried to leave many times, but seems to be drawn to this quirky city that smells of beer and alewives.
Some might say that she is a little obsessed with food. Lo would say she is A LOT obsessed with food. After all, she has been cooking, eating and enjoying food for decades and has no plans to retire anytime soon.
Lo's recipes and writing have been featured in a variety of publications including GO: Airtran Inflight Magazine, Cheese Connoisseur, Cooking Light, Edible Milwaukee, Milwaukee Magazine and the Milwaukee Journal Sentinel, as well as on the blog Go Bold with Butter, the web site Wisconsin Cheese Talk, and in the quarterly online magazine Grate. Pair. Share.