On Nov. 9, 2017, during an OnMilwaukee editorial meeting, culture editor Matt Mueller brought up the craze of Hallmark Christmas movies. It was a decision he would come to immediately regret, as he was quickly punished assigned to watch a new Hallmark movie a week during the holiday season and write about his discoveries and loss of dignity.
Three years later, having learned absolutely nothing, he made the mistake all over again.
These are the never-ending chronicles of Matt's Hallmark Holiday Hell.
"Love, Lights, Hanukkah!"
That's right: It's Matt's Hallmark Hanukkah Hell this time, as we venture into one of Hallmark's rare non-Christmas holiday entries. In fact, last year marked the first time the channel made movies centered around the Jewish holiday – a breakthrough! Just one problem: Apparently their Hanukkah films were were a little anti-Semitic. WHOOPS! Welp, uh, nowhere to go but up from there, right?! (*nervously tugs at collar*)
Who stars?
Our leading lady here is Mia Kirshner, most notable for playing a starring role on the provocative and groundbreaking LGBTQ Showtime series "The L Word," playing an infamously gruesome real-life murder victim in 2006's "The Black Dahlia" and playing Chris Evans' nymphomaniac sister who's WAAAAY too into him in the spoof "Not Another Teen Movie." And now she's in a Hallmark movie, where edginess goes to die, smothered to death by nice coats. You know, a normal career arc. She also starred in last year's "The College Admissions Scandal Movie" on Lifetime. That's Hallmark star on Hallmark star violence.
She's falling in love with Mr. Matthews himself, Ben Savage. I remember watching him on "Boy Meets World" on TGIF as a kid, and now he's 40 years old – a fact that ages me like the bad guy in "Indiana Jones and the Last Crusade" who drank from the wrong Holy Grail.
Anyways, his presence here raises a lot of questions for me. How did I not know he was Fred Savage's brother? How has his "Boy Meets World" co-star Rider Strong never made a single Hallmark movie? And most important of all: How am I supposed to enjoy watching him fall in love here when all I can think about is HOW YOU'RE BREAKING TOPANGA'S HEART!?
Holly jolly or holy hell?
I really wanted to like "Love, Lights, Hanukkah!" – and not just because 'tis the season. It's plesant, well-intended and a new perspective that's much closer to an acutal Hanukkah movie as opposed to a Christmas movie with Jewish character in it. Most of all, its story is really seems like it's trying to do something different from the usual Hallmark flick, something a bit more thoughtful with more emotional depth. Sure, most Hallmark films are only about as deep as the oil for latkes, but still – progress is progress! Watching the movie, I could feel myself rooting for "Love, Lights, Hanukkah!"
But I'm sad to say that, while I appreciate the movie, I never found myself actually enjoying it. While the story's going for ambitious and deeply felt emotions, it's just too, well, Hallmark-itized to really hit the heart, cramming in a romance plot that never quite gels with the rest of the movie and a real premise too sanded down to feel actually real. It's like the Uncanny Valley concept for Hallmark: the more tries to look or feel real, the less authentic it ends up.
And worst of all, NOWHERE NEAR ENOUGH COATS!
We're introduced to our Cleveland-based heroine Christina (Mia Kirshner), who's in the middle of buying out a small Christmas shop of all of its wreaths – save some for the rest of us, Christina! – when she sees a happy family and gets sad. The only cure: MORE WREATHS! She heads over to her Italian restaurant which she took over after her adopted parents died last year. HAVE A HOLLY JOLLY CHRISTMAS INDEED! This is an oddly dour start to a Hallmark movie; normally there's a dead relative of some kind, but normally we open with festiveness and pleasantries and smiley Christmas greetings (and, of course, aerial shots of a city), not a dive right into familial misery.
But that's OK; at least the roof of the restaurant isn't leaking OH NO COME ON! GIVE A WOMAN A BREAK! ISN'T IT ENOUGH THAT SHE LIVES IN CLEVELAND!? At least their newly sprung indoor rainstorm isn't expected to wash out their plans to open for Christina's big holiday feast, a family tradition for her family, friends and loyal customers.
In her newfound freetime, Christina does one of those online DNA tests to find out more about her background and discovers that, in addition to the expected half-Italian heritage, she's also 50 percent European Jewish. And as an added bonus, the website also lets her know that some potential family members live nearby – and one of them even reaches out for a meeting to disccover more. The DNA site also found that Christina has a high chance of heart disease at a young age, but it figured she'd had enough bad news for one day, and there are only so many wreaths a person can buy as a tonic.
So she meets her potential relatives, a brother and sister who also happen to run a restaurant in town: Lenny's Sports Deli. No, I don't know what a sports deli is as compared to a regular deli, but I do know that they make some wild latke fushion dishes, a subgenre of food I didn't know existed but would love to taste test until I burst. And thinks are ... surprisingly normal! You'd think there would be some complicated feelings talking to an unknown mystery relative, but everyone seems very relaxed.
At her Ancestry.com-inspired lunch, Christina also meets David – don't worry, just a family friend not a potential family member.(Kirshner had enough of that stuff in "Not Another Teen Movie.") He does, however, turn out to be the local food critic who lightly panned Christina's restaurant last year by calling her food "predictable." Yes, as he expected, all the food at the Italian restaurant was edible and Italian – how predictable. WHERE ARE ARE THE SOUS VIDE BAGS OF WATER AND DECONSTRUCTED FETTUCINI!? At least he's leaving for Europe soon – I sure hope they don't slowly fall in love, complicating his plans!
Speaking of predictable, you know where that storyline's going – but the most interesting relationship is between Christina and her newfound relatives' mother Ruth, played by Marilu Henner. Everyone meets and has a nice post-lunch chat, until Christina reveals some information about her birthday and background. From that, Ruth figures it out: She's Christina's mother.
After taking a necessary moment for herself to take a breath and gather her emotions, she explains to everyone: She was in Italy when she met a handsome man named Georgio who she eventually married, though only for a brief bit as his family disagreed with it all. So they went their separate ways, but Ruth would soon find out she was pregnant – and feeling unprepared to be a mother, she gave Christina up for adoption. Welp, that ... is a lot to unpack – for Christina, for Ruth and for her surprise brother and sister, who knew nothing about this former short-lived marriage.
I applaud "Love, Lights, Hanukkah!" for trying a different story out from the usual – and it's all very kind-heartedly done – but soon after the reveal, things move way too fast to feel either real or authentically sweet. After finding out all of this information, Christina IMMEDIATELY gets brought into the family – the ENTIRE family. This is a full immersion process, and at some point, you have to wonder: Does Christina not have her own aunts, cousins, friends and more she typically hangs out with? It's just unbelievably a lot, all at once, with no one batting an eye after the immediate reveal – and that's before they start thinking it would be a good idea for her to also meet her biological father! You know, that guy who Ruth hasn't even talked to in decades and doesn't even know Christina exists! WELL LET'S JUST JUMP TO THAT RIGHT AWAY! AROUND THE HOLIDAY SEASON TOO! I'M SURE HE'S GOT NOTHING GOING ON! It's a lot of huge emotional leaps that the movie doesn't quite put in the work to feel real or emotionally satisfying.
It doesn't help that this serious – and, to its credit, different for Hallmark – family drama has to share a running time with a very typical Hallmark romance, one that Ruth insists on meddling in and bringing together. You just found out she's your daughter; maybe pump the breaks on pushing for a son-in-law?
You see, while all this family discovery is going on, Christina is also slowly falling in love with David, who comes by the under-construction restaurant so she can whip up some lasagna for a second try. WHIP UP SOME LASAGNA!? You know, that famously quick dish to make. It's basically an Italian PB&J! Anyways, he tries it and likes it a lot more, as Christina admits that, when he came by originally for his review, she was out of it due to her mom's recent death.
The two become closer, bouncing food ideas off of each other – his Europe trip is to learn more about the Jewish influence on Italian food, which honestly: would read – as well as bringing one another into their respective family traditions. She educates him on the glory of Lou Monte and about the meaningful angel she's installed on the patio; he teaches her the Hanukkah prayers and ceremonies as well as how to make a very fake looking snowman with his family. Or ... his family friends at least, as David just keeps showing up for all of Ruth and company's gatherings. Where are his family and friends? I know you're close with this clan – but how do you keep ending up here? SHE DOESN'T EVEN GO HERE!
Also: Learn how to take a photo because you just cropped half of this family out of their cute family portrait.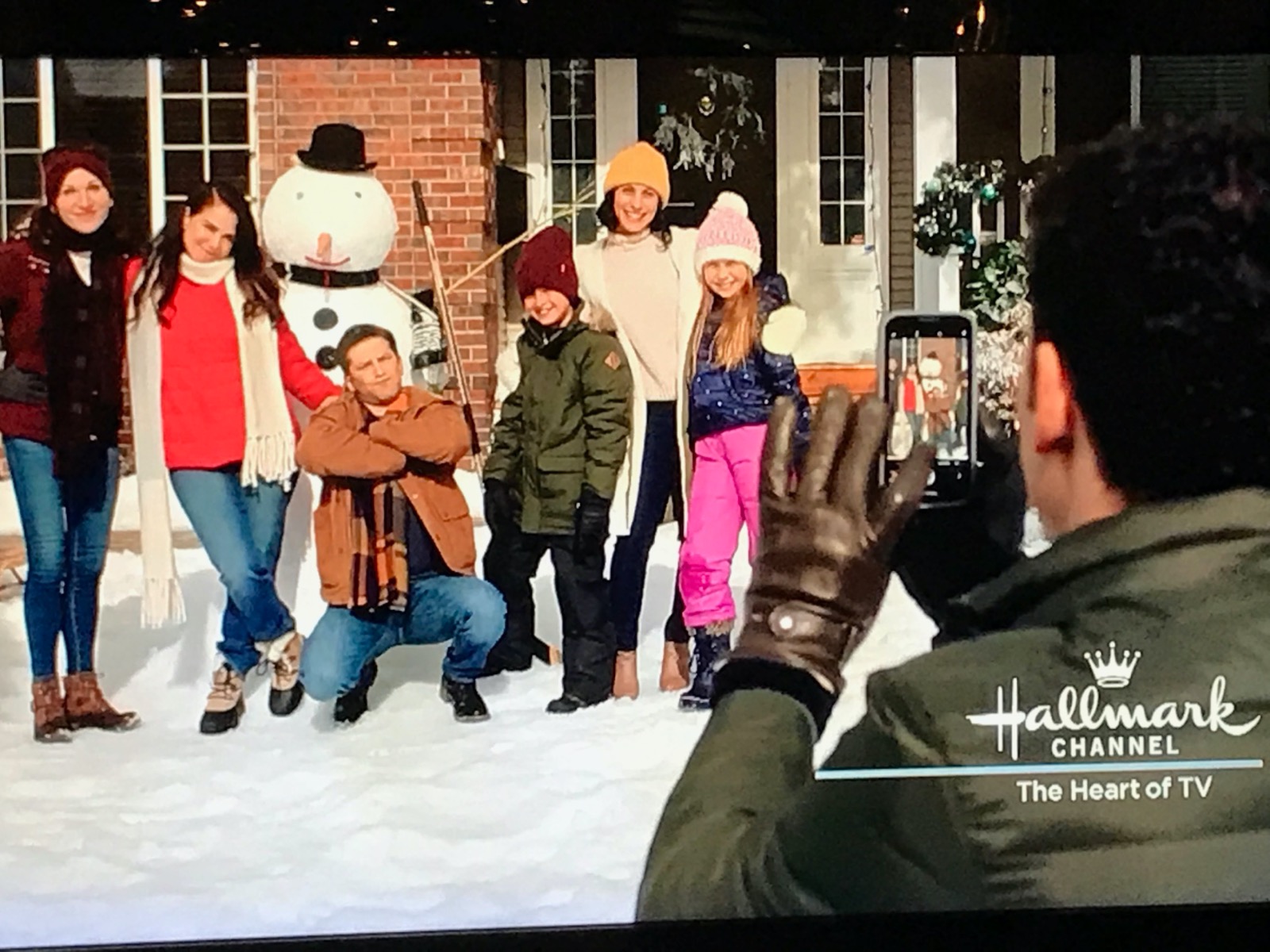 Landscape mode, man; join us in the 21st century.
Jokes aside, that is one of the big issues with romance: It never feels truly connected to the main storyline about Christina finding her adopted family. It's like the script was mandated to wedge in this romance plot by Hallmark as opposed to something that naturally came with the characters and story. The result never feels particularly genuine or charming, and while I think Savage and Kirshner are fine actors, they don't spark much chemistry romantically. By the time the two decide to commit to each other and make it work in the third act, even though he's leaving the country for several months, I didn't get the warm and cozy hot chocolate love feels a Hallmark romance is engineered to cook up.
I wish it had stuck with the family storyline – the much more involving part of the film, one that could've been even more so if it had been given the time to develop the emotions and didn't have to rush through the complex feelings of the situation. As it stands, it's merely admirable as it can't go deep enough to be rewarding. Instead, we just hop straight to chipper snowman building and cooking montages and gift-giving – Christina gets her newfound sister and her family tickets to a Cleveland Cavs basketball, which feels more like a punishment than a present – as if they've known each other forever.
And to top it off, Christina DOES call Georgio and plans to travel to Italy to meet him ... which David kind of invites himself along for. Maybe let the father and daughter who didn't even know each other existed until maybe a week ago have some time to themselves, I DON'T KNOW!
It's just too much, too fast, with not enough development to make it feel real. Maybe if the romance was axed, we could've gotten a better movie – good not just for a Hallmark film, but straight up a solid holiday family melodrama. But instead, the romance takes up space, and you're left feeling disappointed by wasted potential. Wow, is this how my parents feel?
Verdict: Eight crazy nights? More like two mediocre hours! (*hook pulls me offstage*)
Drinking game drunken-ness score
Not that I needed any more excuses to drink heavily while watching Hallmark holiday movies, but thanks to Wide Open Eats, I found this Hallmark drinking game created several winters ago by human saint Brittany Graves and posted on Facebook. So let's go through the checklist and see how crushed we can get off Christmas cliches – and if you have your own drinking game, pass it along! After all, tis the season for sharing (and getting sloshed)!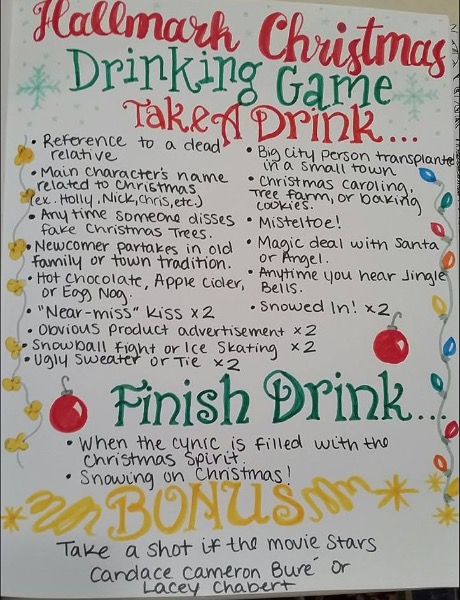 Reference to a dead relative? Christina can't stop talking about her dead parents, which means YOU DON'T HAVE TO STOP DRINKING! WEEEE!
Christmas-y main character names? Christina shares the first syllable with Christmas. That counts, right? No? Fine – and unfortunately there's no one named Dr. Eidel or something else Hanukkah-related either. LOVE, LIGHTS, NO LIQUOR!
Fake Christmas tree disses? The cruel reign of Balsam Hill corrupts our fun once again, as while there are several Christmas trees, there are no disses. I swear, when I finally hear a fake Christmas tree slam in one of these movies, I'm going to drink so much I'll be classified as a keg rather than a human. In the meantime, HALT ALCOHOLING!
Newcomer in old-timey tradition? Traditions don't come much more old-timey than Hanukkah, which means I HANU-CAN DRINK AGAIN!
Hot chocolate? How best to reward your family after a hard afternoon out in the snowy yard building a fake plastic Milaeger's snowman? HOT COCOA FOR THEM AND HOT BUTTERED RUM FOR ME!
Near-miss kiss? Christina and David never feel like they're falling in love, much less getting close enough for a near-miss kiss, which means I'M NOT GETTING CLOSE TO DRINKING EITHER!
Product placement? Unless we're counting latkes, because this movie made me very hungry for potato cakes, that's a nope. LATKES? MORE LIKE A LACK-TKE OF ALCOHOL IN MY THROAT!
Snowball fight or ice skating? There's plastic snowman from before, but unfortunately no snowball fights or ice skating trips. Not even a latke fight – which, now that I'm actually thinking about it, seems like an absolutley awful idea that will end with many burns and little edible food. Anyways, CONGRATS LIVER; STILL NO DRINKY!
Ugly sweater or tie? There are no ugly sweaters or ties, but Christina, along with the Cleveland Cavaliers tickets, does gift her sister's kids with very not-great personalized jerseys that clearly Hallmark did not buy the rights to show on air, so let's call them the Bleveland Bavaliers. Does Christina hate her sister and her kids? This is the only rationale I can find for all the Cavs presents. WHY YES, I KNOW THE CAVS WON THE NBA FINALS MORE RECENTLY THAN MY MILWAUKEE BUCKS! AND YES, I KNOW I STILL CAN'T DRINK EITHER!
Big city person in small town? I've made fun of Cleveland enough in this article, so I'll stop now – plus everyone's from a big city here, so CONTINUE SOBRIETY!
Caroling, tree farming or cookie baking? One strike, two strikes and three strikes – though there is potato shredding. Come on, toss me a bone here, drinking game gods? NO DRINK, DANGIT!
Mistletoe? You see, the problem is this drinking game was created before Hallmark discovered diversity and the existence of other holidays outside of Christmas, so I'll have to find a more inclusive drinking game for my next round. And speaking of next rounds, WHEN WILL MINE BE!?
Magic deal with Santa/angel? There's no magic deal, though there is an angel watching over Christina's restaurant as a tribute to her mother – and it, along with Ruth, watches over as Christina makes her first succcessful call to Georgio. I like to think that Mr. Feely is watching too, making sure all works out well for Mr. Matthews. You know what's not working out well, though? THIS DRINKING GAME! GAAAAH!
Anytime you hear "Jingle Bells"? I figured that "Jingle Bells" wasn't going to make the cut for a Hanukkah movie, but I was hoping for maybe a "Hanukkah Song" cameo. I was unsurprisingly disappointed – and speaking of disappointed, DISAPPOINTEDDDDD!
Snowed in? One final NOPE! Dont' even have a joke here; too parched, sad and sober to come up with one. WE MOVE ON!
There's no hope for alcohol in the final categories either, as there's no Cameron Candace Camerdace Candace Cameron Bure or Lacey Chabert (who was in "Not Another Teen Movie" with Mia Kirshner!) and there's no Christmas cynic or snow on Christmas because, well, there's not really a Christmas here.
In the end, Hanukkah Hallmark movies: good for diversity, new perspectives and new stories, but bad for getting me inebriated enough to survive them. OK, that's too far. "Love, Lights, Hanukkah" isn't bad; it's just disappointingly bland considering the story it's trying to tell. The family story is too hurried and simple to ring true, while the romance is too empty to care. To pull out my best dad impression, I'm not mad; I'm just disappointed considering how promising parts of it seem. Oh well, you could do far worse ... wait, did the sister just say that they are Chicago Cubs fans? LAUNCH THIS MOVIE INTO THE NEAREST STAR!
As much as it is a gigantic cliché to say that one has always had a passion for film, Matt Mueller has always had a passion for film. Whether it was bringing in the latest movie reviews for his first grade show-and-tell or writing film reviews for the St. Norbert College Times as a high school student, Matt is way too obsessed with movies for his own good.
When he's not writing about the latest blockbuster or talking much too glowingly about "Piranha 3D," Matt can probably be found watching literally any sport (minus cricket) or working at - get this - a local movie theater. Or watching a movie. Yeah, he's probably watching a movie.