When Meghan Staszak and Becca Riddle open Hangout MKE this weekend, it will be a dream brought to fruition. The women, who are partners in both life and business, wanted to offer an interactive social space – that wasn't a bar – for Milwaukeeans of all ages.
Hangout MKE, which opens to the public on Sunday, Aug. 11, will be the city's first "activity cafe" and located at 1819 N. Farwell Ave. next to Pizza Shuttle. A grand opening party will take place later this month.
The massive space – which is currently in the final stages of construction – will specialize in games of all kinds, including board games, shuffleboard, video games, over-sized games such as giant, magnetic Scrabble, big Yahtzee, life-sized Operation, and something called "soccer pool."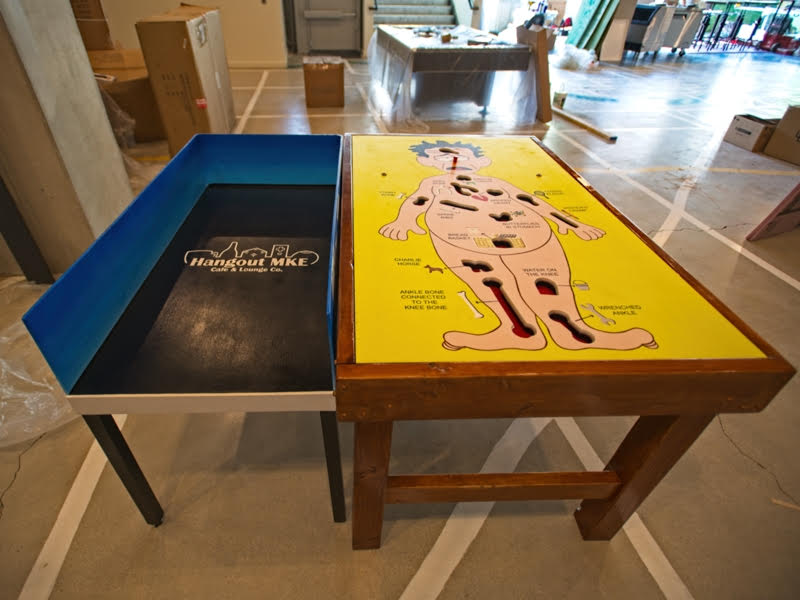 "Soccer pool is like pool, but the table is much larger and it's on the ground. Instead of pool balls, you use soccer balls and your foot is the cue," says Riddle, a former MPS teacher and artist who added many creative flourishes to the place, including a Milwaukee street map mural on the floor.
Art supplies and occasional live performance will also be part of the scene.
Board games, cards and art supplies will be free to use. Guests can access the specialty games for $6 an hour.
Food items will include build-your-own gourmet s'mores and a mix-your-own trail mix station. Other sweets and pastries will also be available.
"We're really into dessert," says Staszak.
Hangout MKE will serve Anodyne coffee along with tea, chai, chocolate and alcoholic and non-alcoholic drinks. Although alcohol will be available, it will not be the focus of the all-ages cafe.
"It doesn't matter if you drink alcohol or don't drink alcohol. This is just a fun place to chill, play games and enjoy snacks and beverages," says Staszak.
Hangout MKE's hours are weekdays from 7 a.m. to 11 p.m and weekends from 8 a.m. to 11 p.m. Go here to follow on Facebook.
Molly Snyder grew up on Milwaukee's East Side and today, she lives in the Walker's Point neighborhood with her partner and two sons.
As a full time senior writer, editorial manager and self-described experience junkie, Molly has written thousands of articles about Milwaukee (and a few about New Orleans, Detroit, Indianapolis, Boston and various vacation spots in Wisconsin) that range in subject from where to get the best cup of coffee to an in-depth profile on the survivors of the iconic Norman apartment building that burned down in the '90s.
She also once got a colonic just to report on it, but that's enough on that.
Always told she had a "radio voice," Molly found herself as a regular contributor on FM102, 97WMYX and 1130WISN with her childhood radio favorite, Gene Mueller.
Molly's poetry, essays and articles appeared in many publications including USA Today, The Writer, The Sun Magazine and more. She has a collection of poetry, "Topless," and is slowly writing a memoir.
In 2009, Molly won a Milwaukee Press Club Award. She served as the Narrator / writer-in-residence at the Pfister Hotel from 2013-2014. She is also a story slam-winning storyteller who has performed with The Moth, Ex Fabula and Risk!
When she's not writing, interviewing or mom-ing, Molly teaches tarot card classes, gardens, sits in bars drinking Miller products and dreams of being in a punk band again.