When Meghan Staszak and Becca Riddle open Hangout MKE this weekend, it will be a dream brought to fruition. The women, who are partners in both life and business, wanted to offer an interactive social space – that wasn't a bar – for Milwaukeeans of all ages.
Hangout MKE, which opens to the public on Sunday, Aug. 11, will be the city's first "activity cafe" and located at 1819 N. Farwell Ave. next to Pizza Shuttle. A grand opening party will take place later this month.
The massive space – which is currently in the final stages of construction – will specialize in games of all kinds, including board games, shuffleboard, video games, over-sized games such as giant, magnetic Scrabble, big Yahtzee, life-sized Operation, and something called "soccer pool."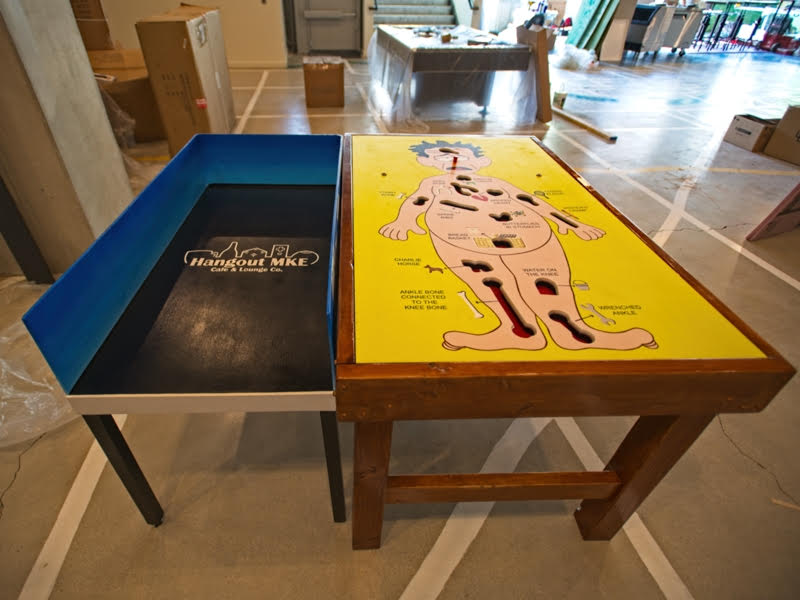 "Soccer pool is like pool, but the table is much larger and it's on the ground. Instead of pool balls, you use soccer balls and your foot is the cue," says Riddle, a former MPS teacher and artist who added many creative flourishes to the place, including a Milwaukee street map mural on the floor.
Art supplies and occasional live performance will also be part of the scene.
Board games, cards and art supplies will be free to use. Guests can access the specialty games for $6 an hour.
Food items will include build-your-own gourmet s'mores and a mix-your-own trail mix station. Other sweets and pastries will also be available.
"We're really into dessert," says Staszak.
Hangout MKE will serve Anodyne coffee along with tea, chai, chocolate and alcoholic and non-alcoholic drinks. Although alcohol will be available, it will not be the focus of the all-ages cafe.
"It doesn't matter if you drink alcohol or don't drink alcohol. This is just a fun place to chill, play games and enjoy snacks and beverages," says Staszak.
Hangout MKE's hours are weekdays from 7 a.m. to 11 p.m and weekends from 8 a.m. to 11 p.m. Go here to follow on Facebook.

Molly Snyder started writing and publishing her work at the age 10, when her community newspaper printed her poem, "The Unicorn." Since then, she's expanded beyond the subject of mythical creatures and written in many different mediums but, nearest and dearest to her heart, thousands of articles for OnMilwaukee.

Molly is a regular contributor to FOX6 News and numerous radio stations as well as the co-host of "Dandelions: A Podcast For Women." She's received five Milwaukee Press Club Awards, served as the Pfister Narrator and is the Wisconsin State Fair's Celebrity Cream Puff Eating Champion of 2019.