You may know transplanted Milwaukee writer Kristine Hansen for her books about agritourism and cheese. Hansen's new book still focuses on Wisconsin, but takes a slight turn to examine the work and legacy of home-state icon Frank Lloyd Wright.
Her new "Frank Lloyd Wright's Wisconsin: How America's Most Famous Architect Found Inspiration in His Home State" – published in paperback by Globe Pequot Press – follows 2019's "Wisconsin Cheese Cookbook: Creamy, Cheesy, Sweet, and Savory Recipes from the State's Best Creameries" and 2021's "Wisconsin Farms and Farmers Markets: Tours, Trails, and Attractions."
The heavily illustrated (in full color!) book is not only an informal travel guide to seeing the Wright's works throughout Wisconsin, but it also takes us inside stories of the buildings, their builders and their current caretaker owners.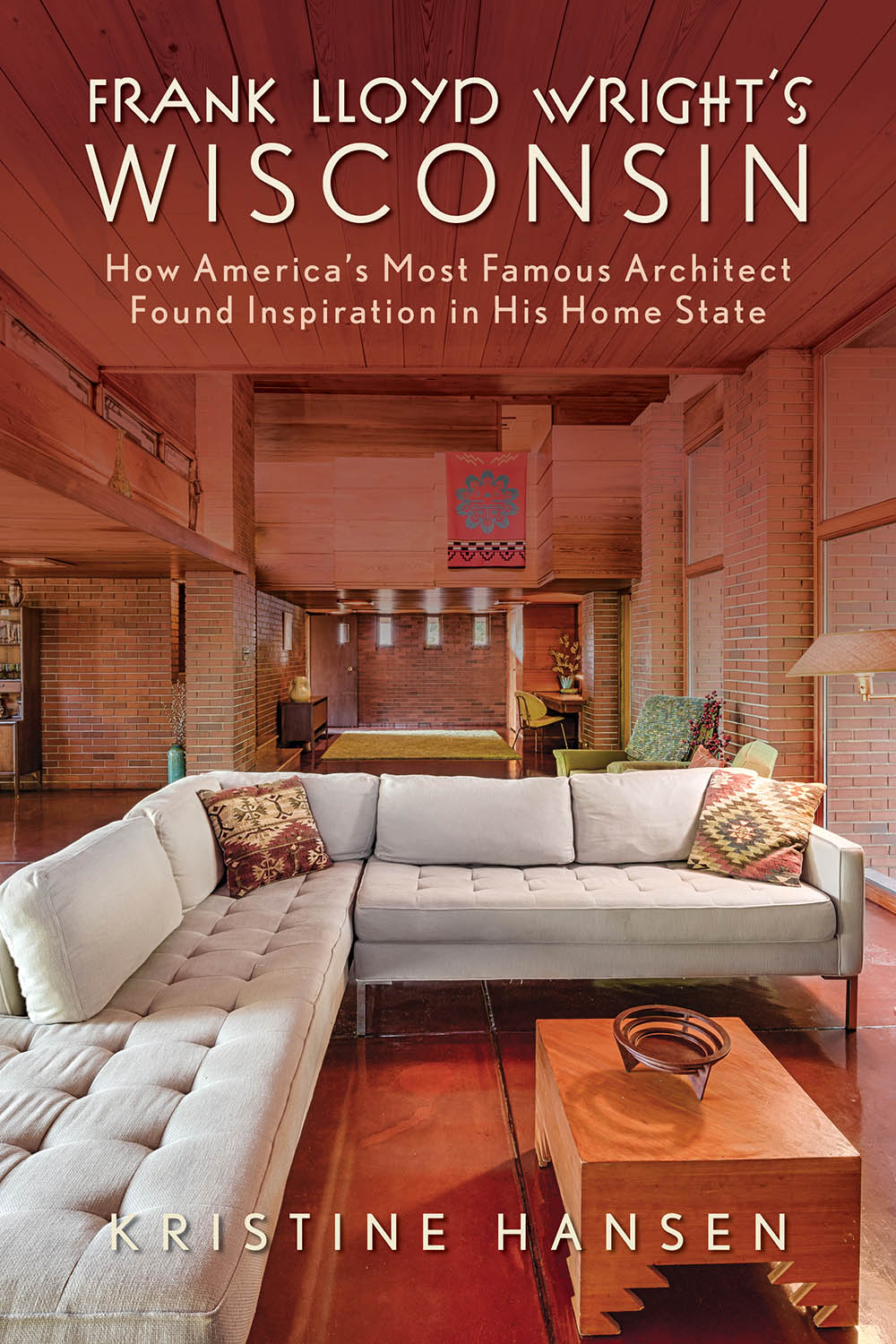 It's a long-overdue dig into Wright's work in his home state.
We caught up with Hansen to ask her about the book, as well as about what Wisconsin gave to Wright and Wright gave to Wisconsin.
OnMilwaukee: How did you come to write a book about Wright's built designs in Wisconsin?
Kristine Hansen: I'd already published two books for my publisher, one on Wisconsin cheese and another on Wisconsin agritourism. As those were published two years apart, and I consider myself a career author, I knew the clock was ticking: what would my next book be?
I'm very proud to be a Wisconsinite. After growing up in suburban Chicago and living in Las Vegas, Silicon Valley, the Los Angeles area and Madison, I decided in 2005 to make Milwaukee
my home. As a passion and interest, I visit Wright designs in my travels and have toured many here in Wisconsin. I knew it was time to use my magazine-reporting background to address a
question that's rarely asked but kept pulling at me each time I'd visit a Wright site: what is it like to live in a Wright-designed home?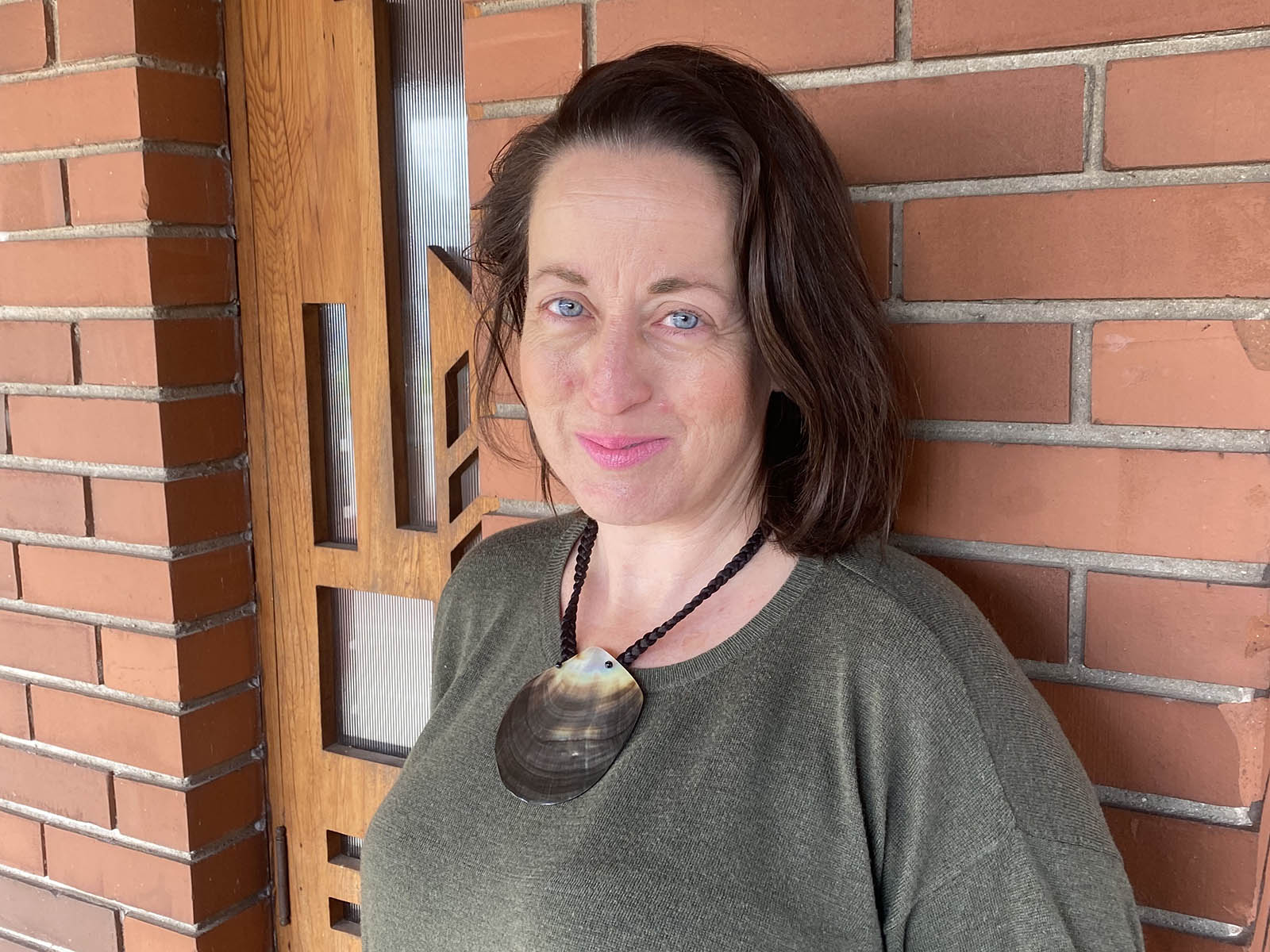 By sitting down with stewards that include Dave and Liz Riedel (of the Dr. Maurice Greenberg House in Dousman), Nicholas Goodhue and Sylvia Ashton (of the Joseph Mollica House in Bayside) and Eliot Butler (of the John C. Pew House in Shorewood Hills), who have never told their stories in book form before, I knew I had my angle.
But I also want this book to serve as a travel guide. Each chapter is devoted to a public site, such as – in Milwaukee – Annunciation Greek Orthodox Church and Burnham Block. These sites attract people from around the world. If you're living in Wisconsin and haven't visited them, perhaps my book will inspire you to! And then of course there is the Holy Grail: Wright's former home, Taliesin in Spring Green, which he used as a laboratory to test design concepts. If you want to see an architect's idea of utopia, visiting their home is crucial.
If we want to keep these buildings standing and continue to engage in the act of preserving them, we need to get people excited about Wright's projects. At my book-launch event at Boswell, I signed at least four or five books for either young, would-be architects or family members of the next generation.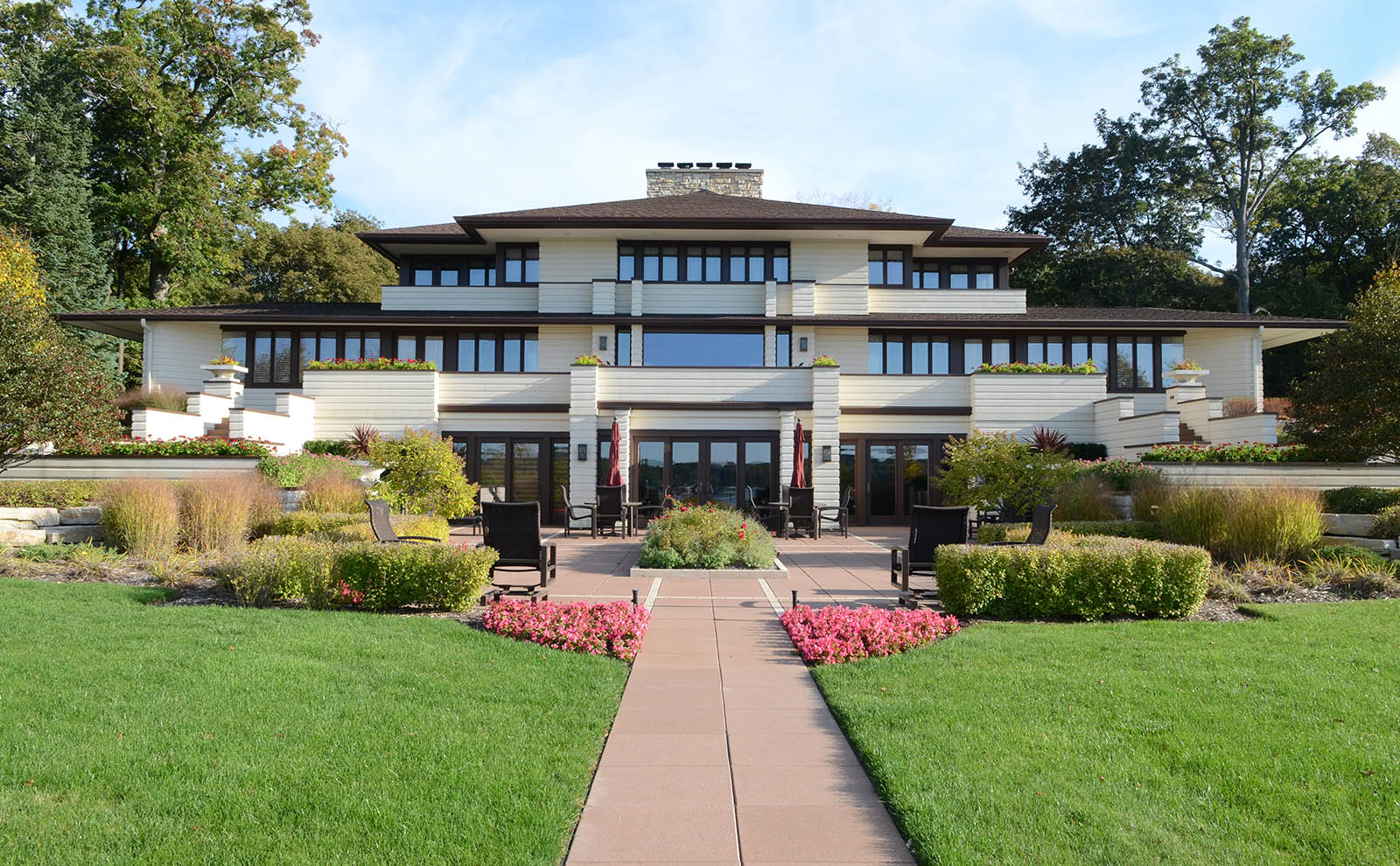 Did you visit most of the sites? Were there any you wanted to see but were unable?
Because there is no directory of Frank Lloyd Wright homeowners, I resorted to old-school journalism – reviewing obituaries and property records, for example – in order to find the names and phone numbers of people living in Wright's Wisconsin projects. I then purchased Frank Lloyd Wright notecards at Boswell Book Company and popped them in the mail, addressing them to "Homeowner."
Amazingly, three people replied to these and we either hopped onto our phones for a FaceTime tour or I visited their homes.
Unfortunately, I was not able to see the Airplane House in Madison, built in 1909 for Eugene Gilmore, a professor at the University of Wisconsin's Law School. I also was only able to interview two stewards of homes on Delavan Lake in Delavan. This is a marvelous example of how Wright's designs anchor a community, much like the subdivision he designed in Michigan: The Acres, in Galesburg, Michigan.
How do you think Wisconsin inspired Wright's designs?
Growing up on hundreds of acres in Richland Center no doubt influenced Wright's love for nature and developed his organic-architecture philosophy.
What is organic architecture? Put simply, it's all about designing a home or building in accordance with the lot, factoring in the slope, woods, water, and anything else. The best example is Fallingwater in Pennsylvania. Most architects would have designed away from the waterfall.
But Wright wove the waterfall into his design by building over it, just as in his family's Oak Park, Illinois, home, he built an interior passageway around a willow tree. Embracing nature's quirks – instead of ignoring it – leads to a more integrative design.
We can't ignore how Wright also designed homes in urban settings. He was not opposed to that. But I haven't seen a home yet where natural light is not coursing through tall windows and the usage of materials mimics the outdoors, such as limestone or Philippine Mahogany. Even his beloved Cherokee Red hue we see hints of in many landscapes, particularly in autumn.
How is his legacy doing here? Munkwitz Apartments aside, how is Wisconsin treating its FLW buildings?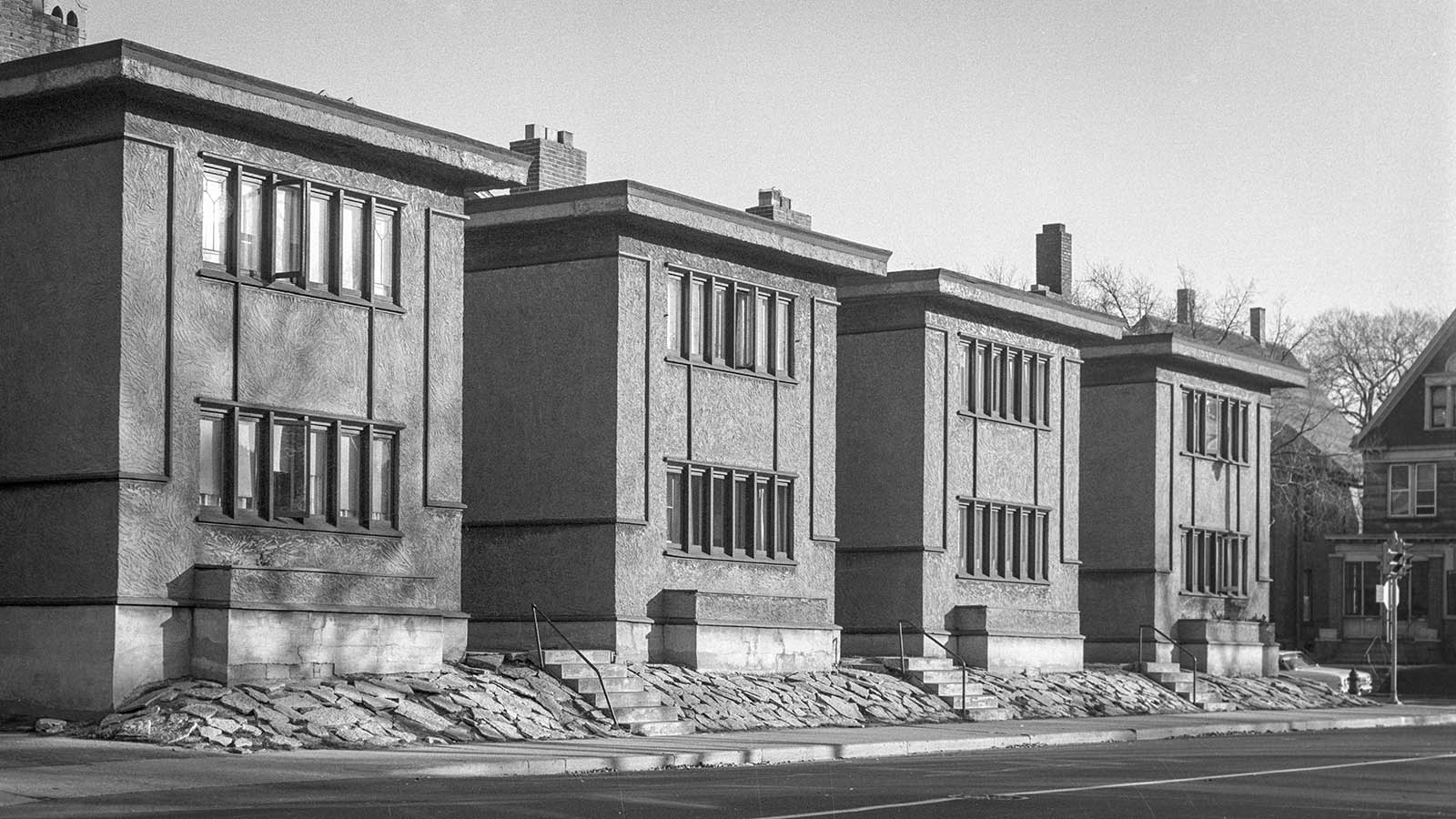 When I wrote this book, I researched – and included – two Wright-designed projects that are no longer standing: The Lake Geneva Hotel in Lake Geneva – completed in 1912 and demolished in 1970 – and Munkwitz Apartments in Milwaukee, completed in 1916 and demolished in 1973. I felt it was important to include these because even though we can't visit them today, they are still part of Wright's portfolio.
All the quirks we love about Wright's designs are present in those projects, such as the compact nature of Munkwitz Apartments' units (mirroring Wright's American System-Built Homes as they were targeting the everyman) or tiny bedrooms in the Lake Geneva Hotel (many guests complained about this, which mirrors his residential commissions where the largest rooms are in common spaces, like the living room).
To answer your question, these buildings – or any Wright building – would not be demolished today. There is greater awareness and appreciation of Wright's designs – not to mention historic buildings in general – as well as friends and fans of Wright's designs, and a team of people who are not afraid to rehab buildings that might otherwise be torn down. Just the fact that in 2017 the state of Wisconsin created a Frank Lloyd Wright Trail and now you can see these brown metal signs on I-94 shows that we value these buildings a lot.
Which is your favorite FLW building in the state and why?
While I adore the Great Workroom at SC Johnson and would kill for an hour to write in that space, and a day at Taliesin always calms my mind, my favorite building is one that feels lived in and cozy. That would be the Jacobs I House in Madison, the first Usonian designed by Wright and built in 1937.
It's owned by retired art-history professor Jim Dennis. The walls are lined with books and art, which is an interior design Wright likely would have also advocated. There's also a cool story in that Dennis hired three of his students to help him restore the home and they all made careers out of restoring Wright homes around the Midwest.
Born in Brooklyn, N.Y., where he lived until he was 17, Bobby received his BA-Mass Communications from UWM in 1989 and has lived in Walker's Point, Bay View, Enderis Park, South Milwaukee and on the East Side.
He has published three non-fiction books in Italy – including one about an event in Milwaukee history, which was published in the U.S. in autumn 2010. Four more books, all about Milwaukee, have been published by The History Press.
With his most recent band, The Yell Leaders, Bobby released four LPs and had a songs featured in episodes of TV's "Party of Five" and "Dawson's Creek," and films in Japan, South America and the U.S. The Yell Leaders were named the best unsigned band in their region by VH-1 as part of its Rock Across America 1998 Tour. Most recently, the band contributed tracks to a UK vinyl/CD tribute to the Redskins and collaborated on a track with Italian novelist Enrico Remmert.
He's produced three installments of the "OMCD" series of local music compilations for OnMilwaukee.com and in 2007 produced a CD of Italian music and poetry.
In 2005, he was awarded the City of Asti's (Italy) Journalism Prize for his work focusing on that area. He has also won awards from the Milwaukee Press Club.
He can be heard weekly on 88Nine Radio Milwaukee talking about his "Urban Spelunking" series of stories.