Seven years ago, Anita Reed became interested in henna – an ancient body art tradition – after reading about it in "The Red Tent" by Anita Diamant.
Reed, a visual artist with a degree from the Milwaukee School of Art and Design (MIAD), decided to try henna – also called "mehndi" – and Milwaukee henna artist, Jessica Laub, gave her some to practice with.
After experimenting on herself and her daughters, Reed built a massive red tent in her Riverwest yard, invited over her book club friends who had also read the Diamant novel and offered up her new henna skills.
"Everyone was so encouraging that night, I had to keep going with henna," says Reed.
Reed went on to read henna books, watch henna videos and find a henna mentor from India who helped her hone her talents as well as teach her how to make her own henna paste. She started a business, Hands of Henna by Anita, and has provided henna at hundreds of festivals, parties and weddings.
Two months ago, Reed read about an eight-week contest sponsored by Henna Intensive & Retreat, which offers multiple-day henna instruction and retreats in the mountains of southern California.
Earlier this week, Reed found out she won the contest and will travel to Wrightwood, California Sept. 17-21 to attend the retreat.
The contest required participants to create and apply a henna design every week, take a photo of it and get people to like and pin the picture on Pinterest. Artists were eliminated weekly, and the one with the most pins and likes at the end would win the retreat.
"I really wanted to enter, but my phone literally takes pink pictures, so I didn't think I had a chance," says Reed.
However, she then remembered a local photographer, Mo Korched, had mentioned months earlier that he wanted to shoot some of her henna designs.
"I wasn't sure he'd remember me, but I called Mo anyway and told him about the contest," says Reed. "To my surprise, he said he was interested."
Korched, a full-time photographer with a business called RuKo Photo, has been fascinated by the Middle Eastern tradition of mehndi for a long time, in part because his mother is Iranian.
"About eight months ago, I typed 'bad ass henna artist Milwaukee' into Google and Anita's name came up," says Korched. "So I contacted her and told her I'd like to work with her someday. The contest was the perfect opportunity for us both."
Each week during the contest, Reed found out the theme on Monday, had until Wednesday at midnight to come up with an idea, make it happen and have Korched photograph it. She found out on Sunday nights if she made it to the next round.
"My goal was to take a more artistic approach and create an environment for each theme," says Reed.
The themes were "jewelry," "nature," "machinery," "creatures / animals," "insects, "deities / people / person," "under the microscope" and "the elements."
The only requirement of the contest was that the artists had to use natural henna which could not be altered with Photoshop. (The backgrounds could be doctored, but not the actual henna.)
"The henna was never retouched, that is all Anita's work," says Korched.
Reed spent dozens of hours on each submission. For the "creatures / animals" submission she chose a mermaid subject and spent more than three hours henna-ing scales to her model's body.
"The pace was tough, and it consumed my life for two months, but Mo was so great. Every idea I had – no matter how strange or untraditional – he was open to it," Reed says.
Reed's machinery-themed henna photo is particularly near and dear to her heart because it's a commentary on her nearly fatal bicycle accident in 2011.
"After my accident – and I don't remember any of this – visitors said I couldn't speak very well and I looked scary like Frankenstein, but I offered a henna to everyone who came to visit me in the hospital," says Reed.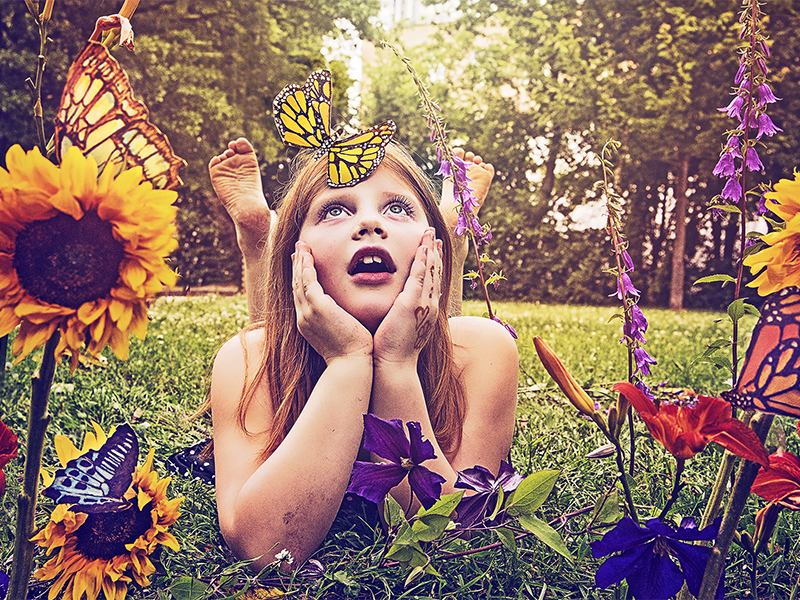 Reed says she's thrilled about winning the contest for multiple reasons. Mostly, she's excited to connect with henna masters and learn as much as she can about the art form.
"Incredible instructors are coming from all over to share their skills and I am ready to be schooled, to learn new aspects," she says.
Reed is also looking forward to spending time in rural California where she will be required to "unplug." Also, as an avid traveler who has been to many parts of the world, she is excited to journey beyond Milwaukee again.
"I love the freedom of travel," says Reed. "I love that I don't know when I get on the plane who I'm going to meet or what's going to happen. I love the unknown."
Although Reed has struggled in areas of her life after her accident, which affected her longterm memory, she says she wouldn't have entered the contest if she never had the collision.
"I don't think I would have had the guts before the accident," she says. "And I really could not have done this without Mo's photography and without the encouragement of my friends, family and community."
Molly Snyder grew up on Milwaukee's East Side and today, she lives in the Walker's Point neighborhood with her partner and two sons.
As a full time senior writer, editorial manager and self-described experience junkie, Molly has written thousands of articles about Milwaukee (and a few about New Orleans, Detroit, Indianapolis, Boston and various vacation spots in Wisconsin) that range in subject from where to get the best cup of coffee to an in-depth profile on the survivors of the iconic Norman apartment building that burned down in the '90s.
She also once got a colonic just to report on it, but that's enough on that.
Always told she had a "radio voice," Molly found herself as a regular contributor on FM102, 97WMYX and 1130WISN with her childhood radio favorite, Gene Mueller.
Molly's poetry, essays and articles appeared in many publications including USA Today, The Writer, The Sun Magazine and more. She has a collection of poetry, "Topless," and is slowly writing a memoir.
In 2009, Molly won a Milwaukee Press Club Award. She served as the Narrator / writer-in-residence at the Pfister Hotel from 2013-2014. She is also a story slam-winning storyteller who has performed with The Moth, Ex Fabula and Risk!
When she's not writing, interviewing or mom-ing, Molly teaches tarot card classes, gardens, sits in bars drinking Miller products and dreams of being in a punk band again.