Belly up to these bar stories, brought to you by Miller Brewing Co., that explore well-loved but lesser-known taps and taverns from all corners of the city and beyond.
Bobby Greenya wanted to own his grandfather's bar from the time he was a child. In 2000, the dream came true when he and his wife, Maire, took over Champion's, an Irish-themed neighborhood tavern nestled in the middle of a residential block that's been around since 1956.
For the first two years of operation, Champion's was located in what today houses the Jazz Estate, 2423 N. Murray Ave. In 1958, James Champion, Greenya's grandfather, moved the bar to its current location, 2417 N. Bartlett Ave.
Greenya started working at Champion's after an honorable discharge from the Navy in 1992. He and Maire lived above the bar for a decade before buying a home across the street.
"My commute tripled from 15 steps to 45," says Greenya.
The East Side neighborhood, particularly Bartlett Street, has been the backbone of the business for three generations thanks, in part, to the support and friendship of other bar-and-restaurant-owning families including the Zaffiros, owners of Zaffiro's Pizza, the Bonders, owners of Wolski's Tavern, and the Vituccis, owners of numerous nearby establishments.
"My dad was Michael Zaffiro's first baseball coach and Michael was the altar boy in my parents' wedding," says Greenya. "My grandmother went on a date with the Bonders' grandfather. This has always been a tight-knit block."
Neighbors continue to be strong supporters of the bar, but the clientele goes well beyond Bartlett Street.
"A lot of people stumble upon us, had no idea we were here, and come back again and again," says Greenya.
Champion's is quick with a beer and shot, but also crafts old school, made-from-scratch cocktails like Manhattans, Bloody Marys and Old Fashioneds.
"We've been making them this way since my grandfather owned the bar," says Greenya. "They're still very popular today, but sometimes I think I should just write 'IPA' on everything. We can't have enough of that on tap."
After IPAs, Greenya says his top sellers are Miller Lite and Tullamore D.E.W. whiskey. Greenya works numerous shifts every week behind the bar and spends a lot of time in the space working on other projects. He says the bar is the ideal fit for him, personally and professionally.
"I can talk sports all day long, play cribbage, meet interesting people," says Greenya. "I wanted this since I was 5 years old. My grandparents lived in the 2900 block of Murray (Avenue), and sometimes I'd get bored if my mom and grandma were distracted by my younger twin brothers and I'd just take off and visit my grandfather at the bar."
Since Greenya bought the business in 2000 a lot has changed at Champion's – and a lot has not. The dramatic artichoke wallpaper remains the same and the vintage dark wood back bar is reminiscent of many rounds of drinks from long ago.
"Uncle Timmy picked out that wallpaper and everyone loves it to this day," says Greenya.
Photos of Greenya's family members are framed and displayed on the wall, including one of his grandfather and another of his grandmother and other family members when they appeared on the "Family Feud" game show in the '80s.
"Richard Dawson (former host of "Family Feud") kissed my grandmother," says Greenya. "They won $5,669. Dawson actually got to say 'And the champions are The Champions!'"
Greenya also appear on television in 2005, when he and a neighbor were featured on "Trading Spaces," a reality TV show.
Champion's has undergone new developments. Adding large windows in the front of the bar was particularly important to Greenya when he took over the business. "I wanted everyone to feel comfortable coming in here," he says.
He also added a shuffleboard table, deck and patio. The patio, which remains a work in progress, is one of the largest – if not the largest – on the East Side.
On a hot, July day it might also be the hottest.
"The county came and cut down all the trees that lined the patio. We used to have a lot of shade back there, but now, if it's 3 in the afternoon on a summer day, you might as well be sitting right next to the sun," says Greenya.
To keep patio dwellers refreshed, Greenya put kiddie pools filled with water under all of the tables. "You gotta be resourceful in the bar business," says Greenya, who refers to the new outdoor cooling-down stations as "pool tables."
The patio also features a wall of family crests, hand-printed by Greenya's father-in-law, the late Bob Mills.
"Bob painted those to represent the families of customers who came into the bar," says Greenya. "He was a great help to me in many ways."
Champion's now has a small parking lot to the south of the building that was created after the collapse of 10 green storage spaces / garages that were on the premises for decades.
"There must have been 17 generations of raccoons living in there," says Greenya.
This summer, Greenya plans to work on the patio to offer horseshoes and, maybe, a small bocce court. It currently has 4-square and "bags" (a popular beanbag toss game).
When he's not on Bartlett Street, Greenya visits other East Side taverns as well as numerous Walker's Point establishments, including Junior's Hook, which is owned by his longtime former employee and friend, Matthew Sherman.
"I get to Second Street about once a month. My daughter gets her hair done on the block and I take her whenever she decides what color her hair needs to be," says Greenya.
At Champion's, both history and the present moment are equally as prevalent. Family will never be forgotten, yet Greenya moves forward with fresh ideas.
"We're a comfortable pair of shoes, a good pair of jeans," says Greenya.
Let's drink to that.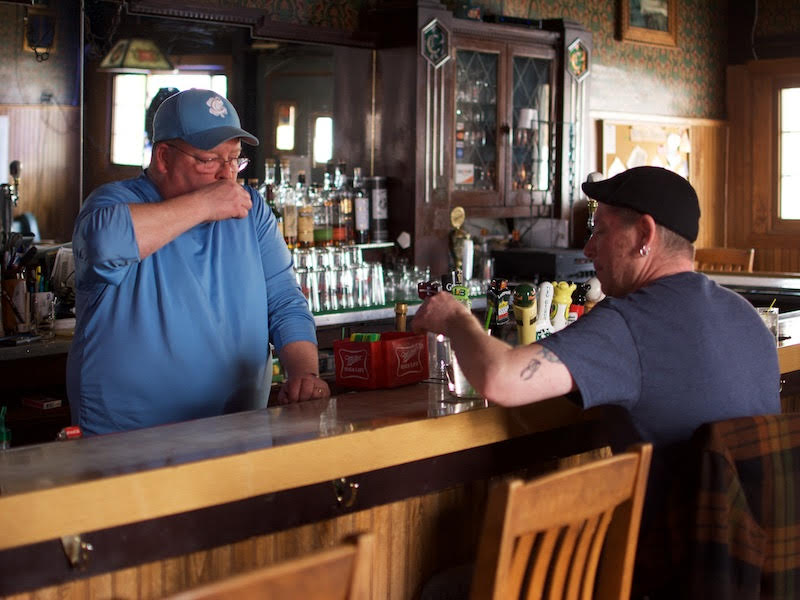 On June 8, 2018, Champion's will host the 60th Pitch 'n' Putt golf outing. Stop in to the bar or visit the Facebook page for more info.

Molly Snyder started writing and publishing her work at the age 10, when her community newspaper printed her poem, "The Unicorn." Since then, she's expanded beyond the subject of mythical creatures and written in many different mediums but, nearest and dearest to her heart, thousands of articles for OnMilwaukee.

Molly is a regular contributor to FOX6 News and numerous radio stations as well as the co-host of "Dandelions: A Podcast For Women." She's received five Milwaukee Press Club Awards, served as the Pfister Narrator and is the Wisconsin State Fair's Celebrity Cream Puff Eating Champion of 2019.