Milwaukee is full of great local brews – and we're not just talking beer. With all of the cozy neighborhoods throughout the city, there are many coffee shop favorites that are off the beaten path, perfect for a mid-morning cup of coffee. Stick around as we unveil some of those favorites and potentially give you some new spots for a cup of joy.
On the first morning post-#PolarVortex2019, I decided to finally get out of the house and go explore a new spot for a Friday morning coffee with friends. So we headed over to the Lower East side to Interval, on the corner of Jackson and Pleasant Streets.
(PHOTO: Lori Fredrich)
We were met with a quiet coffee house vibe, with very minimal white interior design and wood detailing. The coffee shop brews Pilcrow coffee and serves light fare, such as pastries and sandwiches.
My crew all loved our coffee, and we adored the atmosphere of the quiet street and chic design. It was a great way to spend the morning getting some work done and combating those senior scaries. One thing to keep in mind, however: Laptops are not allowed at the espresso bar. You can type away at any of the tables in the shop, but the bar is a designated conversation space.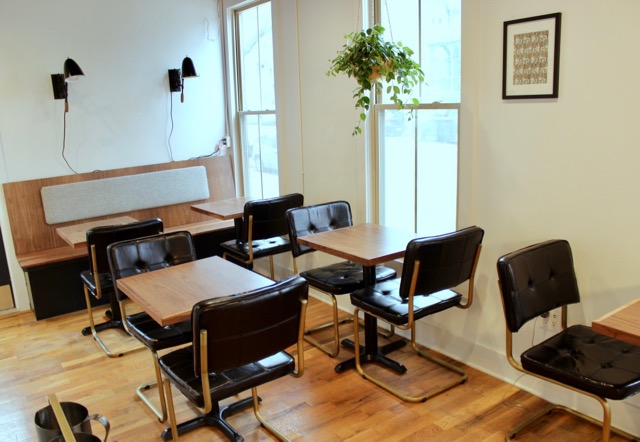 (PHOTO: Lori Fredrich)
As far as recommendations go, I had a great mocha and my friend had a slow drip of the Kigeyo Washing Station from Rwanda, which was to die for. If you are looking for something good to munch on, I would recommend the banana bread, made with chocolate, oat milk and raw honey, garnished with a bit of sea salt. Oh boy.
Needless to say, I think I have found a new favorite work space and study spot. Stay tuned to discover some of Milwaukee's other coffee shop hidden treasures – and feel free to comment some of your favorite spots!