Get ready to soak up more bar articles, imbibable stories and cocktailing content, brought to by Miller Lite. For more of our Bar stories click here!
This article first appeared in December and we're sharing it again today in honor of Pride Week.
Tiny bubbles
In the wine
Make me happy
Make me feel fine
-Don Ho, "Tiny Bubbles"
You may have noticed that after two decades, Fluid on 2nd, 819 S. 2nd St., in Walker's Point, recently changed its logo, replacing the martini glass theme with one laced with Champagne bubbles.
That new logo also gave owner Bill Wardlow inspiration for a theme for this year's holiday decor in the tavern, which he describes as, "a progressive gay bar ... open to everyone."
Colored branches are interspersed throughout the welcoming tavern with strings of bubbles that catch rays of light and redirect them, creating an almost magical effect.
The season decor is plainly evident, of course, but, thankfully, it's also tasteful and reserved.
"We changed the logo in November," says Wardlow. "As you can see, it has bubbles in there. The whole theme is to make you feel like you're in the Champagne glass, with bubbles around you at the top.
"We went around and collected branches. Between myself, and my boyfriend, and my friend who's a florist, we spent two and a half days just spray painting and putting things up."
Although he gets involved, Wardlow says that he often entrusts others to do the decorating.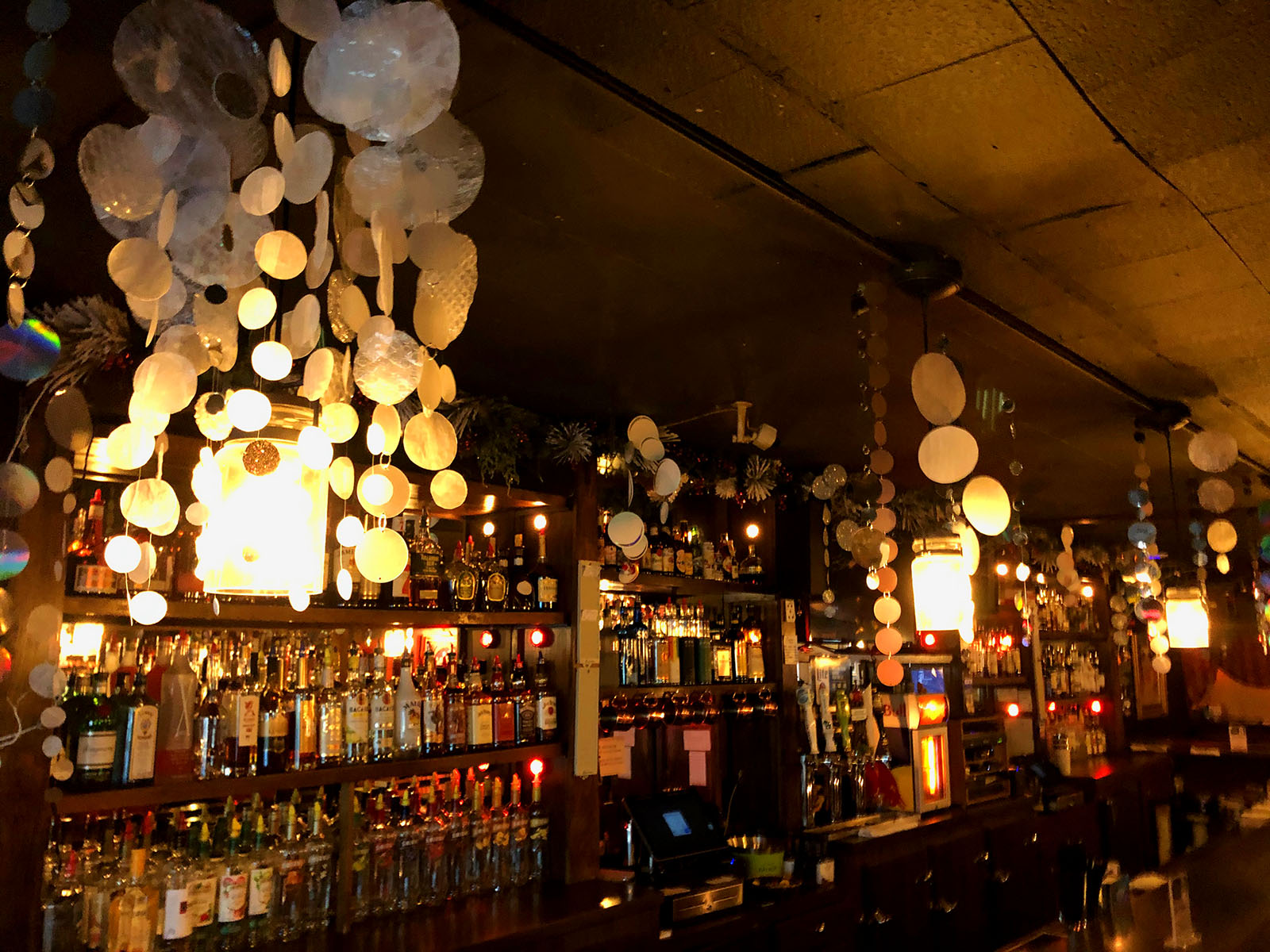 "I tried doing it myself a couple times, and I realized that was just a train wreck," laughs the affable Wardlow. "I tried to surround myself with talented people who can have a better eye than I do and can execute it.
"We try to not repeat ourselves. Halloween and Christmas are by far the two that we decorate the most for. Other one-day events, like Saint Patty's Day, we don't really do much for, (but) with the pictures and everything else, we try to change those out; we try to give people something new to look at every time they come in."
Wardlow is likely the longest-serving barkeep to occupy this building, which dates to 1884, though it hasn't been a tavern that entire time.
A little history
Likely the first occupant, by 1885, was the interestingly named Wanga A. Zergman – who appears to have commonly used his middle name of Alexander (based on census records) – who ran a print shop there and sold stationery in a retail shop on the premises, built when South 2nd Street was still called Reed Street.
The 1894 Sanborn map for the city notes that Zergman's print shop used foot-powered presses, which were common at the time.
It's possible that Zergman's wife, Anna (nee Feffer), ran the store, which at least for a time also served as a newspaper depot and a confectionery.
By 1904, the building was for sale and was described in a classified ad as "a good-paying confectionery store and ice cream parlor," suggesting the shop had a varied menu of services and merchandise.
That same year, newspaper ads began to appear with the headline, "Important to World's Fair Visitors at St. Louis," stating that Herman Kuehn, whose Milwaukee address was the Zergman's place, "can provide you with rooms at the most reasonable prices that can be had in St. Louis. Seven blocks from Union Station, one block from main car line to World's Fair grounds, 20 minutes' ride to the fair grounds."
By 1911, "Captain" Martin Ostrom was running a saloon there, and this is perhaps the first tavern to operate in the building.
Born in Wisconsin in 1872 to a Swedish immigrant father and a Norwegian-born mother, Ostrom was indeed a sailor and by 1910 he was running a rooming house on 1st Street in Walker's Point. That year, there were eight boarders named as living at the lodging and seven of them were fellow sailors.
Once he moved to the 2nd Street place, Ostrom stayed for a number of years, leaving traces into the early 1920s. In 1917, he pulled a permit – the earliest to found among those filmed and on file at the Department of City Development – to underpin the building with a brick foundation and piers.
The building is listed as his address even during World War I when he was working as a licensed boat pilot for Wisconsin Dredge and Dock in Sheboygan, presumably with his wife Lena helping to run the bar.
By 1923, Victor Petek stepped in to run the soft drinks parlor, as the Ostroms had moved on – though perhaps not far because when Martin died, his funeral was held at parlor located on the same block of 2nd Street as his former tavern – and the Fluid building was owned by Mrs. Charles Hermann.
Hermann's husband tended bar downstairs in the saloon, by then operated by Anton Lep as a soft drink parlor.
We know this because that March, the feds raided the bar, seizing 22 barrels of wine, 22 cases of homebrew beer and 60 gallons of beer mash, according to the Journal. Or they destroyed 11 bottles of moonshine whisky, half a gallon of vermuth, 17 cases of home brew and 90 gallons of fermenting beer, according to the Sentinel, which noted, in its more flowery prose, that "500 gallons of grape wine flowed into sewers when federal prohibition agents smashed casks containing the liquor in the basement of Anton Lep's soft drink parlor, 341 Reed St., after a raid yesterday."
Lep and both Hermanns were arrested and, later, the business padlocked.
Two years later, Charles Hermann died at age 42, "fatally injured when he attemped to drive around a street car on the 2nd Street/Plankinton Avenue bridge and crashed into a telephone post."
In 1933, Mrs. Hermann still owned the building, but, soon after, new owners and operators came and went, the place remaining a tavern.
Most notably, Joe Levstek in the late '30s-early '40s (before moving to West Milwaukee and running a bar on 44th Street from 1942 until his death in 1950), Tony's Tap in the '48s and then Anton Riffel ran it in the 1950s as Riffel's until he died in '58. At that point his wife Helen took over and ran it until she passed in 1967.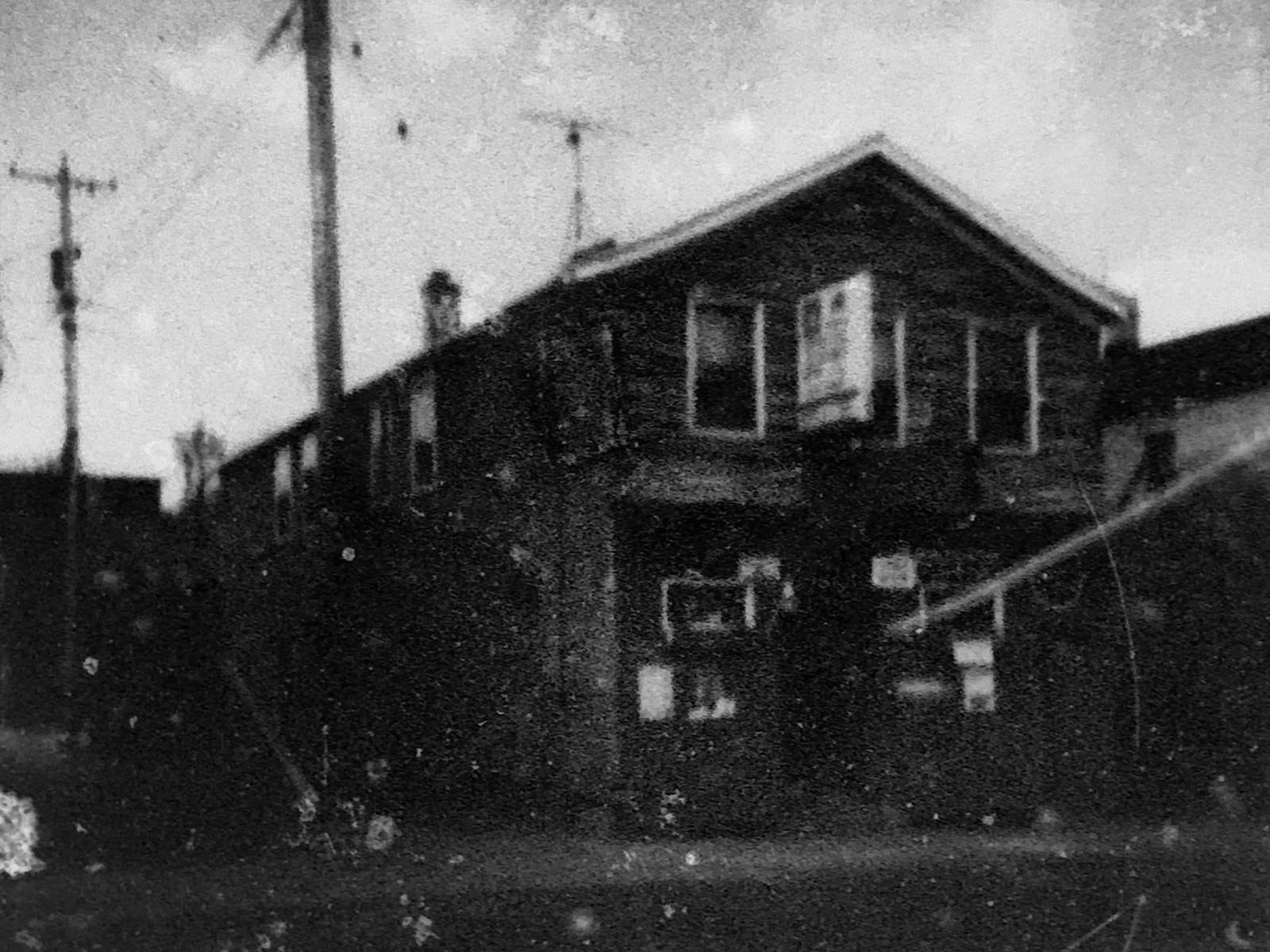 A very grainy City of Milwaukee photo of the exterior circa 1970s.
Then Bert Cartrette operated it as Cartrette's for a couple years before Billy Penny had Penny's Place there. Afterward, it was The Hustler for a while and also The Decision, a gay bar.
A rendering for a sign for The Hustler used to obtain a permit.
By 1980 Sam Orlich – whose parents had operated a bar across the street in the 1950s (that became the first Milwaukee bar of Three Brothers founder Milun Radicevic) – ran it for a couple years as Sam's Place and then Reed Street Inn.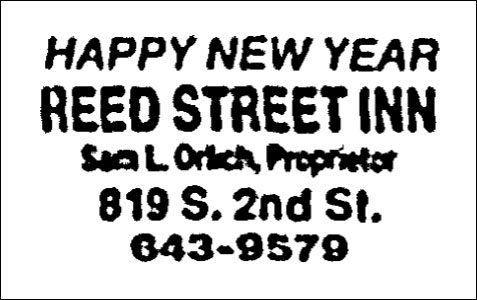 After going on the market in 1981, it reopened in 1982 as The Balding Gap, a name that is said to have referred to the fact that one partner was balding and the other had a gap between his teeth. It was later shortened to The Gap, which is what is was for a few years before Bettie Aiello arrived and opened Mint Bar II, carrying on a longstanding legacy in a new location.
Listed for sale in 1985, the building caught the eye of Aiello, who was looking for a new site for the bar her late husband Angelo had purchased on 4th and State Downtown in 1961. One of Milwaukee's first gay bars, the Mint was doomed to fall to make way for the construction of the Bradley Center.
(PHOTO: Courtesy of Jamie Taylor)
After a wake was held at the Mint in June 1986, the Sentinel wrote, "the vigil signified the closing of the Mint Bar, 422 W. State St. The bar will be relocated sometime in August to what is now The Gap bar, 819 S. 2nd St. Moving the Mint has been one of many hurdles to be overcome in building the $53 million Bradley Center. More than 300 men wearing black armbands attended the sad festivities. Some brought food."
Mint Bar II. (PHOTO: Wisconsin LGBT History Project)
But the new Mint had lost the luster of the old place, according to a post on OnMilwaukee by Michail Takach.
"After the Mint moved, it lost its cache," said Karen Valentine in that post. "Maybe they didn't change enough with the times, but back then, there was just so much competition. After all, there were over two dozen gay bars in the city in 1990!"
According to Takach, Aiello retired in 1991 and the new owner changed the name to BJ's Mint Bar, but after Bettie's death a year later, the name was shortened to BJ's and the bar lasted a year longer.
After a few years as Zipper's, Wardlow opened Fluid in 1998 and the place has been thriving for more than two decades now.
The Fluid era
Wardlow says the inspiration for the name of the bar arrived after a trip to Florida.
"Before this place opened up, I went to Miami on vacation," he recalls. "There was a bar called Liquid there. It was a multilevel, big dance club that had brunch on Sundays. I walked in there and I met the owner. I told him I was thinking about opening up a bar. He said, 'Do you want to take a look around?'
"He took me on an entire tour of his bar, which was very nice of him. He didn't know me from Adam. I got back here and I'm like, 'Liquid. I like that name.' I had a thesaurus at home, and I went and I looked up liquid. The first word underneath it was fluid, and that's how it happened."
Despite the fact that Fluid was a gay bar in a space previously occupied by gay bars didn't necessary mean continuity, Wardlow says.
"The vibe changed with each. Mint Bar ... I think they played Euchre in the back, and they would put out scrambled eggs and stuff on Sunday afternoons. Zipper's ... you can tell by the name. The logo was a half-unzipped ... whatever. I didn't want to be that kind of place."
Instead, Fluid has a nice covered fire pit out back and feels stylish and yet unpretentiously Milwaukee, too. It goes all-out for Packers games, with touchdown shots and game-day specials. There's a generally festive vibe.
"We had a holiday party," says Wardlow, "and we had a drag show. We retain some of the qualities of a traditional gay bar, but we are a progressive gay bar. We are open to everyone.
"It's a gay-owned establishment. We're predominantly gay men, anywhere between 21 and ... I have customers in for happy hour who, some are in their 80. It's all over the board."
Take a look at the Facebook page and you'll see photographic proof of that.
"A lot of cool people come in here, whether they're gay, or straight, or whatever," says Wardlow. "I've worked at bars that were strictly for men. That's an era that's dwindling, I guess. Gay bars across the nation are closing left and right. We're being accepted.
"Back in my day, the only place you went out to was a gay bar because you had to be yourself. That's the only place you could be yourself. Now you can be yourself anywhere, and that's a great thing."
Despite a rough patch during the Great Recession, Wardlow says business is really good, which bodes well for Fluid's future and for Wardlow, who is enjoying the ride.
"I've got a great job," he says. "I get to open up my doors to people who want to come and have a good time and laugh and relax and enjoy themselves."
Born in Brooklyn, N.Y., where he lived until he was 17, Bobby received his BA-Mass Communications from UWM in 1989 and has lived in Walker's Point, Bay View, Enderis Park, South Milwaukee and on the East Side.
He has published three non-fiction books in Italy – including one about an event in Milwaukee history, which was published in the U.S. in autumn 2010. Four more books, all about Milwaukee, have been published by The History Press.
With his most recent band, The Yell Leaders, Bobby released four LPs and had a songs featured in episodes of TV's "Party of Five" and "Dawson's Creek," and films in Japan, South America and the U.S. The Yell Leaders were named the best unsigned band in their region by VH-1 as part of its Rock Across America 1998 Tour. Most recently, the band contributed tracks to a UK vinyl/CD tribute to the Redskins and collaborated on a track with Italian novelist Enrico Remmert.
He's produced three installments of the "OMCD" series of local music compilations for OnMilwaukee.com and in 2007 produced a CD of Italian music and poetry.
In 2005, he was awarded the City of Asti's (Italy) Journalism Prize for his work focusing on that area. He has also won awards from the Milwaukee Press Club.
He can be heard weekly on 88Nine Radio Milwaukee talking about his "Urban Spelunking" series of stories.