If you blinked in the past few years, you missed a change on Brady Street or the East Side – and considering the average person blinks around 10,512,000 times in a year, that's a lot of change. Brady Street has seen many of its iconic names move out and larger buildings and brands, like Qdoba move in. But the real source of the city's pearl-clutching comes down the street on the East Side, where the constant reshuffling of businesses old and new inspired almost as many melancholy think pieces as ramen restaurants and poke places.
On a block stretch on Farwell Avenue, however, between these two loudly shifting tectonic plates lays a tiny bit of classic comfort, a modest Milwaukee time capsule frozen in time. On one side of the street, there's the original Zaffiro's, opened back in 1954. Look both ways and jaunt across the street, and you'll find Halliday's, another cozy, half-century-old local landmark just as old and even homier – so much so that, remove the signage, you could easily walk past the cottage-looking house without really noticing. And many do.
"It's funny for how long we've been here, we always hear people say, 'We walk past this all the time, and we've never been in here,'" said Rosemary Maniscalco, the bar and building owner, with a laugh.
While the bar itself, in its current form, was bought and opened by Maniscalco's husband, Bob Halliday, in 1967, the building itself dates back all the way to the late 19th century, built as a family mansion for Charles Hill Ross, a Civil War veteran and the son of the creator of President William Henry Harrison's famous campaign ditty "Tippecanoe and Tyler Too." Over the following half-century, the space would change and evolve into a residential and commercial building, housing a bakery and deli, and eventually a tavern.
Unsurprising considering it's Brew City, the latter concept stuck around – including after it landed in the hands of Halliday and his then-partner Gus Kelepouris, who together owned several bars throughout the city. In 1972, he bought out Kelepouris as a partner of Halliday's and, two years later, found a new kind of partner: Maniscalco. She was definitely more Halliday's life partner than business partner for the next several decades – "This was his baby; I never even cleaned an ashtray or washed a drink glass," she laughed – but in 2002, he was diagnosed with cancer, his second bout after a scare in the '90s, and his wife found herself in unexpected territory: running the bar.
"When Bob got sick, I was literally thrown into it because he was too sick to do it. And once I was in it, I really kind of enjoyed it," Maniscalco said. "I enjoyed the people and everything about it. So I just continued it – and it's been sixteen years now."
Halliday passed away in 2006, but thanks to Maniscalco, the bar that bears his name and legacy lives on, unchanged.
"I didn't grow up thinking, 'Oh, I want to grow up and be a bar owner.' I was kind of forced into this," she noted, smiling. "But I've met a lot of great people here. A lot of great people."
Outside the building, you see Halliday's history and the building's different eras like the rings in a tree trunk: part brick on the house's first-floor, part rock out front facing Farwell Avenue and part cedar siding – a disco-era '80s relic – covering the second floor as well as a part on the southern wall. And while the bright neon sign out front still says "Halliday's Lounge," inside it's unquestionably Halliday's Irish Pub – a name change made by her husband around 20 years ago, according to Maniscalco, and nailed to the home's side – featuring a stained glass window saying "Halliday's" complete with shamrocks, green tinsel and clover lights wrapping the many mirrors covering the walls and rustic dangling lighting. They do trade out the green lights for actual Christmas decorations as the season approaches, but the bar's origins – Maniscalco is Italian, but her husband's family hailed from Cork, Ireland – remain present.
After its Irish spirit, the other thing you notice walking into Halliday's is how big it is. The seemingly modest home exterior belies the impressive amount of space inside, featuring three sections: the main bar room, a second bonus bar up a few stairs back toward Oakland Avenue and, even further back, a spacious fenced-in patio area. The building also has the permit for the sidewalk out front, so those wanting to quick step out to Farwell Avenue, catch some air and maybe snag a sniff of the pizza cooking across the street can do so.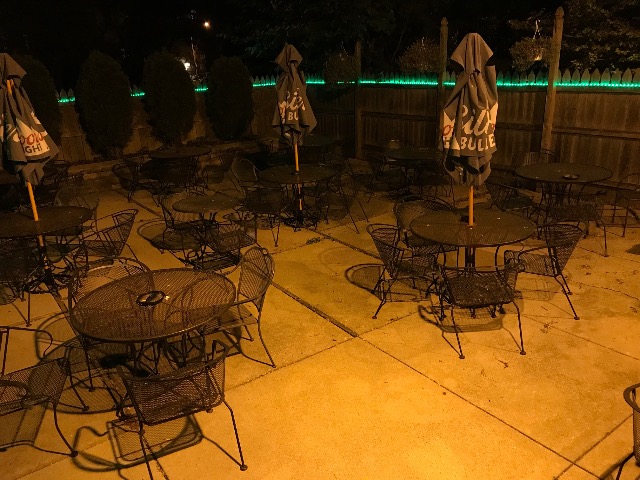 But the most popular area is still the main front room, highlighted by a classic horseshoe-shaped bar that points all the guests toward one another and encourages conversation.
And if you're desperate for an icebreaker, look no further than the incredible antique cash register against the back of the bar, still very much functioning. (It better be, considering Halliday's is still cash only – though there is an ATM inside.)
"It's as old as we've been in business – and it was old when we got it," Maniscalco said. "It's falling apart, but I'm not getting rid of it."
The odds are good you won't need the register's help stirring up conversation at Halliday's, however, which lives up to its reputation as "a 'Cheers' bar," Maniscalco said. And as if on cue, during my visit, a customer dropped in who she greeted by name within seconds of him walking through the door and knew his drink before he even sat down.
As the night went on, a Cubs fan, a Milwaukee native and a pair of Houstonites walked into the bar. No, that's not the start of a joke – but there were many laughs to be had as the eclectic group, diversely spread across race, generation, jobs and geography, swapped travel tales, baseball playoff predictions, fantasy football woes and barbecue recommendations. Everyone's night ended with a handshake with a former stranger.
"We're a friendly bar – and that's important," Maniscalco said. "We get a lot of out-of-town people in the summer … and they'll say, 'This has such a flavor of Milwaukee. This has such a flavor of what Milwaukee is all about.'"
The flavor of Milwaukee, of course, has changed and evolved a lot over the past decade – something Halliday's definitely seen sitting between two iconic neighborhoods that have seen more than their share of ebbs and flows, whether going back half a century to the bar's origins or merely just a year. According to Maniscalco, the area's gotten more expensive – and with all of the city's other neighborhoods growing and developing, the bar crowd is getting pulled in more directions than ever before.
"We'll get people that live around the corner, but say the next year they move four blocks down, they don't come here anymore because there's a bar four blocks down that's closer," she noted, adding that the Halliday's crowd has gotten older over the years, the college-aged overflow from Brady Street turning into empty-nesters from the area avoiding the chaos of the younger hotspots of the main drag. And that's in addition to just the natural aging of a 50-year-old bar's regulars.
Then again, change is nothing new for Halliday's. The bar's seen its sports focus, hosting bar leagues and buses to the state's sporting events, disappear over the years, and the smoking ban have its effects. The patio was a later addition – from 25 years ago, a case of impressive foresight on Halliday's part, predicting the current patio craze. Behind the bar, Maniscalco often hired college bartenders, serving as a happy revolving door or "stepping stone" for their growing industry careers. And she'd bet on more change too – including probably a nudge toward opening a kitchen in the future, probably for whoever owns the bar next.
But all the while, Halliday's has survived and often thrived through the change – probably because of the one essential thing that most certainly hasn't.
"I love people, and I love talking to people and finding out their stories. So we end up finding out about everything – families and husbands and wives and children – and if you never met them, you'd think you'd know them because you hear the stories from the people who sit at the bar," Maniscalco preached. "I was in business, so to me, all business is the same: You treat people well, you pay your taxes and bills, and you meet a lot of people."
As much as it is a gigantic cliché to say that one has always had a passion for film, Matt Mueller has always had a passion for film. Whether it was bringing in the latest movie reviews for his first grade show-and-tell or writing film reviews for the St. Norbert College Times as a high school student, Matt is way too obsessed with movies for his own good.
When he's not writing about the latest blockbuster or talking much too glowingly about "Piranha 3D," Matt can probably be found watching literally any sport (minus cricket) or working at - get this - a local movie theater. Or watching a movie. Yeah, he's probably watching a movie.