Belly up to these bar stories, brought to you by Miller Brewing Co., that explore well-loved but lesser-known taps and taverns from all corners of the city and beyond.
You walk into Jamo's and you're immediately and entirely in Jamo's world, which is intimate and unpretentious and dimly lit and anachronistic. It's stuck out of time (it could be 1951 or 1983 or 2002, though the clocks on the wall will tell you it's always after 5) and place (a block from Brady Street, but nestled snugly into its neighborhood, disdainful of the nearby buzz), with its own people and practices, a distinct sense and style. Jamo's is an old corner tavern, the quintessential dive bar. It's the definition of a hidden gem.
You walk into Jamo's, 1800 N. Arlington Pl., on a random weeknight, and this is the scene: there's a dog lying on the floor, docile and disinterested in new arrivals; the owner's behind the bar, serving bottles of PBR to a half-dozen regulars; a lone TV in the corner is showing some game, unless it's 6-6:30 p.m., in which case "Jeopardy" will be on; it's dark, though a couple strings of Christmas lights cast a Cabernet glow on the wood-paneled walls, which are covered with mirrors, framed oil paintings of sensual women and pastoral landscapes, a mounted dear head, a gigantic sailfish (do not call it a swordfish) and uncommonly few beer signs.
If you don't get one of the six seats at the bar, there are some Formica-topped tables with vinyl benches. In the back is a bathroom with a reputation, and a unique brand of anarchic graffiti. The nightly music is a five-CD rotation, and it's bartender's choice, which on this evening means a lot of The Shins and Ramones.
The place is small, about 900 square feet, and the pace is slow. It's the preserved past, reminiscent of your fun uncle's basement – comfortable, authentic, lounge-y and anti-commercial – but in a 125-year-old building. It's secluded, staunchly removed from the Brady Street blackout crowd, and surprisingly diverse. Jamo's is welcoming but also slightly aloof, quietly sociable but proudly proprietary, almost private-feeling at first if you're not a known face. Be wary of taking out your cell phone.
"What's the point of being at a good bar if you're not gonna talk to anyone and just be on your phone?" one service-industry regular says interrogatively. He then becomes antagonistic, making a joke about the customer's nose (and prompting the guy to leave), before later hopping on his bike that's locked to the street light outside and riding off. Otherwise, the atmosphere is friendly, familiar. The people are interesting and the conversation is genuine.
The amiable owner of the popular pub pup, a Milwaukee native who now lives in Colorado, says Bumba never needs to be on a leash and always finds her way home, even in the mountains. The attentive bartender, Brian – who took over for Jamison Goll, the owner known as "Jamo," who now sits at the bar drinking PBR and chatting with friends – talks about the vintage, mechanical and still-operational 1944 NCR cash register, which is used constantly because the tavern is cash-only and the person that fixes it when it breaks is an 80-year-old, worrisome since "there aren't many of those guys left." The theme of the décor? "A lot of rummage sales," he says.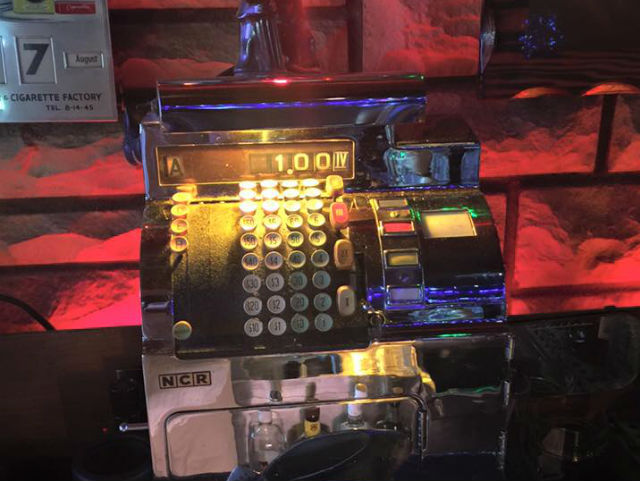 Brian calls Jamo's a "hideaway," and another regular claims it's "the ultimate hidden gem" because it's still exactly the same as when it opened in 2002. He compares it to the BESTD Clinic, joking that "Jamo's and venereal disease, the only things that haven't changed on Brady Street."
While Jamo squints to read the liner notes of the Smithereens CD case he's holding – that one is also in tonight's rotation – the bar discussion turns to the upcoming Brady Street Festivus event, which provokes some grumbling about other area establishments and then a string of "Seinfeld" quotes that crack everyone up. Jamo buys a round of Jagermeister shots for the bar.
There are no gimmicks here – besides being cash-only, Jamo's also sells cigarettes, and a young dude comes in and buys a pack at one point – and no real aspirations to be anything more than a simple, straightforward, old-school neighborhood spot with good drinks and good conversation. And it is that.
Just before leaving, you use the bathroom, where the graffiti is a little more political and revolutionary than the usual spew of swears and slurs. A recent-looking scribble lists "top 10 people who need to get killed," with Donald Trump's name at the top.
It may be hard to find, but look, because it's absolutely worth entering into Jamo's world.
Born in Milwaukee but a product of Shorewood High School (go 'Hounds!) and Northwestern University (go 'Cats!), Jimmy never knew the schoolboy bliss of cheering for a winning football, basketball or baseball team. So he ditched being a fan in order to cover sports professionally - occasionally objectively, always passionately. He's lived in Chicago, New York and Dallas, but now resides again in his beloved Brew City and is an ardent attacker of the notorious Milwaukee Inferiority Complex.
After interning at print publications like Birds and Blooms (official motto: "America's #1 backyard birding and gardening magazine!"), Sports Illustrated (unofficial motto: "Subscribe and save up to 90% off the cover price!") and The Dallas Morning News (a newspaper!), Jimmy worked for web outlets like CBSSports.com, where he was a Packers beat reporter, and FOX Sports Wisconsin, where he managed digital content. He's a proponent and frequent user of em dashes, parenthetical asides, descriptive appositives and, really, anything that makes his sentences longer and more needlessly complex.
Jimmy appreciates references to late '90s Brewers and Bucks players and is the curator of the unofficial John Jaha Hall of Fame. He also enjoys running, biking and soccer, but isn't too annoying about them. He writes about sports - both mainstream and unconventional - and non-sports, including history, music, food, art and even golf (just kidding!), and welcomes reader suggestions for off-the-beaten-path story ideas.