Get ready to soak up more bar articles, imbibable stories and cocktailing content, brought to by Miller Lite. For more of our Bar stories click here!
Colgate may be a small Wisconsin town – the kind of small where its Wikipedia includes, among its most notable events and factoids, the tragic saga of that time a turkey hen moved into town.
But it holds a big-deal hidden gem destination, one that brings in everyone from neighbors nearby to Milwaukeeans making the half-hour drive to those hailing from even further beyond. That'd be Joe Mama's Bar & Grill, an establishment with the silly name but the seriously inventive food and cozy neighborhood confines.
"It's been incredible," said Joe Mama's co-owner Joe Vella. "It's been really a dream come true for me and my business partner, and what we're doing is far beyond what we ever expected to do."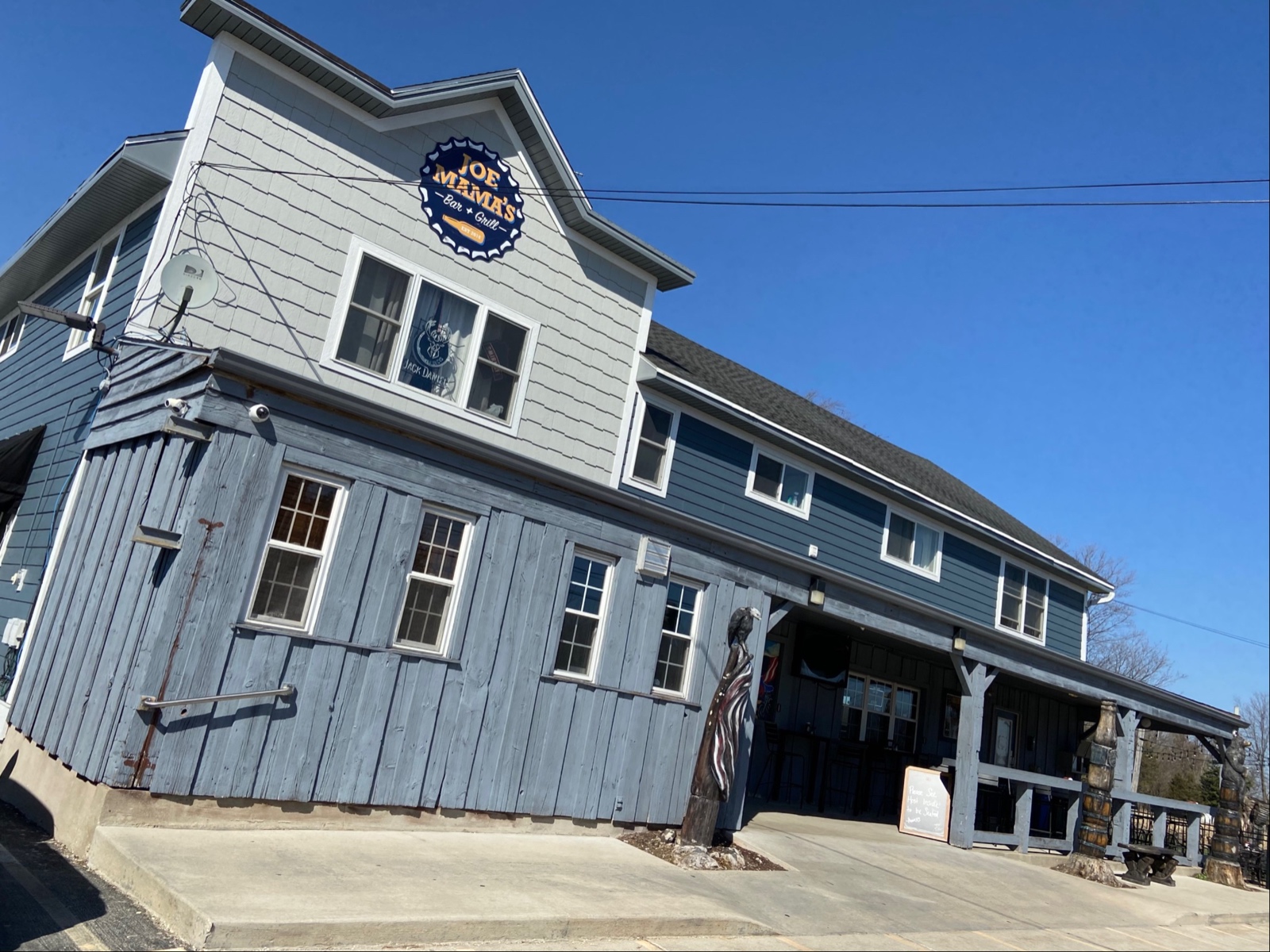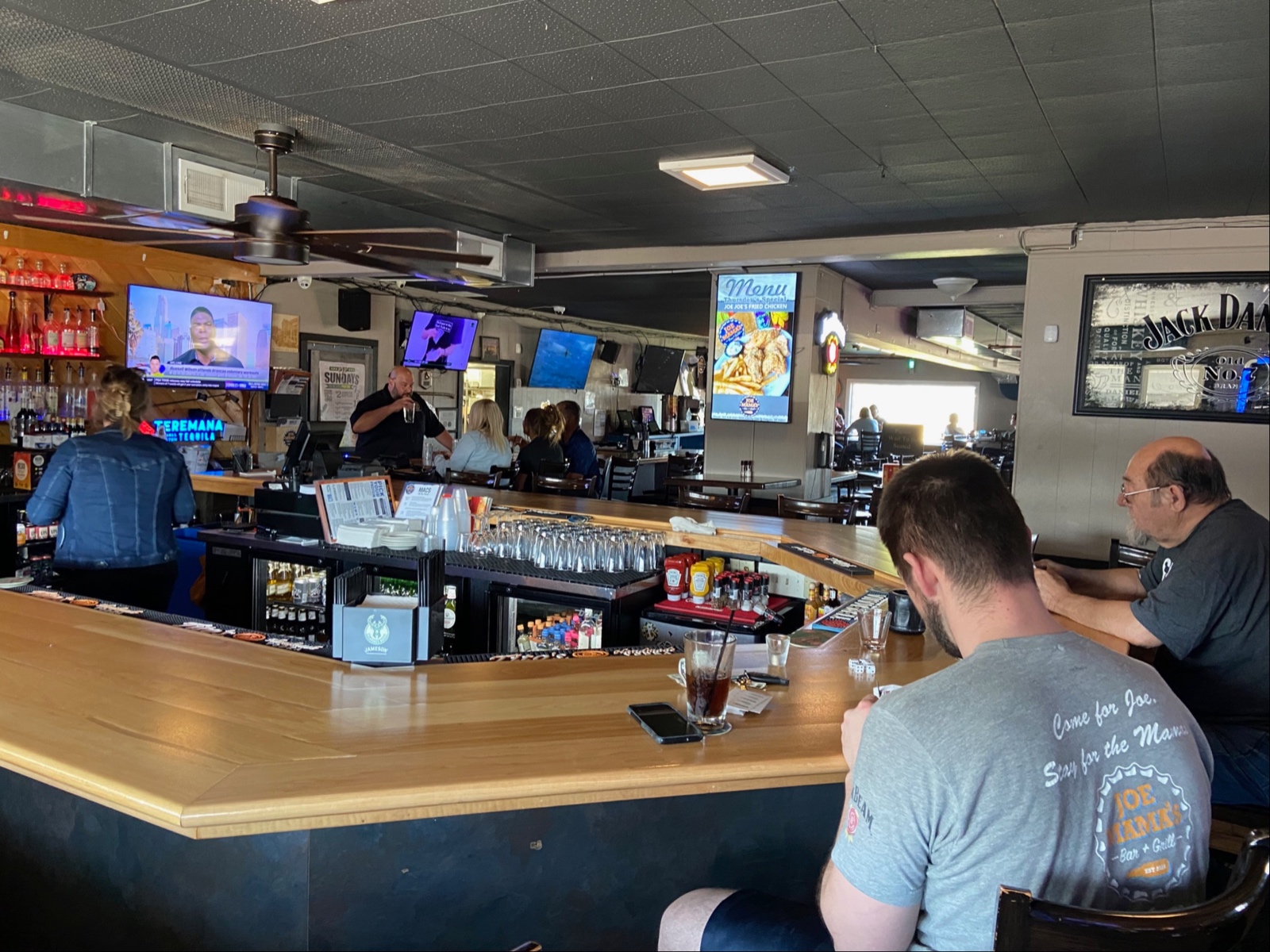 Even more impressive than the following they've fostered is how fast Joe Mama's has found it, doing so in less than a decade's time. Both bar and restaurant business veterans, Vella and his business partner Al Wasley purchased the Colgate locale in 2016.
While Joe Mama's is fairly new, the actual building itself has had a long life in that plot, serving as the Lake Five Hotel and Saloon at least as far back as 1910 according to Vella. (According to the Richfield Historical Society, as simply a home, the building goes back even further to 1876.)
Over the years, the space remained a hub for those near and far, evolving from the Roadside to Uncle Johnny's and now a different family-themed name with Joe Mama's – though no actual mothers were involved with the new moniker.
"We couldn't come up with a good name," Vella recalled. "There were 15 different names but nothing that we thought would stick, nothing that we thought we could brand. We were talking and having a couple of Patrons, and Al just said, 'What about Joe Mama's?' And I almost spit out my drink; it made me laugh and made me smile. And when we passed that idea around to the people who knew we were buying a bar, and everyone had the same reaction: It brought a smile to their face."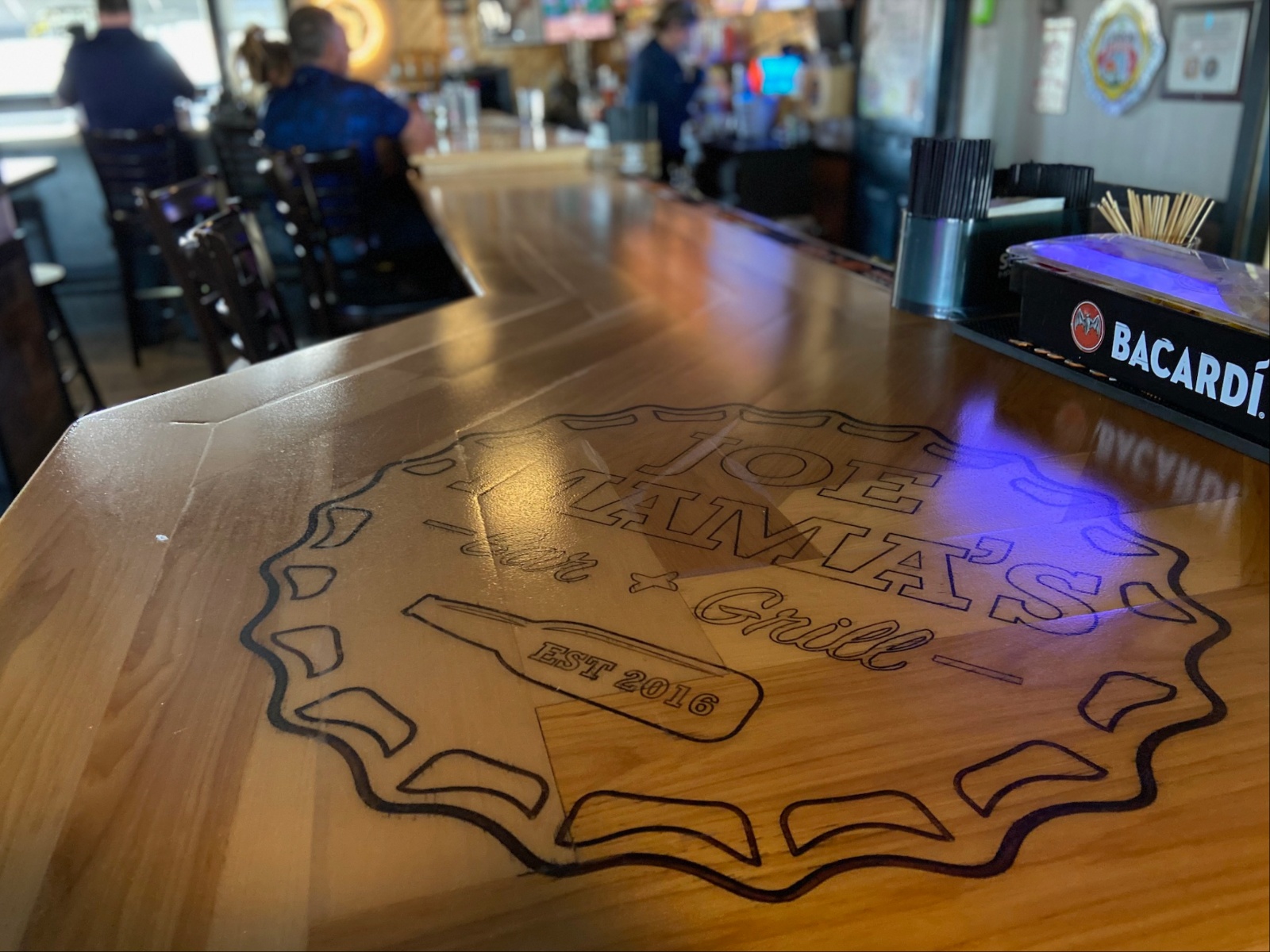 The smiles and the playful attitude of the name outside extend inside Joe Mama's – particularly onto the hotspot's menu. Along with around ten draft beer taps, copious canned and bottled beer options, seltzers, cocktails and more, the locale offers scrumptious specials beyond the usual bar grub. In addition to classics like wings, sandwiches, pizzas, burgers and bar apps, Joe Mama's specializes in mac and cheese, with three regular options – a classic, a buffalo chicken mac and a pulled pork version – along with constantly changing flavors of the week that push the comfort food outside of its comfort zone.
Recent pasta permutations have included a grilled lobster mac, an elote mac, a mac and cheese blanketed in four cheeses plus Nacho Cheese Doritos, and a "Limp Briskit" mac topped with barbecue sauce and smoked brisket – all not even including the mac and cheese nachos on the menu.
Basically, if it can go on top of mac and cheese – or if mac and cheese can go on top of it – Joe Mama's will serve it.
"Mac and cheese is one of my favorites; it's kind of like a blank canvas," Vella said. "Our first four years in business, we never repeated a mac and cheese, changing it from week to week. What is going to make people freak out and say, 'Oh my God, I need to have that.'"
Joe Mama's edible adventurousness isn't limited to its mac-and-cheese mad science, either. The restaurant offers weekly variations on Juicy Lucy burgers and tacos as well – the latter catching eyes and taste buds all around the area when they debuted crab rangoon tacos a few years ago. I can first-hand attest: The crispy culinary collision was worth the wander out to Colgate country, helping turn this small-town hidden gem into a big find.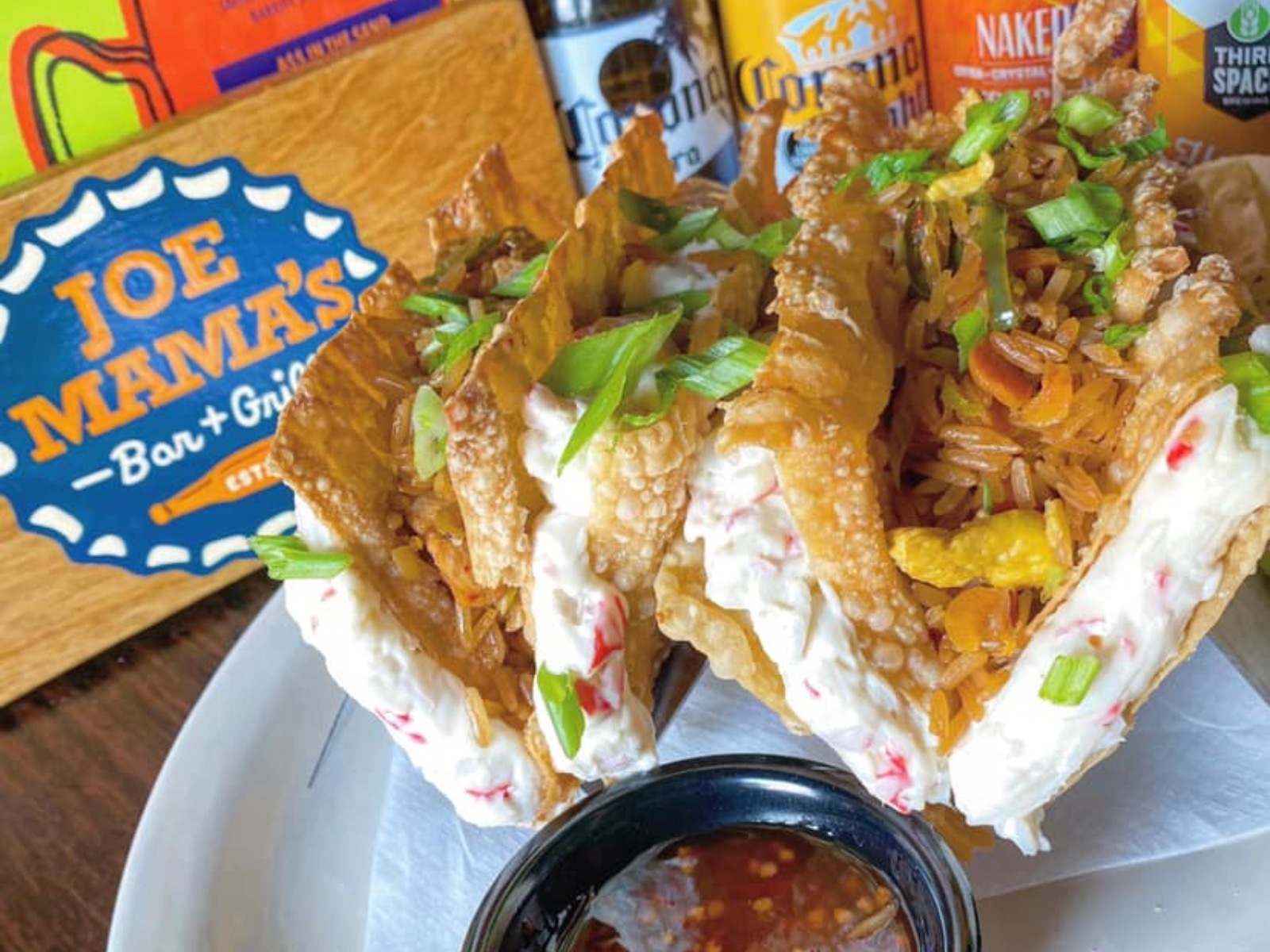 "We did this thing right before school went back in fall called The Freshman Fifteen," recalls Jonathan Weiss, a bartender at Joe Mama's since late 2021. "It was a pepperoni flatbread with homemade mozzarella sticks in there, some chicken. It literally weighed a metric ton and it probably took two-and-a-half years off your life – but it was absolutely worth it."
"When we bought this place, we expected a bar, but it turns out we're a restaurant," Vella said. "We wanted to be a great bar with good food, and now we're a restaurant with a good bar."
It's not just local websites and their hungry culture editors who've taken notice of Joe Mama's crave-worthy creativity during its tenure. Back in 2018, the tavern managed to catch Travel Channel's eye, and eventually their cameras, for a segment on "Food Paradise." The segment showcased their mac and cheese nachos as well as their popular "Hangover Helper" burger, piling three types of cheese, ham, bacon, a sunny-side up egg and cheese curds on top of a half-pound beef patty, all in between a pretzel bun. Now that's "Peak TV."
"When that Travel Channel thing first aired, I would get phone calls from people all over the U.S., saying, 'Hey, my buddy's nickname is Joe Mama; can I get a shirt?' and 'We're going to be in town; can we make reservations?'" Vella noted. "We get people from all over – and people here driving a half-hour-plus."
The resulting good buzz and business required Vella and company to make renovations, expanding the venue's kitchen – but otherwise he notes the skeleton of the building itself hasn't changed much over the years. One wouldn't know being inside, though. The space features an inviting tavern space, half dedicated to its half-circle bar and half dedicated to a sit-down eatery but both warm, with TVs scattered all over showing the night's big games, a portrait of the late Anthony Bourdain in the corner of the bar and a tribute to a dearly departed friend on a central pillar.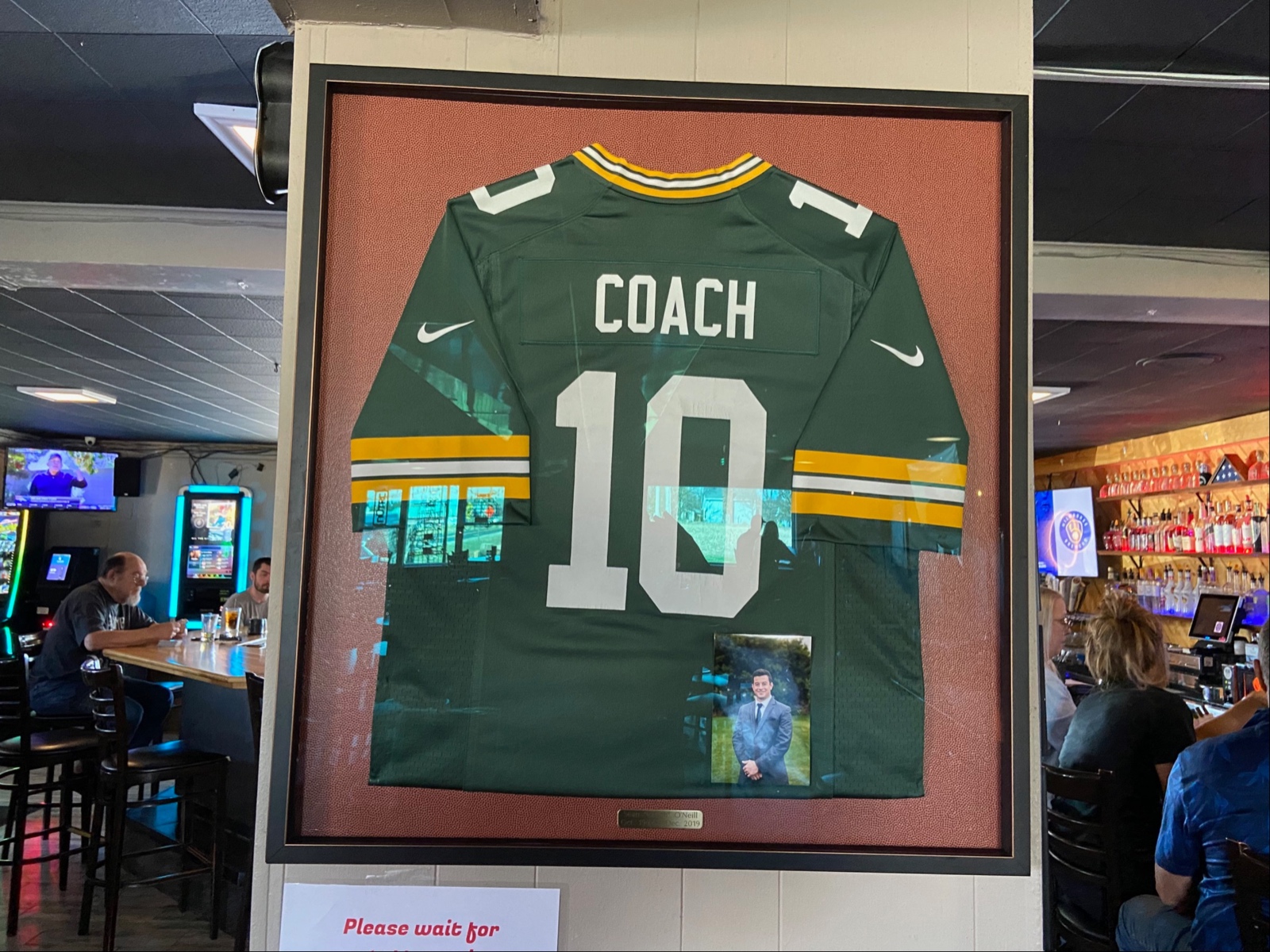 Joe Mama's also features a covered patio space right out front as well as plenty of outdoor space where they showcase a number of branded totem poles, a volleyball court and room for events – including car shows raising money for local causes on every third Monday of the month.
Even with all the flamboyant food, the games on the TV (as well as the bar games tucked away in the front corner) and the outdoor activities, it doesn't draw attention away from Joe Mama's main focus: remaining a community hub for friends new and close, neighbors near and far.
"In this place, we get a good melting pot of people – everyone from their 21st birthday to I just served somebody celebrating his retirement," Weiss said. "This place really becomes kind of a community in itself. Everybody knows what's going on with everybody else."
"This is your go-to, your comfort food," Vella said. "You're going to be comfortable here and have great service and great food. That's what we strive for."
So, in its way, Joe Mama's is an oxymoron: a hidden gem that's also quickly putting its relatively unknown part of Wisconsin on the map, a cozy and comfortable classic that's also eager to try new things and to go for an adventure. For those looking askance at the drive there, it's worth the adventure – and for those updating Colgate's Wikipedia page, it's worth an entry at least one as significant as the turkey hen.
As much as it is a gigantic cliché to say that one has always had a passion for film, Matt Mueller has always had a passion for film. Whether it was bringing in the latest movie reviews for his first grade show-and-tell or writing film reviews for the St. Norbert College Times as a high school student, Matt is way too obsessed with movies for his own good.
When he's not writing about the latest blockbuster or talking much too glowingly about "Piranha 3D," Matt can probably be found watching literally any sport (minus cricket) or working at - get this - a local movie theater. Or watching a movie. Yeah, he's probably watching a movie.