Belly up to these bar stories, brought to you by Miller Brewing Co., that explore well-loved but lesser-known taps and taverns from all corners of the city and beyond.
Stepping into Moran's Pub, the lively and convivial soccer bar in South Milwaukee owned by outgoing James Moran, who seems to know everyone and their extended family, one would never guess that – five and a half years ago – it almost wasn't Moran's Pub, definitely wasn't a multicultural soccer bar and very nearly was not owned by James Moran.
In late 2012, James' dad and stepmom – an Englishman and American who met in the Middle East in the early '80s, moved to Wisconsin, opened Moran's in 1995 and ran it as a traditional and popular Irish pub – were ready to retire. Joan and Jim had drawn up the papers, sold the bar, even thrown a big goodbye party during a December Packers game. But six hours before the deal was supposed to go through, the buyer suddenly pulled out.
"So, it was like, well, shit, we still have the pub," says James Moran in his West English accent.
At the time, James was tending bar at the pub while trying to get the nonprofit organization he'd just started off the ground. He'd been let go from his sales job at Siemens in 2009 but viewed it as a chance to do something new, more fulfilling. A lifelong soccer lover from his childhood days "bumming around" in Birmingham, England, Moran had launched the Milwaukee Soccer Development Group in 2012 to grow the game for underprivileged children and expand public spaces to play in his adopted city.
He felt rejuvenated by the networking and volunteering opportunities. After organizing several successful community and youth events – including a benefit for breast cancer he did at the pub with LeRoy Butler that raised $5,000 in just a couple weeks – Moran quickly developed an invigorating, if exhausting, passion for the work.
"It felt really good, creating something from nothing, helping kids and trying to give back," he says. "But organizing these events became a bit of an addiction. It was all-consuming."
By fall 2015, he'd been doing MSDG full-time for more than a year, and despite the organization's many accomplishments – the Champion's Challenge, SOCCERFEST, MKE World Refugee Day Soccer Final, Milwaukee Cup March, a Jay DeMerit event, charity games, street parties, soccer tennis, delivering innumerable soccer balls and equipment to kids – he says, "trying to make a career out of a nonprofit is challenging."
Moran had broken up with his girlfriend and knew that MDSG was taking time away from his daughter. He felt the pressure of committing to, and almost singlehandedly pulling off, more and more events. "It was like, I can't raise this money, but I told people I could and I want to stand by my word," he says. "It was kind of embarrassing."
And that's where the pub comes in.
Moran is an assiduous, almost unrelenting planner, with a disposition toward social media and marketing, whose core ambitions are to bring people together and improve the community through soccer.
And, while he was executing well-coordinated events and sending out professional-quality press releases, Moran realized his biggest achievements – like working with Milwaukee County Parks and local school boards to remodel unused tennis courts into futsal courts and add FootGolf to area golf courses – were simply owed to chance meetings, enthusiastic conversations and fortunate connections with the right important people.
And many of those occurred at Moran's, which James slowly started taking over from his parents in 2015.
While the first six months "were awful," he says – "it was like banging my head against the wall trying to figure out what worked" – Moran's charisma and soccer fanaticism gave the place a natural identity.
"The pub is a hub," he says. "Three years later, good things are finally happening, not because of fundraising events, but because people come in here, they talk to each other, have a good time, they form relationships.
"It is a football bar, and that's still what people know us for, but I wouldn't be able to make it work if it was just a soccer spot or a typical Irish pub. I do want to get back to doing events, but right now I just bribe people with beer."
Moran officially took ownership of the pub in July 2017, and has infused it with new energy, ideas and, of course, plenty of events. There are now regular pool and darts leagues, beer pong tournaments, power hours, karaoke nights and trivia, live music, dance parties and art shows, community fundraisers, Little League and booster club meetings and weekly soccer watching.
The pub has a large following on its active Facebook page, managed by Moran, who's as engaging behind the bar as he is on social media.
During a recent World Cup game, a dull morning match between Uruguay and Saudi Arabia, Moran politely pauses an interview to pour a pristine Guinness for a regular named Cruz, who assembles fracking equipment but "had to get out of work and have a beer" to celebrate his 34th birthday at the pub. Soon, a friend joins him, and when Moran realizes he knows the friend's cousin, he jokingly remarks, "He's my favorite one in your family."
Through his soccer work on the South Side – a lot of it in partnership with MPS – and the bar, Moran has made a concerted effort to reach out to Milwaukee's Hispanic community. Custom-made Moran's Mexico shirts hang from the walls, and the pub is hosting huge World Cup Fundraising Watch Parties for El Tri, with a portion of proceeds going to the Wisconsin Hispanic Scholarship Foundation via Mexican Fiesta.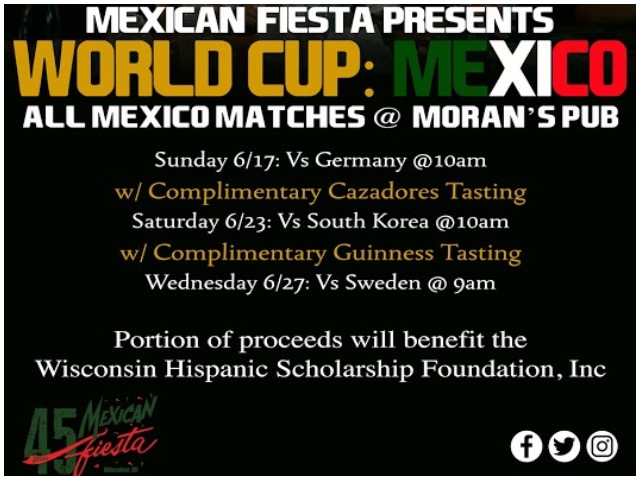 Moran, who came to Milwaukee from Birmingham to attend and play soccer at MSOE in 1996 – the first member of his Irish-descended family to go to university – has strived to create an inclusive atmosphere at the pub. As an immigrant and football fan from a working-class background, who says he gained his self-confidence from working behind a bar in America, he feels he's able to effectively appeal to and unite diverse groups – whether they're total strangers, different ethnicities or merely rival English Premier League club supporters.
"I feel terrible about what's going on in this country," he says, regarding the United States' current immigration policies, particularly the controversial family separations at the border. "I love it here. If I got sent home, I would be distraught, devastated.
"I'm an immigrant, but nobody's shouting stuff at me on the street because I look like those who are doing the stereotyping. I really feel for these people right now."
In the late-90s and early-2000s, when his parents ran it, Moran's was a welcoming, always-packed pub, with regulars and new people coming in to play in the cribbage leagues or talk sports. These days, James is trying to "bring that vibe back," he says.
"You might come in and initially you don't know anyone," Moran says. "But you have a couple beers, talk to a few people and soon you're playing in a darts league or FIFA tournament and you've made a bunch of new friendships."
On this recent weekday, a few Mexican-Americans are watching the Uruguay-Saudi Arabia game, as well as a family with young kids and Jack Pascolini, a UWM advertising and public relations graduate who does design work for Moran's, plus some bartending. Pascolini created a lot of the pub's marketing material and merchandise, and, as a local who's had unpleasant experiences at a couple of the area's other taverns, he wants to help make Moran's the best bar in South Milwaukee.
"I don't really know that much about soccer, but I love James and I love the pub," Pascolini says, adding that he's been soliciting Moran to help him choose an EPL team to lend some legitimacy to his nascent fandom. "It's like a real-life Cheers here; everybody knows everyone's name. Or, at least, James does – I'm learning."
Pascolini appreciates Moran's proclivity toward organizing unique and fun events. "It's like when you're hanging out with your friends in a basement," he says, "and you're like, 'We should do this; what if we did that?' But here we have a business that can actually do it and will make it happen, which is cool."
Over the past few years, Moran has gently tweaked the pub, making his mark on the culture and aesthetics of the establishment that was built in 1907. Moran's has dozens of club pennants hanging from the beautiful, original-tin ceiling, international team flags on the walls, framed soccer photos – including an autographed one of English legend George Best – and a sign James stole from the Birmingham City F.C. stadium after rushing the pitch years ago.
There are some video and board games, including shut the box and cribbage, as well as the dart boards and pool table that attract league members. A back room, which Moran refurbished, hosts community meetings and private gatherings. The bathrooms are immaculate, and posters promote upcoming events at the pub.
Moran's has more than 50 beers, including 10 on tap, ranging from American crafts like 3 Floyds to Irish standbys like Guinness and Harp, plus local breweries. Happy Hour specials are $1 off from 4-6 p.m., and during the school year teachers get half-off all drinks on the first Friday of the month. For the World Cup, Moran's is offering $3 tall rail cocktails, $3 Mexican beers, $3.50 Carlsberg pints, $4 Bloody Marys, $5 domestic tall boys with a shot of Tully and pizza deals ($5 for a 9-inch cheese, sausage or pepperoni; $8 for a 12-inch breakfast pizza).
Half a dozen years ago, when his parents were planning to sell their bar and he was hoping the Milwaukee Soccer Development Group would take off, Moran didn't expect he'd one day own the pub. But he's now not only in charge of the place, but also using it to bring people together and help realize his community goals.
"The soccer part was the easy part," he says. "But I'm not relying on soccer; we're trying to do so many other things. I just want people to come in and have a great time with each other.
"I don't care if a guy has an orange juice to watch the game. I'm probably not a great businessman in that way, but I figure the money's going to come in eventually."
In fact, Moran is so devoted to the 111-year-old pub, he's preparing to live above it. Since fully taking over last July, Moran has been renovating the upstairs, which was once a boarding house, and hopes to move in soon after the floor is finally finished.
"I am really glad that it was never sold," Moran says. "I believe it to be a sign. We're not quite where we want to be, but I see the potential.
"I'm lucky it panned out like this because it's provided me with a wonderful opportunity to continue the family business and have a positive impact on the community."
Born in Milwaukee but a product of Shorewood High School (go 'Hounds!) and Northwestern University (go 'Cats!), Jimmy never knew the schoolboy bliss of cheering for a winning football, basketball or baseball team. So he ditched being a fan in order to cover sports professionally - occasionally objectively, always passionately. He's lived in Chicago, New York and Dallas, but now resides again in his beloved Brew City and is an ardent attacker of the notorious Milwaukee Inferiority Complex.
After interning at print publications like Birds and Blooms (official motto: "America's #1 backyard birding and gardening magazine!"), Sports Illustrated (unofficial motto: "Subscribe and save up to 90% off the cover price!") and The Dallas Morning News (a newspaper!), Jimmy worked for web outlets like CBSSports.com, where he was a Packers beat reporter, and FOX Sports Wisconsin, where he managed digital content. He's a proponent and frequent user of em dashes, parenthetical asides, descriptive appositives and, really, anything that makes his sentences longer and more needlessly complex.
Jimmy appreciates references to late '90s Brewers and Bucks players and is the curator of the unofficial John Jaha Hall of Fame. He also enjoys running, biking and soccer, but isn't too annoying about them. He writes about sports - both mainstream and unconventional - and non-sports, including history, music, food, art and even golf (just kidding!), and welcomes reader suggestions for off-the-beaten-path story ideas.