Get ready to soak up more bar articles, imbibable stories and cocktailing content, brought to by Miller Lite. For more of our Bar stories click here!
Nick's Anvil Inn, 2900 S. 13th St., is a family-tavern-turned-biker-bar that, despite its irregular hours and non-existent advertising, has a local loyalty and a global following.
Today, the corner tap is operated by Chris Tribbey who is the son-in-law of the original owner, Nick Kosalos. In 2013, Kosalos, a Greek immigrant and World War II veteran, passed away, leaving the building and business to his daughter, Nancy, who is Tribbey's wife.
Tribbey worked for House of Harley-Davidson and later Harley-Davidson Motor Company from where he retired in 2018. Since then he's run an antique motorcycle repair service in Caledonia called Bike Works.
But he's also behind the pine at Nick's Anvil Inn, staying true to his word to his father-in-law.
"In his declining years, I asked Nick, 'what do you want to see happen (with the bar)? What do you want me to do?' He said, 'you gotta keep it going. The guys (regular customers) need a place to go,'" says Tribbey.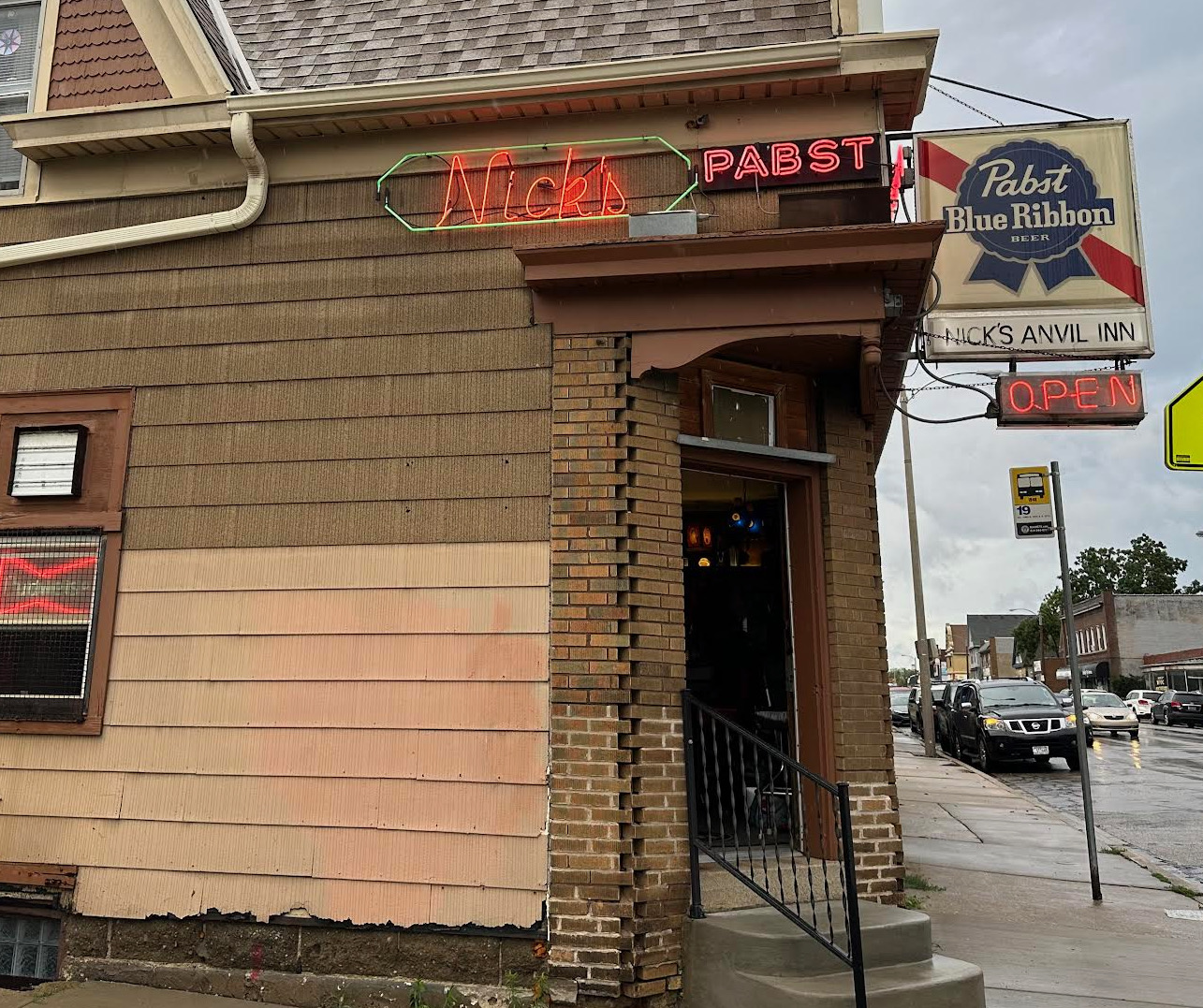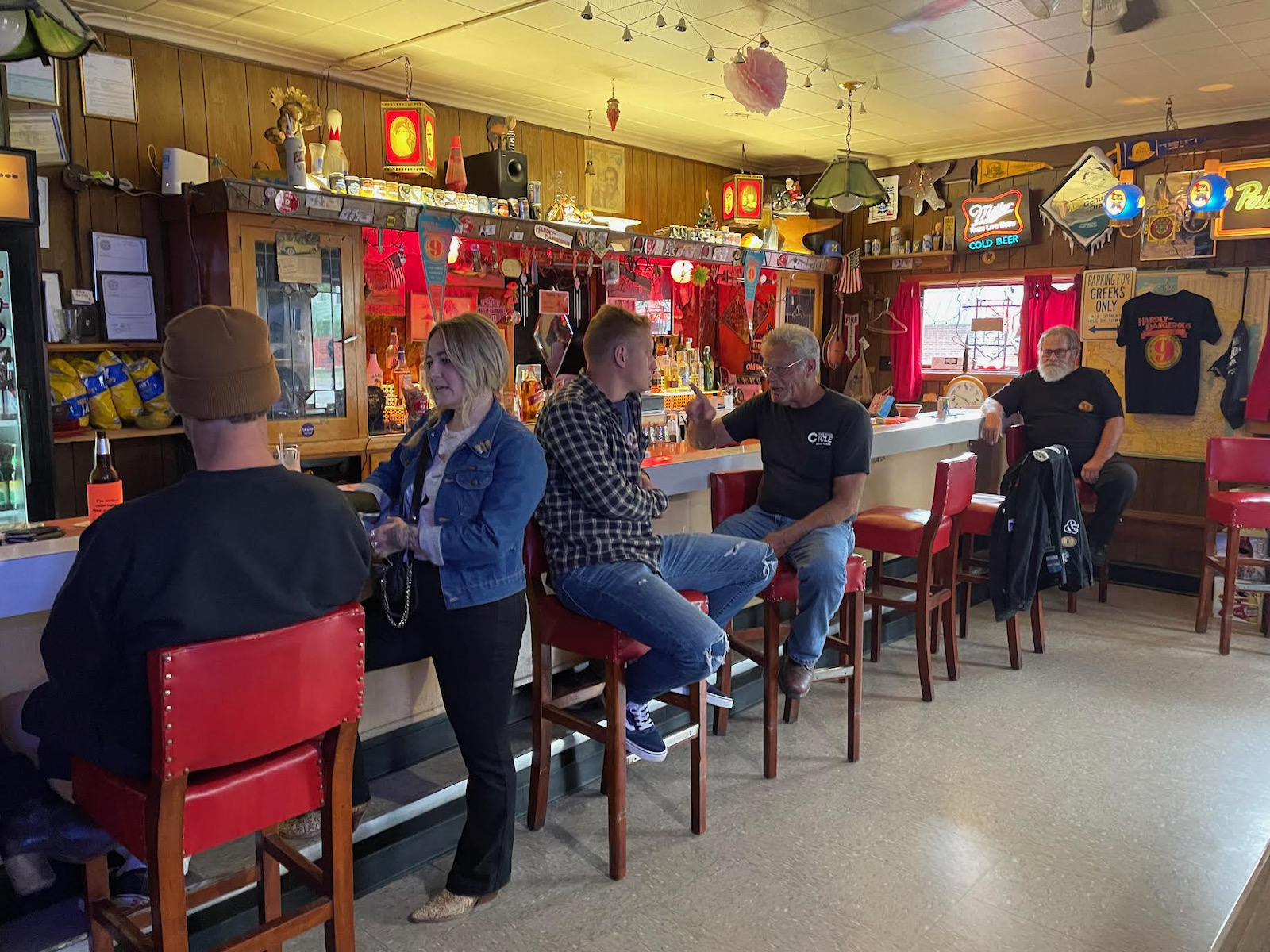 Although still employed full-time by Harley, Tribbey did his best to maintain Nick's traditional schedule which was 10 a.m. to 6 p.m. Monday through Saturday. But when it became too much, he adjusted to fewer hours.
"I tried hiring other bartenders, but it just didn't work out. And it's too emotional for Nancy to be here. She's happy I am keeping this going for her dad, but it's difficult because this will always be her dad's bar. None of the new customers knew her dad," says Tribbey.
In the past decade, Nick's customer base has shifted from mostly neighborhood regulars and trade workers to motorcycle riders of all ages.
"What can I say? I'm a Harley guy," says Tribbey, who bought his first Harley-Davidson in 1978.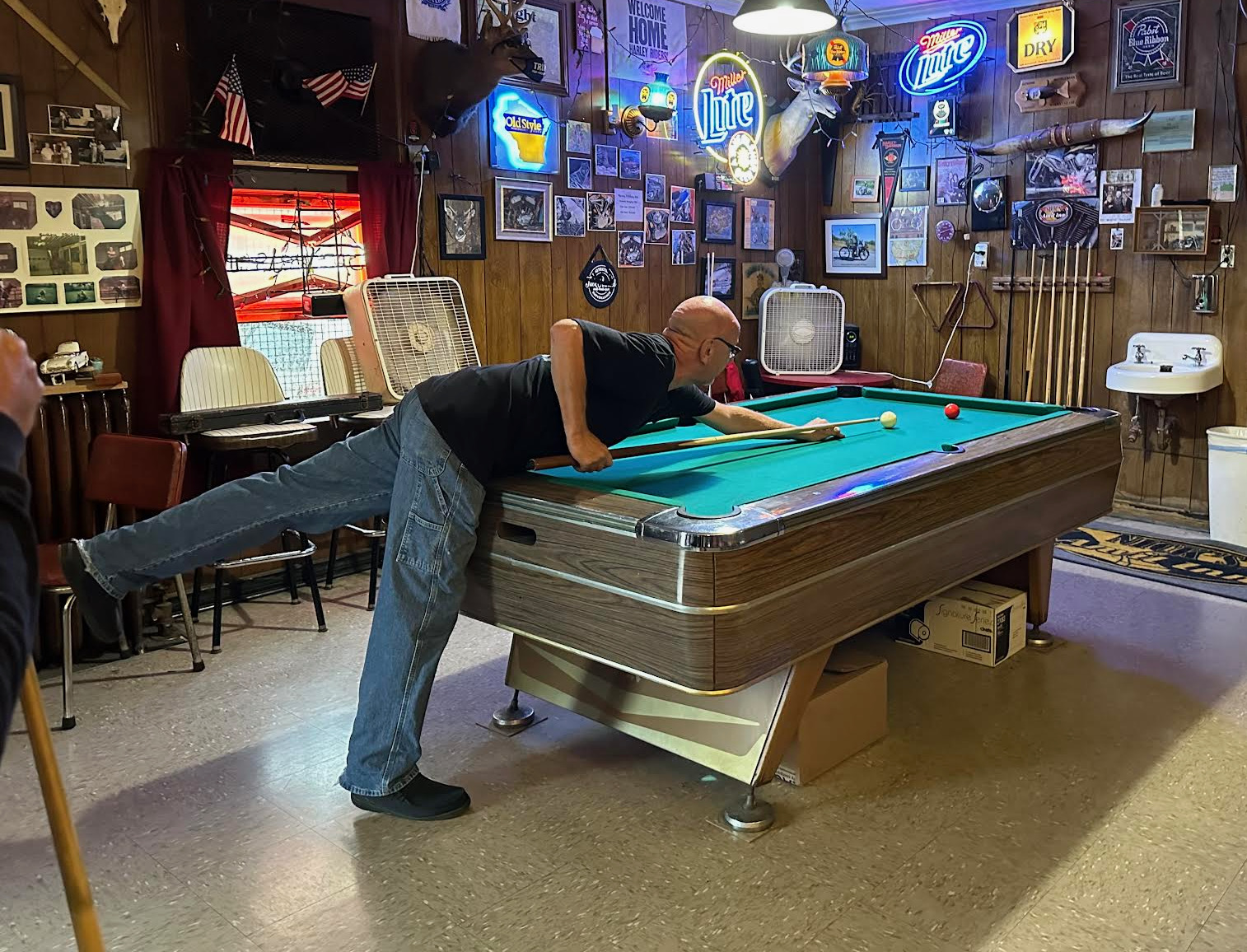 Tribbey strives to keep the interior as close to Nick's vision as possible. The bar top is the original orange boomerang formica; photos of Nick and the family remain on the walls. There's also pennants, a talking deer head, humorous signs, a mandolin that no one knows where it came from, massive bull horns, a long-silenced singing fish, vintage beer lights and signs – many of which Tribbey fixed so they are in top shape – and a smattering of topless women images including one on a large clock next to the register behind the bar.
"I tell people that was Nick's wife," says Tribbey. "Nick was a real jokester. He would like that."
But the most stand-out artifact is a massive gold-painted anvil perched above the bar. The story goes it was a gift to Nick from local slaughterhouse workers when he opened the bar in 1978, at which time it was just called Nick's.
Nick's previous bar, called "Nick's Coal Bin," was next to the slaughterhouse on 16th and Canal Streets (now Potawatomi Hotel & Casino). Many of the workers came to drink after their shifts, so when Nick opened his new place, they brought him one of their 200-pound anvils, spray painted gold, as a gift.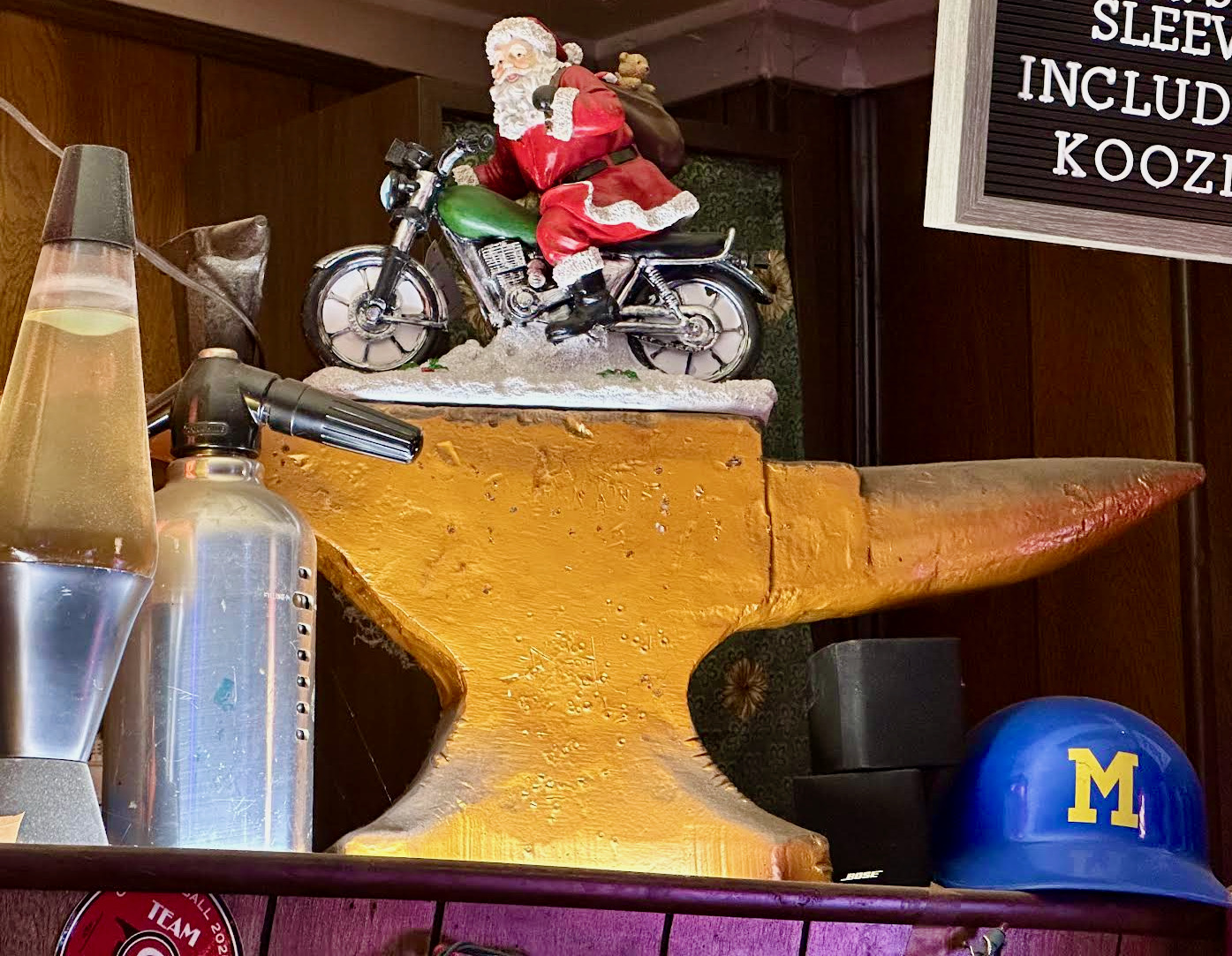 "It's the real deal – one they used in the slaughterhose," says Tribbey. "Apparently, one of the workers brought it in, said 'here's a good luck charm for you,' moved it up there and it's been there ever since."
More recently, many customers brought Tribbey motorcycle-themed gifts that are mixed in with Nick's original decor.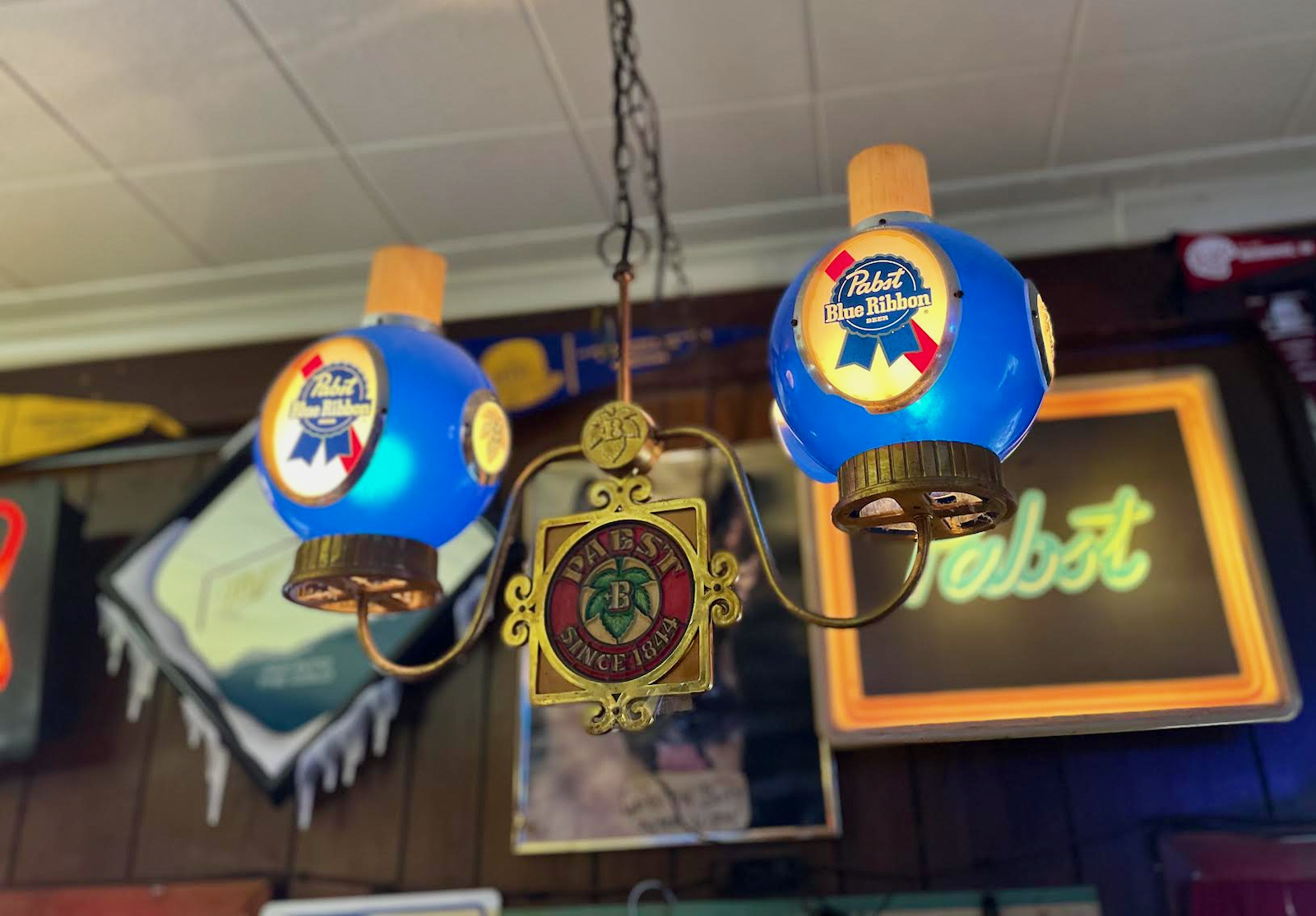 Nick's Anvil Inn unofficially participates with Harley-Davidson homecoming rallies and Mama Tried events, hosting spirited parties that attract bikers from all over the world.
Tribbey was also on the board of the Brewtown Rumble motorycle show for a few years and heavily involved in BUILD Moto, a non-profit organization that teaches kids bike and life skills.
Customers who stay until bar close at Nick's receive a bumper sticker that reads "I closed Nick's" and are encouraged to photograph themselves on their bikes with the sticker during their travels. Thus, Tribbey says he's received photos of his bumper stickers and T-shirts all over the world, including the Eiffel Tower and the Taj Mahal.
The phrase "I'm busy...your ugly...Have a nice day!" is a direct quote from Nick – complete with a missing contraction – and appears on the bumper stickers as well as on a plaque and a sign attached to the top of the cooler.
"I know it's spelled wrong, but I keep it the same on all the newer stuff because that's how Nick had it," says Tribbey.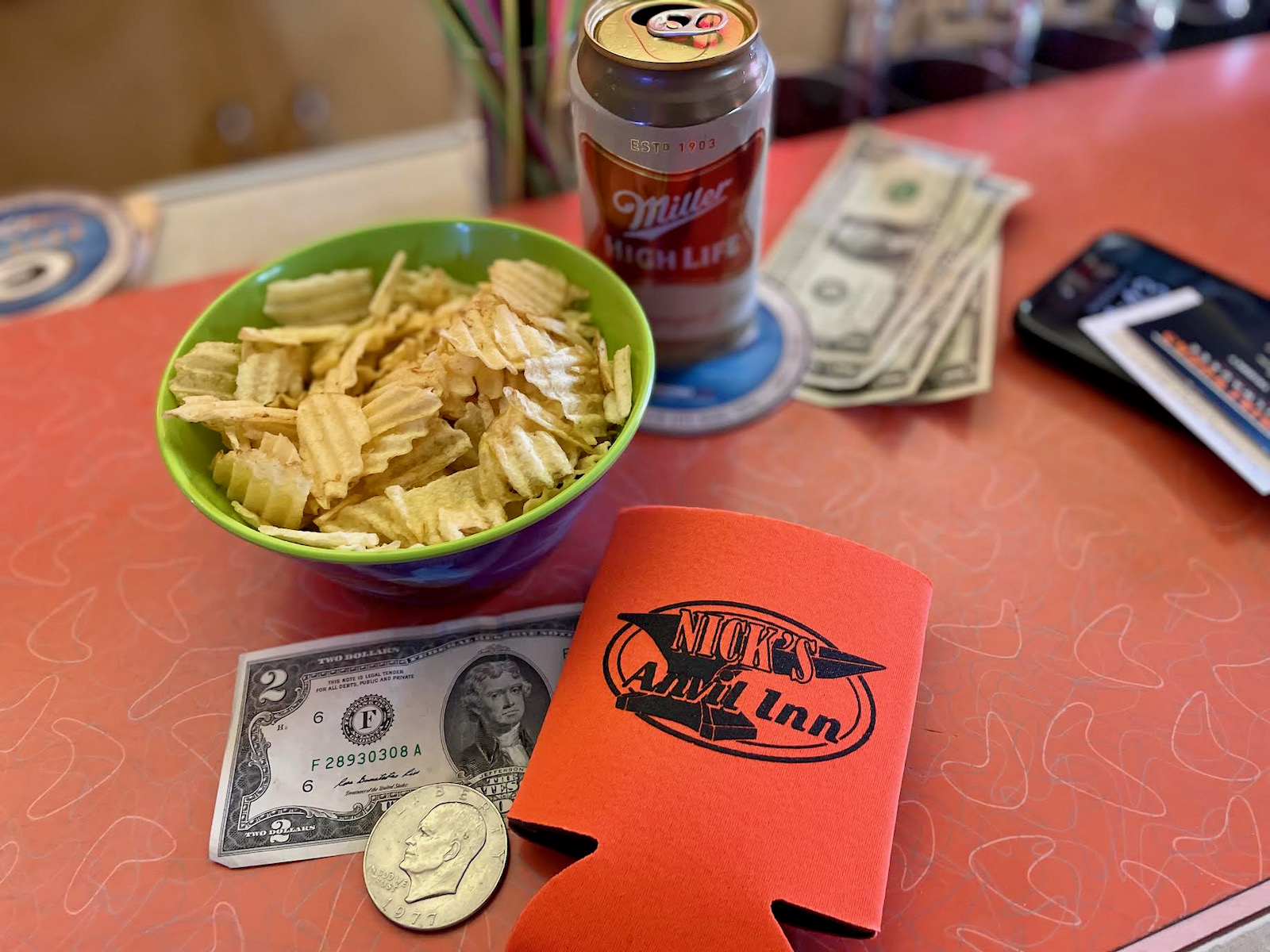 Tribbey has created some of his own traditions at the bar like stocking the register with $2 bills and silver dollars. But many things have stayed the same – including the drink menu.
"This is a beer-and-a-shot joint. Do I make margaritas? Nope. Old Fashioneds? Nope. Bloody Marys? Nope. Screw drivers? Well, fine, I can make a screw driver, but that's about it. And we also don't have tap beer," Tribbey says.
Tribbey plans to operate the bar for as long as he can, but he is the last family member with interest in doing so. He makes the most of his bartending shifts, chatting with customers about everything from sports to history.
"Milwaukee is so rich with history. We are so lucky. I lived in Florida for five years in the '80s and one of my favorite days of my life was the day I moved back to Milwaukee. I can't imagine living anywhere else," he says.
Tribbey also likes to share stories about Nick. During our visit he spoke of Jojo, Nick's dog, who The Milwaukee Journal called "Milwaukee's most ferocious dog" in an article from the 1980s that's framed and hanging on the wall. Apparently, the claim was true, because JoJo would charge anyone who tried to walk behind the bar when Nick was working.
"I wanna keep Nick's legacy going as long as I can. We have something special here," says Tribbey.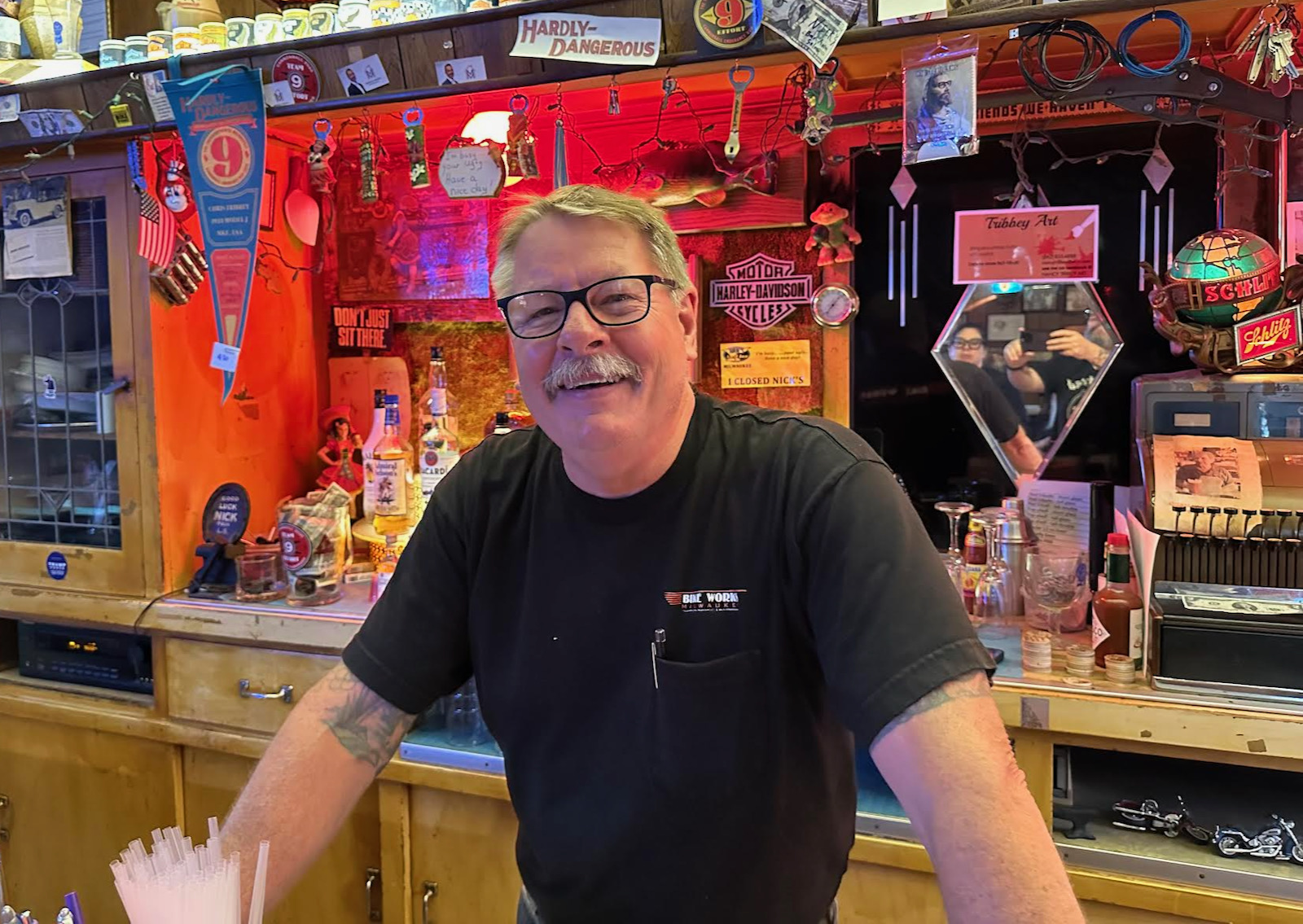 Hours at Nick's Anvil Inn vary, check the Facebook page to stay informed. The bar will be closed during the month of September while the owner attends the Cannonball, a coast-to-coast motorcycle ride from Virginia Beach to San Diego.

Molly Snyder started writing and publishing her work at the age 10, when her community newspaper printed her poem, "The Unicorn." Since then, she's expanded beyond the subject of mythical creatures and written in many different mediums but, nearest and dearest to her heart, thousands of articles for OnMilwaukee.

Molly is a regular contributor to FOX6 News and numerous radio stations as well as the co-host of "Dandelions: A Podcast For Women." She's received five Milwaukee Press Club Awards, served as the Pfister Narrator and is the Wisconsin State Fair's Celebrity Cream Puff Eating Champion of 2019.