Belly up to these bar stories that explore well-loved but lesser-known taps and taverns from all corners of the city and beyond.
Found at 2245 E. St. Francis Ave., Redbar is exactly what it says on the tin: It's a red bar.
Actually, that feels like an understatement. Redbar is an all-caps RED bar, a bright red bar that's redder than the devil's behind. It's a commitment to red unseen since the creation of the Cincinnati Reds in 1882. Enough red to make even a cardinal chirp about it. So much red a bull wouldn't even know where to charge. It's rare to find a building that the Kool-Aid Man could use for camouflage, but tucked away next to the railroad tracks in the suburbs of St. Francis, there you are, facing the loudest reds seen in public since Lucille Ball.
Redbar may be hidden, but it definitely doesn't blend in. But who would want to do that anyway?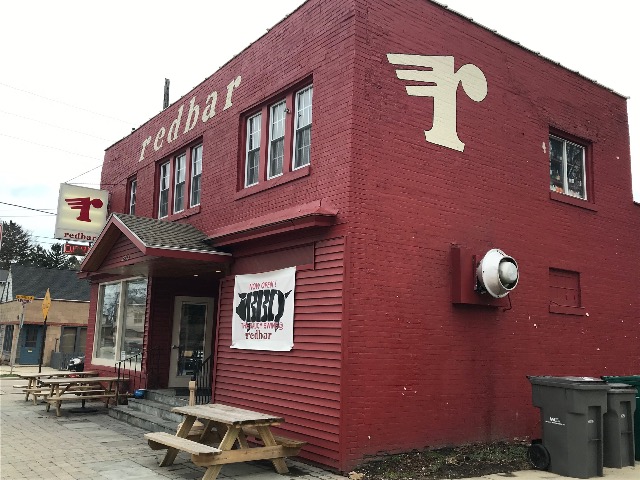 Definitely not co-owners Carrie Wisniewski and Nick Schell, who opened the red-hot St. Francis spot in August 2012. The two were always interested in creating their own community place – a bar for Wisniewski, a restaurant for Schell – but when the former found herself with some extra space in her schedule after leaving Harley-Davidson to start her own consulting business, the time seemed to be finally right. And after searching for the perfect space, moving their focus from Walker's Point over to Bay View and St. Francis, the two found their bar … eventually.
"This building was a very non-descript, kind of grey-ish color, and we drove past it about a half-dozen times looking for it," Wisniewski recalled. "It blended into the sidewalk; you didn't even know it was here. So we were joking with the broker one day that we would paint it red so you could see it from KK. He thought that was hilarious, so when he would refer to other properties, he would say, 'We're gonna look at the red bar.'"
So a bar name was born. ("Everyone thinks it's because I'm a redhead, but it's not," Wisniewski clarified with a laugh.) And after some prodding from friends, plus the official OK from the city, the idea of painting the exterior of the former Cool Water and Madjecki's an eye-catching crimson would become a reality as well.
The personality and character at Redbar goes far deeper than merely a nice coat of colorful paint on the surface. In fact, the space inside is almost kookier and more one-of-a-kind than the maroon shading outside. The walls of both the upstairs and downstairs are covered in old exposed library brick – given that name because it looks like books lined up in a shelf – steel beams stand in plain sight and there's a large cutout of the that gives the second floor a balcony overlooking the front window seating.
"We thought it was this really cool, industrial yet cozy space," Wisniewski said. "With all these windows and all this natural light, it's not like drinking in somebody's basement – which I love those kinds of bars, don't get me wrong. But we wanted to do something that was bright and friendly and inviting."
While the bones of the building first caught Wisniewski and Schell's eyes and won their hearts seven years ago, the two have since added even more personality and character of their own to the space. In addition to the usual TVs, pool tables and bar signs, perched above the front windows are a Harley bike and engine – gifts and tributes to Schell's current employer and both co-owners' motorcycle of choice. ("It was a treat to get up there," Wisniewski joked.)
Nodding in approval just below that decor, circling the first-floor seating, are dozens of bobbleheads from local sports icons famous and forgotten, to even a pope – placed next to another figure of near religious devotion, Pat McCurdy.
Wisniewski has no explanation for her bobblehead love, and that she'll put whatever bobbleheads she's offered up on the shelf as a part of the collection. She does, however, have a sentimental favorite of the bobbling bunch.
"I had a kickball team that I sponsored and played on," she explained. "I'm terrible at kickball, but it was so much fun. We played for three seasons, and they called me 'Captain' because I was the one who got the team together, so they made me a bobblehead of me. And it looks way better than I do in real life!"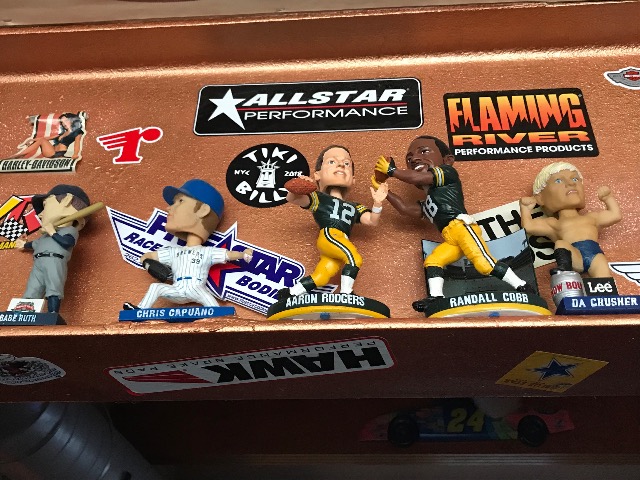 In addition to fun trinkets and antiques, if you go during dining hours, the space is filled with the scrumptious smells of barbecue cooked by The Saucy Swine, where Chef Matt Nuetzel uses the kitchen for serving up tasty soaker pads to those inside Redbar as well as catering events far beyond.
Food was always going to be a part of the plan, according to Wisniewski, but as work accumulated with renovating the building before opening, not to mention merely learning the nitty-gritty details of running a bar after, a menu was placed on the back burner. However, in 2015, Redbar eventually brought in cook and friend Sean Henninger to run their first food service – a success albeit short-lived as Henninger departed after just over a year to open his own restaurant, Popolo Pizzeria, in Mineral Point.
A year later, Nuetzel and The Saucy Swine moved in and any rumbling stomachs moved out thanks to a menu of smoked meat platters, comfort foods, small bites and, despite its name, even some vegetarian alternatives. The highlights, however, are the sandwiches and dishes incorporating something the chef calls "que-sion," a hybrid of barbecue and international flavors that's become a bit of a hit worked in amongst the menu's sandwich and small bite options. Wisniewski particularly recommends the Milwaukee Melt, which combines smoked brisket with an herb-filled goat cheese spread and Creole slaw.
"It's hands-down my favorite," she raved, adding that the belly bites (deep-fried pork belly in rib dust) and bacon cheese bombs (bacon bits and a seven-cheese mix, deep fried) also stand as her picks for the best bar snacks as well – though maybe not at the same time, for your heart's sake.
And in case that wasn't enough personality packed into one bar, just recently, the St. Francis hangout added even more character with the opening of Ula'Ula, a new tiki lounge found in its second floor on Fridays and Saturdays, run by current Redbar bartender and former Lucky Joe's Tiki Room owner Lee Guk.
"We just weren't using this space – maybe a few times a year, once a month tops – and we had all this real estate that we weren't doing anything with," Wisniewski explained. "Everybody loves tiki drinks – I don't care who you are."
Opened on April 12, Ula'Ula – which means "red" in Hawaiian – serves classic tiki drinks in a relaxed space made for conversation, decorated with plants, glowing puffer fish and pictures of famous people – Jay-Z, Stone Cold Steve Austin – edited into beachside loungers, complete with flowered shirts and colorful beverages.
"It's a whole different vibe up here than downstairs," Wisniewski said. "People are cranking the jukebox down there and playing pool and darts and shuffleboard, while up here you can listen to chill music and drink some tiki drinks. I think it's going to be cool."
Even with all the personality painted on the walls outside, or placed on the walls inside, or served up on its dishes, the real color and heart of Redbar comes from the eclectic community its built over its almost seven years of business in St. Francis. At its start, back in 2012, many people assumed, due to its Harley-associated owners and the bikes decorating its walls, that Redbar was a biker bar. It isn't really, Wisniewski notes, but it also is – the same way it isn't a sports bar but it is, a tiki bar but not entirely. It draws those people, but isn't exclusively for them – and that's just the way Wisniewski hoped Redbar would turn out.
"It's what you want it to be," she noted. "If I read through the reviews online, people say, 'I feel completely comfortable there,' whether they're part of the LGBTQ community or a biker or one of our happy hour old-timers who bar-hop around the neighborhood or food people. I like that everybody feels like it's their bar, no matter what their hobbies or professions are.
"And when we bought this bar, it was boarded up and in foreclosure and closed for a couple of years. It's not like we walked in, took the keys from somebody else and said, 'We'll take your customers.' We had to find them and built that. And that's really rewarding."
As it turns out, behind its blunt, bright red exterior lies a bar with shades of all sorts, a hue for everyone.
As much as it is a gigantic cliché to say that one has always had a passion for film, Matt Mueller has always had a passion for film. Whether it was bringing in the latest movie reviews for his first grade show-and-tell or writing film reviews for the St. Norbert College Times as a high school student, Matt is way too obsessed with movies for his own good.
When he's not writing about the latest blockbuster or talking much too glowingly about "Piranha 3D," Matt can probably be found watching literally any sport (minus cricket) or working at - get this - a local movie theater. Or watching a movie. Yeah, he's probably watching a movie.