Get ready to soak up more bar articles, imbibable stories and cocktailing content, brought to by Miller Lite. For more of our Bar stories click here!
It doesn't matter if you visited Sir James Pub in Port Washington five days ago or five years ago, owner Jason Rabus will remember what you drank the last time you were there.
"We joke that our bar is like 'Cheers' except we may not know your name. But we will always know what you like to drink," says Sir James Pub marketing manager Lindzy Willborn.
Rabus has worked at Sir James Pub since he was a teen. The original owner, Herbert James, was his mother's best friend. Ten years ago, Rabus purchased the busness and building from James.
Today, the pub is still a family business. Willborn and Rabus are life partners; Rabus' dad and brother are regular bartenders and his mother takes shifts when her rotator cuff permits.
The ambient, cozy British pub-themed bar is only eighteen feet in width but boasts about 950 different bottles or cans of imported and craft beer, 18 rotating taps, 250 Burbons and Scotches, and dozens of tequilas and rums.
"We have 10 to 20 new things a week. We are constantly rotating our stock. Most of our regulars come in and say, 'Jason what do I want today?' And then he gives them something based on what they like," says Willborn.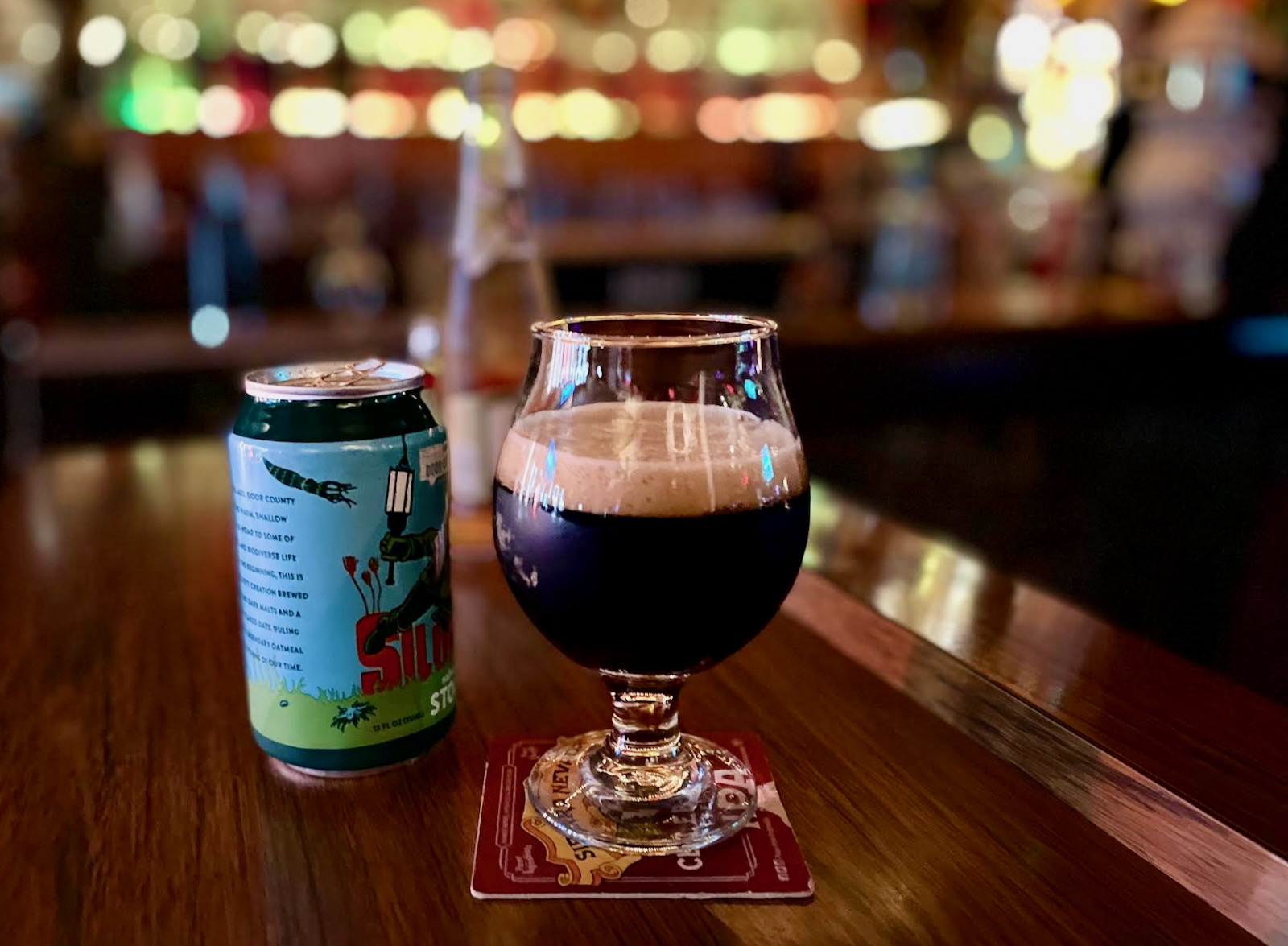 "We specialize in anything local or weird or rare or cool or small. If you can tell me a story about your beer or spirit, we are happy to bring it in. On the flip side, we probably don't have that drink you had at the last bar. Well except Miller. We will always have Lite and High Life."
Sir James also serves a house-made, award winning Bloody Mary.
"We've won contests for both Best Bloody Mary and Best Garnish. We use simple, local ingredients for our garnishes. It's always meat and cheese for the win in Wisconsin," says Willborn.
Along with the Euro-pub theme, Sir James also has a groovy, 70s feel with dark wood, stained glass, beer labels covering the ceiling and a collection of tchotchke from knights to nutcrackers to Beefeater figurines.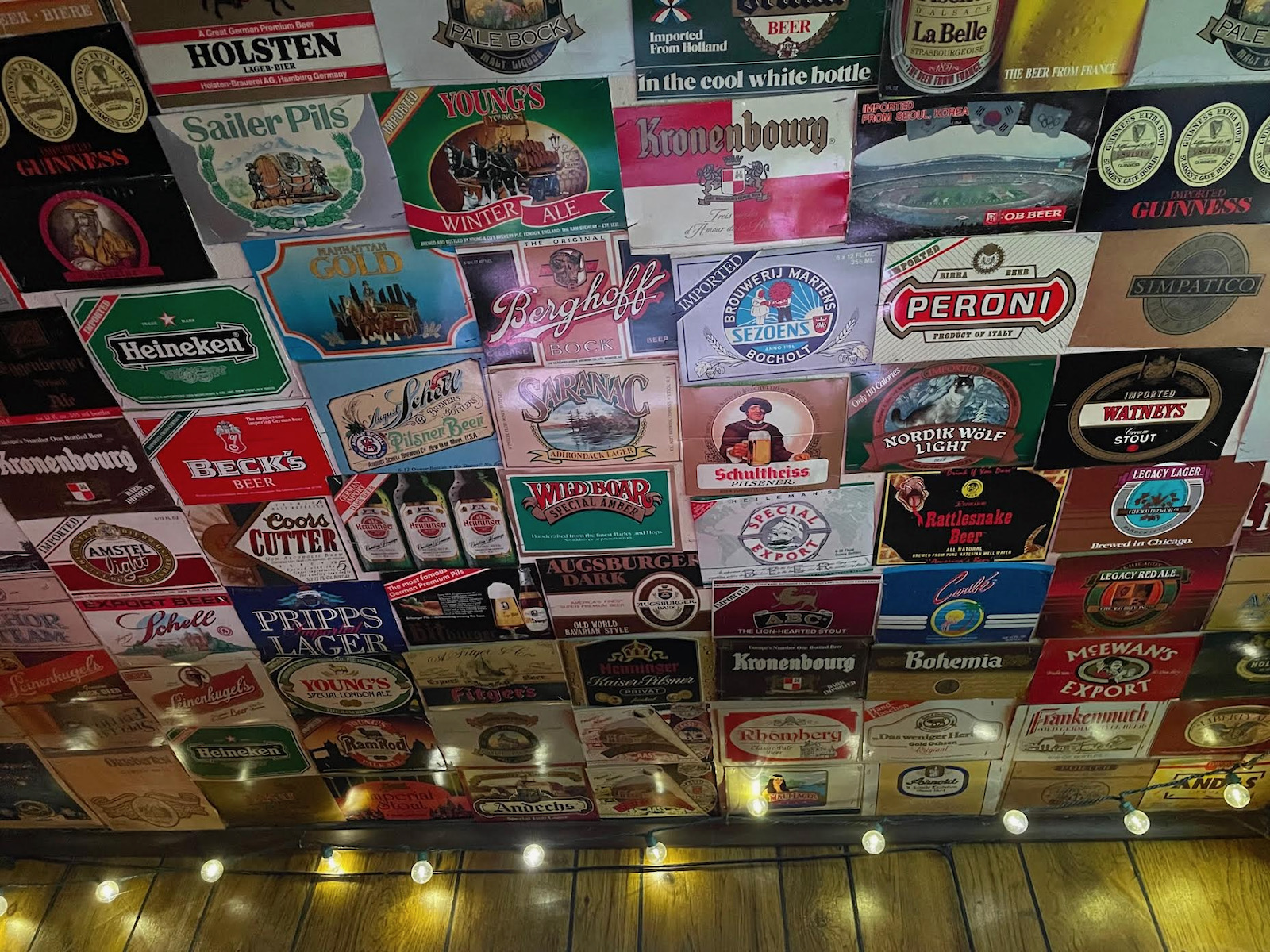 These items represent only a fraction of what was there before Rabus bought the bar.
"We cleaned out a lot of stuff, but remained dedicated to what it was, too," says Willborn.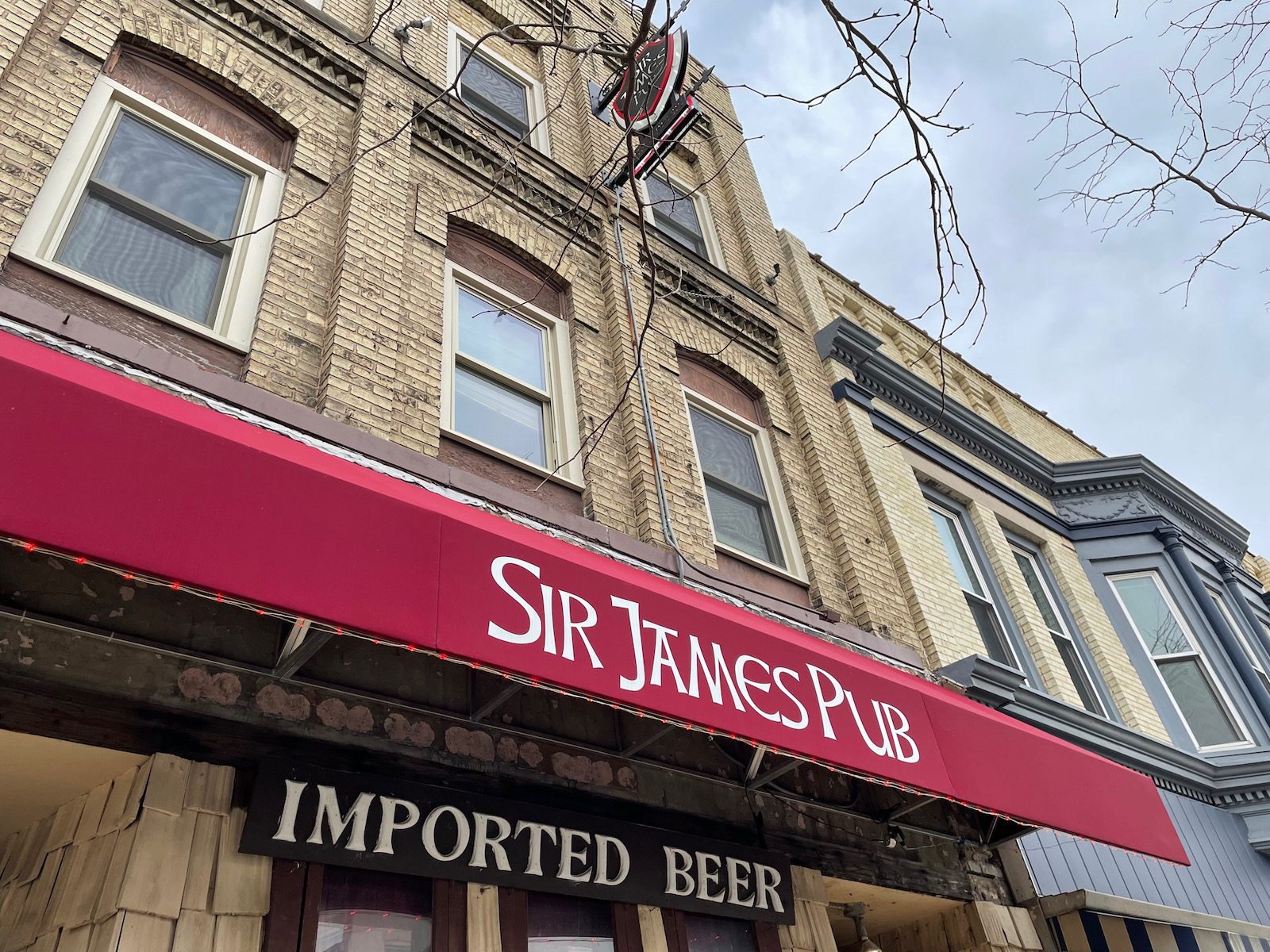 During the week, most of the clientele are local people and service industry workers. Some of the regulars have deep roots in Port Washington.
"I moved here in second grade and sometimes I'm still considered 'new' to Port Washington," says Willborn.
Willborn says they didn't intend to be a service industry bar, but it's been a wonderful surprise aspect of owning it.
"I love that we are so interconnected with the Port service industry. So many good ideas and fun stuff for the community come from everyone hanging out here," says Willborn. "Plus I get to hear all the 'hot goss.'"
On weekends and in the summer / fall, Port Washington resembles a mini Door County and so the pub attracts tourists from all over the Midwest and beyond.
Perhaps the most famous customer is The Captain, a life-sized captain statue who has sat at the the bar for 40 years. "Herbie (the former owner) had him rigged up so he would occasionally speak and startle the crap out of people, but he's been pretty silent for years," says Willborn.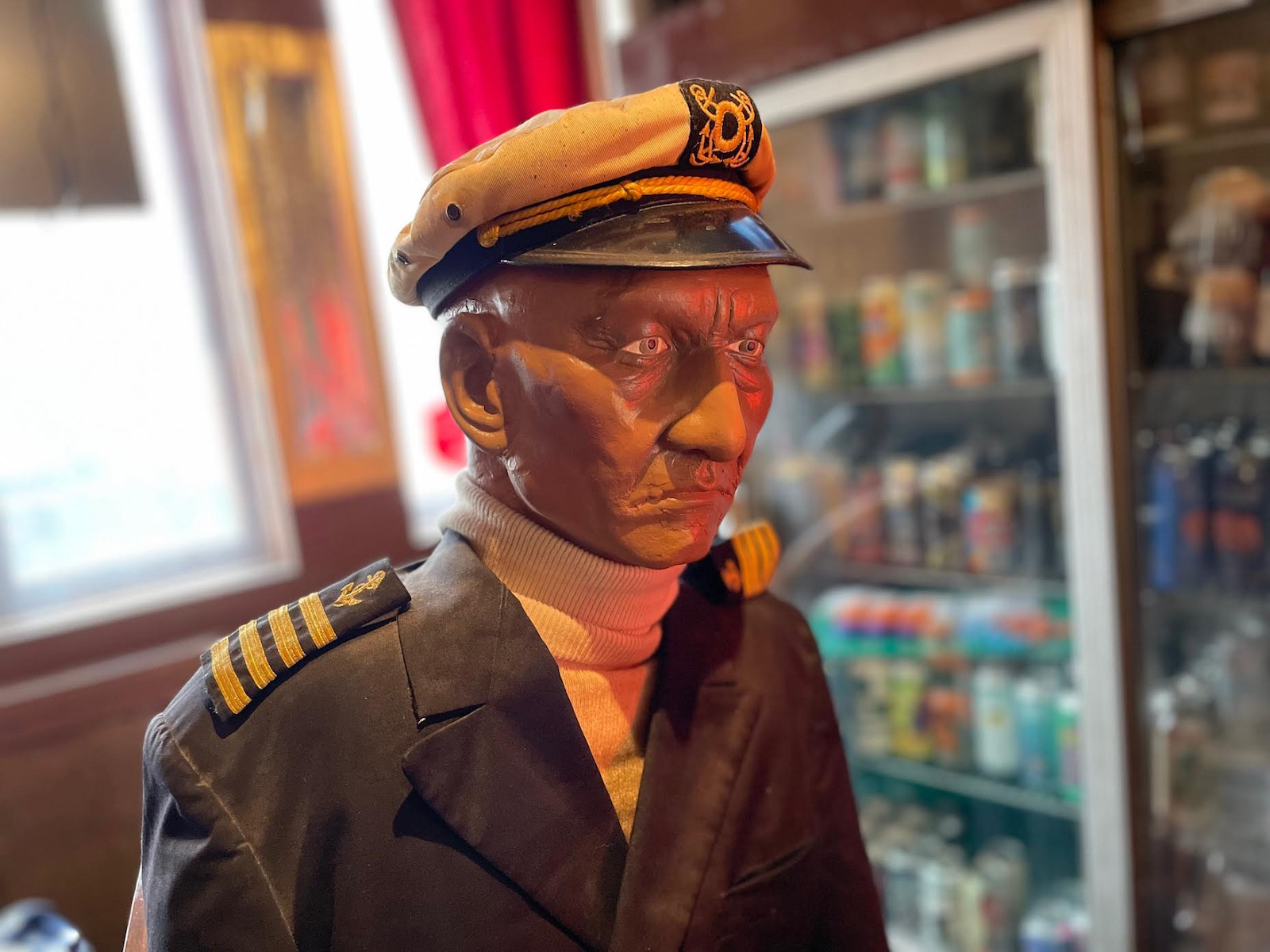 The Captain recently got a new face after a spirited customer punched him and the face required reconstuction.
"We like to say he went on vacation and came back without a beard and with a suntan," says Willborn.
Sir James Pub is a dog-friendly bar as long as it's not too crowded and it's before 9 p.m. During our visit we met a sweet and mammoth Leonberger named Heidegger, who has beers named after him at both Inventors Brewpub in Port Washington and Black Husky Brewing in Riverwest.
Through various events, Sir James Pub has raised thousands of dollars for the Wisconsin Humane Society.
Sir James Pub does not have a kitchen, but serves pizzas from the Mequon Pizza Copmany. They also encourage guests to carry in food from local restaurants and have menus behind the bar.
Although the couple has plans and ideas for the future, for now, they are simply happy to be getting out of the pandemic state and back to some semblance of normal.
"Jay is here just about every day. And if not here he's five minutes away. I'm here at least five days a week. Everyone always asks us when we are going to get married and have kids. The answer is 'we have two dogs and a bar. That's all we need. We're good,'" says Willborn.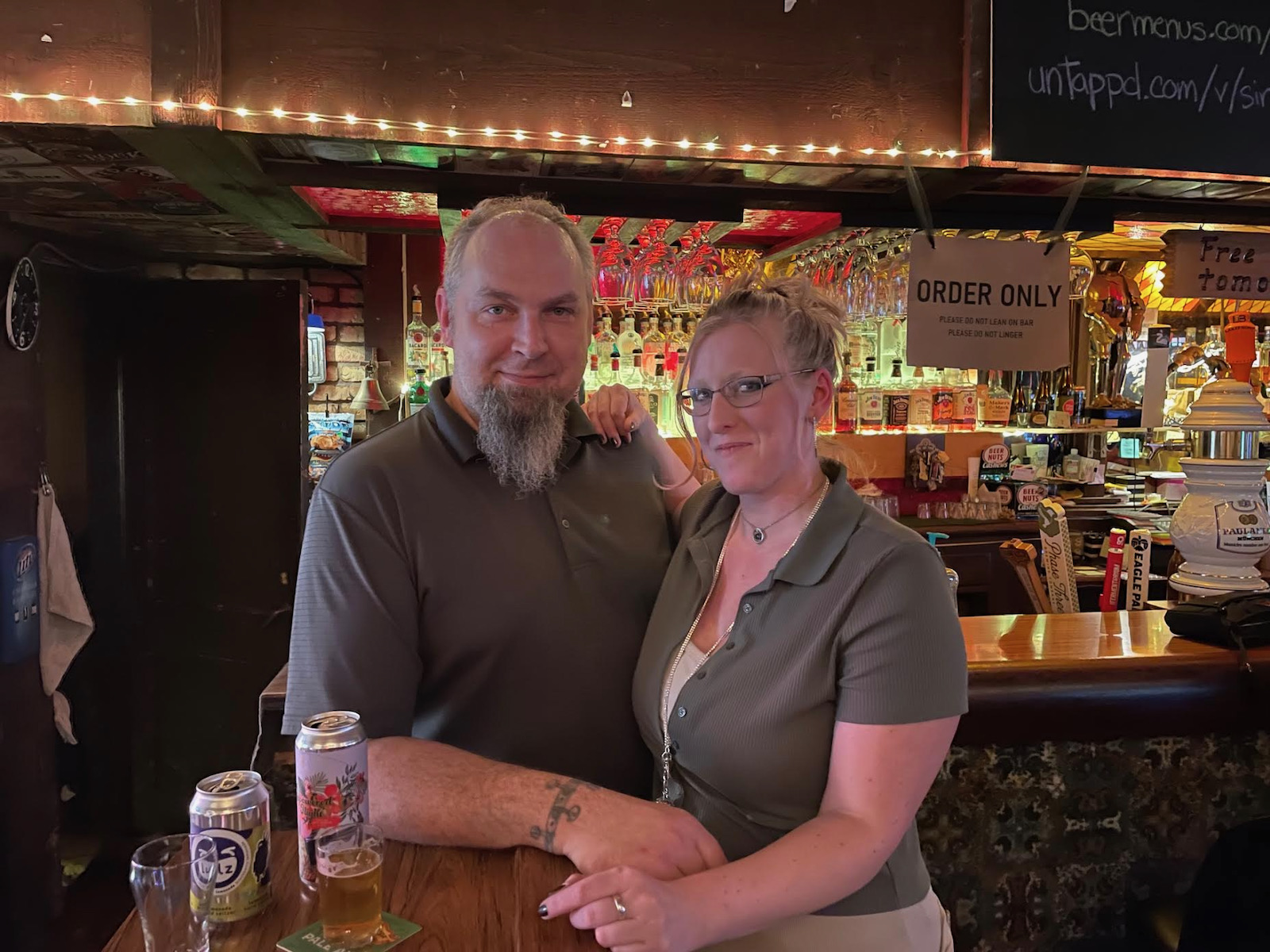 Sir James Pub is open Mondays from 5 p.m. to bar close; Tuesday-Thursday from 1 p.m to bar close; Friday-Sunday from 11 a.m. to bar close. Follow the pub on Facebook.

Molly Snyder started writing and publishing her work at the age 10, when her community newspaper printed her poem, "The Unicorn." Since then, she's expanded beyond the subject of mythical creatures and written in many different mediums but, nearest and dearest to her heart, thousands of articles for OnMilwaukee.

Molly is a regular contributor to FOX6 News and numerous radio stations as well as the co-host of "Dandelions: A Podcast For Women." She's received five Milwaukee Press Club Awards, served as the Pfister Narrator and is the Wisconsin State Fair's Celebrity Cream Puff Eating Champion of 2019.