Belly up to these bar stories, brought to you by Miller Brewing Co., that explore well-loved but lesser-known taps and taverns from all corners of the city and beyond.
South Milwaukee does not want for watering holes. The historic city with the proud ethnic past and hopeful economic future has almost 20 bars for the 21,000 residents that live within its 4.8 square miles. Indeed, within just a 0.3-mile radius from the downtown intersection of Milwaukee and 10th Avenues, in the shadow of the giant Caterpillar Global Mining complex, there are nine different spots to grab a drink. So there's no shortage of drinking options.
In a rapidly redeveloping community striving to tweak, if not totally transform, its old-fashioned industrial identity, some places have decided to update, upgrade and craft-ify their concept to try and attract new customers. Others, though, have stayed true to who they are and just kept doing what they do.
Slick Willies is one of those, and what it does, it does well. Ask anyone who's ever been to the humble neighborhood bar and grill, and they'll inevitably describe it in some variation of this: good food, good prices, good service, good time. It's a classic, no-frills, friendly, genuine joint, and people love it.
From the outside, Slick Willies, 2301 12th Ave., looks like any old hole-in-the-wall dive bar, with its green awnings and Pabst Blue Ribbon sign. There are posters advertising breakfast, lunch and dinner – it opens at 6 a.m. – and the daily specials, as well as homemade soup and its famous fish fry Friday.
Even before walking in, you get the sense that Slick Willies, which has no website, doesn't care much about branding: the bar's awnings spell its name "Slick Willy's," while the sign says "Slick Willies," an inconsistency repeated on its Facebook page and online, where it's written as "Willies," "Willie's" and "Willy's."
But no matter. You don't come here for spelling; you come for good food, drink, prices, people and times, linguistics be damned.
Inside, you're immediately greeted by the buzz of conversation and the smell of whatever the special is that day. On this night, it's Mexican food, which wafts heavily around the bar. The tacos are popular, and varieties include ground beef, steak, chicken and pork ($2.75-$3.00 each, or three for $8.00-$8.50); and there's also enchiladas, quesadillas, burritos and the giant chimichanga ($6.99 with rice and beans).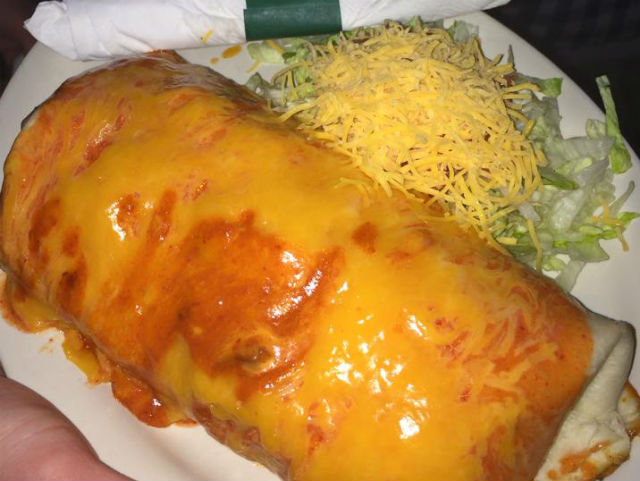 The half-dozen customers don't take much notice of a stranger, but conversation is easy from a seat at the bar. There are no local games on so the TVs are showing a boxing match, though you can tell everyone would rather be watching the Brew Crew, especially bartender Justin Laskowski, who's wearing a backwards Brewers hat and has owned the place for four years after working there for a decade-and-a-half prior. Laskowski diligently checks IDs – it sounds like there may have been issues with that recently – and fetches drinks, while good-naturedly ribbing his patrons.
Perhaps surprised to see an unfamiliar face, he asks, "Have you ever been here before? Are you new to the area?" Indeed, most people at the bar seem to know each other; they're early-middle-aged, some wearing Slick Willies t-shirts, others hanging out with friends, and blue-collar regulars coming in after their shift. One guy plays bar dice, laughing off Laskowski's playful threat to cut off his long ponytail.
There are no beers on tap at Slick Willies – except for a Stella Artois Kegerator – but bottles of just about everything. The hard alcohol is stashed somewhat haphazardly behind the cluttered bar, by a handwritten sign that says, "Attention: Please be patient with the bartender – even a toilet can serve only one asshole at a time." Above that are about 50 assorted bobbleheads, and scattered around the bar is Brewers and Packers memorabilia, as well as posters about various community events and benefits.
Slick Willies is cash only, but there's an ATM in the back, near video poker and pull-tab machines and a covered pool table that is being used as a table for extra condiments, paper towels and utensils. In the middle of the bar is a dart board, and behind that is a food cart that serves a breakfast buffet in the morning and salad bar later on. Nearby is a bare-bones bathroom with a stall that has saloon-style swinging doors. There are a handful of tables with stools and, during the warmer months, much more seating is available outside on the spacious patio, where there is a large gathering space and sometimes live music.
Slick Willies has a regular menu, but the daily specials are supreme. Monday is for beef (roast beef sandwich, hot beef dinner, stuffed porkchop, 16-ounce T-bone ($4.99-12.99 with side); Tuesday features lasagna and meatloaf dinner ($6.99); Wednesday you can get any burger for $3, as well as a chicken or pork sandwich ($3.99) and hot wings (10 for $5); Thursday is Mexican food; Friday is the Slick Willies fish fry or shrimp dinner ($8.99); Saturday features the BBQ rib dinner ($8.99 half-rack, $16.99 full); and Sunday is the all-you-can-eat breakfast buffet ($6.99).
The fish fry is known as one of the best in the area, and the Slick Willies burger is beloved. The deep fryer and grill are right behind the bar, so all the food is cooked right in front of you. The service is fantastic, even when the bar is busy, and all the activity makes for a casual, convivial atmosphere.
While South Milwaukee redevelops, laid-back Slick Willies proves you can make people happy just by staying the same – no matter how you spell your name – as long as you're giving them good food, good drinks, good prices and a good time.
Born in Milwaukee but a product of Shorewood High School (go 'Hounds!) and Northwestern University (go 'Cats!), Jimmy never knew the schoolboy bliss of cheering for a winning football, basketball or baseball team. So he ditched being a fan in order to cover sports professionally - occasionally objectively, always passionately. He's lived in Chicago, New York and Dallas, but now resides again in his beloved Brew City and is an ardent attacker of the notorious Milwaukee Inferiority Complex.
After interning at print publications like Birds and Blooms (official motto: "America's #1 backyard birding and gardening magazine!"), Sports Illustrated (unofficial motto: "Subscribe and save up to 90% off the cover price!") and The Dallas Morning News (a newspaper!), Jimmy worked for web outlets like CBSSports.com, where he was a Packers beat reporter, and FOX Sports Wisconsin, where he managed digital content. He's a proponent and frequent user of em dashes, parenthetical asides, descriptive appositives and, really, anything that makes his sentences longer and more needlessly complex.
Jimmy appreciates references to late '90s Brewers and Bucks players and is the curator of the unofficial John Jaha Hall of Fame. He also enjoys running, biking and soccer, but isn't too annoying about them. He writes about sports - both mainstream and unconventional - and non-sports, including history, music, food, art and even golf (just kidding!), and welcomes reader suggestions for off-the-beaten-path story ideas.