Belly up to these bar stories, brought to you by Miller Brewing Co., that explore well-loved but lesser-known taps and taverns from all corners of the city and beyond.
Step inside The Standard, 1754 N. Franklin Pl., just north of Brady Street, and look down to see the aged hardwood floor that's been right there since 1888 – as wars, peace, boom, bust and generations have wandered past the door – collecting nicks and dings, slowly, imperceptibly marking the passage of time with each gentle scuff of a shoe, each dissonant, raspy scrape of a chair leg.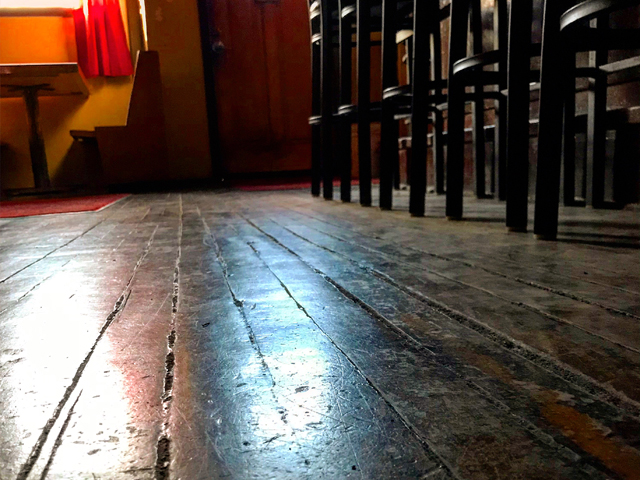 Belly up to the vintage bar, order a cold one and join the procession, 130 years long and counting, of Milwaukeeans, thirsty for a drink and, perhaps even more so the camaraderie of a comforting neighborhood tap, who have kept this corner of Brew City bubbling.
Since the beginning, this place – which still has its bead-board ceiling, wainscotting and other vintage details (though the broad front windows have been mostly closed up) – was a family-run saloon and according to longtime bartender Heidi White, it maintains that feel.
"It's a family, it honestly is," she says one Monday as the dying light filters through the front windows. "We're a small corner bar. People like coming here because it feels like home to them. All of our staff are super accepting. You know, it doesn't matter who you are and that's what it is ... a little cozy corner bar."
Because it's nestled into a residential block, The Standard doesn't do live music. It doesn't have volleyball pits. There's no kitchen. But it does have a great craft beer list, it does host a chili cookoff with culinarily inclined customers and, White says, "We drink a lot of whiskey here."
And most importantly, it has one of the key signs of a classic Milwaukee tavern: the sink is outside the bathroom.
A little history
As I say, The Standard building has housed a tavern since it was built in 1888, but possibly even before. Let me explain.
In May of that year, Albert Murkowski pulled a permit to build a retail building with an apartment above it on the site. Murkowski planned to spend $1,800 realizing drawings made by architect Theo. F. Schutz, who had offices Downtown at 296 W. Water St. (now Plankinton Avenue).
According to census records, Murkowski had emigrated from Prussian Poland in 1874 when he was about 21 years old. Six years later, in 1880, he lived on Franklin Street – at the same address as the tavern he'd build in 1888 – with his mother Helena and his brother Herman, 21, who worked as a tanner.
Oddly, the same year the census describes Albert as a tavernkeeper at 890 Franklin (the old address of The Standard building, but eight years before its construction), the city directory says he was a laborer living at 884, a couple doors south.
Adding to the confusion, the 1882 Polk's Wisconsin State Gazetteer and Business Directory puts Murkowski as a tavernkeeper at 888 Franklin, just south of the current site.
Looking at old maps has done little to clarify whether or not there was an earlier tavern building on the The Standard site, but it seems a possibility. Or maybe Milwaukee was just damned cavalier when it came to addresses back then.
What is clear is that Murkowski was operating a tavern somewhere on the block at least as early as 1880.
From 1888 on, he was definitely pouring cold ones in the building where you can pull up a stool today. And he did so until 1906, when he died on April 3, leaving behind his wife, Mary, and their five children.
Mary continued to run the tavern after her husband's passing and in 1916, she paid to add a brick foundation and basement to the back house (pictured below) that is still on the site, facing Pulaski Street, and appears to pre-date the tavern in front.
Searches of that address suggest that it served as a rental unit, the names of its occupants rarely, if ever, intersecting with the names of the tavern operators.
When Prohibition arrived, Mrs. Murkowski kept the place open, "selling soft drinks," though in 1928, it appears that a Louis Brzezinski was licensed to offer "malt products" there. The Murkowskis, however, continued to live in the upper flat.
In 1932, as Repeal was returning to the United States, Murkowski died and was buried beside her husband at Calvary Cemetery, and her son followed in '33. Mary's son Stanley Murkowski stayed on in the apartment and began running the tavern, which he appears to have done at least into the late 1940s.
By 1948, (aka Al's M.A.C. Bar, and, in 1949, confusingly, Ed's M.A.C. Bar), initially, it would seem, with a short-lived partner. That year, Kobus took out a personal ad in the Journal to say, "Notice is hereby given that the partnership heretofore conducted under the firm name of MAC BAR at 1754 N. Franklin Pl., has been dissolved, effective March 16, 1948, Alexander Cobus, 1760 N. Franklin Pl."
In the early 1950s, Karl Kostka took over, renaming the place the Karl-Ann Bar, and he remained until the end of the 1960s. In '57, Kostka made it into the front-page "All Things Considered" column of the Journal, under a headline that opined, "And That's Bad!"
"Karl Kostka of 1754 N. Franklin Pl. had the Asian flu so bad last week that ... 'I went to the bathroom to shave,' he said, 'and when I smiled feebly at my image in the mirror, my image just scowled back at me'."
In 1969, Kostka sold to Phil and Shelley Pashelk, who still owned the place when, two years alter, two masked men wearing white gloves – one of them brandishing a pistol – walked in, stole $2.80 from a customer, $124 from the cash register and a portable TV that was behind the bar.
Though the TV was found nearby, the money – along with $100 stolen from Listwan's on Brady – was not.
By 1973, the tavern was named Phil & Theresa's and again made the paper, this time in the form of a photo of customer John Nobles feeding one of the "bushytailed beggars" (squirrels, that is) that were regulars at the tavern.
In '75, John Wesnierski bought the building and set up shop in the bar, running it for eight years before making way for Leroy Schmidt in 1983, who renamed it Schmidt House (pictured at right in a 1987 courtesy of Wisconsin Historical Society), which is the moniker it had until Joe Jeffrey bought it and transformed it into Circa at the dawn of the new millennium.
In 2003, OnMilwaukee wrote, "Joe Jeffrey owns the place. He's a coin collector, so buying and selling is his interest. He used to own the Shorewood Coin Shop but in October 2001 he opened up Circa. Jeffrey lives a few blocks away, and he remembers when Circa used to be The Schmidt House. As soon as it went for sale Jeffrey jumped on the opportunity.
"It took 14 months to remodel, but ripping out all those layers of linoleum was worth it: the bar now has hardwood floors, and a peaceful feel that most bars try hard to emulate. Circa is a homey pub with prairie-style chairs, purple and white flowers on each table and music (typically early-'60s) floating in through a couple of well-hidden speakers."
Soon after, Michael Toffler – of the Chocolate Factory restaurants – purchased Circa and his son Jason ran it.
The Standard era
In 2011, Steve Gilbertson and Jay Stamates bought the tavern and seemed to immediately appreciate their place in the pantheon of tavernkeepers who had occupied what has to be one of the East Side's longest-running bars. After all, the place was sloshing suds at least 19 years before Wolski's opened around the corner.
"I want it to be like walking into a bar in the '50s that hasn't been redone, just added to, since the '20s," Gilbertson told OnMilwaukee, noting proudly that he was in possession of a 1906 invoice for two half-barrels of Pabst delivered to the bar in 1906 for $6.50.
"There's a responsibility with his venue," Stamates, pictured at right, tells me. "We can never become too successful, too rowdy, because at the end of the day, it's a neighborhood bar. We are far enough off Brady that we have that responsibility to our neighbors which has really forced us to be able to go, 'How can we be a great time, but a respectful time?'"
Stamates estimates that about 60 percent of The Standard's clientele comes from right there around its block, with another 30 percent being service industry folks from the bars and restaurants that line Brady Street. The last bit are "destination" folks.
"The vast majority of our people are repeat customers," Stamates says, "who are walking within a 2-3-block radius.
"The name The Standard Tavern was my partner Steve's, and what he wanted was a Milwaukee standard tavern. He wanted the standard and I think we've pulled it off. It's a great neighborhood bar."
Born in Brooklyn, N.Y., where he lived until he was 17, Bobby received his BA-Mass Communications from UWM in 1989 and has lived in Walker's Point, Bay View, Enderis Park, South Milwaukee and on the East Side.
He has published three non-fiction books in Italy – including one about an event in Milwaukee history, which was published in the U.S. in autumn 2010. Four more books, all about Milwaukee, have been published by The History Press.
With his most recent band, The Yell Leaders, Bobby released four LPs and had a songs featured in episodes of TV's "Party of Five" and "Dawson's Creek," and films in Japan, South America and the U.S. The Yell Leaders were named the best unsigned band in their region by VH-1 as part of its Rock Across America 1998 Tour. Most recently, the band contributed tracks to a UK vinyl/CD tribute to the Redskins and collaborated on a track with Italian novelist Enrico Remmert.
He's produced three installments of the "OMCD" series of local music compilations for OnMilwaukee.com and in 2007 produced a CD of Italian music and poetry.
In 2005, he was awarded the City of Asti's (Italy) Journalism Prize for his work focusing on that area. He has also won awards from the Milwaukee Press Club.
He can be heard weekly on 88Nine Radio Milwaukee talking about his "Urban Spelunking" series of stories.