This story originally ran in 2018. Happy Pride Month, Milwaukee!
Walker's Pint, under the ownership of Bet-z Boenning, will celebrate 18 years of business this July. Eighteen years is an impressive accomplishment for any restaurant or bar – it's like 80 years in service industry years.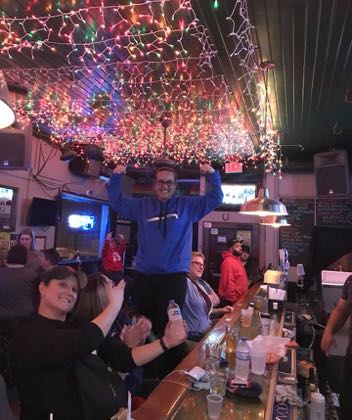 But there's definitely something special about The Pint, located at 818 S. 2nd St. Not only is it one of the last women's / lesbian bars in the country – it's true! – it's also a sports bar, beer-and-a-shot "corner tap" and one of the friendliest bars in the city.
"We will always be primarily a women's bar – a safe spot for all women – but this is a mutual-respect bar and we're open to anyone and everyone," says Boenning.
Consistency is the one of the keys to The Pint's long-term success.
"The fact that we remain consistent and true in our vision of providing a fun, safe, comfortable space for women, men and all sexual identities along with our wonderful allies has led to our long tenure here at 818," she says.
The tavern has hosted karaoke every Wednesday night for 17 years; DJ Shawna has been the house DJ for eight years; and many of the bartenders have been behind the wood for seven, eight, even 10 years.
"We also have hosted live music from the beginning," says Boenning. "I'm a big fan of live music – especially local music."
Variety and inclusiveness is another attribute that helped the bar pass the test of time. Not only are all types of people welcome, the bar even embraces fans from teams beyond Wisconsin – namely the Cubs.
"We're first and foremost a Brewers bar, a Bucks bar and a Packers bar, but we do have Cubs fans who watch games here," says Boenning. "I like to give people options."
Boenning also provides myriad options for her customers in the form of booze selection, with dozens of different vodkas, nightly drink specials and a mix of macro and micro beers.
Walker's Pint has also been very active in non-profit fundraising since its inception. Boenning, who has served on the board of the Pride Parade for 14 years, regularly organizes outings and events to raise money for multitudes of organizations from LGBTQ to military veterans to breast cancer research.
"It's not just me – it's most of the bar owners in this neighborhood. We have great neighbors here. We all chip in and help each other and as many people as we can," says Boenning.
Prior to owning the Pint, Boenning worked at the now-defunct Dish Night Club, which was also in Walker's Point.
"I was always a social person, and after I tried a million jobs, I found bartending and I loved it," says Boenning. "So when I saw a three-line ad in the paper advertising a bar with a patio on 2nd Street for sale, I was immediately interested. I checked it out on my 30th birthday and I knew it was the spot."
Boenning says she plans to stay in business for many more years – as long as she continues to have the incredible support of her staff, customers and neighbors.
"We're more than a bar, we are a community and a family. A big crazy, bizarre, awesome family," says Boenning, "I love my Pint family."
Molly Snyder grew up on Milwaukee's East Side and today, she lives in the Walker's Point neighborhood with her partner and two sons.
As a full time senior writer, editorial manager and self-described experience junkie, Molly has written thousands of articles about Milwaukee (and a few about New Orleans, Detroit, Indianapolis, Boston and various vacation spots in Wisconsin) that range in subject from where to get the best cup of coffee to an in-depth profile on the survivors of the iconic Norman apartment building that burned down in the '90s.
She also once got a colonic just to report on it, but that's enough on that.
Always told she had a "radio voice," Molly found herself as a regular contributor on FM102, 97WMYX and 1130WISN with her childhood radio favorite, Gene Mueller.
Molly's poetry, essays and articles appeared in many publications including USA Today, The Writer, The Sun Magazine and more. She has a collection of poetry, "Topless," and is slowly writing a memoir.
In 2009, Molly won a Milwaukee Press Club Award. She served as the Narrator / writer-in-residence at the Pfister Hotel from 2013-2014. She is also a story slam-winning storyteller who has performed with The Moth, Ex Fabula and Risk!
When she's not writing, interviewing or mom-ing, Molly teaches tarot card classes, gardens, sits in bars drinking Miller products and dreams of being in a punk band again.