Belly up to these bar stories, brought to you by Miller Brewing Co., that explore well-loved but lesser-known taps and taverns from all corners of the city and beyond.
First, let's get a few things straight.
Opened in 1985, Colonel Hart's, 7342 W. State St., is by now a Tosa Village landmark.
Also, there was no Col. Hart. The story goes that before he opened the bar, Tim Capper worked at Major Goolsby's Downtown, and he wanted to outrank his former boss, so he grafted the rank of colonel onto the name of the park across the street from his new place and ... voila!
Third, current Colonel Hart's co-owner Shannon Russell, pictured above, isn't pulling any punches.
"We just want the neighborhood to come in and we don't want to be anything," says Russell, who lives around the corner. Her business partner, Pat Modl, lives up the street. "I started out right when there was that old-school bar mentality. And I like that. It's getting rarer and rarer. It's so hard to find now."
And so does Wauwatosa, apparently, because Colonel Hart's remains a popular dinner joint, especially on weekends when there's a fish fry on Friday nights and half-price homemade pizzas.
It's also a destination watering hole in the heart of Tosa. And it's been that way for quite a while.
The history of the bar predates the current building.
Allow me to digress ...
Hans Lix was born in Burgheim, Germany, in 1890 and came to America in 1911, becoming a citizen eight years later. He settled in Tosa and found work as a dairyman at Gridley Dairy. He drove a milk truck and, by 1940, had risen to supervisor.
But just a few years later, he was operating a tavern at 7430-34 W. State St. that had previously been run by John Hausch.
A decade later, the First National Bank in Wauwatosa wanted to build a sparkling new building on 75th and State Streets, where Lix's tavern stood. So, getting its permits in order, the bank was also able to get Lix's license transferred to 7342 W. State St., and offered to build him a one-story tavern building on that site.
Lix apparently agreed, because by 1957, Lix was up and running at the new place, which, interestingly, had previously long been the site of a private home, which was occupied until at least 1955.
Though it's possible that the rear portion of the current building is part of that old house, it doesn't really appear to be the case.
Lix didn't hang around long, however, because by 1959, his tavern was called the Encore Bar, which was similarly short-lived, having closed by 1966. Next to hang a sign in the window was Kutschenreuter's, which was there for a few years in the late 1960s.
August Kutschenreuter had run a tavern at 7512 W. State St. from at least the 1930s, but that site is now home to the parking structure for another bank building, which may be why the business moved down the street.
At the time, the east end of Tosa Village was rockin' with bars, where you could also find the Knotty Pine, where the Outpost is now located, and Swittel's, which operated on the corner of 68th and State from the 1930s into the early 1990s. Anna Swittel's son, Carroll – better known as Cutt – opened his own place in the late 1940s in what is now Leff's Lucky Town.
Young Swittel cut (sorry) an interesting figure, earning copious newspaper mentions for his prowess in bowling, golf, curling and other sports. His bar must've also been a raucous place because in 1973 it nearly lost its license when 60 neighbors turned up to fight the renewal, saying the bar had become overrun with noisy 18-year-olds who urinated on neighbors' lawns, stole gas from the nearby service station and pelted passing trains with rocks.
But Cutt's would outlive its namesake – who died in 1980 – by about a decade.
In the meantime, Kutschenreuter's – which also served lunch and dinner – had given way to Pep's Place, run by Tom Palmer, by 1971, which catered to the sports crowd that hung out at Hart Park across State Street.
Pep's Place, "entertains the Hart Park tennis and martini set as well as squads of thirsty softball players, wrote Jay Scriba in the Milwaukee Journal. "At Pep's you can run in for a cold one and still get back in time to sock a homer in one of the softball league games at Hart Park across the street."
In '85, Capper and a silent partner – Doug Siewert of Silver Spring House – bought the place and renamed it Colonel Hart's. Hart Park, incidentally carries the name of Wauwatosa's first settler, wayward New Yorker Charles Hart, who ran the town's grist and saw mills. But, no, he was not a colonel.
In 2004, Pat Modl and Andrew Grassel bought Hart's and a few years later Russell came on board to replace Grassel. Since then, she's run the place.
"I was a customer," Russell says. "I actually worked at Leff's Lucky Town. Then I moved away for a few months, and when I came back I was looking for a job."
How she found that job – at Colonel Hart's – isn't a typical one.
"The story is super embarrassing. I had all of my life savings in my purse and I lost it here. I got a phone call. Tim Capper who was the owner at the time, came to our house. I was living with my parents at the time. He actually lived in the same neighborhood. He came to our house at like eight in the morning and dropped it off.
"I ran into him sometime after that and was telling him that I was a server and looking for a job. But I was mainly just thanking him for (returning the purse). So I got a job and I always laugh about how funny it is that they hired me: the irresponsible girl who lost all of her money at their bar."
Then, when the opportunity arose, she bought out Grassel's share.
"I worked for them for three years or something. I'd been here and loved it here so much. I always tell people I remember sitting here looking at everything, the only one in the bar, and being like, 'I just want to have my own place, but I want it to be this place.' And it worked out."
But, Russell's memories of the place – which she bought into 10 years ago this past February – pre-date even that story. She recalls playing in the bar when her parents would bring her there as a kid after basketball games. And, she found out in more recent years that her aunt worked here when it was Pep's Place.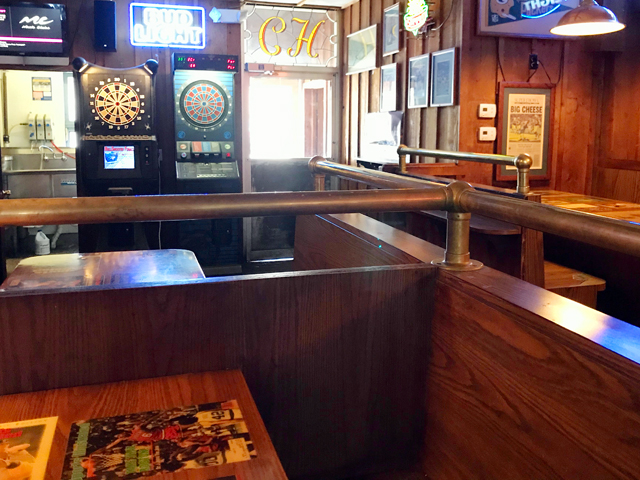 Those memories, combined with her relatively new status as a mom, are likely at least part of her vision for making sure Colonel Hart's is a neighborhood place.
As we talk, two customers walk in and Russell, without asking, brings them their drinks.
When I point that out, she says, "People are like, 'How can you remember our drinks?' I'm like, 'First of all, pretty much all I have to do is remember people's drinks.' (Laughs). It's what I want it to be like. With everything that's going on in this area, people ask, 'What are you gonna do now that everything's changing in Tosa?' I'm like, 'I'm not doing anything.'
"I want this to be the place you can come on a Saturday and have a beer and let your kids run amuck."
When I visit, I stay to have lunch, so I ask Russell for recommendations.
"We make our own pizzas," she says. "They're really, really good. They're a thin, crispy crust. They're very popular on the weekends, because they're half price on the weekends. Our fish fry's really good. We got a new fish fryer. We bread our own fish now and it's really, really, really good. And we've been getting very busy for that."
She also explains that Hart's does two different kinds of wings. The appetizer wings arrive pre-seasoned and pre-cooked, but on wing nights (Thursdays, wings are 50 cents) the bar gets naked wings and does its own sauces.
But, then she suggests something else for lunch.
"I asked (our cook), 'What should I tell him to get?' He said a Colonel Burger because it's our namesake.' I was like, 'It's kind of 'a Big Mac."
Kind of a Big Mac, but with a tomato and without cheese or sesame seeds.
When it came time to order, I couldn't resist the namesake, which was, in fact, quite like a Big Mac, especially because I ditched the tomato and added American cheese.
But, it turned out to be way better than a Big Mac, but not only because the patty was bigger and the meat and bun tastier, but because I was enjoying it in a Tosa landmark and one that promises not to change with the trends.
Born in Brooklyn, N.Y., where he lived until he was 17, Bobby received his BA-Mass Communications from UWM in 1989 and has lived in Walker's Point, Bay View, Enderis Park, South Milwaukee and on the East Side.
He has published three non-fiction books in Italy – including one about an event in Milwaukee history, which was published in the U.S. in autumn 2010. Four more books, all about Milwaukee, have been published by The History Press.
With his most recent band, The Yell Leaders, Bobby released four LPs and had a songs featured in episodes of TV's "Party of Five" and "Dawson's Creek," and films in Japan, South America and the U.S. The Yell Leaders were named the best unsigned band in their region by VH-1 as part of its Rock Across America 1998 Tour. Most recently, the band contributed tracks to a UK vinyl/CD tribute to the Redskins and collaborated on a track with Italian novelist Enrico Remmert.
He's produced three installments of the "OMCD" series of local music compilations for OnMilwaukee.com and in 2007 produced a CD of Italian music and poetry.
In 2005, he was awarded the City of Asti's (Italy) Journalism Prize for his work focusing on that area. He has also won awards from the Milwaukee Press Club.
He can be heard weekly on 88Nine Radio Milwaukee talking about his "Urban Spelunking" series of stories.