I don't know about you, but when I have a drink, it puts me in the mood for a nosh, too. So, I love a friendly neighborhood tap that has a kitchen that serves good food.
And add a jigger of history and I'm hooked.
(UPDATE: Gard's no longer serves food.)
With its intimate triangle-shaped bar, midcentury modern architecture, a welcoming owner and a killer fish fry, Gard's, 7170 W. Burleigh St., has all of that.
Plus, it has the laid back vibe of a corner bar, thanks to the legacy of Dennis Gard, whose name is above the door.
Gard, who bought the bar in 1992 after retiring his job as a union negotiator for the Teamsters, passed away in 2015, and his daughter Denise Fonder still runs the place.
"Once in a while, he'd jump behind the bar and hustle," she says. "Normally, he just sat in the corner – captain's quarters. He bought himself a stool. He was always laid back. He lived upstairs and this was his little country club."
A little history
Though the triangular space occupied by Gard's tavern dates only to the late 1940s, it is part of a long history of taverns on the site.
In the 1850s, a small hamlet called Smithville – after farmer Erastus Smith, who arrived in Milwaukee from Massachusetts in 1850 and whose large farm and homestead was adjacent – popped up at the "three corners" where the Lisbon Road crossed Burleigh Street.
At the intersection was the well-known Five Mile House, an inn that judging from old Town of Wauwatosa maps suggests was right where Gard's now stands (see the notation "saloon" on a dot right at that location on the map above). That's a pretty long pedigree for a tavern in a Milwaukee neighborhood that really didn't boom until after World War II.
A 1904 map still shows a building at the point of the triangle, though there is no notation to suggest its use. However, a 1910 classified ad offering a nearby farm for sale notes that the property is "on Lisbon Plank Road and Burleigh near Five Mile House," showing that the saloon endured into the 20th century. (It was owned, incidentally, by a J. Arpe in 1900.)
With the repeal of Prohibition in 1933, the building – then owned by William Muensberg, who lived in Hartland – was occupied briefly by tavern keeper Roy Knuth, and then, in '34, by William Stevens.
We know that, by 1936, Herbert H. Ruehl ran a tavern at 7145 W. Lisbon Ave., which is right there at that spot, where the Gard's dining room now sits, and he and his wife Florence lived upstairs. The Jautz Service Station was tucked into the triangle where the bar is currently situated.
For a number of summers, Ruehl would rent out the vacant lot to the west and sidewalk space to James Patterson, who lived in the neighborhood and would sell plants on tables.
City directories show Ruehl's tavern at 7145 until at least 1945 (though the service station seems to have departed by then, taking its address with it).
By 1946, however, former Milwaukee Police officer Clarence Gruehn was running a tap in Ruehl's old place and living upstairs with his family.
In 1948, Gruehn bought permits to wreck the old building and put up a new one, designed by architect R.W. Dwyer, who had offices at 31st and Wisconsin. Gruehn tapped Northwestern Wrecking to pull down the old place and Byrne Brothers to put up the new one, which carries the address of 7170 W. Burleigh St.
Soon after, he put on a small addition to the west side of the building – for a kitchen – which is still there today.
Interestingly, the end of the old Five Mile House tavern building also appears to mark the end of Gruehn's days running a bar.
Because, although work started on the new building in late 1948 and work progressed throughout 1949, there was a long period of inactivity on the project in the summer and fall of 1950, and the project wasn't complete and approved by inspectors until 1952.
But the place did stay in the family. When it was ready, it opened, branded as Tonilu's Tavern by Gruehn's daughter Lucille and her husband Anthony Cervenka (ToniLu, geddit?), which had the alluringly named Carib Room and in 1954 offered a Thanksgiving turkey dinner "with all the trimmings" for a whopping $2.50.
The place was remodeled in late '54 and early '55 and there was a grand reopening in February. A couple months later, Cervenka was robbed in his garage after returning home from the bar one night at 2 a.m. Hit over the head and knocked unconscious, thieves stole $300-$400 before taking off.
Perhaps this was enough for Toni and Lu because by 1956, they'd sold the place to Paul and Nick Selaiden, who opened Selaiden's Cocktail Lounge and Restaurant, which, among other things, served an "Ameri-Greek menu."
Nick kept the place until around 1974, when it appears that Sunny's Cocktail Lounge ever so briefly occupied the place before Rudy Struhar openmed RJ's, later renamed Rudy's Burleigh Inn.
In 1978, when Roy Gregg took over, he tinkered the name to RG's Supper Club and ran the place into the 1980s. By the second half of that decade Felicia Provencher (whose mother Martha Harrington owned a beloved East Side grocery story at 2472 N. Bartlett Ave. for a half-century) opened Felicia's and served lunch and dinner, including steaks and a fish fry.
In 1992, Dennis Gard put his name on the place, later buying the building, and running it until his death in 2015. His daughter, who had been working alongside him, has kept it going ever since.
"My father retired and he decided to buy a bar," Fonder recalls. "He was (hanging out) at the Timmerman Sky Room. The gentleman that owned this building was looking for somebody to come in right away because he was losing his lessee so my dad's like, 'I'll take it over,' on a handshake."
Neither Gard nor Fonder had any experience running a bar or a restaurant.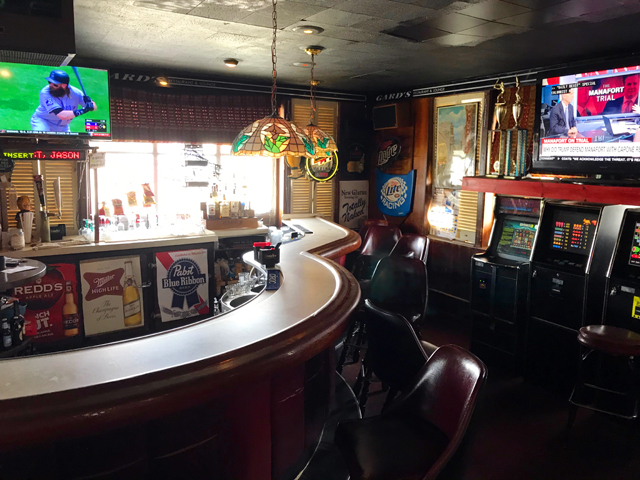 "My dad said, 'Quit your job. I need you.' I was working at a State Farm insurance office; before that I was in banking. I cried the day that we opened because I didn't know how to cut lemons."
Making lemonade
Despite the lack of experience Gard and Fonder quickly found their stride at Gard's, and learned how to adapt to the changing business.
"Most of the older clientele that we had – (the) martinis, manhattans (crowd) – the businessmen that had business expense accounts for so long are gone. The industry (around here) is gone. Roundy's is gone. We used to do a lot of fish frys for those from Roundy's. We had one guy come in from there and he'd order 35 fish frys. Every Friday. We depended on that."
But now, Gard's draws mostly from its immediate neighborhood: Enderis Park to the south and southeast, Lenox Heights straight east, Cooper and Kops Parks to the west, and Mount Mary University a little beyond.
"I'd like to get the Skee-Ball in here and darts and high top tables," she says, "maybe do some puckboard."
As those neighborhoods change, bringing in younger residents, Fonder is considering reworking the dining room to make it more friendly for that clientele, by adding some games and redecorating a bit – though she promises to keep the distinctive colored glass panels.
In the meantime, Gard's remains an especially great place to get a Friday fish fry, thanks to the housemade clam chowder, the crispy but not greasy fish and the potato pancakes. But there's also great deals on wings on Wednesdays and tacos on Thursday, too.
Happy hour deals include $2 bottles of Miller products on Mondays from noon until 6 and $3 shots during the same hours on Sundays.
I ask Fonder if she still cries before she comes in and she laughs.
"No, but it's a lot of work. It's tough industry ... a lot of hours," she says.
During those hours, she can glance up and see her dad. Gard's photo still hangs above the door to the barroom, just above where he once held court, greeting each customer who walked in.
"He's still here watching over his flock," says his daughter.
Born in Brooklyn, N.Y., where he lived until he was 17, Bobby received his BA-Mass Communications from UWM in 1989 and has lived in Walker's Point, Bay View, Enderis Park, South Milwaukee and on the East Side.
He has published three non-fiction books in Italy – including one about an event in Milwaukee history, which was published in the U.S. in autumn 2010. Four more books, all about Milwaukee, have been published by The History Press.
With his most recent band, The Yell Leaders, Bobby released four LPs and had a songs featured in episodes of TV's "Party of Five" and "Dawson's Creek," and films in Japan, South America and the U.S. The Yell Leaders were named the best unsigned band in their region by VH-1 as part of its Rock Across America 1998 Tour. Most recently, the band contributed tracks to a UK vinyl/CD tribute to the Redskins and collaborated on a track with Italian novelist Enrico Remmert.
He's produced three installments of the "OMCD" series of local music compilations for OnMilwaukee.com and in 2007 produced a CD of Italian music and poetry.
In 2005, he was awarded the City of Asti's (Italy) Journalism Prize for his work focusing on that area. He has also won awards from the Milwaukee Press Club.
He can be heard weekly on 88Nine Radio Milwaukee talking about his "Urban Spelunking" series of stories.