The first thing you might notice when walking into McKiernan's Irish Pub & Grill, 2066 S. 37th St., is that the bar doesn't look like your stereotypical Irish pub.
But if you believe (as the Irish do) that the defining characteristic of a true Irish pub is that it's friendly in a non-pretentious way, McKiernan's is pretty much spot-on. That includes a mix of both friendly bartenders and chatty guests, most of whom are perfectly happy to strike up a conversation even with the new folks at the bar.
It's also true of co-proprietor Gene McKiernan himself, a Scots-Irishman (with a little Swiss thrown in for good measure) who can often be found sitting at one end of the bar sipping Crown Royal and telling questionable jokes.
"Give me someone for an hour or two, and I'll show them some fun," he notes. "This is the sort of place where you can go and forget about what's wrong with the world for a while. We've got plenty of bad jokes ... and good women."
And, despite his proclivities for Canadian whisky, McKiernan offers up a nice collection of Irish whiskey (about which Gene boasts "I'm a pusher, not a user"), as well as a number of Irish brews.
And you can get the latter for a mighty fine price if you visit McKiernan's during happy hour. Monday through Friday from 4 to 6 p.m. it's $1 off of draft beer, which might not sound like all that big of a deal until you realize that most brews at the bar are priced at $2-4 a pint.
That means you can splurge on a Harp, Smithwick's or Guinness. And if that sounds good, you might be a good candidate for their Guinness Club. For $20, you get a membership card that tracks your pint purchases. Every sixth pint is free. Plus, you can enjoy discounted pints every Saturday, as well as on your birthday.
The ghosts of bars past
But happy hour isn't the only reason to love this little neighborhood tavern, which Gene opened with his wife Victoria in 2009. It's a venue filled with interesting decor, fascinating stories and the sort of natural hospitality that springs from years of experience in the bar and restaurant industry.
For Gene McKiernan, that experience began in 1961 when he opened the Sun Prairie beer bar and discotheque, Black Lemon A-Go-Go.
"We probably had a dozen bars in Madison," he says. "Including the Whiskey A-Go-Go, a topless bottomless club … burlesque house. I'll never forget. In the '70s, we were sued for obscenity. I remember they took our liquor license. It didn't matter. We just served people fruit punch. They didn't care. In the end, we won the lawsuit and stayed open. And then," he says with a laugh, "I spent all my money on women, whiskey and gambling … and the rest I wasted."
Gene originally came to Milwaukee to open Barnaby's, a pizza place for which he worked as kitchen supervisor in Madison. Yep, that's why there's an old Barnaby's sign on the north wall of the bar.
From there, he opened The Wharf on Silver Spring Drive. The restaurant has long since closed, but a wooden menu hangs from the ceiling in the back dining room at McKiernan's.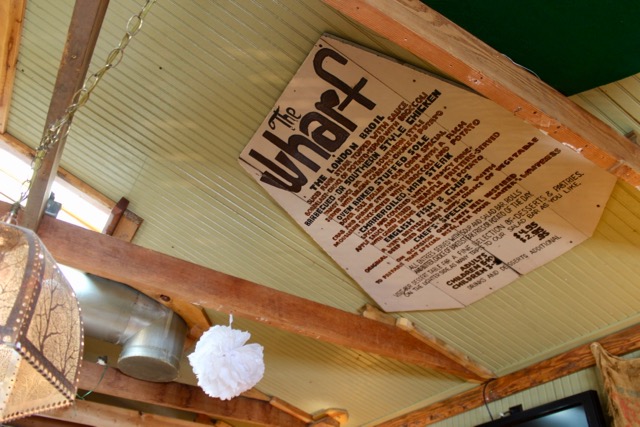 As the years wore on, he and a partner gave birth to Chumps Pub on 1st and Maple (now Ollie's), Chumps Too on Booth and Center Streets, the Rusty Bucket in Walker's Point and Chump's Spindrifter on 90th and National (you'll find signs from some of those bars on the walls as well). Along the way, he met Victoria.
"My best friend introduced me to Gene when I was 21 or 22," Victoria says. "We dated for a while, and then we were friends for many years. And then in '91 we bumped into one another, had lunch, and started dating all over again. We got married in '93."
Gene's vision for unique spots kept him going. In the early 90s when Skipper Buds put an ad in the paper saying they wanted to lease out a portion of their property, Gene responded.
"In 1992, he takes me down and shows me the place," says Victoria. "It was this tiny little building with ugly blue curtains on the windows. And he asks me what I think. And I said: 'Well, it seems like you know what you're doing …'"
"That was 26 years ago," says Gene. "For the first six years, I didn't even have an open sign. People just sort of came and went. It wasn't nearly as busy as it is now."
You'll see a snitch of Barnacle Bud's at McKiernan's, as well. The built-in bar rails against the walls are made from pieces of the old docks that Gene scrounged during construction.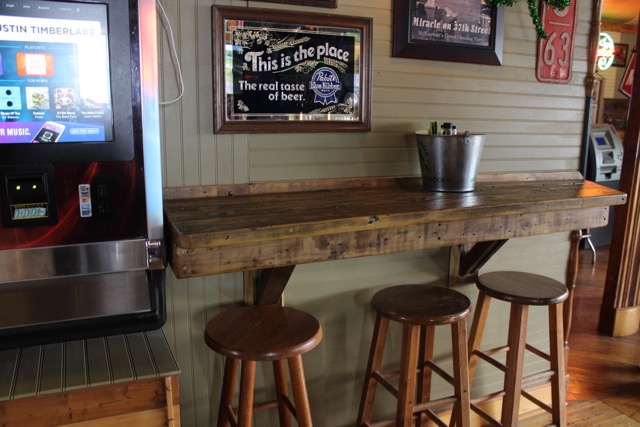 By the late 2000s, Gene and Victoria had taken on three more bars, all of which they purchased within a year of one another: Ducky's (the now defunct bar formerly located at 8th and Euclid), Victoria's on Potter and McKiernan's.
McKiernan's little gems
McKiernan's posed a number of interesting challenges. Gene says the building, which was originally built in 1900, was a "run-down wreck of a place," a biker bar called Working Class Heroes. Before that, it had been home to any number of spots including Nick's Alley, Mel-Rose Gardens, The Corporation and English Darts South.
"I get bored when things start going too well," says Gene. "And I like to do new things. I also like buying places that are pretty run down. For one, they're cheaper. For another, you don't feel bad tearing them up and doing something better. In this case, it was already gutted, but we gutted it some more."
It took no less than 13 permits, notes Gene, to get the bar back into working order after they assumed the lease in 2008. They were efforts which earned him a special plaque from one of the bar's loyal patrons, Ald. Bob Donovan, granting him permission to do "whatever the hell he wants."
The resulting bar possesses an eclectic look that, as Victoria points out, makes the bar feel very "homey and welcoming."
The mismatched lumber on the walls comes from any number of places, notes Gene, including the cast-off bin at Bliffert Lumber. Some was actually reclaimed from the bar itself, like this repurposed bead board that still showcases wallpaper from the early 20th century.
There are random bed posts, spindles and myriad millwork incorporated into the interior, some of which were installed by carpenter and art teacher Ron Rausch.
Rausch also created the exterior sign, which he gave to Gene as a gift when the bar opened.
The bar top is studded with engraved plaques, which sport the names of regulars at the bar. Among them are names like Ald. Bob and Kathy Donovan, two faces who've made regular appearances at McKiernan's since the beginning (and even before).
"It was St. Patrick's Day and we were waiting for our liquor license to come through from the city," Gene recalls, "I was sitting at a bar, drinking, when they called … and the woman on the line said: 'Well, if you can't pick it up, maybe you can ask your alderman to drop it off,' … to which I replied. 'He's sitting right next to me.'"
The bar itself is littered with antiques, from old cereal boxes and jugs to pull down ironing boards, watering cans and countless quirky signs along with the prerequisite beer paraphernalia you'd expect.
There's also myriad evidence of Gene's sense of humor. Take for instance the metaphoric signage for the men's room both above and at the corner of the door (yes, the latter is meant to be phallic).
Or the Gene McKiernan bobblehead behind the bar. If you look closely, you'll see that his right leg is broken. "That's from too much dancing," Gene says with a smile.
And that door in the middle of the floor? It's something Gene says he "just always wanted to do."
Even the ceiling at McKiernan's has a story to tell.
In one corner, there's a bit of history: evidence of a fire, potentially just decades, or maybe a half-century ago, which is still visible on ceiling beams adjacent to the men's bathroom.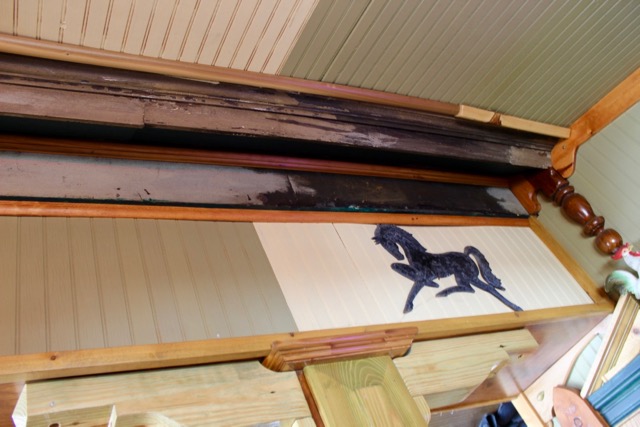 If you stand in the middle of the room and look up, you can also see the outline of the former bathrooms, which are impressively tiny in comparison to the bar's more modernized quarters.
There's also a broom and dustpan that Gene says he used for 20-some years, before retiring them to the ceiling.
Not too far from the broom is a sport coat, a set of car keys and a photo of Ald. Donovan. It's a strange memento of a time when Donovan accidentally left his coat and keys at the bar. They were subsequently stolen (and returned), but not before causing a bit of a brouhaha.
Along with the coat are any number of bras – polka dotted and striped, big and small – little tokens from McKiernan's female bar-goers. We'd guess the bra tossing gesture is a tribute of sorts to Holler House, another South Side establishment where patrons have been slinging their over-the-shoulder-boulder-holders upwards for over a decade.
Incredible edibles, including new summer brunch
By the time you get done gawking at the walls and ceiling, you're likely to be in need of some sustenance. Fortunately, McKiernan's can help you out with that.
Earlier this year, Victoria left behind her day job, devoting herself full-time to the bar businesses. As a result, she says, they've been able to focus on a number of improvements, including changes to the McKiernan's menu.
With the help of bar chef Jose Melendrez, they will be launching a variety of specials beginning in May including Thursday riblet dinners for $8.95, half of a buttermilk brined fried chicken with coleslaw, potatoes and rye on Saturdays for $8.95 and Prime rib on Wednesday, Saturday and Sunday (16-ounce for $18.95 or 32-ounce for $32.95).
Irish fare includes items like shepherd's pie ($10.95), Irish nachos ($8.95) and an Irish beef sandwich featuring prime rib, Guinness gravy and fried onions ($10.95) along with standards like corned beef and cabbage ($12.95) and the bar's famous grilled reuben ($8.95).
There will also be a brand new brunch menu, which features eight to ten items including traditional eggs and toast; a rotating eggs Benedict of the day; cream cheese and strawberry stuffed brioche French toast; a breakfast egg roll filled with chorizo, scrambled eggs and cheddar, served with a side of potatoes; and a classic Irish breakfast featuring bangers, eggs, pork and beans, roasted potatoes, grilled mushrooms and soda bread.
"This is the first year that we'll be open on Sundays during the summer," notes Victoria. "We'll be offering brunch from 11 a.m. to 6 p.m. beginning in May."
McKiernan's is open daily from 11 a.m. to close (usually 10 p.m. most weeknights and midnight on weekends).
Lori is an avid cook whose accrual of condiments and spices is rivaled only by her cookbook collection. Her passion for the culinary industry was birthed while balancing A&W root beer mugs as a teenage carhop, fed by insatiable curiosity and fueled by the people whose stories entwine with each and every dish. She's had the privilege of chronicling these tales via numerous media, including OnMilwaukee and in her book "Milwaukee Food." Her work has garnered journalism awards from entities including the Milwaukee Press Club.
When she's not eating, photographing food, writing or recording the FoodCrush podcast, you'll find Lori seeking out adventures with her husband Paul, traveling, cooking, reading, learning, snuggling with her cats and looking for ways to make a difference.