Belly up to these bar stories, brought to you by Miller Brewing Co., that explore well-loved-but-lesser-known taps and taverns from all corners of the city and beyond.
When it comes to profiling the hidden gems of Milwaukee's bar scene, the underground places quietly but essentially woven into the city's fabric, what could be more apt than a bar located literally underground. That's the case for Monica's on Astor, the cozy little basement bar found at 1228 N. Astor St.
Well, found if you're looking.
"I didn't even have a sign for, I want to say, the first year I was in business," said Monica De Palma, the bar's owner. "It had the old green awning that was from Christopher's, and we kind of painted over the name. I would hear people outside on their phones saying, 'Yeah, it's this bar; there's no sign.' If nobody knew about it, they'd think they were cool for finding it. It really worked for me that first year. It was really fun."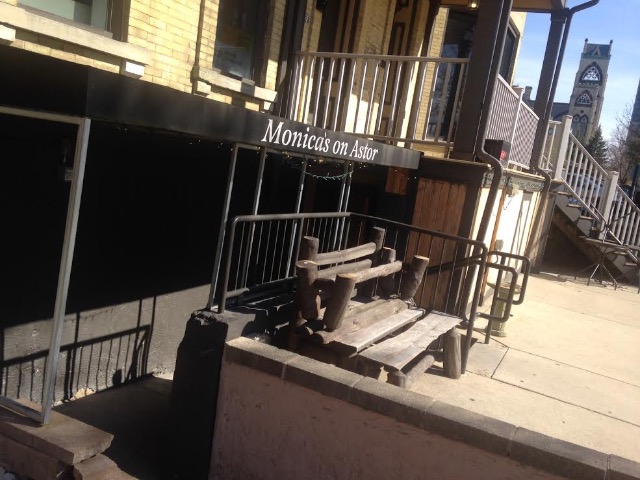 The dark awning may have finally earned the Monica's name after that initial year, but there's still something tucked away about the little establishment, one of the few straight-up bars in an area not known for being a drinking destination and literally embedded into Milwaukee – as well as embedded into the city's history. Indeed, while it may sit in the shadow of The Astor Hotel and its looming legacy, the building Monica's calls home has a history that not only rivals its prestigious neighbor but actually surpasses it, going all the way to the 1850s.
Back then, as extensively chronicled in this Urban Milwaukee piece, the building served as a residence and rooming houses before finally becoming a bar and men's social club – called the Electronic Businessman's Club – in the 1970s. Over the next few decades, the building would play host to number of licensing battles, rotating names, changing uses and proposals – from another club to a small hotel to an art gallery – and unfortunate vacancies, the last of which coming after the closing of a pair of restaurants – Serafinos's and Christopher's on Astor – opened in the spot during the '90s.
Its years of emptiness would come to an end, however, when Monica and the De Palma family – friends of the then-landlord and a name with its own place in Milwaukee bar history, as owners of the Y-Not II and the former Y-Not III-turned-Nick's House on the East Side – came into the long-vacant space in 2006. Unsurprisingly, there was some work for Monica – who'd started carving her own place in the family business in 1996, bartending at the Y-Not II for the following decade – to be done.
"When I looked at it, she was basically a concrete floor and some bad wallpapered bathrooms, and that was it," De Palma recalled. "All the stuff that was from the restaurant was ripped out, and the kitchen – which was upstairs – was already sealed off."
After much effort, however, the historic building – or at least certainly the basement – was brought back to life in 2009, opening up a new chapter with Monica's name on … well, not the non-existent sign, but at least on the ownership documents.
"My dad is the Y-Not II, which is Tony spelled backwards, but 'Acinom' doesn't really sound like a good bar name, so Monica's was born," De Palma laughed. "In hindsight, I would not have named it that. It's really weird to say, 'I'm going to Monica's' or 'Let's go to Monica's,' when you're talking. I think I would've named it something else."
While De Palma's hit-or-miss on the name, however, the space itself still features many of the architectural quirks and charms picked up over its long history that she fell in love with on her first visit. For instance, the actual working fireplace tucked away inside. Or the cream brick walls and posts that reminded her of the cool bar from the Spike Lee movie "The 25th Hour."
But the most appealing part, from day one, was that it was off the beaten path – and then under it.
"I've always liked basement bars," De Palma explained. "I think people are able to fully submerge themselves in the bar. It's not so much about being seen or sitting on the right corner; it's people who actually want to go have a drink and talk to each other. Also you don't really have a sense of time. People just kind of relax."
"(Working in a basement) is actually great," said Stacy Habel, a bartender at Monica's for 10 years now. "I'm used to it; I actually used to work at Landmark for years before this. It adds to the coziness."
While you have to dive down a few steps to get inside, the word "dive" doesn't quite fit with Monica's. The space is dark – surprise: there are no windows in a basement bar – but not dreary; instead, it's warm, filled with rich reds, browns and blacks, lumber and leather.
It's a basement bar that truly feels as though you're just in a friend's basement, complete with a pool table, a few TVs and some board games for those looking for some competition-fueled camaraderie. And that camaraderie comes from all sorts, according to Habel, from service industry people making their way back to those who call the neighborhood home and those very far away from their's, staying at the nearby Astor or Knickerbocker.
Of course, for those who want a glimpse of the outside world, Monica's does have a small outdoor patio space out front, one that De Palma has plans to redo, renovate – and, of course, submerge it down to the rest of the bar's level.
"The problem is seeing where the water can go, so my next step is to get the structural engineer and the concrete guys to see if the design is possible," De Palma said. "But that's my vision for it: make it feel more like a part of the bar."
Considering the building's century-plus history, change is no surprise. But while the outside may get a facelift, De Palma aims to keep the bar that carries her name – on a sign now and everything! – with the same small, subdued but sincere spirit as the city it's buried into.
"It keeps with what Milwaukee bars have always been: a neighborhood place. It's a community where people know each other. You walk in, and the bartender knows your name, where you're going to sit and what you're going to drink. And that's becoming harder and harder to find here."
As much as it is a gigantic cliché to say that one has always had a passion for film, Matt Mueller has always had a passion for film. Whether it was bringing in the latest movie reviews for his first grade show-and-tell or writing film reviews for the St. Norbert College Times as a high school student, Matt is way too obsessed with movies for his own good.
When he's not writing about the latest blockbuster or talking much too glowingly about "Piranha 3D," Matt can probably be found watching literally any sport (minus cricket) or working at - get this - a local movie theater. Or watching a movie. Yeah, he's probably watching a movie.