Belly up to these bar stories, brought to you by Miller Brewing Co., that explore well-loved but lesser-known taps and taverns from all corners of the city and beyond.
For a quarter-century after opening in 1975, My Office was a flourishing hallmark of traditional Milwaukee. During its first couple of decades, there was a daily line out the door of customers for breakfast and lunch, and even into the 90s, a steady stream of manufacturing workers coming in after their shifts and an easygoing environment made the bar a popular place for cold beer, good conversation and an always-enjoyable experience.
Over the last 15 or so years, as the city around it has grown and transformed – with new development going up and old industries going out, more restaurants serving and less daytime drinking – food sales and clientele have changed a bit. But My Office has mostly stayed the same, still providing an affable atmosphere, affordability and a prime location, hiding in plain sight in the heart of Milwaukee's business district, a gem to its loyal regulars and a pleasant surprise to those who step for the first time into the understated old establishment with the inelegant brick-and-wood exterior, simple green sign and lots of character. Surrounded by posh bars, nightclubs and upscale restaurants that might take themselves more seriously, My Office, 763 N. Milwaukee St., is happy being what it is – a dearly loved Downtown dive (once it accepted it was a dive, that is).
A little history: Owner Brian Peterson's stepmother, June Cottrell, bought the joint in 1975, taking over a tavern that was once called Ticker Tape but had since been renamed My Office, a nod to the vicinity's expanding commercial center. About a year later, June met Peterson's father when he was doing some remodeling work on the building and they married, moving upstairs. At the time, June was one of the first and only female bar-owners in the city, and her signature-recipe potato donuts were beloved by the breakfast crowd. In 1982, after Walter's Diner, the next-door eatery on the south side, was forced to close, My Office absorbed it, knocked a hole in the wall for a doorway and incorporated the space into the bar.
Peterson's parents ran the place for 20 years, before Brian purchased it from them. Debbie Beerman, who'd been hired by June, was joined by her husband Robert not long after Brian became owner, and the couple still bartends and cooks during the day. Brian Peterson maintained positive relationships with nearby businesses and continued the unofficial agreement with Karl Ratzsch's that My Office would only do breakfast and lunch and the 'round-the-corner (recently closed) German institution would only do lunch and dinner.
But around 2001, Peterson says, the dining side started slowing, and it hasn't ever really picked back up. Robert Beerman points to when the area "turned into restaurant row," as new spots for eating out proliferated Downtown. Still, there are no plans to stop offering food, Peterson says, so My Office will continue to serve made-from-scratch favorites like the burger, which he somewhat-incredulously notes was recently voted second-best in the city, from 7:30 a.m. breakfast to 2:30 p.m. lunch, Monday through Friday.
The burger recognition is not the only unexpected honor My Office has earned over the years. It was oddly named Milwaukee's No. 1 Sports Bar in 2008 by City Guide – it has framed Brewers and Packers photos on the walls and shows games, but the TVs are more likely to have on 80s and 90s music videos – and also was included in a Top-10 list for martinis, which was fine but, as Beerman says, "We don't even have any martini glasses."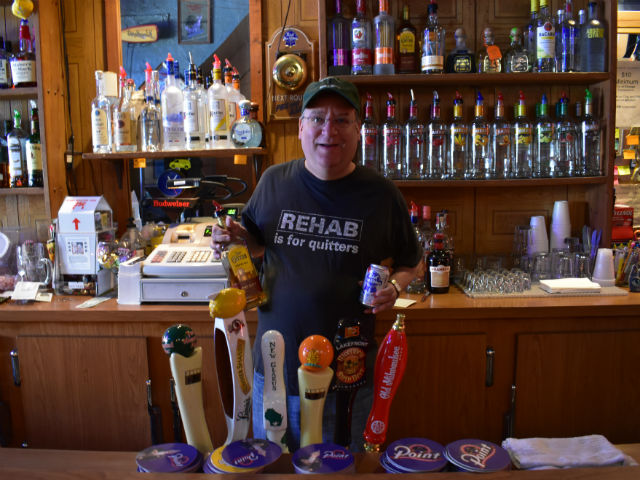 If that laidback attitude doesn't epitomize My Office's appeal, its customers' glowing Yelp reviews might. As Beerman notes, it's Downtown's No. 1-rated dive bar, and extolments like this capture its likable essence:
Read Jenny B.'s review of My Office on Yelp
Reviews like that abound online, many much longer, and the sentiment seems to be shared inside the bar, as well. Whether it's construction workers in the late morning, an office lunch group, happy hour crowd or late-night revelers, My Office's customers appreciate the low-key, relaxed and nonjudgmental experience. Although while he now treasures the title, Peterson initially bristled at being called a dive. "When I heard this was a dive bar, I was like, 'Dive bar? F*** you.' But then I came to realize it was a term of endearment."
Indeed, the bar's clientele – which Peterson says changes, but "on a regular interval," by time and day – seeks a different, more casual atmosphere Downtown, and is fond of My Office just the way it is. Many have been coming for 10, 15, even 20 years. "I've had some people come through and say you should change this or that, but the regulars don't want any change," Peterson says. "We're usually comfortably busy, and as long as it's working, we're going to keep it the same."
So that means more Miller Lite and High Life – Peterson and Beerman say, "for the most part, it's always been Miller" that has sold the best – and more retro cans of PBR, Schlitz, Blatz, Hamms and Boxer, as well as taps of Spotted Cow, Riverwest Stein and even Old Milwaukee. Beer reigns supreme at My Office, but Irish whiskey – particularly Tullamore Dew, and especially after games of bar dice – and other cocktails are common, too.
What staying the same also means is Dracula on the ceiling. My Office's kitschy – er, unpretentious – décor is the subject of both ridicule and reverence. There's a "Spiderman" poster on one wall because Peterson's kids love the Marvel movies, and Beerman hung inconspicuous mistletoe from the ceiling, which makes for fun reactions when it's revealed. But it's the stuffed Dracula dummy in the northwest corner that – if it's actually noticed – draws the most intrigue.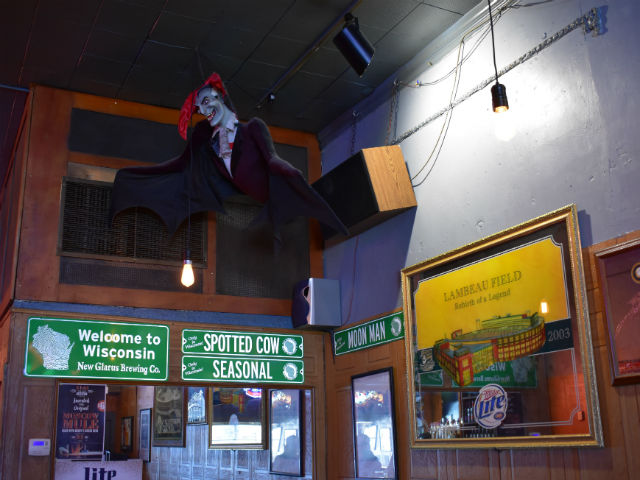 Naturally, the story is less elaborate than you'd think. Peterson says he put out the vampire one Halloween, then afterward brought it down to the basement, where it so scared his young nephew – who would have to go downstairs to use the ice machine and "run back up as fast as he could" – that he decided just to leave Dracula out. "Rather than climb up the ladder to get it every year, I gave him a permanent spot in the bar," Peterson says.
Going forward, he plans to make a few small improvements and renovations, including some equipment upgrades, but nothing too major. The building is one of the area's oldest, and Peterson is curious what the façade might look like if he removed the wooden slats on the front, perhaps restoring it to its original exterior.
In the meantime, he's just going to keep My Office as much the same as possible: a comfortable, carefree bar and restaurant, a true and treasured Downtown dive.
Born in Milwaukee but a product of Shorewood High School (go 'Hounds!) and Northwestern University (go 'Cats!), Jimmy never knew the schoolboy bliss of cheering for a winning football, basketball or baseball team. So he ditched being a fan in order to cover sports professionally - occasionally objectively, always passionately. He's lived in Chicago, New York and Dallas, but now resides again in his beloved Brew City and is an ardent attacker of the notorious Milwaukee Inferiority Complex.
After interning at print publications like Birds and Blooms (official motto: "America's #1 backyard birding and gardening magazine!"), Sports Illustrated (unofficial motto: "Subscribe and save up to 90% off the cover price!") and The Dallas Morning News (a newspaper!), Jimmy worked for web outlets like CBSSports.com, where he was a Packers beat reporter, and FOX Sports Wisconsin, where he managed digital content. He's a proponent and frequent user of em dashes, parenthetical asides, descriptive appositives and, really, anything that makes his sentences longer and more needlessly complex.
Jimmy appreciates references to late '90s Brewers and Bucks players and is the curator of the unofficial John Jaha Hall of Fame. He also enjoys running, biking and soccer, but isn't too annoying about them. He writes about sports - both mainstream and unconventional - and non-sports, including history, music, food, art and even golf (just kidding!), and welcomes reader suggestions for off-the-beaten-path story ideas.