"Bar Month" at OnMilwaukee is brought to you by Miller Brewing Company, calling Milwaukee home since 1855. For the entire month of March, we're serving up fun articles on bars, clubs and beverages – including guides, the latest trends, bar reviews, the results of our Best of Bars poll and more. Grab a designated driver and dive in!
Some of the best taverns in Milwaukee are the ones that don't mess around. The ones that are entirely without artifice. They feel comfortable, homey. What you see is what you get. These are the ones where the owner is typically standing right behind the bar waiting to serve you.
This is The Bubbler, 3158 S. Howell Ave., owned by Teri Bashaw and run by Bashaw and her two adult children.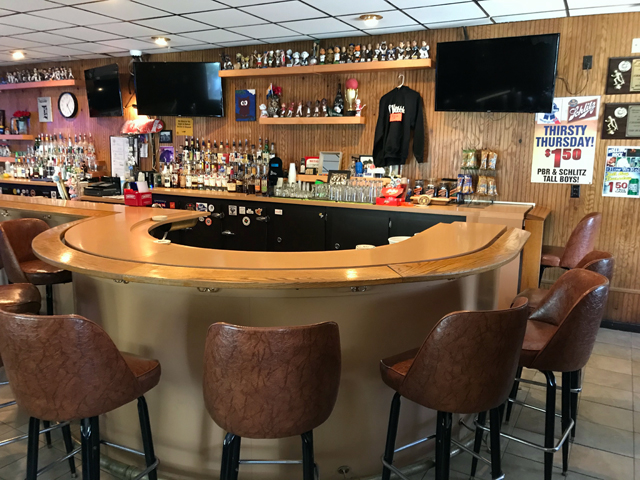 According to City of Milwaukee assessor's records, the building dates to 1915, but I can't find any references to it before 1926, when it was owned by Harry Luedke. Though it has long been a destination tavern and restaurant on the South Side, I think the place has always been much like The Bubbler is today: a neighborhood tap with a devoted following and not too much drama.
In fact, digging through newspapers, the only "drama" I uncovered was Luedke himself getting dragged into court in 1934 for selling beer to a 12-year-old girl and her 9-year-old brother, presumably running an errand for mom and/or dad.
Luedke and, after his passing, his son Henry, had the building at least into the 1930s, when it appears a Sam Austin ran the bar for a while.
It was put up for sale in 1942 and by '44 it was owned by Eugene Skubal, who called it Happy Daze. But in '48 and '49 it was back on the market, described in one ad as having an "ultramodern barroom, complete in every detail," and noting that the bar – with an apartment upstairs – also served food.
When Edward Kunert and Harry Kazich bought the place in '49, they renamed it the Hob-Nob and for decades – with a few interruptions – the business retained that name.
Oddly, when they sold the Hob Nob to George and Ann Wartchow for $50,000 in May of '52, a newspaper announcement – which noted that, "the business is widely known on the South Side" – said that Kazich and Kunert had operated it for 20 years. City permit records do not agree with this.
In 1965, the place was apparently sold, as it was rebranded as "Keltner's New Hob-Nob," and it went back up for sale in '67 and it appears it was purchased by Abe and Grace Luntz, who renamed it Abe's Tavern in 1970.
In late 1973, Jerry Ermi took over and renamed it Ermi's Tavern, which is what it was called when it suffered $20,000 in damage from a fire deemed suspicious because another smaller fire was found about 20 feet from the building.
Under new ownership, the place became the Bee Hive for a decade before Gene Lien brought back the classic Hob Nob name, which endured through Tom Steinbrenner's tenure – which began in 1997 – and until Bashaw bought the place with her brothers Cort and David.
"We're here 10 years," Bashaw says. "Just celebrated in January. I started tending bar when I was 18, so, I've been doing it a long time. It's been interesting, to say the least (being a bar owner). It was huge learning curve the first couple years.
"I've drawn him under the bus now," Bashaw laughs, indicating her son Justin, who can be found behind the bar most nights at The Bubbler, which, incidentally, has an actual vintage bubbler – a first-anniversary gift from regulars – perched behind the bar (and, no, it does not work).
"The first year it opened I was still a technician for Lexus," says the younger Bashaw, but after a shoulder injury he lost his job. "So I started bartending. Nine years now."
Teri Bashaw, who grew up in Bay View and still leaves nearby – though not in B.V., she says – notes that the clientele is the neighborhood.
"We get a lot of walkers," she says, and Justin chimes in to add, "We've got people coming in celebrating their 21st birthdays and we have an old regular that's still coming around."
"Yup, we call him Bubbler Bob," Teri Bashaw says. "He'll be 84 this June. And I tell everybody he's the best thing that came of the place."
"He was on the rider when she bought the bar," Justin jokes.
Though there's no pool table in the bar, there are darts leagues, plus The Bubbler has volleyball, kickball and softball teams.
But what's really a big draw for many customers is the pizza. Unlike a lot of bars where the bartender will unwrap a frozen pie and slide it into the tabletop pizza oven, The Bubbler rents its kitchen to Paul Meka's Vinchi's Pizza.
From 4 until 10 p.m. (9 on Sundays) daily – except Mondays – Vinchi's dishes up beloved thin crust pizza, a recipe Meka perfected while doing pizzas first at the Sandcastle on 16th and Morgan for 16 years and then seven years now at The Bubbler.
Meka's menu also includes a few appetizers and a handful of sandwiches, and Vinchi's offers carryout and delivery.
The food is a legacy of Cort Bashaw, says his sister, Teri.
"This was kinda my brother's dream, he was gonna do the kitchen part," she says. "But then when he passed away I thought, 'I don't know a thing about the food side of this business.'"
Cort Bashaw is also responsible for the name The Bubbler.
"My brother, who worked the water department, came up with the name," says Teri. "We couldn't come up with anything, we were stumped," adds Justin.
Unlike most bars, The Bubbler comes with a subtitle. "Thirst on Howell III."
"A friend of ours, when he found out we had a bar on Howell Avenue, came up with the Thirst on Howell, so that's on our outside sign," says Teri Bashaw.
I ask if everyone gets the "Gilligan's Island" reference and Justin Bashaw says no.
"I got it. But some older people are like 'how do you know that?' Because I used to watch that show. But we've had to explain it to a lot of people."
Of course, you can get a Miller Lite or other classic brew at The Bubbler – which opens at 2 on weekdays, 11 on weekends – but there are now more tap lines than ever and the beer selection has grown and there are beers from Founders, Lakefront, Ballast Point and others, too.
And Justin's been collaborating with other bars in the city to bring in guest bartenders, to, ahem, mix things up a little. He says among the invitees have been Dan Hicks from McGillycuddy's, Adam Griffin from Fire on Water, Matthew Sherman from Junior's Hook, Zac Correa, he's at Jo Cat's now...
"Throwing a lot of people to the wolves back here," Teri Bashaw laughs from behind the bar. "It's awesome because if there comes a time when we are strapped, we beg our other bar owner friends 'can I borrow your bartender?'"
NOTE: St. Patrick's Day is upon us and I'd be remiss if I didn't let you know that The Bubbler is teaming up with Kingpins, Redbar and Cudahy's Salty Dog for a St. Patrick's Day pub crawl that begins at noon.
Born in Brooklyn, N.Y., where he lived until he was 17, Bobby received his BA-Mass Communications from UWM in 1989 and has lived in Walker's Point, Bay View, Enderis Park, South Milwaukee and on the East Side.
He has published three non-fiction books in Italy – including one about an event in Milwaukee history, which was published in the U.S. in autumn 2010. Four more books, all about Milwaukee, have been published by The History Press.
With his most recent band, The Yell Leaders, Bobby released four LPs and had a songs featured in episodes of TV's "Party of Five" and "Dawson's Creek," and films in Japan, South America and the U.S. The Yell Leaders were named the best unsigned band in their region by VH-1 as part of its Rock Across America 1998 Tour. Most recently, the band contributed tracks to a UK vinyl/CD tribute to the Redskins and collaborated on a track with Italian novelist Enrico Remmert.
He's produced three installments of the "OMCD" series of local music compilations for OnMilwaukee.com and in 2007 produced a CD of Italian music and poetry.
In 2005, he was awarded the City of Asti's (Italy) Journalism Prize for his work focusing on that area. He has also won awards from the Milwaukee Press Club.
He can be heard weekly on 88Nine Radio Milwaukee talking about his "Urban Spelunking" series of stories.