"Bar Month" at OnMilwaukee is brought to you by Miller Brewing Company, calling Milwaukee home since 1855. For the entire month of March, we're serving up fun articles on bars, clubs and beverages – including guides, the latest trends, bar reviews, the results of our Best of Bars poll and more. Grab a designated driver and dive in!
Belly up to these bar stories, brought to you by Miller Brewing Co., that explore well-loved but lesser-known taps and taverns from all corners of the city and beyond.
A lot of people can claim that they "grew up in a bar," but James Hutterer, owner of the Valley Inn in Piggsville (the Menomonee Valley), not only grew up in a bar, he was born in one.
"Right upstairs," he said, pointing to the bar ceiling, which is now adorned with Tiffany-lamp-style Miller Genuine Draft lamps. "And my sister, Jill, was almost born in here, too. But my mom didn't quite make it and she was born in the car."
Hutterer lived above the bar, 4000 W. Clybourn St., with his parents and six siblings, one of whom passed away from the flu as a young child. His parents, Mary and Joseph, opened the bar as Hutterers Hut in 1959 and raised six children in the cozy space.
"There was only one bathroom. Four girls – and my mom – living up there," says Hutterer. "One bathroom."
Hutterer, who took over the family business in 1996, harbors many memories of the bar as a child. He recalls a fire breaking out in 1963 while his dad was burning boxes in the basement incinerator and his mom wouldn't let 4-year-old James go into the basement to "save" his dad. Luckily his dad made it out safely and there was only minimal damage to the building.
Hutterer also remembers often wandering behind the bar as a little boy, only as tall as the rail, and his mother serving him small glasses of Gettelman beer. (Gettelman was brewed where part of the MillerCoors Brewing Company complex stands today and Miller still brews Milwaukee's Best, crafted by Gettelman.)
"I'm still a Miller drinker today," says Hutterer.
The Valley Inn's close proximity to MillerCoors – at night the Miller sign glows above the low-lying Piggsville neighborhood like a second moon – draws many customers to the bar.
"We've hosted many, many Miller retirement parties here," says Hutterer.
It's also a popular destination before and after Brewers games for fans as well as Miller Park ushers, vendors and, occasionally, broadcasters. (Bill Schroeder has stopped in.)
Valley Inn customers also include people living in the neighborhood, along with factory and construction workers, police officers, teachers from Marquette, parents visiting their kids at Marquette and many others.
In July of 2009, when the bar celebrated 50 years in business, more than 700 people came to the block party celebration.
"Our customers and this neighborhood are really holding strong," says Hutterer. "Twenty years ago, I wasn't so sure, but now I can honestly say this."
Hutterer didn't intend to own the family bar, and for many years he worked at Briggs and Stratton. But when he was laid off in 1996, he didn't think he'd be rehired, and so he decided to take over the bar. His sister, the late JoAnn Waters, and her husband, Dan, were running it at the time and had changed the name to The Valley Inn.
"17 months later I got called back to Briggs, but I continued to run the bar," says Hutterer.
Hutterer retired from Briggs in 2011, but is still a contractor for the company. He also bartends daily during lunch time and helps with the dinner rush in the evening. "I take a little break in the middle of the day," he says.
Over the years, the 1890 building has undergone extensive updating and remodeling. In 2003, Hutterer remodeled the restrooms – prior to that there was only one sink outside of the men's and women's bathrooms. "My brother-in-law said 'if you really want this place to take off, remodel the bathrooms,'" said Hutterer. "Get rid of that 'unity sink.' He was right."
For years, the corner tavern served limited food: pre-made sandwiches, pizzas and potato chips. But in 2007, Hutterer decided to add a full kitchen that resulted in a very extensive menu.
"It's a big menu but we still have the same pizza – the same recipe – from 1984," says Hutterer.
Popular menu items include the massive and very flavorful "Valley Bomber," a shredded hot beef sandwich with caramelized onion, fried green onions and mozzarella cheese served on grilled French garlic bread.
"The Pig Sandwich" does not appear on the menu, but is another customer favorite. It includes a 6-ounce pork steak topped with pepper jack cheese, coleslaw and barbecue sauce and is served with onion rings.
"I get all of my meat locally from Bunzel's," says Hutterer.
Nightly specials include pot roast on Mondays, Mexican food on Wednesdays, steaks on Thursday and a variety of fish fries on Fridays.
"I still tell people we're just a neighborhood bar, but we are just as much a restaurant now," says Hutterer.
Hutterer says he decided to focus on food in part because the bread and butter of his drinking customers were members of community sports teams coming for pitchers of beer after games. Today, there are very few teams compared to how many existed in the 80s and 90s.
"Baby boomers don't play baseball or softball anymore and younger people don't play anywhere near as much," he says. "We felt this change in people's interests."
The most popular drinks at the Valley Inn are, not surprisingly, Miller products followed by Bloody Marys.
Hutterer says he considers the Valley Inn to be a sports bar "to a degree."
"We're open for most Brewers games and every Packers game," he says. "We always give out green-and-gold Jello shots for touchdowns."
As for retirement, Hutterer, who is 58, says he will consider it when he turns 62. He has one son, but Hutterer says he will not take over the bar.
"He's way too smart for this," says Hutterer. "He's got a really good job with US Bank."
Hutterer does, however, still work with his great niece, Ashley – a friendly, energetic 20-something who explained to us why there was a mannequin standing at the door wearing an eclectic outfit.
"I'm not sure where that came from, but she's been here for a long time. She's been dressed and undressed many times over the years. There are pictures all over Facebook of different people wearing her wig," she says. "She's been out on the porch, danced with customers and lots of people talk to her. It gets weird here on Friday nights."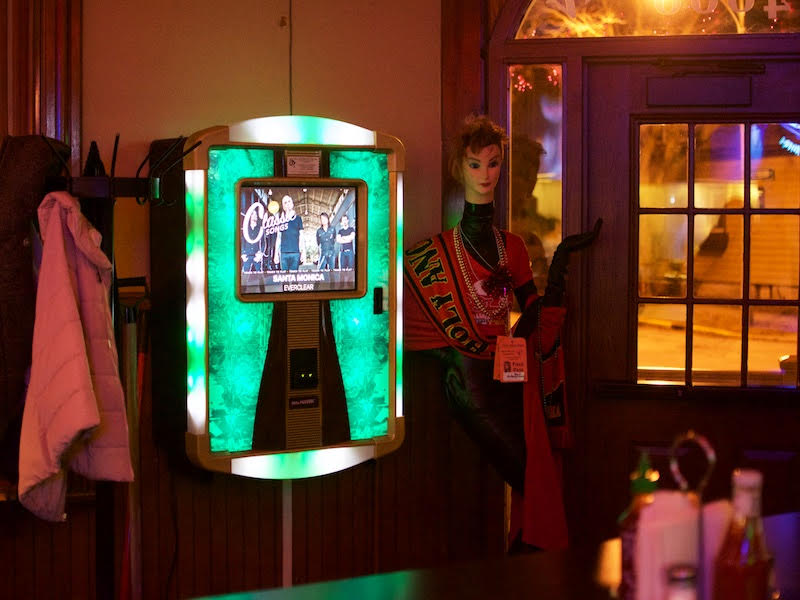 The Valley Inn is open Monday-Saturday from 11 a.m. until closing time, which ranges from about 10 p.m. during the week to midnight or 1 a.m. on weekends.

Molly Snyder started writing and publishing her work at the age 10, when her community newspaper printed her poem, "The Unicorn." Since then, she's expanded beyond the subject of mythical creatures and written in many different mediums but, nearest and dearest to her heart, thousands of articles for OnMilwaukee.

Molly is a regular contributor to FOX6 News and numerous radio stations as well as the co-host of "Dandelions: A Podcast For Women." She's received five Milwaukee Press Club Awards, served as the Pfister Narrator and is the Wisconsin State Fair's Celebrity Cream Puff Eating Champion of 2019.